Sticky posts is a handy and useful feature in WordPress you can use to add sticky posts and let them stay at the top of your home page as long as you want.
This is a feature many users don't  know exist in WordPress.
Sticky post is a feature that was introduced with the WordPress version 2.7. But the feature is not that easy to find. Do you know where you can find and enable sticky post?
Open or create a new post, go to the Publish panel to the right, Visibility, click Edit and you see the checkbox. If checked, the post will be placed at the top of the front page of posts.
With this feature, you can make a post featured and sticky on your front page and it won't disappear in your stream of new posts. If you want to remove the sticky post you have to manually uncheck the box. Or if you want to add an expiration date to your sticky post you can use a plugin like Expire Sticky Posts.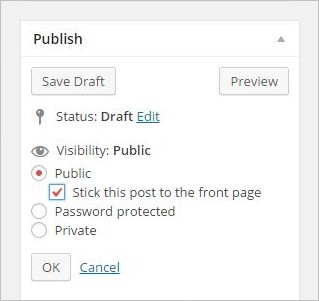 Now you know a little more about the sticky post and how it works, right? But how to add sticky posts for categories in WordPress
Sticky Post for Categories in WordPress
A while ago I received a question from a user asking how to add sticky posts for categories. This was an interesting issue because it was a feature I never used before. This is one reason why I love working with WordPress. You get a simple question, begin processing the question and immediately want to start working to find a solution to the problem.
The solution was very simple. It turned out there is a free very easy-to-use WordPress plugin created by Tom McFarlin named Category Sticky Post.
Category Sticky Post works exactly like the sticky post function in WordPress, with the difference that you can create a featured and sticky post for your post categories. Which can be useful if you want to display a specific post on the top of your category archive for some time.
Let's take a look at how the Category Sticky Post works.
Install Category Sticky Post Plugin
First thing you need to do is install and activate the free Category Sticky Post plugin. There is no funny business with installing the plugin. Install as usual from your dashboard in WordPress.
From your WordPress dashboard, go to your tab 'Plugins > Add New'
Search for 'Category Sticky Post, install and activate the plugin.
There are no options page for the plugin. So no need to edit any options.
Create a Sticky Post for Categories
So let's create a new sticky post for categories. Create a new post, go to the Publish panel (same as before), first you have Visibility, then the tab Format, in the next tab you find Category Sticky. Simply choose which category you want your post to be featured in. Enable the checkbox below if you want to hide sticky post border. Try it and see what you think looks best, with or without the border.
That's it. Really easy right?
The Category Sticky Post plugin ..
Allows you to select which category in which to stick a post
Will display the post on the top of the first page of the archive just like built-in sticky posts
Will only allow you to stick a single post per category
Displays whether or not a post is stuck in a category on the Post Edit dashboard
Provides light styling that should look good in most themes
Is available on each post editor page
Is fully localized and ready for translation
Wrapping up
With the Category Sticky Post WordPress plugin, you can easily add featured and sticky posts to all your categories if you want specific content to be featured. The plugin is very easy to install, setup and you're up and running with a sticky post in a category of your choice within minutes. It works surprisingly well.
Latest posts by Artem Pavlov
(see all)