Want to embed TikTok videos into your WordPress site, but aren't sure how? You've come to the right place.
As TikTok has grown in popularity over the past few years, there is more and more content that's worth sharing across the web. Embedding TikTok videos into your WordPress site allows you to share TikTok videos with both TikTok users and non-users alike.
Plus, it's a great way to make your blog posts a bit more engaging — everyone likes a good video!
In this article, we're going to teach you how to embed TikTok videos into your WordPress site so you can increase your engagement and bring in new demographics.
What Is TikTok?
TikTok is a social media platform that launched in 2017 in China. Over the past few years, its user base has grown to over one billion users.
Despite a fair amount of political controversy surrounding the app — including the threat of it being banned — it has remained a staple of today's mainstream social media landscape.
The app's claim to fame is short loopable videos that integrate music, sound effects, and video effects. Users often upload videos of themselves dancing to popular songs, lip syncing to funny audio clips, or reacting to other TikTok videos.
Compared to other social media sites, TikTok has a very casual vibe. Although marketing on TikTok can be very fruitful, companies must make sure that they are aligning their marketing materials with the overall feel of the platform. Companies that maintain an overly professional tone on TikTok will generally not get the results they are looking for.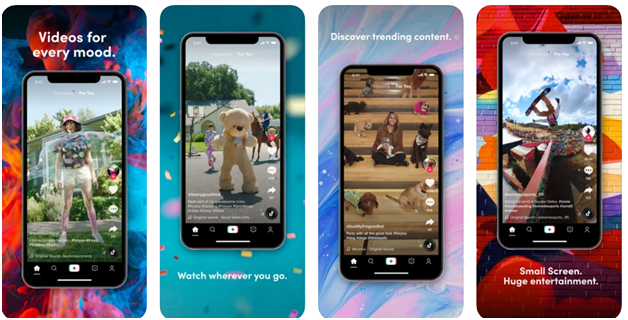 TikTok: Why You Should Incorporate It Into Your WordPress
When it comes to integrating TikTok into your WordPress site, there are two reasons you might want to do so:
It Increases Your Engagement
Videos tend to be more immediately engaging than text. While writing can be incredibly engaging, it takes effort on the reader's part to get an idea of what's going on in the text. That means that they'll need to invest a bit of time into your content before they even get an idea of whether they find it interesting or not.
Videos, on the other hand, provide a lot of information very quickly. It can often take just one frame for someone to decide whether they want to keep watching. A picture is worth a thousand words, after all.
When you include TikTok videos in your posts, you help your audience become invested in your posts much quicker. Plus, there's a lower barrier to entry: reading simply takes more effort than pressing play on a video. But if you can get someone to start watching your video, they're more likely to continue reading your post.
It Can Expand Your Audience Demographics
Gen Z is rapidly becoming a force to be reckoned with. With the oldest members of the generation now approaching 25 years old, a growing number are starting to become viable customers for many businesses.
TikTok has become wildly popular among Gen Z, and integrating it into your WordPress site gives you the opportunity to connect with this important demographic on their home turf.
If you want to reach Gen Z, TikTok influencers are one of the best ways to do it. Commission videos from them influences and then embed them into your WordPress site for a good shot at some great results.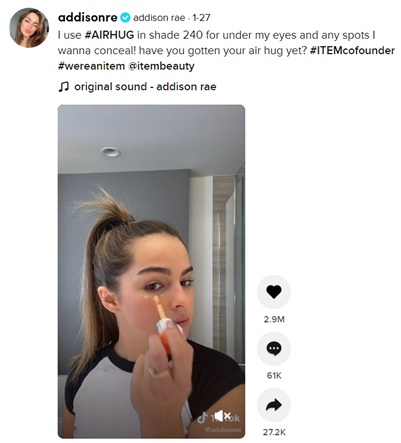 How To Embed TikTok Videos Into Your WordPress Site
There are four ways you can embed TikTok videos into your WordPress site.
Embed TikTok Videos Without a Plugin
This is the simplest way to embed a TikTok video in WordPress. To do so, all you need to do is copy the URL from TikTok and paste it into your post. You can grab the link by clicking the curved arrow button on a TikTok and then selecting "Copy Link."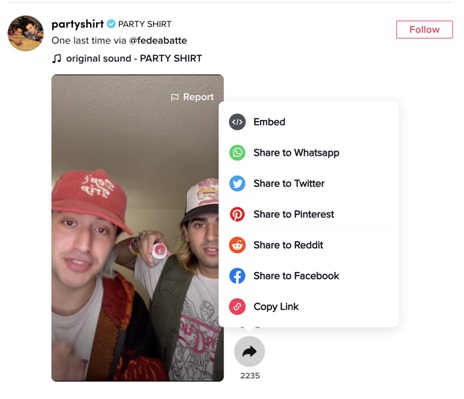 WordPress will automatically embed it for you and generate a preview. Just hit save, and you're good to go.
Alternatively, you can add a TikTok block from the edit screen. Just hit the "+" button to add a new block from the edit screen, and then search for TikTok.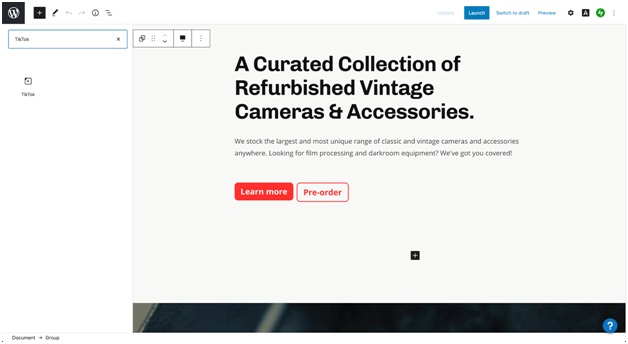 Then, copy and paste the TikTok URL when prompted. Hit save, and you're all set.

Use The HTML Block
This method is similar to using a TikTok block. From the edit screen, click the "+" button and then search for and select a Custom HTML block.
When you've done that, all you need to do is paste the TikTok embed code in when prompted — not the URL!
You can find this code as one of the sharing options on TikTok:
Paste the embed code into your HTML block, hit save, and the video will be embedded.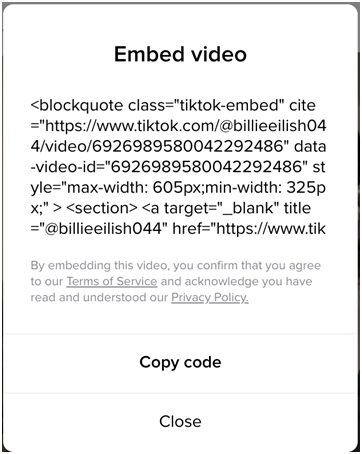 Embed TikTok Videos Using Widgets
You can also embed TikTok videos using various widgets. To embed a TikTok video using the Text widget, simply navigate to Appearance -> Widgets from the WordPress Dashboard. Then, select the Text widget (you'll have to scroll down a bit to find it).
Paste the URL in when prompted. After you click save, your video should appear embedded on your page.
Embed Your Entire TikTok Feed
If you want to share your entire feed instead of a single video, you can do so with plugins. There are quite a few that are available, such as QuadLayers TikTok Feed and WP TikTok Feed.
To use this method, all you need to do is install the plugin of your choice. From there, the plugin will walk you through the set up process. Typically, this only requires inputting your TikTok username.
The Bottom Line
Embedding TikTok videos into your WordPress site is an easy way to potentially increase your engagement and expand your audience into new demographics.
TikTok videos are fun and addictive, so incorporating them into your site can help keep your audience hooked on your content.
Latest posts by Artem Pavlov
(see all)