One Page WordPress theme is a type of theme that allows you to create a one-page presentation for your business. This theme is usually used as a landing page for your business, products, or services. With the one page layout, it gives your readers more ease at finding all important information about your business. The most common feature that is important for a one page WordPress theme is parallax scrolling. This feature allows your website visitors to see an animation effect as they scroll your web page and uncover each web element. It makes your website look more interesting for your readers.
There are hundreds of one page WordPress theme that you can use for your business. No matter what niche that you want to dive into, this type of theme will always help you to create the best way to present and promote your business. Whether you want to promote your restaurant, consulting, startup, software, hotel, and other businesses, you can use this theme to make your business presentation go smoothly, without any problem. This theme is designed to impress your audience and motivate them to try your products or services right away. One page WordPress themes are either available for free or as premium themes, depending on where you get it. Here are the top 12 one page WordPress theme that you can use for your business: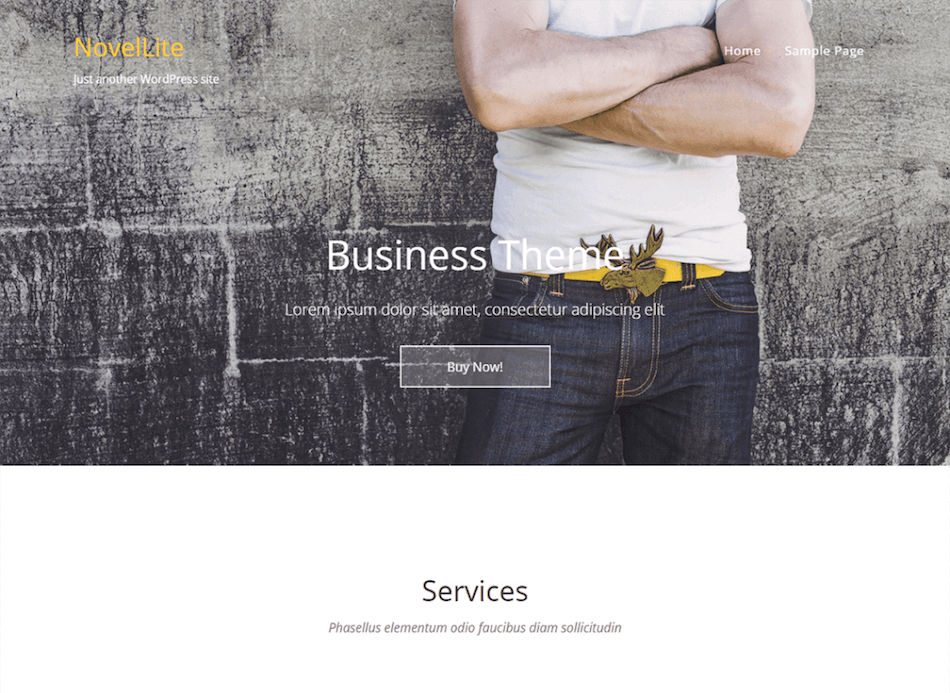 NovelLite is a responsive one page WordPress theme available for free download. It comes with various pre-built widgets as well as many useful sections such as testimonials, recent posts, teams, contact us etc. to create one page website from your WordPress blog.
The theme also supports WooCommerce natively. The theme is created with SEO in mind and can be setup in under a minute. It can be customized using WordPress's live customizer so you don't even need to touch the code. Apart from that, it is also translation ready so ideal for multi-lingual sites. NovelPro is a pro version with more section on the theme, more customization and layout options as well as faster and premium support.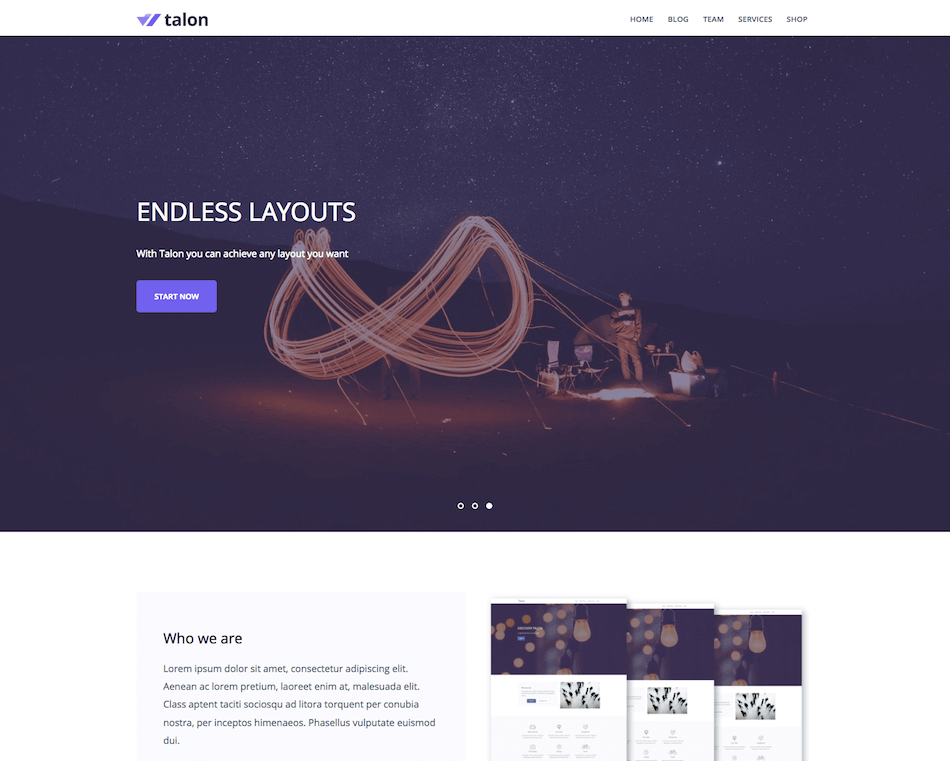 Talon is a business and multi-purpose WordPress theme available for free. The theme is offered by aTheme which is a leading theme developer (with popular free themes like Sydney and TheShop). Talon offers free theme with sections such as testimonials, team, blog, slider and more. The theme is offered as clean looking, one page layout and also supports WooCommerce. There are also options to select various icons and google fonts as well as various header choices.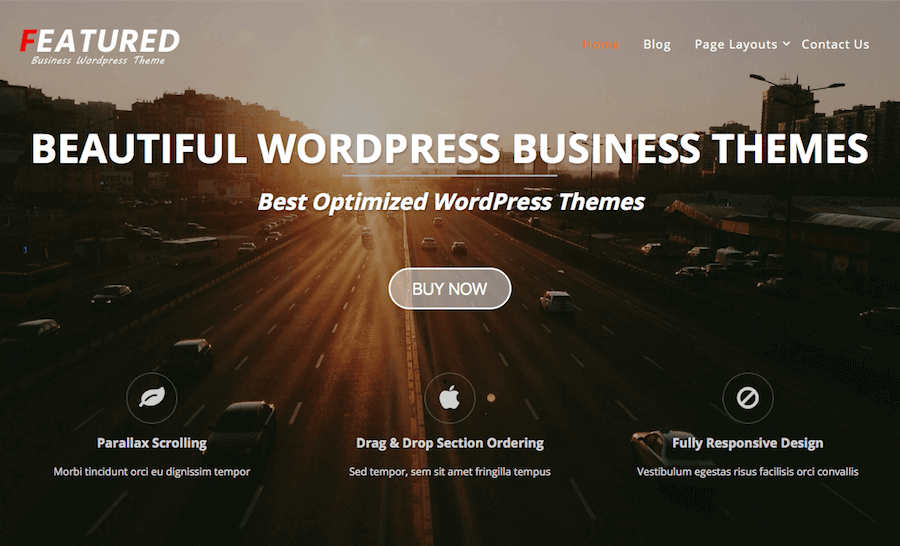 Featured is a one page WordPress theme provided by ThemeHunk, which offers various interesting and important features such as live customizer, live section ordering, widget ready, and parallax video background. This theme comes with the scrolling animation effect that you can turn on and off according to your need, depending on the type of website that you build.
You can order each web section easily by using the section order option, and your changes will be reflected in real time. The background option gives you the ability to choose either picture or video background and feature it in your header area.
4. AppLayers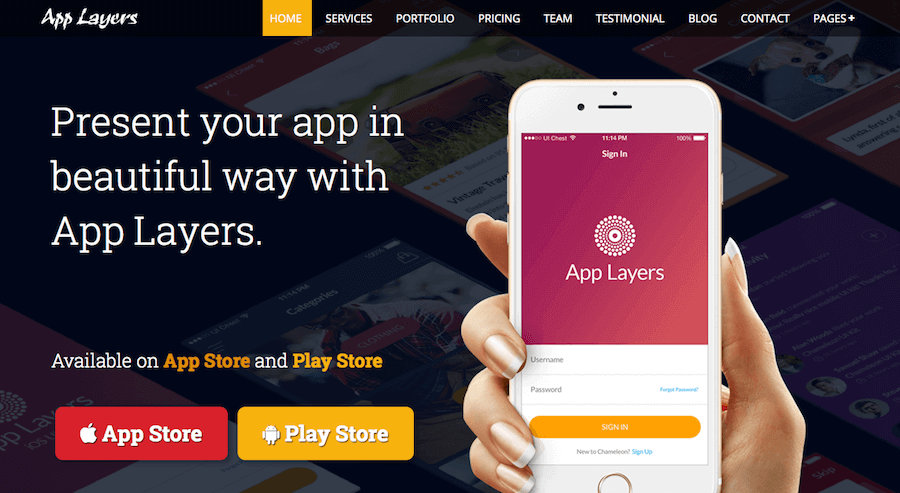 AppLayers is a great one page theme provided by Yay Themes, which is designed specifically to present your app in the most beautiful and interesting way. If you are an app developer and want to promote your app to your target audience, this theme is the best way to go. The sticky header, combined with the awesome slider, allows you to show your app and your brand professionally, helping you to encourage more people to download your app.
This feature allows your website visitors to download your app immediately when they visit your website for the first time. The pricing table section helps your readers to see the app pricing that you offer, as well as the features that they get for the money that they spend on your app.
Advent is a one page WordPress landing page theme provided by TeslaThemes, which allows you to present your product with style, as well as motivate your audience to try your product immediately. With a great product presentation, you can convert more visitors into customers more easily.
In the featured slider area, you can place a screenshot of your product with a zooming effect, allowing your website visitors to magnify your screenshot as they hover it. The feature section allows you to add various features of your product, which makes it easy for your readers to learn more about the product that they are going to buy from you.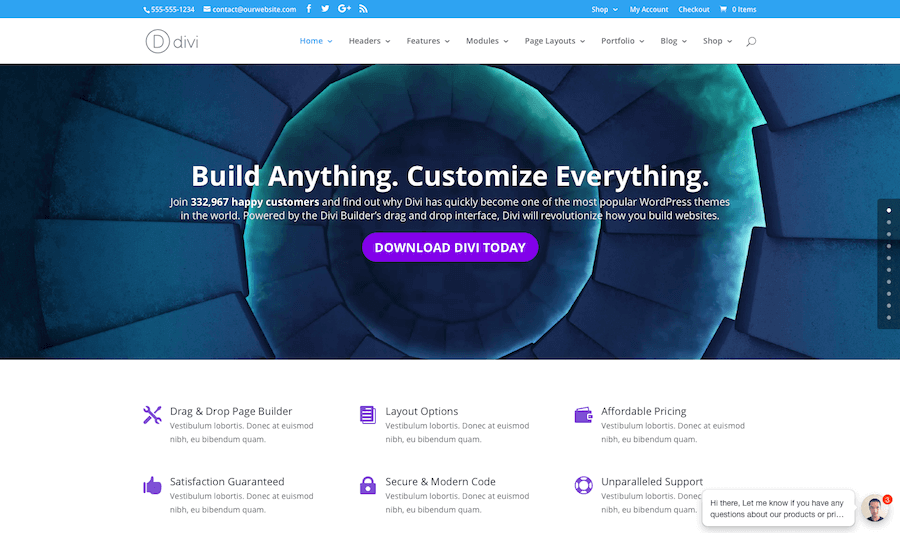 Divi is a flexible one page WordPress theme provided by Elegant Themes, which offers unlimited customization options that allow you to create the kind of business website that you really want. The versatile layout options allow you to choose the kind of website layout that you want, simply by using the drag and drop function embedded in this theme.
The core feature section allows you to let your audience know about the features of your product, with medium-sized images for each feature. The portfolio section can be used to show your latest work to your audience, and it is presented in the automatically-rotated image carousel.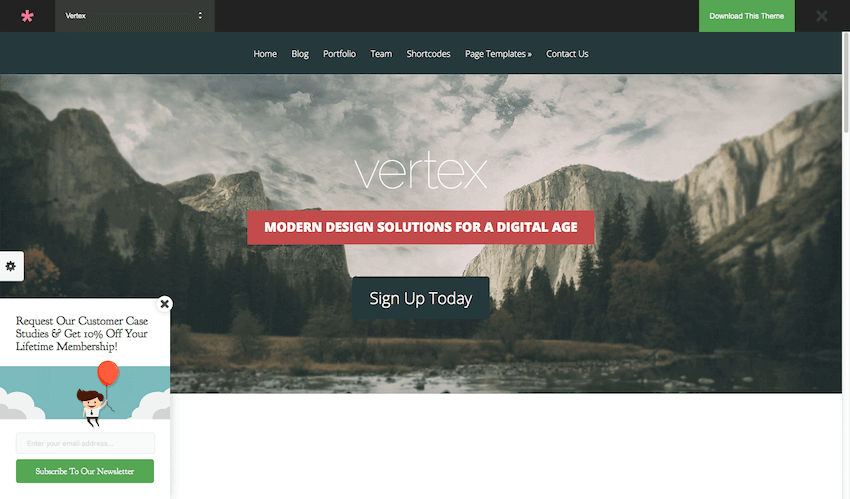 Vertex is an elegant and modern one page WordPress theme provided by Elegant Themes. which allows you to build an appealing website for your business. The portfolio section is offered in the grid-style images with no border or white spaces between each image, allowing you to show your past work in the most appealing way.
The feature slider function allows you to show the features of your business in the form of slides, with unique and smooth fade in animation effect for each slide transition. The team member section allows you to add information about your team members, along with their photos and skills.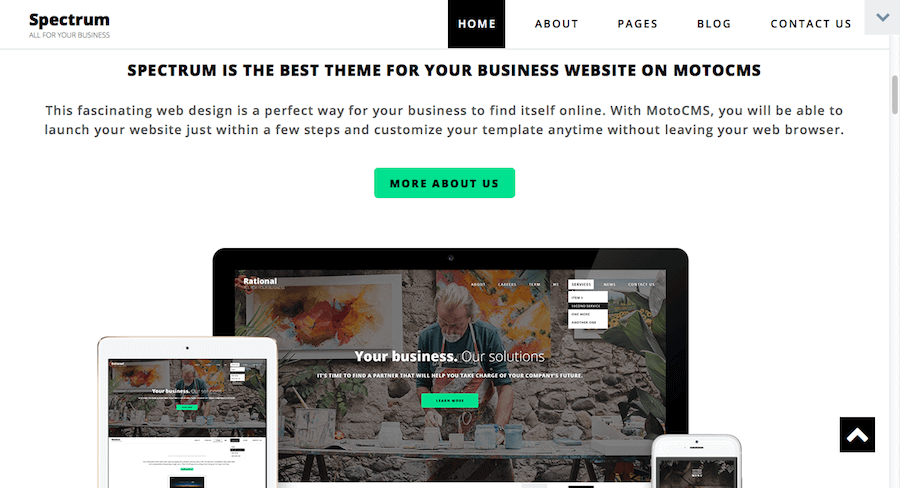 Spectrum is a one page business website WordPress theme provided by TemplateMonster, which you can use to create a professional business website for any type of products or services that you have. This theme offers two child pages that can be used for restaurant or cafe business or consulting business. The main featured slider area allows you to add full-sized images, which will blend smoothly with your header. This theme will also let you add the features of your products or services and present it in an appealing way to your audience. With the grid-based feature list and the ability to add a background image to your feature section, your business will look even more professional and reputable.
FlatShop is a one page WordPress theme provided by Themify, which is especially designed for WooCommerce store integration. This theme allows you to display various products from your WooCommerce store in one page, and it also allows your visitors to buy the product immediately with the embedded Add to Cart button. This theme has a drag and drop builder, which makes it possible for you to add any product that you want to show on your home page in just a few clicks. Each product section has different image backgrounds, with a big and bold title, as well as a big product image on the left, some product description, Add to Cart button, and More Info button. The parallax scrolling effect makes the page scrolling smooth and appealing to your website visitors.
Struct is a professional one page business WordPress theme provided by CSSIgniter, which allows you to create an awesome official website for your business. It is more suitable to be used to present your mobile app, software, SaaS, and startup business to your audience. The professional testimonial section makes your testimonials look more trustworthy and reputable, with a big testimonial area, image background, as well as customer name and position.
The pricing section allows you to let your potential customers know about the prices and features that you offer in your business, with the Buy Now button ready to take their orders immediately.
Variant is a one page landing page theme provided by InkThemes, which allows you to create a highly converting landing page for your product easily. If you want to convert more visitors into customers, this is the kind of template that you use. It consists of 5 main landing page layouts that you can choose, depending on the product that you promote, including tour packages, health services, wedding, hotel services, and cabs services.
With the custom lead generation form, you will be able to tweak your lead generation form, allowing you to either ask more or less information from your potential customers. This can highly affect the conversion rate of your landing page.
Aesthetic is a simple one page blog-style WordPress theme provided by ThemeFuse, which allows you to create a blog-style and personal website that looks simple, professional, and elegant. The website branding is placed on the center of the header area, with the navigation menu being placed on the left and right side of your website brand.
On the home page, you can show your recently published posts, presented in a way that can hook your readers immediately. Each post comes with a bold post title, a big featured image from the post, some sentences from the post with a big first letter, post tags, and the Read More button. You can set the number of posts that are displayed on the home page via the dashboard menu.
Those are some of the top one page WordPress themes that you can use for your business. By using these themes, you will be able to create a professional and appealing presentation for your business, allowing you to attract as many clients or customers to your business as possible.
Latest posts by Artem Pavlov
(see all)