10 Surprising Facts That Show How Popular WordPress Really Is
Not many would disagree that WordPress is easily the most popular CMS out there. Since its launch 12 years ago, WordPress has grown into a favorite platform for blogs, portfolios, and functional websites.
Still, its sheer popularity is something everyone knows about, but not many of us can actually guess how popular WordPress really is.
Here are 10 surprising facts about WordPress to help you realize the role it plays today in the web.
1. Almost 2 new posts every second
You got it right. Every second, there are 1.58 new posts published on blogs managed with WordPress. This means that, on average, we witness the appearance of 95 posts every minute, almost 137,000 every day and a smashing amount of circa 50 million every year. In June 2015 alone generated almost 54 million posts.
All this shows that WordPress is clearly the most popular self-hosted CMS solution. Needless to say, its free version ranks second in popularity, topped only by Google's Blogger platform.
If you're interested to see a global map of WordPress bloggers as they post in real-time, have a look here.
2. There are more than 38,000 WordPress plugins
The multitude and variety of available plugins is a feature that definitely sets WordPress apart from other CMS solutions. Plugins allow users to extend the functionalities of WordPress blogs and websites way beyond the core installation. As you can imagine, removing access to them would have a great impact on WordPress users.
Every day, WordPress database of plugins is rapidly growing – recently it hit the 38K mark and it's estimated that a new plugin is added to it every hour. Until now, users have downloaded plugins over 975 million times. It's safe to say that if you'd like to add a feature to your blog or website, there's probably a plugin for it.
Interestingly, Akismet is the most popular plugin around – probably because it comes auto-installed with the newer versions of WordPress. All in all, it has been downloaded 1+ million times – an estimated 0.03% of all plugin downloads at WordPress.
3. WordPress 4.2 has been downloaded 24 million times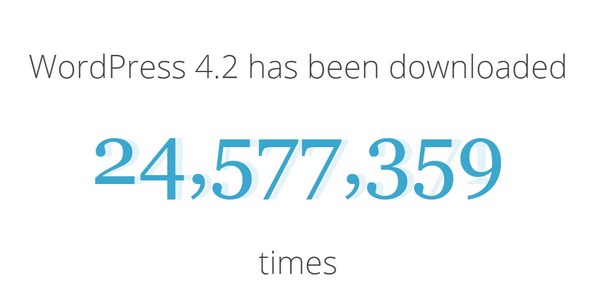 WordPress 4.2, the newest version of WordPress.org, the free platform supporting self-hosted websites, has been downloaded 24 million times. What gets counted as a download in this context is not only the download itself but also the installation of WordPress with Fantastico or 1-Click.
Since the last few years have become a renaissance of blogging, the download rate is rapidly growing – some estimate it to amount to tens of thousands downloads per day!
The latest version of WordPress is 4.2 has now been downloaded over 24,000,000 times and increasing rapidly.
4. 52% of top 100 blogs on Technorati are managed on WordPress
Just think about it – even though there are other content management systems available on the web, almost a half of blogs listed by Technorati in their famous list decided to use WordPress as their CMS platform. This single statistic tells us a lot about the popularity of WordPress.
Who chose WordPress over other platforms? Think giants like The New York Times, Mashable, CNN or eBay – all of them run their blogs on WordPress, easily the most popular CMS in the world.
5. 37 million searches are noted for WordPress-related keywords every month
Let's have a look at search statistics now. Every month the keyword "WordPress" itself receives over 450,000 exact match searches. Consider this: we're talking just about "WordPress", not "WordPress plugins" or something similar.
Counting the searches of all keywords that contain WordPress or WP, the latter a common abbreviation for WordPress, the monthly figure for all these searches reaches a smashing 37 million.
If this figure remains constant, WordPress will receive a total of 444 million searches in 2014 and even more in 2015. If that's not impressive, we don't know what is. In total, WordPress receives five times more shares than Joomla and nine times more than Drupal.
6. More than 50 million comments per month on WordPress blogs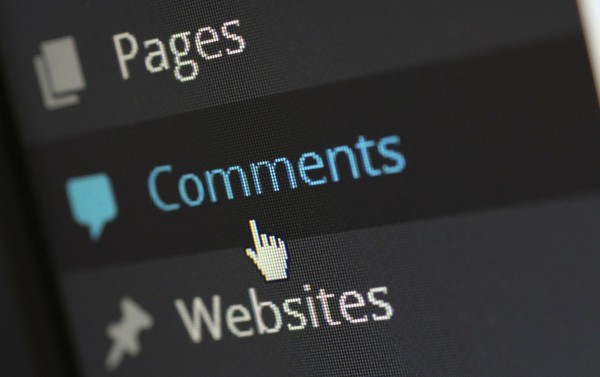 This figure will boggle your mind. Every month of the first half of 2015, counting all the data together, produced on average 59.1 million comments. This just goes to show that WordPress helps bloggers in boosting engagement and communication with their audiences.
All comments counted in are legitimate comments that have made it through spam protection too – impressive! What about spam comments? Akismet – the most popular WordPress plugin – suggests that the number of spam comments generated every month is in fact 24 times higher. This means that WP bloggers receive 59.1 million relevant comments and about 1418 million pieces of spam.
7. WordPress has been translated into 55 languages
This is a great piece of news for those for whom English is not the first language and they would feel more comfortable having to deal with a platform in their own language. Well, your choice is pretty wide – until now, WordPress has been translated into 55 different languages.
Whether it's French or Croatian, Finnish or Dutch, you'll always find a great alternative to English when it comes to managing your dashboard. If you happen not to speak any of the 55 languages available now, all you need to do is wait a little – WordPress team is busy updating this list of available languages all the time. Have a look here to see all languages available for WordPress right now.
8. 22% of new US domains run on WordPress
This fact will be especially interesting for those keeping a close eye on the American tech industry. Apparently, out of every 100 domains registered in the US, 22 of them will run on WordPress. Now, consider this: on average, there are 120,000 domains registered daily on WordPress all over the world. Looks like there's a great future ahead of WordPress on the American market.
9. The are 98 version of WordPress to date
Last time we checked, there have been completed as many as 98 different versions of WordPress. Even if the team of WordPress is characteristically small (more on that in the next point), they sure are keeping up with the platform. WordPress unfolds some major updates every few weeks, not to mention the fact that the WordPress.com source code is itself updated around 60-80 times per day. Of course, all these changes are synchronized daily with the WordPress.org platform.
10. WordPress.com employs a total of 283 people
It's hard to believe that there are not even 300 people behind the incredible success of the company. By fall 2014, their number in total amounted to 283 – Amazon, which receives a mere 60% of WordPress.com's traffic, employs a slightly larger bunch – 132,600 people! That's exactly 468,5 times more than WordPress, but look what a difference. Needless to say, WordPress is always on the lookout for the best developers and rising talents in the field.
By the time you finish reading this post, you're not likely to doubt the popularity and power of WordPress – this CMS platform is being constantly expanded with new software and plugins. We predict that the future, of blogging and management for self-hosted websites lies with nothing other than WordPress.
Author bio:
Torri Myler

is a Project Manager and a Team Leader at BankOpening.co.uk – a bank opening times directory. She is passionate about New Technologies, Internet, and Social Media as well as is a great WordPress fan. She loves to lecture how to make the most of the potential of the Internet for business development.
Latest posts by Artem Pavlov
(see all)