A PSD template is the first thing required to create a site with an outstanding design. Work with raw source files can break any limits set by CMSs and provide endless options for customization. You can customize literally any facet of your website graphics in Photoshop, e.g. colors, typography, imagery, backgrounds, or any other UI elements. In this post, we'd like to showcase 20 of the best PSD templates that can give a kick-start to your web design project.
We pursued a goal to make this set versatile for literally everyone, that's why we included designs for different business niches to it. Whether you are involved in a serious sphere like finance or a creative one like photography, you will find the right option for your field of activity here. If your specific niche is missing, there's no problem. As we've already mentioned, you can edit each template in Photoshop to adapt it to your personal requirements or click here to look through a wider range of stylish PSD designs.
What also makes these PSD templates worth trying is their compliance with hot trends of web design. Just check their features out – most of them use carousels for compact content presentation, full-width slideshows for effective customer engagement, catchy CTA elements for stronger motivation…  Not only will you be able to design a visually appealing and modern site, but also the one providing usability and improving conversion. So, scroll down and choose.
In case some templates catch your fancy, this discount coupon will come in handy for you. Also, follow the link if you need a ready-made solution for your site.
Architex PSD Template
Architex is a PSD template intended for architectural bureaus and interior & exterior design companies. To set an effective focal point of your site, there is a full-screen header overlaid with a logo, menu items, captions, and catchy CTA button. A harmony of blue and white graphics makes the overall design pleasant to the eye. By means of a grid-based layout and boxes, you can add a sense of structure to your web resource. This template is also remarkable for large readable titles, boxed gallery, and blog post previews.
* * *
School District PSD Template
With the help of this PSD, you can promote schools, colleges, universities or any other education-related sites. The template boasts a vibrant design accomplished in an inviting tone. Well-defined boxes improve the content hierarchy, whereas positive images support it visually. These multicolored boxes stand out in the snow white background along with motley icons, buttons, and menu items.
* * *
Dental PSD Template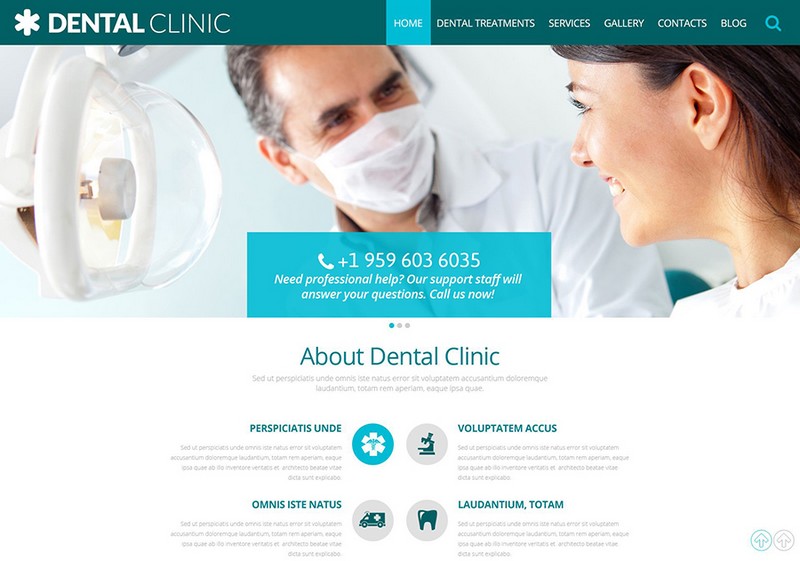 This PSD template can be used to design sites related to different branches of medicine, particularly dentistry, pharmacy, surgery, etc. With its help, you can represent your clinic from different sides, from its staff and services to partners and testimonials. The template boasts a full-width slideshow and tiled gallery with a sorting option. To help would-be customers reach you, there is a contact form and interactive map at the bottom of its well-structured layout.
* * *
Material PSD Template
Here is a clean PSD template crafted in the hottest style of today, i.e. material design. This technique can make the screen image much more realistic. The template also boasts an eye-friendly design with a lot of white space that brings the content into focus. The latest projects are shown in a carousel while the statistics are unveiled with dynamic counters. To expand your mailing list, there is a built-in newsletter form followed by a contact form, contact info, and social icons.
* * *
Corporate Consulting PSD Template
Take a look at a PSD template meant for consulting and advertising agencies. Its content-packed design features tabs and carousels to present the information compactly. You can also reveal your pricing policy in well-defined tables and customers' testimonials in elegant blockquotes. In terms of visual aesthetics, the template is notable for page-wide images, ghost buttons, Font Awesome icons, and clean layout flavored with vibrant blue and orange accents.
* * *
Travel PSD Template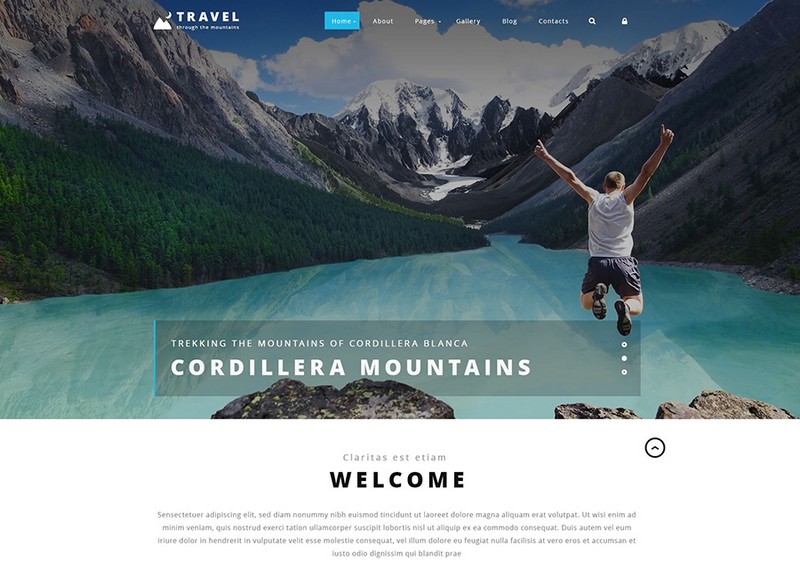 Check a PSD template designed to promote traveling, camping, hiking, and other activities. Its full-screen intro area is equipped with all the essential functionalities such as menu items, search and login options. For better visual perception of the content, background images separate blocks from each other. As finishing touches, there are newsletter and contact forms followed by social icons that can reinforce your social media presence.
* * *
Gitex PSD Template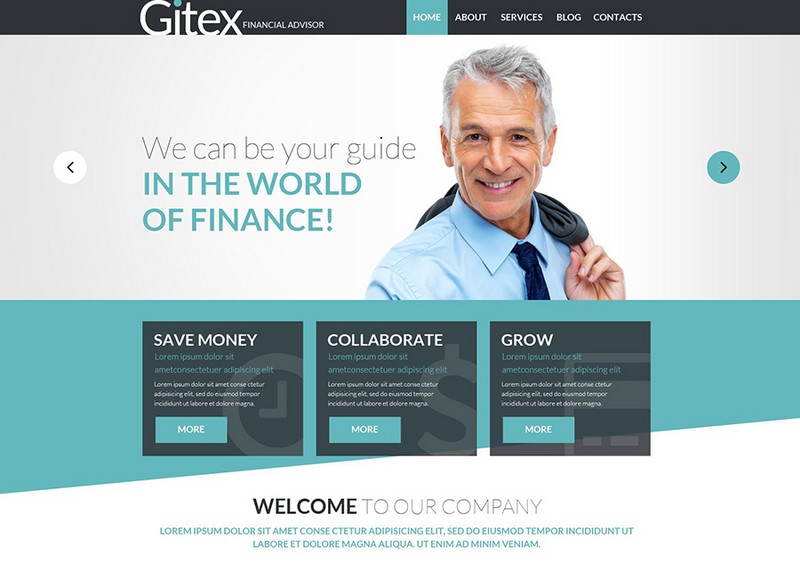 Gitex boasts a professional, three-column design apt for sites of financial experts, bankers, accountants, investors, etc. This PSD template boasts a well-balanced palette combining blue, dark gray and white colors. It can set a formal yet friendly tone in your website look. Oblique boundaries of content blocks add a cutting edge to the overall design. By means of a Google map at the bottom of the layout, you can display the exact location of your office to potential customers.
* * *
Obrus PSD Template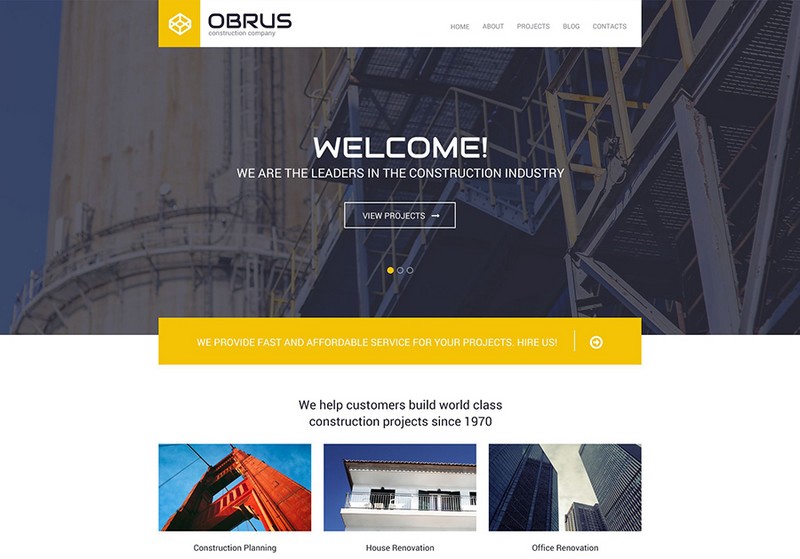 Obrus is custom-made for construction, engineering, and many other industrial sites. It starts with a slider followed by a clean, three-column block, which is a smart solution to stimulate customers' interest in your services. For greater reliability, testimonials are shown with their authors' photos and links to their web resources. Pre-loaders are useful elements for any conversion-focused site, whereas a filterable gallery makes it easy to browse through your projects.
* * *
Writer PSD Template
This PSD template is a perfect option to build professional online portfolios. Designed in pastel colors, it boasts a well-balanced alternation of white and brownish blocks. Its layout is supplied with easy-to-navigate carousels that can show your offerings, news, and testimonials in a compact manner. The "about me" block comes with social media icons duplicated one more time in the footer.
* * *
Exdesimo PSD Template
Exdesimo is a visually rich template tailored for landscape design firms. It features a functional image header equipped with a burger menu icon, transparent logo, and captions. What's also notable about this design is skillful use of edgy rhombic elements, semi-transparent banners, and gallery with tabbed navigation. Moreover, a contact form is laid over a Google map, which can help you save more space on the page.
* * *
European Cuisine PSD Template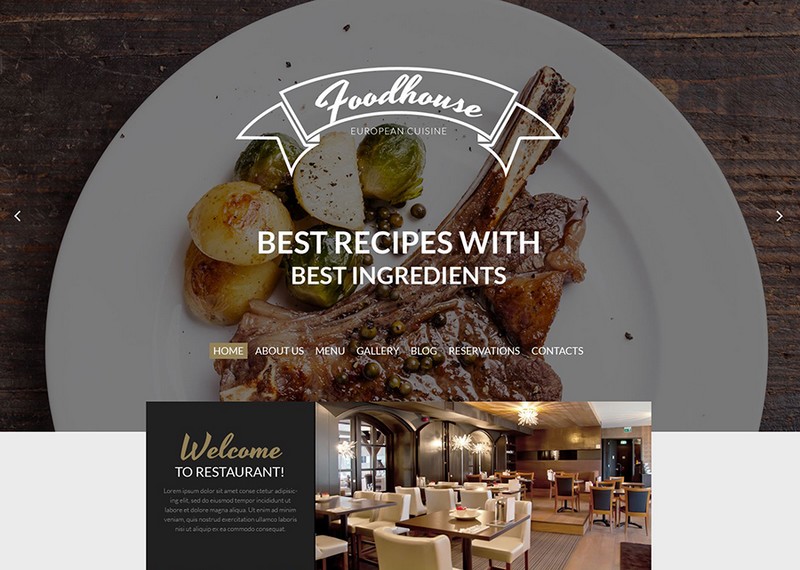 Try this mouth-watering design if you run a restaurant, cafe, or any other food-related site. To spotlight the specialties of your eatery, there is a large slider at the top of the layout. A square-tiled gallery allows you to show more savory images of your food. You can also display your full menu in a clean block, where dishes are evenly arranged in three columns. Thanks to a reservation form, customers can book a table at your restaurant online.
* * *
Agriculture PSD Template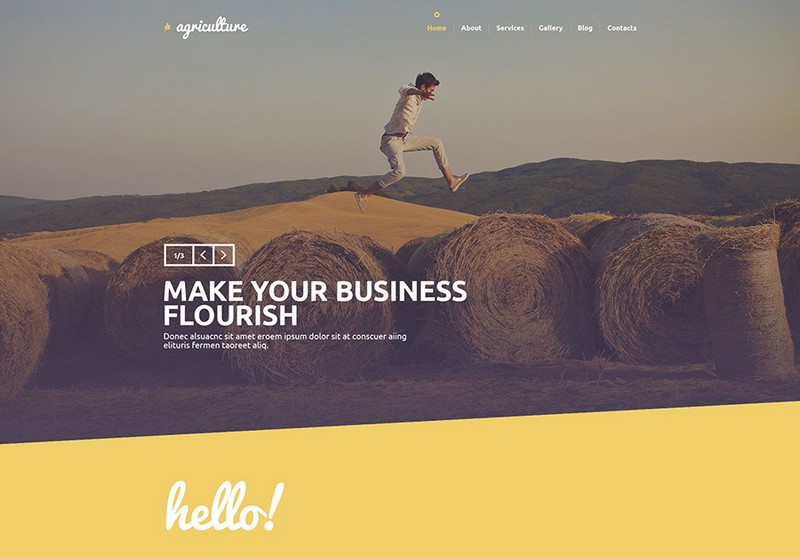 Here's an ultramodern PSD template suitable for agriculture and gardening. Content blocks are outlined with oblique contours adding zest to the overall aesthetics along with ghost UI elements. Services are highlighted with icons, whereas images are arranged in a slider and filterable gallery. Readable typography and easy-on-the-eye palette make this template a wise choice for everyone who wants to build a user-friendly site.
* * *
HR Recruiting PSD Template
This template is intended for recruiting agencies and job portals. Its large hero area can make an effective introduction to your business, whereas stylish banners can draw visitors' attention to your promo content. Blocks with testimonials and partners' logos make it easier to build customer loyalty. This PSD design is beneficial for sites supplied with blog functionality, as it displays classy previews of the latest blog posts.
* * *
Car Repair PSD Template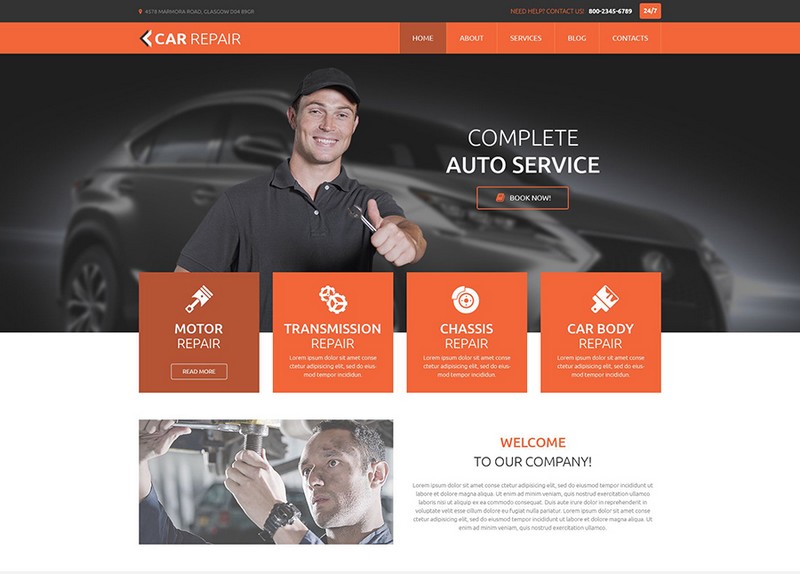 This minimalist PSD template is an ideal option to promote maintenance services, e.g. repairs, plumbing, roofing, cleaning, etc. Its dark header and footer stay in a sharp contrast with the rest of the light layout, where orange accents guide the eye through the page. Thanks to the thought-out structure of this design, you can display your services in lists, testimonials in blockquotes, partners with logos, and location on the map.
* * *
Real Estate PSD Template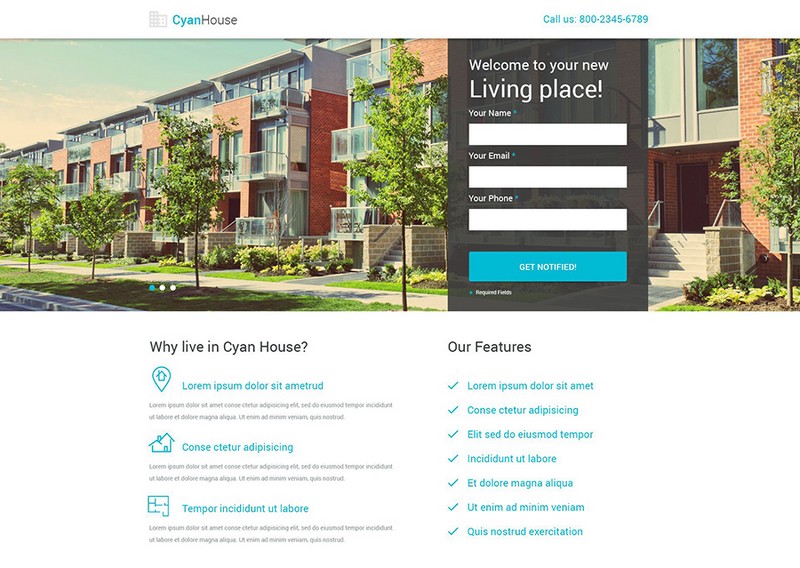 Give a try to this PSD design if you run a real estate agency. Playing the role of layout dividers, full-width images are overlaid with informative banners. A carousel is used to display available apartments, each of which comes with such details as pricing, area, number of rooms, etc. The template also comes with different forms, particularly a booking form to reserve vacant rooms, a newsletter form to subscribe to your promo emails and contact form to get in touch with you.
* * *
Spa Relax PSD Template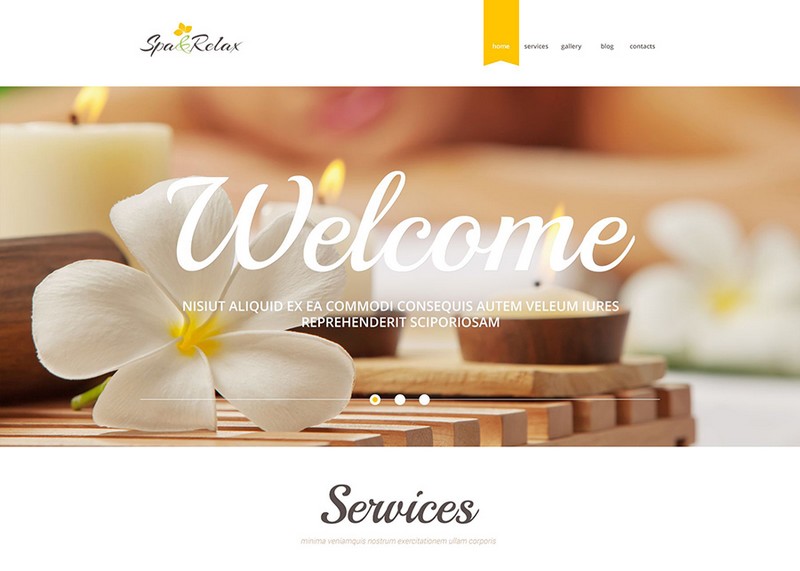 Create a web presence for your beauty salon with the help of this PSD template. What makes its design eye-friendly is a crystal clear layout supported with elegant imagery. In general, the template looks minimal but still has all the essentials such as testimonials, social media options, full-width slider, etc. A photo gallery is followed by a custom block with a promo banner. The latter is meant to inform customers of discounts or any other special offerings available at your salon.
* * *
Tomi Solas PSD Template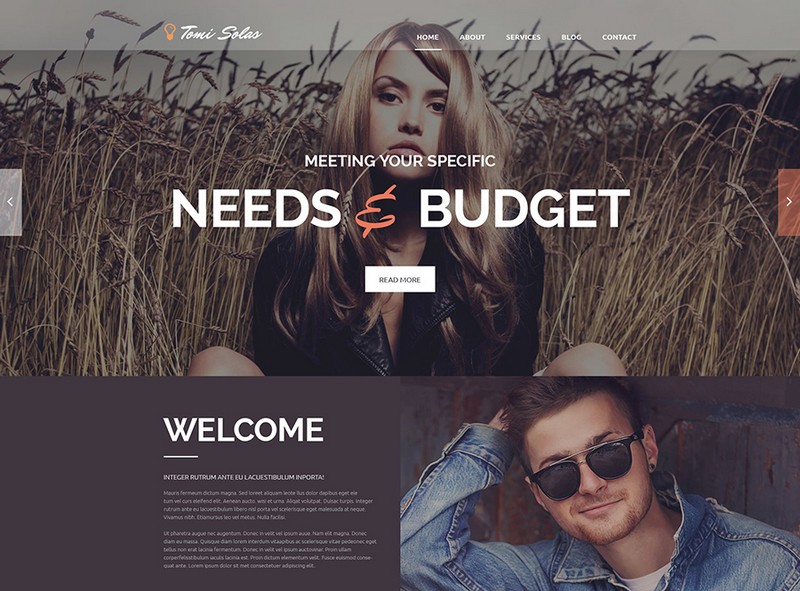 Tomi Solas is a polished, image-rich solution for photographers, designers, artists, and other creative individuals. To showcase your artworks with style, it features a page-wide slider and filterable portfolio. The section of news is also well-illustrated, whereas testimonials are accompanied with customers' photos. Polygon backgrounds, ghost buttons, and minimalist icons add flair to the overall look of the template.
* * *
Hosting Company PSD Template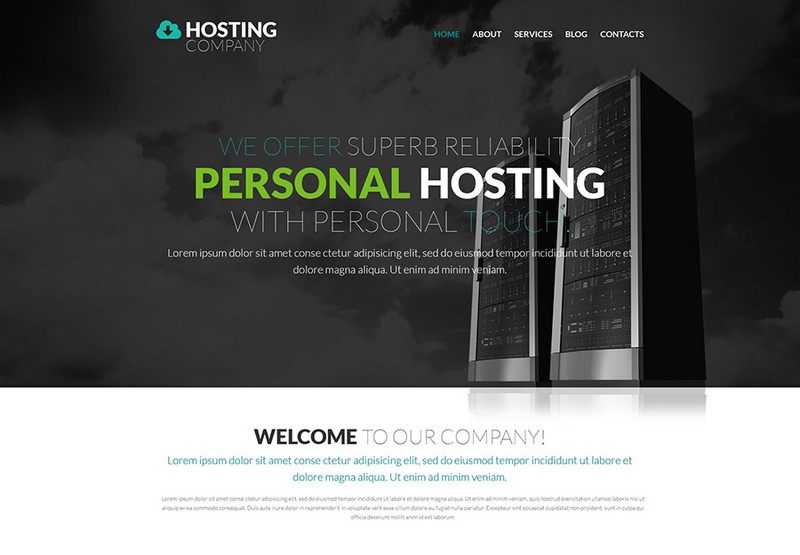 Make use of this PSD to promote your hosting or any other Internet-related services. Its content-packed design allows you to introduce your company in full, revealing its services, stats, customers' feedback, contact info, and different pricing plans in an easy-to-compare manner. Polygons, geometric shapes and multicolored accents add a trendy touch to the template's aesthetics. Subdued backgrounds allow readers to concentrate on the information without any distraction.
* * *
Fashion PSD Template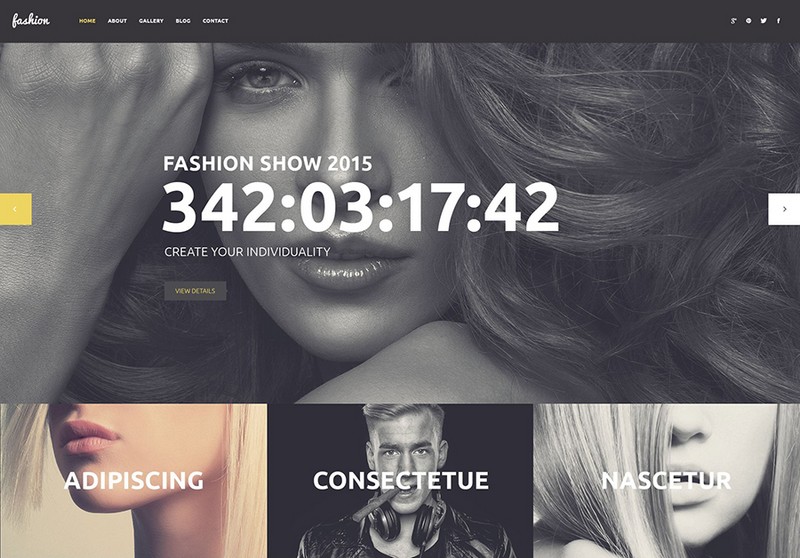 Consider this PSD template for a design of your fashion- and beauty-related site. Designed in dark tones, it can make your user interface look chic and elegant. To add some luster to it, there are yellow UI elements scattered across the layout. A countdown in the image slider can inform customers of how much time is left until the beginning of a certain event.
* * *
Your App PSD Template
The last PSD template from our set is meant to promote technology online, e.g. software, hardware, electronics, etc. Its informative layout highlights product features, FAQs, pricing packages, testimonials and other things that can answer customers' questions without contacting you. There is also a YouTube video to show your product in action and engage prospects to a greater degree. In terms of visuals, this design boasts a turquoise palette and ample clean space.
* * *
We hope our hand-picked selection could help you find the right PSD templates for your needs, and the discount coupon made it available to you more than ever. Feel free to share your impression about these 20 PSD designs with us in the section of comments.
Latest posts by Artem Pavlov
(see all)