Running an online business is no small feat. There is content to produce, marketing to and analysis of prospective customers, and don't forget fulfillment of products or services.
If you are an online business owner, a freelancer, or someone who simply makes a living via a WordPress website, you understand that in order to be successful, time management is key.
But what about all of the behind the scenes tasks that need to be handled on a regular, sometimes daily, basis? Things such as updates, backups, compatibility issues, database optimization, security scans, and more.
Maintaining your WordPress website can take a lot of time away from your business' bottom line. It is easy to get caught up in the administration side of things, which don't get me wrong, is very important. But when your livelihood depends on revenue from sales and you neglect to put enough time into establishing and running your business, you will ultimately lose out on some great opportunities.
That is why today I am going to introduce to you a great solution to your WordPress website maintenance needs: FixMyWP.
What is FixMyWP?

Simply put, FixMyWP is a WordPress website maintenance solution that offers a la carte WordPress Support Services and WordPress Maintenance Package Services for websites.
The services provided are intended for those who do not want to deal with behind the scenes site-related tasks. As they put it, it for those who want to work "on" their website, not "in" it.
Let's take a look at what the WordPress specialists at FixMyWP can offer you and your WordPress website.
A la Carte Maintenance Services
The cool thing about FixMyWP is that they offer both single task services and package deals. This is great because it offers you the flexibility to only pay for what you need.
Using the a la carte services is very simple. First you will submit a WordPress Support Request outlining the problem you are having to FixMyWP. They will then respond to you with a price quote and consult with you for free about the issue(s) you are having.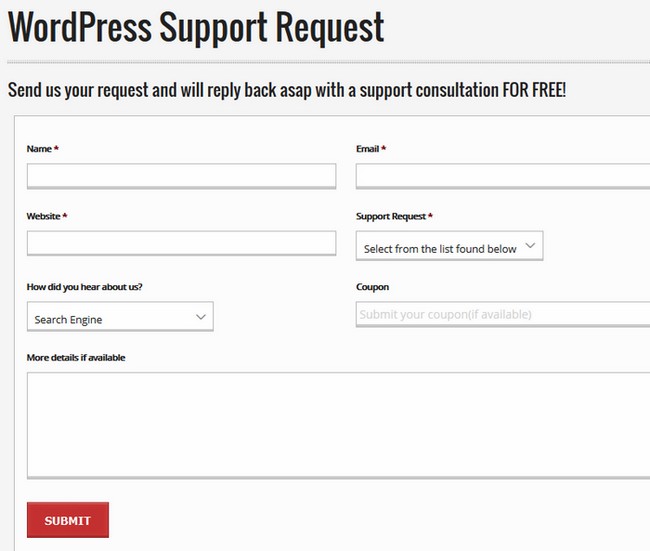 Once an agreement is made, you pay via PayPal and they get to work. In addition, as FixMyWP works on your website you will receive regular email notifications about the progress being made so you always know what is going on with your website.
Below we will take a look at the individual services FixMyW has available for anyone using WordPress that is having a site-related problem.
Have You Been Hacked?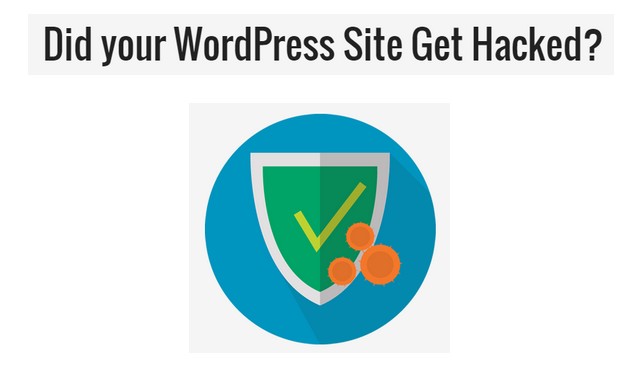 FixMyWP understands the why behind site attacks:
Compromised ftp credentials
Outdated WordPress installation
Vulnerable themes and plugins
Insecure web hosting and weak passwords
They also know that being hacked is one of the most devastating things your website can experience. Not only can it wreak havoc on your website's functionality, it can affect your business by decreasing traffic, hurting search results, or possibly getting you banned from Google all together.
That is why FixMyWP makes this service a priority. Experienced in reviewing code, backing up your website, and restoring your site back to its normal self, all within a day or less, FixMyWP gets the job done fast. They also protect your site so that it does not get hacked again in the future.
What's more, they even offer a 5-day guarantee complete with cleaning services should your website get attacked again.
Experiencing WP Theme Issues?
FixMyWP can install, modify, edit, and restore your WordPress theme effortlessly. What's more, they even offer to customize it complete with new features such as template pages if you wish.
Are Plugins Causing Problems?
FixMyWP can perform an entire analysis of your website, find conflicting plugins, update if necessary, and even install and modify new plugins to make your site that much better.
Do You Need a WordPress Upgrade?
If you neglect to update your WordPress website you open yourself up to hackers who can insert nasty code onto your site and even steal your personal information.
Using FixMyWP's WordPress upgrading service protects you from the worst. With little downtime and a complete backup of your site before, during, and after the upgrade, rest assured none of your hard work will be compromised.
Do You Want to Migrate?
Sometimes you come to the realization that your current hosting provider just cannot support your growing business and you need to migrate your website to another hosting service.
FixMyWP will move all of your websites files to the new hosting provider, reconfigure your WordPress installation, and even set up a new domain name if you want to make that change. Their goal is to make the migration of your website as smooth and problem-free as possible.
Need a WordPress Installation?
FixMyWP can install your WordPress for you, setting up your theme and installing plugins as well, so that you don't have to deal with any of the technicalities behind creating a website. What's more, they will be on standby afterwards should your encounter any issues along the way.
FixMyWP Maintenance Plans
In addition to the a la carte services FixMyWP offers WordPress users, there are two maintenance plans that provide a package of services for you to take advantage of.
Junior WordPress Maintenance Service
For $50/month you can enjoy a basic set of WordPress maintenance services to keep your website up and running without putting any of your time into it.
Ninja WordPress Maintenance WordPress Service
A step up from the Junior service plan, for $100/month you can enjoy a set of premium services that keep you out of the admin side of your website and only on the revenue building side where success awaits you.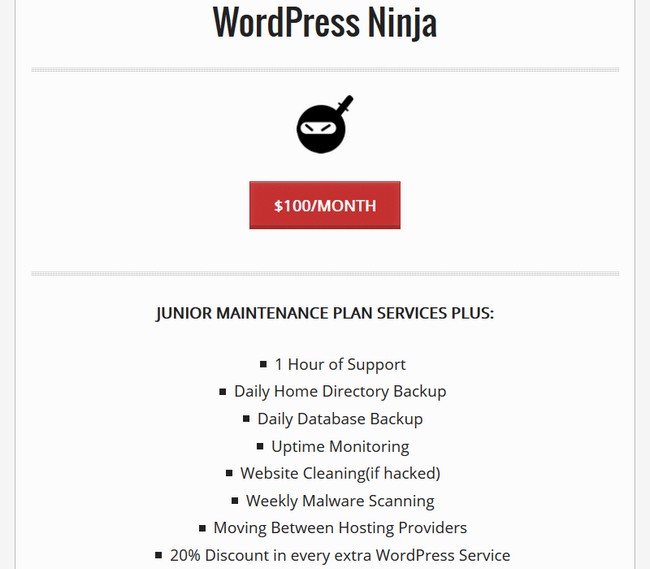 It is important to note that both the Junior and Ninja maintenance plans come with a page speed optimization report upon signup, off-site cloud backups, and 24/7 email support.
Possible Downsides
After exploring the services FixMyWP offers website owners I did find in the "Fine Print" some things that may not sit well with some:
Each WordPress Maintenance Service can only be used once per month.
Reply from FixMyWP: After the first month of maintaining a website, there is not much that could happen so for example, our subscribers never had to clean their site at all since it has been always up to date and take care of. We had to put this restriction because we can't control who is having admin access to the Dashboard or how their Hosting partner works thus we may find ourselves in a situation where a site is constantly hacked and misused. That has nothing to do with maintenance so we had to exclude it from our services.
You can use all of the listed services during the same month.
Reply from FixMyWP: Well that is actually a good thing because it states that you can ask us to work on your site fixing a js conflict on Monday, then ask for a site cleaning service on Wednesday and a host migration on Friday. We tried to make it clear that you can enjoy all services under the same month.
Payment is per WordPress installation with Multi-Site installations counting as more than one site.
Reply from FixMyWP: Each minisite from a multisite installation is actually a separate site so it needs to be maintained separately. Many WP Maintenance Services either don't mention support for Multi-Sites or don't offer any since those kind of installations are always more complex that regular ones. We decided to provide support to our clients and be transparent about it.
WordPress Maintenance Services are not transferable from month to month.
Reply from FixMyWP: The subscription model works this way. I feel this point of criticism is a bit stressed, I mean point me to one subscription service that transfers its services from one month to another and I will stand corrected. Once more I think it's about me being as transparent as possible by stating the obvious which in return makes my visitor question themselves about something they are used to see but never really been told about.
Final Thoughts
Overall FixMyWP does offer some really great maintenance services for those using WordPress websites. It's unfortunate that general pricing is not available for their a la carte menu.  Though each website does differ in its maintenance needs, it would be nice to have an approximate payment price for comparison reasons.
I did however really love the setup of their website. Under each service, they provide there is a detailed explanation of what each service entails and why it would be important to have this service applied to your website. I think this lends to the credibility of the company and lets me know my website is in the hands of experienced WordPress professionals.
The tedious tasks that happen behind your WordPress website must be taken care of if you want your website to render perfectly to your site visitors. When finding the time to care for your site's insides becomes difficult, I would definitely recommend giving FixMyWP's maintenance services a look. With affordable and fairly comparable maintenance service packages and individual pay for what you need services, I feel your website would be in good hands with the team at FixMyWP.
And if your website would get hacked FixMyWP WordPress Hacked Fix Services clean and update your WordPress Site in 24 hours or less.
Have you ever used FixMyWP for your WordPress website?  Did you use an individual service or a package deal?  I would love to hear all about it in the comments below!
Latest posts by Lindsay Liedke
(see all)