This collection of WordPress themes is truly special. Even if you are not sentimental, it's always pleasant to feast your eyes upon cute/pretty things or designs, like in our case. But if you are working on love, wedding or dating site, this collection may become practical either. It will free your hands from extra work, free your mind from extra thoughts and free your time for the things you like to do.
All the themes featured below fit for dating sites, wedding agencies and albums. They were developed at TemplateMonster's factory, which has more than a decade of web design and development experience. If you are an industry professional, you have surely heard about the company. It offers products of the highest quality, that's why working with them is always a plain sailing.
The themes are responsive, easy to customize, supplied with Bootstrap and built on Cherry Framework. Their MotoPress editor enables template owner to edit his/her post by dragging and dropping content elements. Parallax and lazy load effects contribute to templates visual appeal and usability.
The themes are search engine friendly, WPML ready and have a bundle of other current features you would like to include in your website's benefits list. We believe that no words can describe premium love and dating WordPress themes showcased in this article, so we just offer you to browse them.
And don't forget to visit this link if you are going to launch a startup but not sure how to do that correctly. You will find awesome tips, guides, articles and other info on the topic.
Dating Agency WordPress Theme
This theme is designed in flat style. It has a hidden menu and an amazing full-screen slider. Parallax effect provides deeper user immersion into website's environments. MotoPress editor enables to edit your post simply by dragging and dropping content elements. The theme is built on Cherry Framework 4, which makes it even easier to customize and maintain. You can choose between Accordion, Carousel, Gallery, Isotope and Slider gallery scripts to make your web page even more visually appealing and dynamic.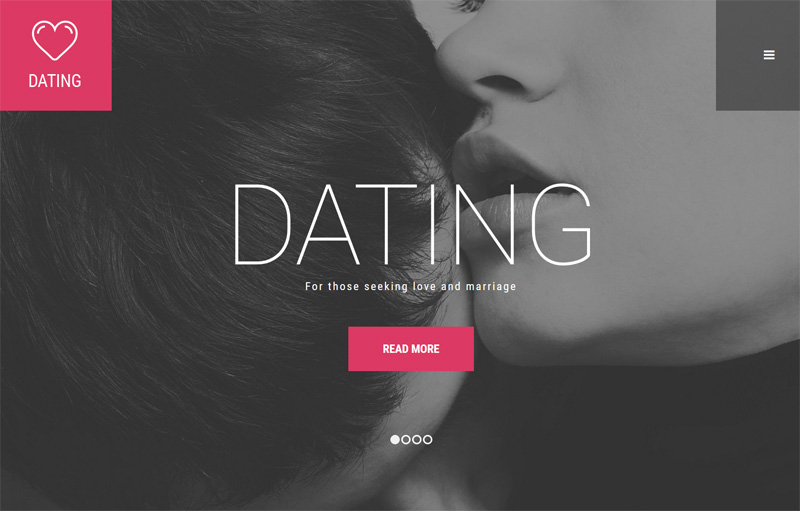 ***
Love Hearts WordPress Theme
The theme is 100% responsive, so it will be rendered perfectly on any gadget screen. It is fully editable as well, which means that you can fine-tune your slider, change sidebar position, pick out typography solution you like the most and do many other things. The template offers custom post types & post formats. It will be easy to style your content the way you wish. It is multilingual ready, that is, borders, oceans, and continents won't be obstacles on the way to the loving hearts. Template's package includes 80+ shortcodes that will make its customization a child game. You will see trendy parallax and lazy load effects browsing the theme.What is Stars Arena and How to Register?
***
Dating Responsive WordPress Theme
This clean dating theme has a sticky menu, which is separated from the rest of the layout by decorative stitches. Menus that are pinned to the top of the web page make sites navigation simpler as all their items stay before the user's eyes all the time. The theme is SEO ready, so it won't take people long to find your website on the web. Fantastic sliders make the web page extremely appealing. You will be able to customize your website typography with 600+ Google fonts as well as each and every element of your site to make it one-of-a-kind.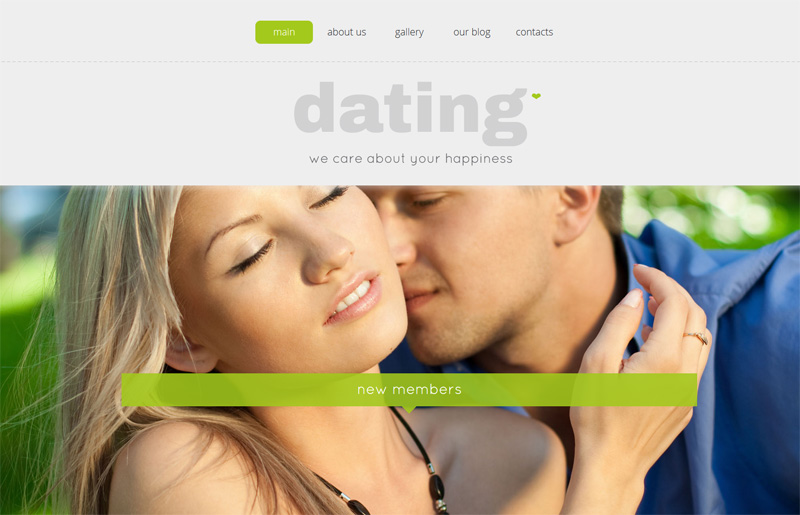 ***
Love Romance WordPress Theme
Do you like tartan patterns? They are always in vogue and the author of this theme has made one of them a zest of the design. We guess it's parallax effect, which helps to touch users' emotions as they can feel the romantic atmosphere of the website much better. Lazy load doesn't make us wait for the content to upload. That's really cool as waiting always irritates the user and becomes a frequent reason for site abandonment.
***
Online Romance WordPress Theme
A very beautiful theme with full-screen slider featuring happy loving couples. Transparent design elements look great; they seamlessly blend with website's environments. Parallax makes the images even more captivating. The theme is supplied with lazy load effect as well. HTML plus JS animation makes the website dynamic and more interesting to view. The theme is built on Cherry Framework, so it will be easy to customize it.
***
Dating Responsive WordPress Theme
Accordion slider and sunny yellow background color intensified by the huge company logo will definitely draw users' attention to your dating website. By the way, you can change it for Carousel or Isotope gallery scripts that also come in the template's package. The main menu has lowered position and sticks to the top of the page as you begin to scroll. The author plays with the powerful combination of black and yellow colors to differentiate the website from many others. The power of Bootstrap and convenience of Cherry framework will make your customization process enjoyable.
***
Dating Responsive WordPress Theme
This dating theme in soft lilac colors will become an excellent presentation for your dating site. It is not only beautiful but packed full with all modern features that are must haves for any current site. The theme is well documented, so you won't have any troubles with its installation and customization. Bootstrap and Cherry Framework will also be very helpful. The theme is responsive, search engine friendly and WPML ready.
***
Wedding Planner WordPress Theme
A very interesting option for a wedding planner. The author combines illustrations with photos. Handwritten fonts are highly relevant for the topic. The texts are concise and readable. Circular photos that zoom in and out on click incredibly decorate fresh photo gallery. Origami style elements look cute. Plum layout is also very unusual.
***
Wedding Store WordPress Theme
An amazing template for a wedding website. The selection of photos really takes your breath away. Three sliders let you place as much content as you wish right on the home page. Thin frames draw attention to the essential information. Ghost buttons can be considered a finishing touch in this lovable masterpiece.
***
Wedding Planning Consultancy WordPress Theme
This theme is great for a wedding agency. It is made in clean fair colors, associated with the event. Big slider showcases just married couples photos. Circular welcome section and sketchy icons add a current note to the harmony of design. The home page includes pricing table and happy customers' testimonials.
***
Wedding Planner Responsive WordPress Theme
This theme was designed for wedding agencies. Its header slider has image-based navigation. What's even more interesting, you can view the video from the wedding you wish. The rest of the content is arranged in blocks. Professionals would call such kind of elements positioning and color scheme metro style. It looks modern and is comfy to scan.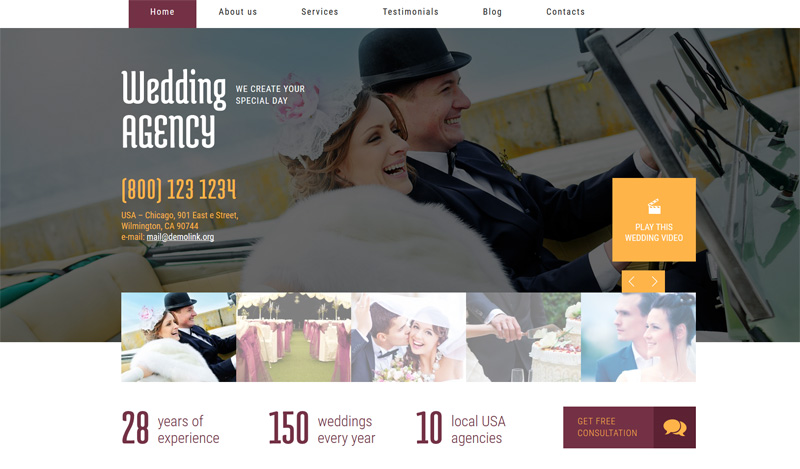 ***
Wedding Planner Responsive WordPress Theme
A very interesting design for a wedding guide. The main menu is placed at the center of the header slider. Company logo and banners are below the menu. Slider photos in pink colors symbolize love and romance. The theme is rather content rich, but the text is perfectly styled, so it is easy to perceive it. Lists are rather helpful here.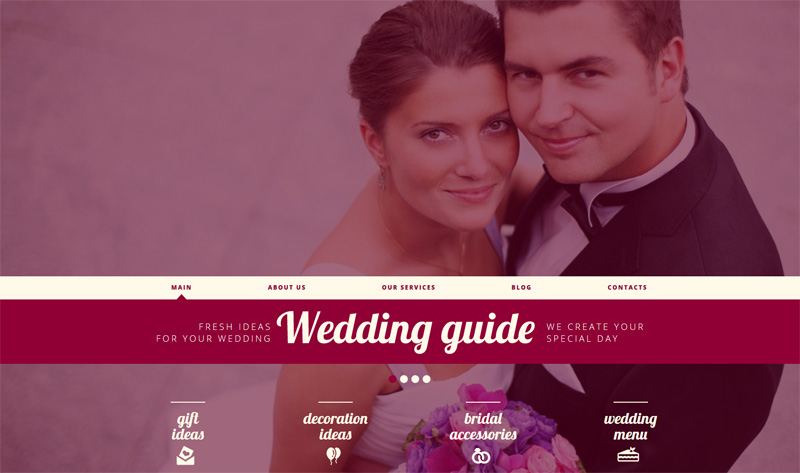 ***
Wedding Planner Responsive WordPress Theme
This wedding agency theme looks so cheerful that it will attract lots of loving couples. Beach scene on the background upholds the overall website's mood. Wedding gallery is featured in a slider. Circular photos look really nice. Company services are presented with the help of simple icons. You can integrate audio or video into your web page to make it stunning.
***
Tender Wedding Planner WordPress Theme
Here is a lovely design for wedding planner done in beige colors. Slider with cool transition effects is undoubtedly the most prominent part of the web page. You can choose between four of them at customization as they are included by default. The theme is easy to customize as you can make most of the manipulations via the user-friendly admin panel. Bootstrap and Cherry Framework can also be named among the theme's strong points.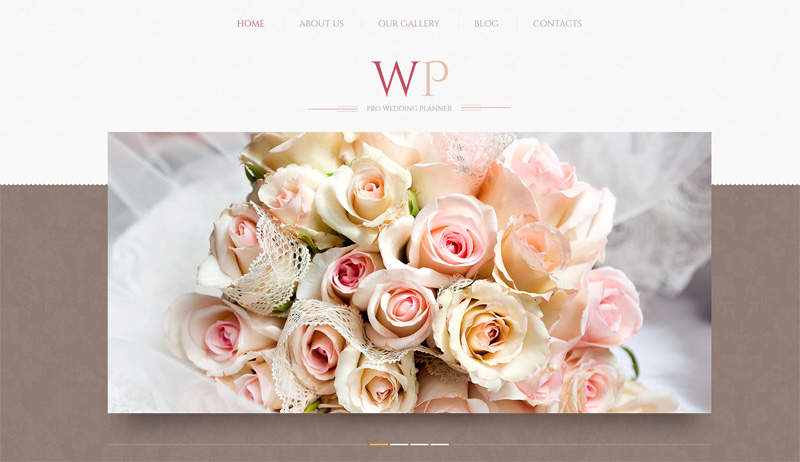 ***
Wedding Planner Responsive WordPress Theme
This theme will be appreciated by classical design school fans. This template for a wedding planner has a subtle baroque style pattern in the background. The slider is shaped as a tablet. Banners have rounded corners. All buttons are skeuomorphic, so it's quite understandable where to click for one or other action.
***
Wedding Album WordPress Theme
This wedding album has a minimalist design. That's really good solution for such kind of website. No distractions, no excess elements, so the user can focus on viewing the wedding photos. The home page image is slightly blurred, which puts wedding rings into focus. The main menu is at the bottom of the page.
How did you like this collection of love and dating premium WordPress themes? Are there any of themes there that meet your requirements or maybe will be useful in future? Your comments are welcome at the comment section.
Latest posts by Artem Pavlov
(see all)