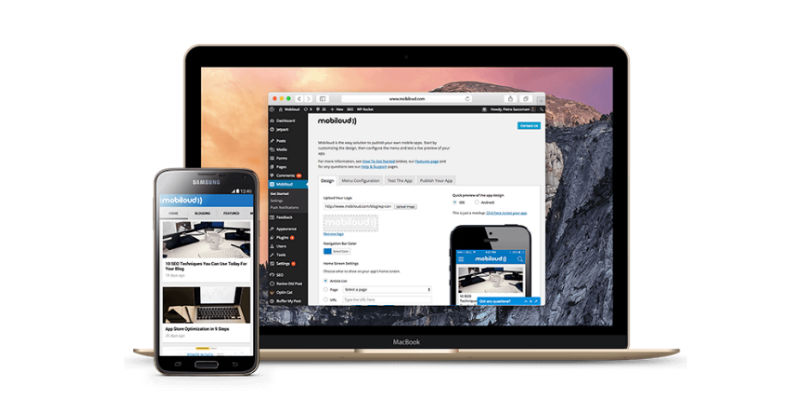 Statistics reveals that a whopping 85% of smartphone users' time is spent on using apps belonging to different categories. Today, if you want to make it 'Big' and are inclined on reaching out to a larger group of target audience, then in addition to owning a fully-functional website, you also need to work on having a unique mobile presence. It is here that the trend of creating a mobile app for your website will work in your favor.
If you're a WordPress user who owns a visually appealing website but is looking forward to wooing the mobile audiences as well, then choosing from a range of WP plugins will help you achieve your goal. Mobiloud is one such brilliant WordPress plugin which allows you to have a dedicated mobile app for your WordPress web portal.
Continue reading this post to learn more about this popular and mostly used WordPress plugin.
Understanding the significance of creating a mobile app, despite having a fully responsive website
Well, unlike the traditional phenomenon of creating a mobile responsive website, the decision to build a smartphone app can add wings to your business. Unlike a responsive website, a mobile app offers your consumers an innovative way of discovering and consuming your product/service information. Moreover, via a mobile app, you can easily tap into some of the handpicked features that make mobile devices different from the conventional desktop computers.
What exactly is Mobiloud?
Mobiloud serves as a plugin cum service that easily integrates into your existing WordPress website for creating of a new mobile app. This also means that any update that's being made to the website is automatically reflected into the mobile app-freeing you from the worries of alerting the mobile audience about a new product/service launch, an improved product/service etc. To make the most of Mobiloud, all you need to ensure is that your site is updated and the content is flowing on a regular basis. Whether it's about personalizing the app or testing it prior to making it available for the public; Mobiloud comes with awesome features that look the same.
Mobiloud- A closer look at its working
Unlike a range of WordPress app creation plugins and services, Mobiloud enables you to create native apps for the two popular mobile platforms viz: iOS and Android. Such apps are specially optimized for the operating system under focus and aren't "once size fits all" type of apps. Once you're done with a successful installation of the Mobiloud WordPress plugin on your website, the plugin would be fetching every new content that you publish on the site, into your mobile app.
After this, on the basis of configuration settings, a push notification would be sent to users, informing them about the new content that's available for them. It goes without saying that the end users are free to manage all such notifications in their chosen format. They can easily mute the notifications and stop receiving these alerts to avoid any frustration. Don't forget that every single change done to your website would be automatically pushed out to the mobile app. For instance, each time you change the site's logo, tweak the menu structure or refurbish the site; changed would be auto reflected on the app.
Mobiloud- A closer look at its features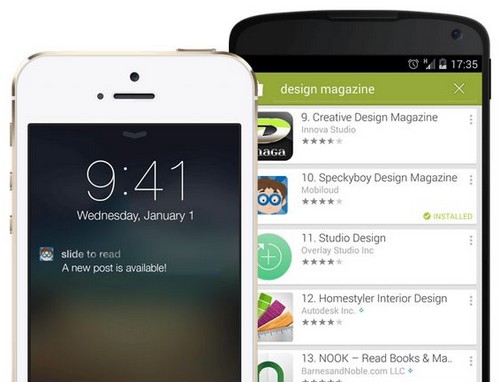 Flexibility to create smooth and fast native mobile apps
With Mobiloud, you receive an opportunity of designing mobile apps in accordance to the latest mobile app design trends. That means, Mobiloud apps will have a perfect look and feel when viewed on different mobile operating systems. Plus, users would get amazed by the stunning navigation system of your mobile app.
Mobiloud apps support multiple advertising options 
If you're interested in monetizing your Mobiloud apps, then doing this is as simple as a cakewalk. Supporting varied mobile advertising options like Google DFP, Adsense, MoPub, and Admob; Mobiloud apps aid you in generating optimal income instantly. Whether it's a banner ad, native ads or interstitial advertisements; everything is being supported by Mobiloud apps.
Support for commonly used WordPress features
One of the best things about Mobiloud is that it comes with excellent support for common WordPress features including custom fields, custom post types and a majority of WordPress plugins. Just a bit of customization might be required for making things work in your desired manner.
Awesome social sharing options for app users
Once you're done with creating a mobile app using Mobiloud, you can go ahead with offering your users an opportunity to share the app via multiple social media websites, SMSs or email- everything with a single tap. Major social networks like Readability, Whatsapp and Instapaper are being supported by Mobiloud.
Flexibility to publish your mobile apps on Google Play and App Store
With Mobiloud, you need not worry about registering and handling a developer's account with Google Play or App Store. Mobiloud will take care of the same and handling everything, right from building the app to its submission schedule.
Take a look at the demo to find out how Mobiloud works.
That's it for now!
Wrapping Up
As a simple solution to develop a mobile app for your WordPress website; Mobiloud must be chosen if you're looking ahead to impress the mobile users, instead of just the web audience. The noteworthy features of this WordPress plugin make way for the creation of intuitive apps with an extensive potential of prompting the users/consumers to take an action.
Author Bio:
Arya Stark is a mobile app developer working for an Offshore Enterprise Mobile App Development Company, Xicom which offers a quality enterprise mobility services. So if you are looking to avail the best mobility services, you can get in touch with her.
Latest posts by Artem Pavlov
(see all)