Using metrics to monitor your WordPress website can provide valuable information about how successful your website is, how your customers behave when they visit your site, and how you might be able to improve on what is not really working.
In short, analytics about your website can help you optimize every site visitor's experience while increasing your own conversions and sales.
Sounds like a win-win situation to me!
Today I am going to share with you a quick and simple way of viewing your website's Google Analytics account straight from your WordPress dashboard using the Google Analytics by Lara plugin.
The Importance of Google Analytics
Google Analytics is one of the leading online solutions for monitoring and analyzing your website's traffic. With the information provided, you can effectively expand and grow your business into the success you want it to be.
If you have a Google Analytics account, you know there is a ton of information about your website that is readily available at a moment's notice:
The Dashboard. View a timeline displaying visits, goal completions, traffic sources, and bounce rate.
Real Time. Real-time metric analysis.
Audience. Look at who is visiting: demographics, interests, geography, behavior, technology, mobile use, and pageview behavior.
Acquisition. Learn about the traffic sources, connect with AdWords, follow SEO, and set up campaigns.
Behavior. Analyze user behavior, find site speed suggestions, and see search metrics.
Conversions. Track goal flows, product performance, time to purchase, and more.
Keep in mind, the above is just a bare bones overview of what Google Analytics can do.
But what if you are just a website owner that wants to have an overview of your website's metrics but doesn't want to get into the nitty gritty details like a professional website analyst might?
I would say use the Google Analytics by Lara plugin.
What is the Google Analytics by Lara Plugin?
The Google Analytics by Lara plugin is a free and easy to set up tool that displays a full-width widget view of your Google Analytics account in the admin section of your WordPress dashboard.
With this tool you can see the following metrics for your website within the last 30 days:
Sessions
Users
Pageviews
% New Sessions
Bounce Rate
Average Session Duration
Pageviews per Session
Looking for a little something more?
Check out what the affordable premium version offers website owners:
12 months of free updates and support.
Metrics analysis of any date range.
Keyword metrics via

Google Search Console

.
Most visited pages.
Country and language metrics.
Traffic Sources.
Browser and Operating System information.
Screen Resolutions.
Using the Google Analytics by Lara Plugin
Step 1: Installation and Activation
Go to your WordPress dashboard menu and select Plugins > Add New and search for Google Analytics by Lara.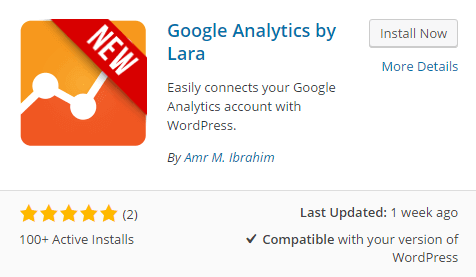 Select Install Now and activate the plugin for use on your website.
Step 2:  Plugin Configuration
Once activated,  a full-width Google Analytics dashboard widget will be displayed automatically in the main section of your WordPress dashboard.
Here you will find 2 settings options:  Express Setup and Advanced Setup.
Express Setup
This setup option will get you analyzing your Google Analytics account right away. Simply follow the instructions in the box.
Click on 'Get Access Code'.
A pop-up will appear asking for the appropriate Google account; sign in.
Select 'Allow' so the widget can have access to your Google Analytics account.
Cut and paste the code provided into the section labeled 'Access Code'.
Click 'Submit'.
A new window will appear with your account profile information. If it is correct, select 'Save'. There is even a box you can select that will add the 'Google Universal Analytics' tracking code to all of your website's pages.
Immediately after saving your Google Analytics profile information the widget displays in your admin area:
Advanced Setup
This option involves a setup wizard that will take you through the various steps required to connect your Google Analytics account to your WordPress website. There are many steps to follow and I found after glancing at it that I preferred to take the easy route and stick with Express Setup.
Step 3: Utilizing the Widget Tabs
With this plugin, you have access to seven different and useful metrics that can help you attract, convert, and retain more customers than ever before.
Sessions
Sessions represent the number of visits per individually unique site visitor within a given time period. The default time is usually set to timeout and restart every thirty minutes.
If a visitor clicks on your website, leaves, and comes back within thirty minutes, this will continue to count as one session. However, if the visitor comes back after the thirty minutes, say after an hour, this will now calculate as two sessions despite being the same visitor. This is good for knowing whether your website is maintaining a loyal following.
Users
Somewhat tied to sessions, users are the number of unique visitors to your website at any given time. This is basically your overall website traffic and gives insight into whether your website's traffic is building, remaining steady, or declining. It provides you a look at the big picture so that you can make adjustments accordingly.
If a visitor clicks on your website today and comes back in twenty minutes or a week later, this will only count as one user because they are the same person. One user can be responsible for multiple sessions.
Pageviews
Every time a visitor clicks on a separate webpage a new pageview is tracked. This is especially useful for those in advertising or affiliate marketing because pages with more pageviews can dictate where advertisements should be placed.
However, the free version of the Google Analytics by Lara plugin  does not break down the specific pages that are being viewed, rather a total calculation is given and nothing more. If you are interested in analyzing your website's most popular pageviews, consider upgrading to the premium version of this plugin.
Pages per Session
The more you can convince a reader to navigate through your website, the more likely you are to get them to convert and provide their email or better yet make a purchase. Unfortunately, it has been suggested that 55% of website visitors spend fewer than 15 active seconds on any given webpage. If this is true, the number of pages per session doesn't really give you many clues as to whether your visitors are interested in your website or not.
There are however ways you can increase the chances your readers will conduct multiple pageviews per session:
Quality interlinking within your content to encourage multiple post reading.
Provide a search bar function for readers to look for something specific within your website.
Make use of your sidebar and provide related post options (or place this at the end of each post).
Average Session Duration
Engaging your audience is the key to becoming successful. After all, people have a short attention span and plenty of competition vying for their business. The longer you can convince a reader to stay on your website the better. Make sure you provide a good user experience, provide accurate and entertaining content, and make it easy to scan for those that do not read content word-for-word.
Bounce Rate
Understanding what percentage of website visitors click on your website and leave immediately after arriving can show you if your website is doing well. If your bounce rate is high (the ideal rate is 20% and lower), there could be several reasons for this:
Slow site speed.
Broken site and increased downtime.
Poor web design.
Bad keyword choices.
Since Google Analytics in general, whether using your actual account or the Google Analytics by Lara dashboard widget , does not tell you why people are leaving your website, you must use the metrics provided and do your own research in order to make improvements.
% New Visitors
While repeat visitors are a sign that you are maintaining a loyal following, a major part of your marketing strategy is probably aimed at gaining new customers as well. After all, that is how you build a business. Understanding how many of your site visitors are new will let you know if you need to bump up your marketing efforts or not.
Final Thoughts
While WordPress is a easy to use platform for creating a website, maintaining a successful one is an entirely separate thing. You must analyze your site's metrics to understand everything about your visitors so that changes can be made and strengths can be built upon.
If you are looking for an easy way to catch a glimpse of the overall health of your website once you log into your WordPress dashboard, I highly recommend trying the Google Analytics by Lara plugin. With only a couple of clicks, it is up and running and tracking your visitor's every move. Plus, it is displayed front and center so that you will never forget to log into your Google Analytics account to see how your website is doing (something I am very guilty of forgetting to do).
Will you give the Google Analytics by Lara plugin a try on your website? I would love to hear all about it in the comments below!
Latest posts by Lindsay Liedke
(see all)