We are excited to announce a giveaway in which you can win 1 of 3, premium Optimus HQ licenses to turbocharge your WordPress website!
The WordPress Optimus Image Optimizer is a lossless compression plugin that allows you to automatically decrease the size of your images so that they no longer slow down your page loads in WordPress. It is developed by KeyCDN, a team of web performance professionals who spend their days figuring out additional ways to speed up the delivery of WordPress assets.
Scroll down to the bottom of this post to enter the giveaway right now!
Did you know that over 63% of an average web page's weight is made up entirely of images? That tells you one thing when it comes to figuring out ways to speed up your site, image optimization should probably be number one on your list. With a little work, reducing the sizes of your images can literally speed up your site by entire seconds.
Optimus Image Optimizer Features
The WordPress Optimus plugin automatically reduces the size of your images by using lossless compression when you upload your images to a page/post or the media library. This is different than lossy compression, as this way you don't lose any quality in your images. So if you want your site to look amazing and pixel perfect, lossless compression is the way to go! It removes unnecessary metadata to achieve reduced sizes of up to 70%.
One of the best features of Optimus is that unlike other compression services/plugins you can compress an unlimited amount of images!
Another great and unique feature of Optimus is the ability to convert images to WebP format. Optimus is the very first WordPress plugin to offer WebP conversion. What is WebP? It is a new image format created by Google which is 26% smaller than PNGs and 25-34% smaller than JPEGs.  You can deliver your WebP images, converted by Optimus, with the free WordPress Cache Enabler plugin.
Below are some additional features:
JPEG and PNG compression

Maximum File Size: 5MB

Developer API

Progressive JPEGs

Lossless compression (no quality loss)

Compatible with Multisite and WooCommerce

Automatic optimization when you upload to a page/post or WordPress media library (this also includes thumbnails and previews)

HTTPS connection and no data stored on Optimus servers

Complies with Google PageSpeed Insight recommendations to fix recommendations

Full support from the web performance team at KeyCDN
What about your existing images when you install the plugin? With Optimus, it has a bulk optimize feature in which you can compress your entire WordPress media library with a click of a button.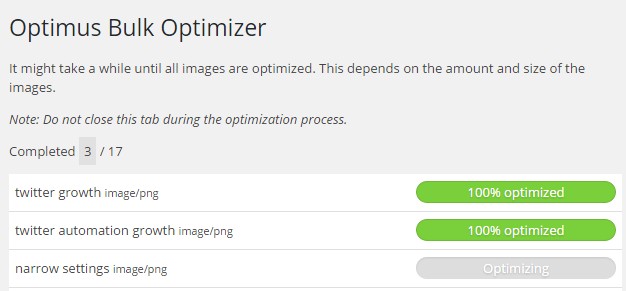 How to participate in the Giveaway?
Enter the giveaway from KeyCDN by Like, Tweet, Comment and spread the word. The more entries you get, the higher your chances are to win! Win 3 premium HQ licenses for Optimus Image Optimizer for a chance to supercharge your WordPress site!
Latest posts by Artem Pavlov
(see all)