You already have your website on a platform like WordPress, where you sell physical or digital products, but have you ever thought about expanding? I know you put a lot of work into your site. You may feel like you don't have enough hours in the day to spend time growing further.
Am I right?
What if I told you that you could spend a minimal amount of time growing your business if you sell on Amazon in a specific way? Would you be interested in learning more?
If so, read on because I'm going to lay out for you the reasons why you may want to leap over to Amazon, where you could potentially double your current earnings, if not more! It may also not be a good idea for your type of business, so we will briefly cover that too. Stay tuned because your about to learn a whole lot that could help boost your business.
Starting with WordPress and Amazon comparison:
WordPress
You may already know most of the pros and cons of having a WordPress site, but let's cover them quickly so we can move onto the good stuff!
Pros
100% Control: As a WordPress site owner, you hold all the cards. You control everything from web design to what content you allow to be displayed. You have zero restrictions placed on you by any third party, except government policy wherever you live.
The customers and data collected are yours: When you own a WordPress site, the customers are your customers, not a third party's. This is significant because you have their information and data to personalize their experience when they shop. Marketing control is yours. You can send out special extra items, gifts, personalized notes, or promotional materials as you wish. You tailor the customer experience in any way you like. You can host contest-giveaways and do so much more when you own a site!
Cons
No support: As a WordPress site owner, you may have full control, but with that power comes all the responsibilities of running a website. Yes, there are tutorials available. However, unless you're prepared to learn extensively about the various things required to run a site or pay others to do so, you won't make it. I am not being harsh, just blunt.
Need technical knowledge: When it comes to running a site, many technical things can and do go wrong. Do you have the skills to fix them? Are you willing to learn to fix problems, or are you at least prepared to pay for someone to handle them?
Amazon
Pros
Massive marketplace: As you probably know, Amazon is the world's largest online retailer, which means many potential new customers.
Logistics: Logistics is where the minimal effort on your part comes into play. If you are an FBA seller with Amazon, they handle all logistics for you. All you do is ship Amazon your products in bulk, and they handle the rest.
High traffic: As the largest online marketplace, Amazon also has the greatest number of product searches on the web along with millions of daily visitors.
Support: Amazon has support if you run into any issues. It's one less thing for you to worry about.
Cons
High competition: With a marketplace as large as Amazon, you best believe the competition is fierce. Even so, that doesn't mean you can't succeed with the right products and tools.
Strict rules: Here's where lack of control comes into play. Depending on your site and the products you sell, you may not be eligible to sell on Amazon. If you sell something like guns as an extreme example, then Amazon is not the place for you.
The opportunities Amazon can give to your business
When you expand your business and start selling on Amazon, you open an entirely new avenue for growth. This rings especially true if you have a good product that's in high demand with low competition.
Here are just a few benefits from selling on Amazon:
By selling on Amazon, you are immediately seen as a brand with more authority and trust. I confidently say this because Amazon is held in high esteem by its customers, so when they know that you sell on Amazon, you become instantly linked to greatness. It may sound over the top, but from a consumer's viewpoint, it's true. You look superior when you expand and begin selling on Amazon with your own brand.
With increased traffic and brand exposure, comes increased sales. If you are already running a successful website selling products, you could earn a nice chunk of change rather quickly when expanding to Amazon.
Potential to increase your own site's customer base
While it's true, you don't have direct access to Amazon's customer base. There still are some potential benefits if you play your cards right. Depending on your Amazon fees and fulfillment model, you may prefer to sell on your site.
It's possible to win over customers who buy on Amazon over to your site for their next purchase if you offer a better deal. You can add marketing materials to any order as an FBM seller, which we will talk about momentarily.
Potential to expand your offerings
You may find yourself wanting to sell branded T-shirts with your company's logo on them. You can do this with Amazon. You could also find products in your niche that are selling very well and decide to add them to your product line.
How to use your website to promote a new Amazon store
Current customer base & email list
You already have current customers that have bought from you on WordPress, right? Well then, this is the perfect opportunity to put that customer base and your list to work! Send out a few email sequences periodically to your customers about your Amazon store. I only recommend you do this if you believe your business should sell more on Amazon vs. your site. If the expenses and workload are less for every sale you get with Amazon, consider pushing your traffic to them.
It's not something some would consider, but frankly, it's common sense. If the numbers make sense financially and the workload is less on your part, then it's a terrific option. However, even if the numbers look fantastic now, you may have a different vision for your company. If this were the case, you would want your site to be the dominating source for sales.
Whatever you choose, it's smart to have your current customers buy at least once from Amazon. When you have all your existing customers buy your products off Amazon, you can move up the ranking ladder more quickly at Amazon. Higher rankings will jumpstart your Amazon selling journey and get you in front of more potential customers much faster.
Even if you plan to sell primarily on your site, you should try out what I propose and see how well it works. You can always raise your Amazon product listing prices after you have started gaining traction selling through Amazon. This can bring back your original WordPress customers. I'd recommend you send them an email sequence letting them know how much they will save and the special bonuses you will offer when they come back to you.
Offer discounts to drive current customers to Amazon
You want to get your customers to Amazon at least once, and one way to do that is with coupons. Offer your customers a ridiculous one-time-offer discount for buying off Amazon. If your goal is to retain your customer base to your site, that's fine, but consider taking advantage of this option. It's a wonderful way to get your Amazon store thriving faster.
Five steps to start your business expansion on Amazon:
1. Create an Amazon Sellers Account
Creating your account is simple. Go to https://sell.amazon.com/ to sign up.
2. Do product and niche research
This part is only relevant to you if you plan to expand your product offerings. If you do wish to expand your offerings, then engage in research before doing so. There are many great tools out there like AMZScout that can help you with research.
3. Choose a Fulfillment Method (FBA or FBM)
This choice comes down to your business model. If you're selling big bulky stuff, you likely won't want to be an FBA seller because of the higher fees you incur. FBA means fulfillment by Amazon, and they take care of shipping, returns, and customer service. FBA fees are higher than FBM fees because of this.
However, as an FBM seller, you have more control over what you send the customers, so this may be a more appealing option for you. FBM means fulfillment by merchant. Weigh the pros and cons when it comes to expenses and workload for your business.
4. Register your brand with Amazon
Registering isn't a requirement, but it's recommended you register with Amazon's Brand Registry Program. It will give you some additional advantages. Register here at https://brandservices.amazon.com/brandregistry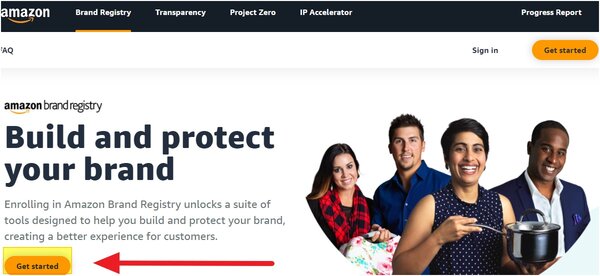 5. Start Selling
Now all you must do is add a product, your product's images, and product descriptions. If you wish to, you can also run Amazon ads to get your products in front of more potential buyers. You can do all this within the platform.
Conclusion
Are you ready to expand your business with Amazon and increase your sales yet? I hope so, and I want you to succeed when you make this expansion. There are many resources and tools to help you along the way. If you are diligent and research accordingly, then Amazon could be a great alternative way to expand your company depending on your business model.
Remember to run the financials, weigh the pros and cons, and leap on over to Amazon if all looks well. If you are already doing well with your WordPress site, you're more likely to thrive with the right strategy on Amazon.
Latest posts by Artem Pavlov
(see all)