Google Places is the service provided by Google to allow users check various local businesses that are available in certain areas. You can even check the local businesses that are scattered within a certain distance range from your location. With this service, the users can easily find the places that they are looking for in a certain area, such as hotels, public transportation, restaurants, gas stations, parks, and so on.
The good thing about this service is that not only it is available for general users, but website owners can also use the API to show Google Places locations on their website.
However, without any proper tool to do, you won't have much option in how you would display various local businesses on your website. It would be difficult for you to customize how the page will look, or how the users can search for various places using your website. This is why you have to use a good tool to do this job properly.
Everest Google Places Reviews plugin is the right tool that you can use. This is a premium plugin that you can use to showcase various business places right on your website, with various customization options available. It is very easy to install, and it is natively integrated with Google Places API, so that you don't need to manually connect to Google services when you use this plugin.
What Is Everest Google Places Reviews Plugin?
This is a premium WordPress plugin that basically allows you to create a page that will show certain business reviews on your website. So, if you want to showcase to your audience several best businesses in certain areas, you can use this plugin to do that. There are various customization features that you can use once you install this plugin, and you can edit the look and feel of the review pages according to your preferences.
You can choose which reviews to show, how many stars that the businesses have, and you can also add a search function that allows users to search for more services on your review pages. You can include as many reviews as possible on your page, and you can change each element of the page using the inbuilt configuration, so that your page will look the best.
While Everest Google Places Reviews plugin offers various features that you can use, here are some highlighted features that you will get once you install this plugin on your WordPress platform:
Unlimited places or locations that you can display.
Layouts for business reviews in the form of slider and list.
The option to show only 5-star reviews.
Allows users to search on your review page with auto-complete feature.
Various templates, headers, and badges to choose for the reviews.
Responsive floating review functionality included.
And much more. Those are just the highlighted features that you can use once you install this plugin on your website. There are still so many features available.
Where can you use Everest Google Places Reviews WordPress Plugin
For businesses relying on Google's local search traffic, they understand how important Google Place data are for building trust. Some of the applications of using this plugin includes…
To display your business (Hotel, Restaurant, Shop) and /or brand's google reviews on the website
To display places reviews on a directory website or place / location search website
To display only 5 star or filtered google reviews on your website
To allow your website visitors to give review on your business
Main Features
Below are the detailed explanation for some of the main and highlighted features offered by Everest Google Places Reviews plugin. Go through these feature explanations to know more about what you can get once you decide to install this plugin on your website.
Unlimited Places Or Locations
When you create a review page using this plugin, you can choose how many places or locations that you want to display on your page. Whether you want to display only 5 reviews, or you want to display 100 reviews, it is up to your preferences. Of course, the more locations that you display, the more convenient it will be for your visitors to browse these places on your website.
Layouts For Business Reviews (Slider And List)
There is also the option to turn on the business reviews, which, if you do, will allow you to display online business places on your page. In this way, your users will not have difficulty in finding relevant businesses that they want to know. You can display the business reviews in the form of a slider and a list. You simply need to choose which layout to use for your business reviews in the configuration settings.
Show Only 5-Star Reviews
Many people wouldn't want to visit a place that has mediocre ratings, or less than 4 stars. Moreover, some people will always prefer to choose a place with 5-star ratings to ensure that they get the best service out of their money. To cater for this need, Everest Google Places Reviews plugin allows you to show only 5-star reviews on your page, eliminating places and locations that have less than 5-star ratings from the display.
Search Reviews With Auto-complete Feature
Even though you limit the number of reviews that you display on your review page, you can still allow users to search for any business that they want to know via the search function on your review page. Yes, this plugin has the search function that allows the users to freely search any business place or location with auto-complete feature. It means that they can get relevant suggestions for the searches whenever they need it.
Various Review Templates, Headers, And Badge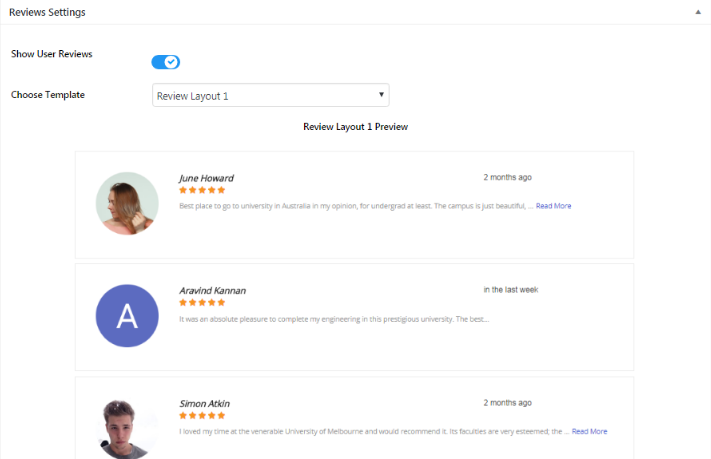 Aside from customizing the entire review page, you can also customize some elements that belong to the review page. For instance, the review template, header, and the badge that you use. For each review, you can customize it in any way that you want. This gives you the freedom to tweak the look and feel of the reviews on your page.
Responsive Floating Review Functionality
There are two ways to display the Google Places reviews using this plugin. The first way is to display them normally as you would display any page. The other way is to use the responsive floating review functionality. When you use this feature, you can display your reviews floating off-canvas of your main page. However, it still retains its best view due to its responsive nature, meaning that it can be displayed properly for any device that your visitors use.
Additional Features
While the main features are already impressive for this plugin, there are also additional features available, which make this plugin even more awesome in its current state. The additional features that you can enjoy after you install this plugin include:
Advanced Options. There are various configuration options that you can choose in this feature. With this feature, you can limit the description text, hide reviewer image, enable cache settings, hide/show description, and so on.
Rate Us Button. With this feature, you can easily ask your audience to rate your business right on the review page. In this way, you can also increase your business ratings and feedback easily.
WordPress Compatibility. This plugin is compatible with various versions of WordPress. So, you don't need to worry about updating WordPress to the latest version just to use this plugin. Even if you use the old version of WordPress and don't want to update your WordPress platform, you can still use this plugin without any problem.
Lifetime Support. By purchasing this plugin, you get the lifetime support from the plugin developers, meaning that any time you encounter any problem with this plugin, you can easily request a support from the developers, and they will help you fix the problem.
Free Upgrades. This plugin comes with free upgrades, meaning that you don't need to spend more money just to upgrade this plugin. Once you've purchased it, it's yours forever, and you get the upgrades that are released by the developers free of charge.
Final Thoughts
This premium plugin is worth a try if you want to show various business locations and places on your website without much trouble. With a small one-time fee, you can install this plugin and start creating the review page that is fully customizable. You can tweak each element of the page, and show only reviews that you want to show to your audience. With its free upgrade and lifetime support, this is one of the best investments that you can spend to improve your business reputation online.
Latest posts by Artem Pavlov
(see all)