Not very long ago and not many years ago Social media made its appearance. But nowadays millions of people are connected online to their social media accounts around the clock. Always available to chat, sharing content or interact. The time has certainly changed, and rapidly too.
When it comes to blogging a vast number of blogs have some form of social sharing integration on their website. It is more or less a must today. It doesn't, matter if you run a personal blog, a business, corporate, portfolio website, you do need a social connection to your website.
It is a necessary and an essential factor to increase the web traffic to your website. When you distribute your article or content its hopefully get popular and goes viral on social networks. The more social shares, the more traffic and visitors which can lead to increased sales and more new customers. It is simply a needy function used everywhere today.
As a WordPress enthusiast, I have used WordPress publishing platform for many years. Over the years, I have used and tested hundreds of different social sharing plugin with varying results.
There are numerous really good and useful plugins to integrate Twitter and Facebook on your blog. Or you must make use an arsenal of other plugins to create a Twitter feed, Social counter, Social share, Social login or auto-post your social media stream. In other words, it is needed sometimes 3and 4 plugins or even more to get the same results. But what about use only one plugin with all these features connected? We have the perfect solution for you. Let me introduce:
WP Ultimate Social
WP Ultimate Social is a powerful, flexible and simply an ultimate package of social features. This is the only Social media WordPress plugin you ever need. You can compare the plugin with a Swiss-Knife and an all-in-one package with a collection of social icons, social share, twitter feeds, Pinterest, social login, auto post. It is an easy-to-use plugin with tons of features and configuration options that enable the add every imaginable social networking and social media stream virtually anywhere on your WordPress website. Let's take a closer look at the WP Ultimate Social.
After you have downloaded, installed and activated WP Ultimate Social you can see in your WordPress dashboard, a new tab – Ultimate Social with Dashboard and underlying categories such as Social Icons, Social counters, Social share etc. That is the same features that you see in the mainframe.
From here you create and build the social features you need or want to use on your website. Let me walk through what you can do and how you proceed.
Social Icons
With Social Icons, you can create various social icons and link your social profiles. Select icons from 12 different beautifully designed sets, or upload your own icons set. It is easy to customize them with effects, sizes, add tooltip, define the icons to horizontally or vertically. Font Awesome Icons, choose from 105+ font awesome icons and much more.
When you built your icon set or selected the predefined templates (you can build unlimited number of icons sets), use the generated shortcode or the sidebar widget function and insert it where you want the Social icons set to appear. Examples:
Shortcode
[us-social-icon id="1"]
Template Shortcode
<?php echo do_shortcode('[us-social-icon id="1"]')?>
Social Counter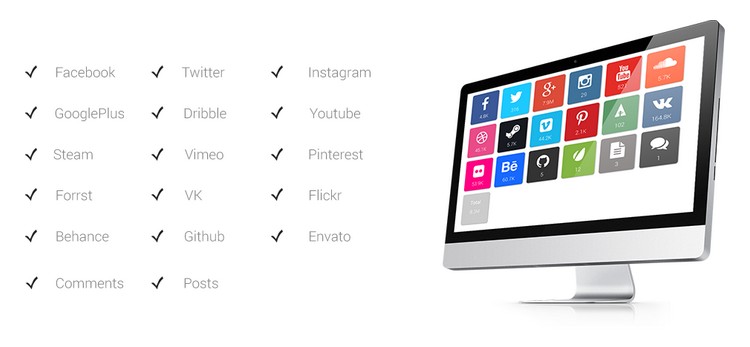 Choose your social profiles, social profile orders, floating sidebar settings (if you choose floating sidebar) and cache settings. You can either use the [us-counter] Shortcode or you can use Ultimate Social counter widget from the widget section or the floating sidebar to display the social profiles with counter. There are also many more settings to choose and customize for best results.
Social Share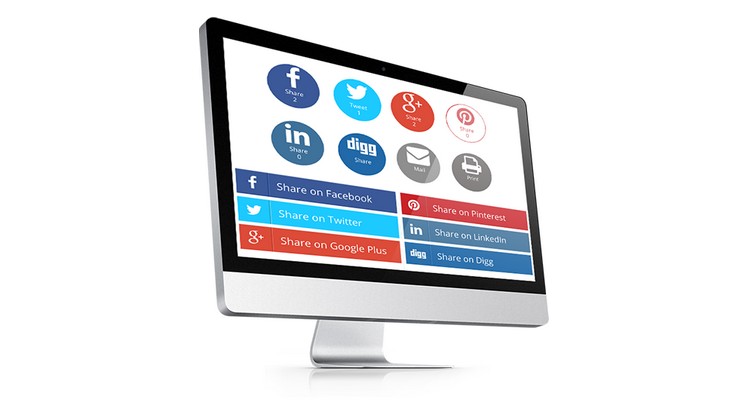 There are five main settings tabs that will help you to setup the plugin to work properly. Social Networks, Share options, Display settings, Floating options and Miscellaneous settings. From here you'll have tons of options to boost your website with great looking social share features. It may take a while to go through all the settings, but most of it is self-explanatory, but there are a helpful tab – How to use that can come in handy if you run into any problems or if any questions arise. More options are:
14 major social media included

10 themes to select from

4 themes for floating sidebars

Share via email & print
More features included in WP Ultimate Social are:
Twitter Feeds – Fetch the latest tweets from any account and display the tweets in a slider or as a news ticker. Various customizations options are available such as multiple Twitter accounts support, caching option, number of tweets to display and much more.
Pinterest – 40 icons available to choose from or upload your own icon. Options to display the pin it button for posts, pages, archives etc. Pinboard widgets, latest pins feed, supports custom post types and custom taxonomies. Mobile devices compatibility, Retina ready, Pin it button position display options and more.
Social Auto Post – With the auto-post features you have the possibility to auto-post your content to Facebook, Twitter, Linkedin and Tumblr. You can configure and customize each and every social media to suit your need.
Social Login – Last but not least you can easily configure which social accounts to enable/disable for the login on your website. Choose to login with the most popular 9 social media accounts. Configure each social accounts by setting up a few authorization details. Social Login included 15 beautiful themes to choose from.
Wrapping up
WP Ultimate Social is really comparable to a Swiss-Knife. The plugin has everything you need to manage, share and the possibility to spread your content in the world of Social media in the best possible way. It's a premium WordPress plugin, but the price is very affordable when you see what you get for your money. You no longer need to install four or five plugins, instead it is enough with just one plugin, WP Ultimate Social.
This plugin is an all-in-one package and ultimate collection of social icons, social share, twitter feeds, Pinterest, social login, auto post. It is easy to use even though there are tons of opportunities to configure for each part and section. But WP Ultimate Social is a plugin that I have tested myself can really recommend. You have everything concerning Social media under one roof. Simple and convenient.
You can purchase WP Ultimate Social here. Check out the live demo here and see for how awesome this plugin is.  
Have you tried WP Ultimate Social on your WordPress website? We would love to hear your thoughts in the comments below!
Latest posts by Artem Pavlov
(see all)