Are you looking for a WordPress page builder? Do you want the convenience of building a website without hiring any professional or a web developer? And don't want the hindrance of coding but want a perfect website?
If YES, then all you need to know about is WordPress drag and drop page builders.
In this article, we'll try to compare the most popular drag and drop WordPress page builders, and will be doing a page builder review so that you can choose the best page builder of your choice. We have shortlisted the best options available for you:
The Divi Builder
Beaver Builder
Themify Builder
Elementor
SeedProd
Before jumping into the page builder reviews, it is important to check whether the builder you're using is compatible with your existing theme or not. We have to make sure that the page builder we're using should be compatible with all the other plugins.
Let's get started…
Best Drag and Drop WordPress Page Builders Compared
1. The Divi Builder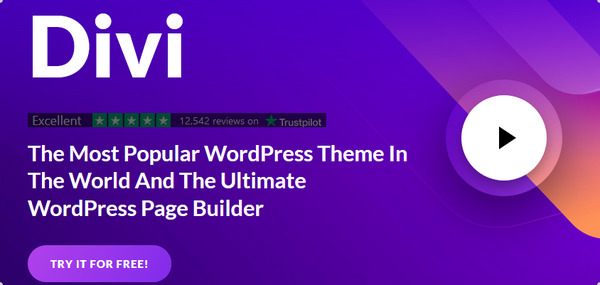 Divi Builder is a powerful drag and drop page builder that lets you create stunning websites within minutes. Divi Builder plugin was developed by Elegant Themes, a famous WordPress themes company.
Divi builder comprises almost 46 + builder modules, 3 section types, and over 20 + row type layouts. By using these, we can create any type of website within minutes. Divi is a WYSIWYG (What You See Is What You Get) editor. With its Live editor feature, we can know how our website looks before publishing it on the internet.
Divi builder plugin works with almost every WordPress theme and is the widely used drag and drop page builder. It also allows the users to create and save user-created layouts with an additional import and export feature.
Divi Builder is 100% SEO friendly, and the responsiveness of the page is very high when compared to other builders. Divi is compatible with a wide range of themes and plugins out there.
Features of Divi Builder:
It replaces over 10 plugins if you are using the Divi builder plugin.
Contact Forms integration.
Pricing table integration.
Testimonials layout to display the user's reviews.
Over 46 + builder modules.
Integration of Image and Video sliders.
Linking Social media icons to our web page.
Google Maps Integration.
Adding audio players to our web pages.
We can make real-time changes to the page design.
Custom CSS control.
2. Elementor
Elementor is an advanced page builder for WordPress, which is free and open-source. It has a visual drag and drop editor, which makes things easier and lets you build websites within minutes.
It has over 80 + design elements and a wide range of widgets to choose from. Elementor has an extensive template library and ha tons of WordPress templates designed by various professionals across the world.
Creating websites with Elementor doesn't require any coding skills because we can easily create any website with its drag and drop page builder. The builder is SEO friendly and is compatible with almost every WordPress theme.
With Elementor, you can quickly build mobile-friendly and responsive websites that work on almost any device. We can quickly import any template, customize it according to our requirements, and publish them without any hurdles.
Features of Elementor:
Over 40 + free widgets.
It has an Image gallery grid to display all your images.
You can link Social Media icons like Facebook, Twitter, etc…
Embedding YouTube video on the web page.
Testimonials layout to display the reviews provided by the users.
Inclusion of an escalating progress bar.
Embedding Google Maps into the website.
We can add sound clips from SoundCloud.
WooCommerce integration.
Hundreds of Custom fonts & icons.
Integration of Video sliders and Image sliders.
CRM integration.
Marketing Automation.
3. Beaver Builder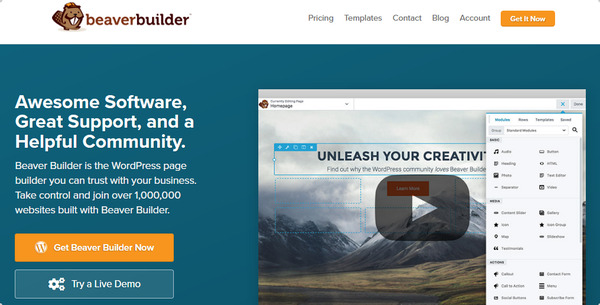 Beaver Builder is considered the most user-friendly WordPress drag and drop page builder. With Beaver builder, we can easily create a web page or a landing page by just dragging and dropping the content modules. It also comprises several ready-to-use templates to work with.
Beaver Builder gives you full control over the theme content. It lets you design web pages with real-time previews. Beaver Builder has a front-end visual editor, that lets you have a sneak peek over the website before you can publish.
Beaver is a beginner-friendly web page builder that lets everyone create web pages, having no experience required. It is an SEO friendly builder and is compatible with almost every plugins and theme.
Features of Beaver Builder:
It has a Responsive Editing mode and Responsive Design features.
Beaver has the "Shortcode" support.
Users can integrate custom JavaScript into the web page.
Users can create their custom modules.
Beaver also gives user access controls.
It also has Google Maps integration.
Gallery view to add photos to the web page.
Linking Social Media icons to the website.
It has total control over the page layout.
Highly SEO optimized.
Beaver has also the translation support feature which can be embedded in the page layout.
Users can import and export the templates.
4. Themify Builder

Themify Builder is a drag and drop page builder that lets users create any web page of their imagination. The builder comprises over 60 layouts and animation that are pre-built and ready to use. We have to simply change the text and the background images, and our brand-new website is ready.
We can create our website with the help of its drag and drop feature. The user has to simply drag the content module and place those modules in the required slot. It only takes minutes to create a website using the Themify Builder.
The content created by the Themify builder is SEO friendly and is highly responsive. Themify Builder is compatible with almost every plugin.
Features of Themify Builder:
Themify has WooCommerce integration, which lets you sell anything online.
It is also WPML compatible.
We can embed Social Media icons into the web page.
Custom CSS supported.
Automatic theme updates.
Shortcodes support.
Integration of Google Fonts.
Creating child themes without modifying the original theme.
With Themify, we can create a network of sites that share the same Themify installation.
Complete control over the customization of the themes.
Styling panel that lets you control every detail in the theme.
5. SeedProd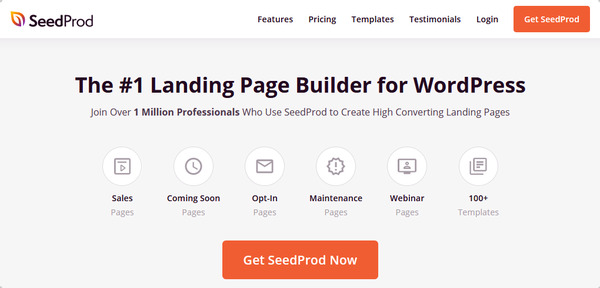 SeedProd is a drag and drop page builder with over a million + active installations. It comprises over 100 + ready-made templates to choose from. After choosing the template, we can easily edit the texts and images and replace them with our own. This process is so simple and can be done within minutes.
With SeedProd, creating websites and web pages is so simple and can be done with few clicks. Using the drag and drop feature, we can just drag the content modules and place them on our page to get the desired output.
SeedProd has a mobile device preview option that lets the developer preview how the content looks on a mobile device. The responsiveness of the page is high and is highly SEO friendly. SeedProd is compatible with almost every plugin.
Features of SeedProd:
It comprises over more than 100landing pages that are ready to use.
We can use Coming Soon pages for better SEO purposes.
SeedProd has a Revision History that lets you go back to a previously saved point.
MailChimp Integration.
Different pages for different purposes like Sales, Webinar, Maintenance, etc…
Constant Contact plugin integration.
Google Maps Integration.
Embedding videos into the web pages.
Linking Social Media icons on the web pages.
ConvertKit plugin integration.
Integration of Image Sliders and Video Sliders.
Conclusion
After reading this article, you may get to know what type of drag and drop page builder is best suited for you. There will be no one-size-fits-all solution to any problem. We have to understand our needs before finalizing the
We hope you have enjoyed this article.
Latest posts by Artem Pavlov
(see all)