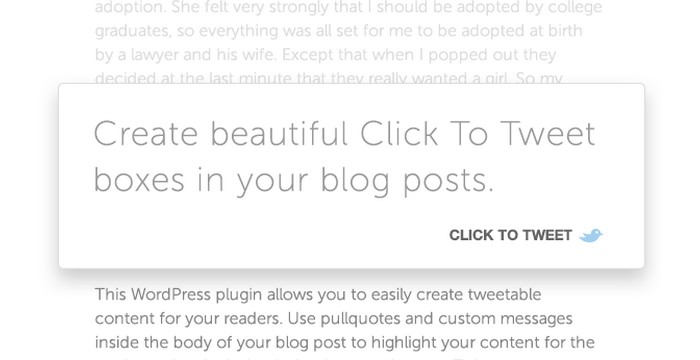 The vast majority of us who have a website or blog uses some form of social sharing tool or plugin to allow visitors to share the content on social media.
We use Facebook, Twitter, Instagram, Pinterest on a daily basis to share articles, photos, messages, and it has become a great part of our everyday life.
If you write articles on your blog, it has become a necessity to share them on social media, partly to increase Traffic, drive more followers and likes, increase signups and for many website owners increase revenue.
The most common way to implement and incorporate social sharing buttons is with plugins. Some popular free WordPress plugins are AddThis, Shareaholic and Jetpack – Sharing. When it comes to premium plugins, I can mention the Easy Social Share Buttons for WordPress and Monarch who both work very well.
Today I want to highlight another plugin that focuses solely on Twitter. I try the plugin Click To Tweet. With this plugin, you can easily create elegant Click To Tweet boxes anywhere in your blog posts and pages.
First thing you need to do is install and activate the Click To Tweet plugin.
Once the plugin is installed and activated. In your WordPress dashboard, go to Settings and Click To Tweet. Here you enter your Twitter handle to add "via @yourhandle" to your tweets. Don't include the @ symbol. Alrighty then!
Create a new post or page and now you can see a new a new button been added in your editor.
Place the cursor where you want to insert your Click to Tweet box and click the button. In the popup window, type in a custom message quotes or highlight content from your text. Click Ok and preview your post. It looks really cool, right? You can also add a shortcode manually like this:

[Tweet "This is a tweet. It is only a tweet."]

In my post the Tweet looked like this. A great looking box and this features make it easy and simple for your readers and visitors to share your post or page on Twitter with a twist.
Conclusion
Click To Tweet is a very simple plugin to use. Everyone can use it to create beautiful and elegant Tweet boxes in WordPress. With a few steps, the plugin is installed and set up. Use the built-in Click To Tweet button in the editor or a shortcode to easily create memorable Tweet opportunities for your readers and visitors.
I hope this post helped you how to add a Click To Tweet Box in WordPress.
Latest posts by Artem Pavlov
(see all)