If you're not too happy with the look and feel of your admin dashboard in WordPress, don't worry, there are great solutions available.
WordPress is a flexible platform and almost every part of it is possible to modify or customize. Sometimes quite simple, sometimes more complex. Perhaps you want something more stylish and colorful when you or your clients are working in WordPress?
If you would like to change and create something unique or just give your dashboard in WordPress a facelift with a new WordPress admin theme, there are a couple of options to choose from: With a WordPress plugin or by simply changing the CSS.
I must admit that it is pretty much easier with a plugin, but if you have knowledge of CSS and WordPress, why not try creating your own WordPress admin theme plugin?
In the WordPress codex, you can read and follow exactly how to creating an admin theme and style it with colors and options you like. Some knowledge is required if you choose this option.
If you choose a lighter and easier way, you use a plugin. I have put together the best WordPress admin themes plugins you can use to create a fancier and more elegant dashboard when you use WordPress.
In this post, I have also included great articles about admin themes and courses that I hope you can benefit from when you re-design and create your unique and awesome WordPress admin theme.
Legacy – White label WordPress Admin Theme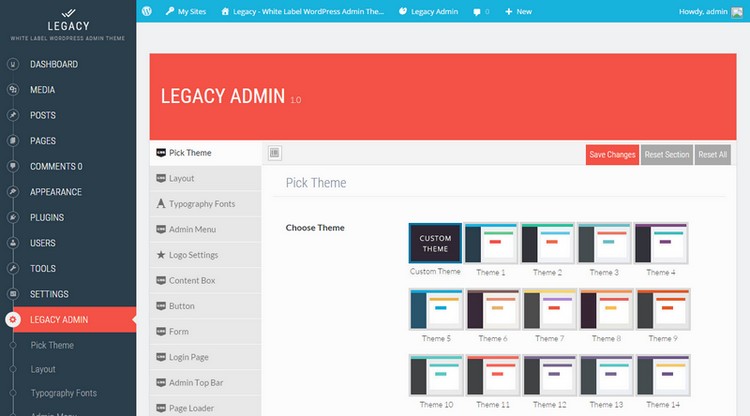 Legacy WordPress admin theme plugin is one of the most advanced and feature-rich admin theme available. It includes white label branding features. Legacy comes with 20 elegant and beautiful themes. Fully customizable login screen. Ready to use on a multisite network. Form customizing CSS options panel. 650+ Google Fonts integrated and much more.
Forest – WordPress Admin Theme
With Forest you can create an attractive admin dashboard to yourselves or your clients. With an innovative interface, you can switch to an awesome QuickPanel within minutes. Features included in Forest: 2 admin styles, full-width background image, background color and opacity, custom menu font, custom Login logo image and much more.
Modern Admin – Flat WordPress Admin Theme
Modern Admin is a flat styled WordPress admin theme with modern, trendy and retina ready design. The layout is clean, elegant. This plugin comes with 5 color schemes included Blue (default), Green, Red, Yellow, Purple. More features are custom logo text/image, import/export settings, retina support, multilanguage support and auto updates.
Ultra – WordPress Admin Theme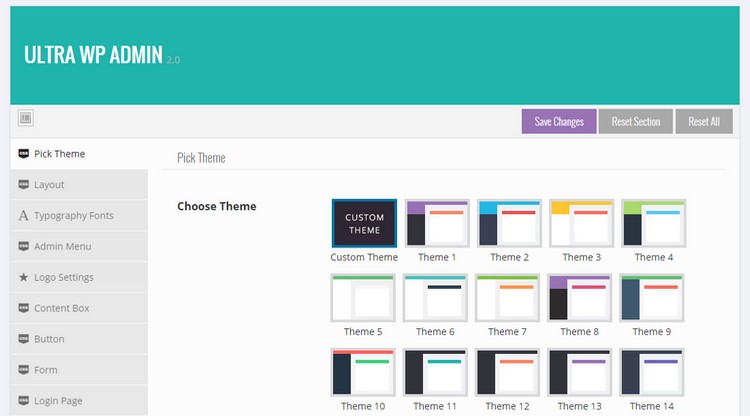 Ultra is a WordPress admin plugin with 30 awesome built-in themes and you have the option to create your own theme as well. This is a feature-rich plugin with endless of possibilities. Along with white label branding features it comes with options such as customize admin top bar, footer, menu icons, multisite compatible. Custom logo for the login page, content box styling options.
WPShapere – WordPress Admin Theme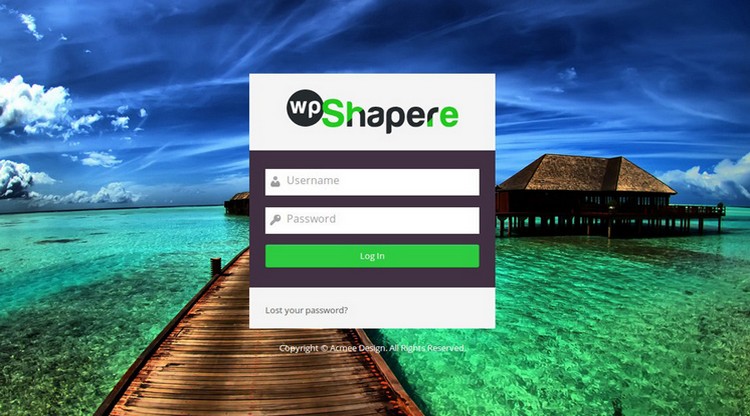 With WPShapere you can easily customize and style the WordPress admin dashboard. WPShapere comes with a user-friendly interface to manage the colors and elements. Key features are a powerful and simple to use options panel, unlimited color options + 16 pre-made pro themes. White label branding, export and import settings, multi-site network support.
WAT – WordPress Admin Theme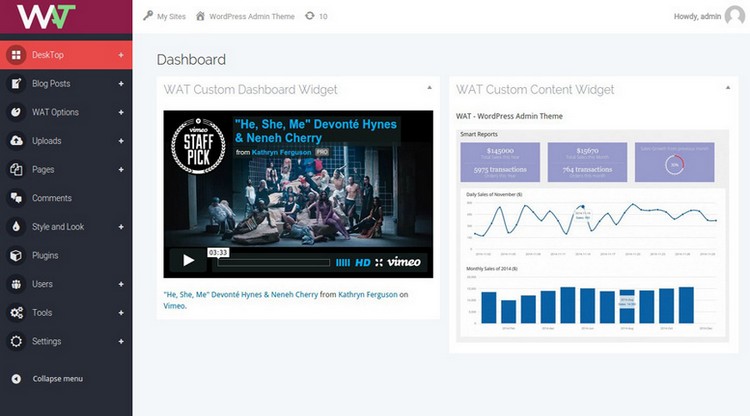 WordPress Admin Theme (WAT) is a premium plugin to customize the look and feel of your WordPress admin dashboard. This is a feature-rich plugin. WAT includes 43 built-in color themes. White label branding. Multi-site network support, Google fonts, flat and Shadow effect color options. Custom logo options for login and dashboard pages.
Clientside – WordPress Admin Theme
Clientside is a WordPress admin theme packed with features a variety of options to help you customize and style you admin dashboard. Clientside comes with a clean, simplified and uncluttered interface. Features included are responsive layout, themed login page with custom logo options. A toolbar notification center, white label, translation / WPML ready.
Slate Pro – A White Label WordPress Admin Theme
Slate Pro is a powerful WordPress admin theme plugin to dress up your admin dashboard with an elegant look and feel. With this plugin, you can create a customized WordPress admin area for your website or clients. Slate Pro comes with features such as custom colors, custom login screen, custom admin branding, multisite compatible. Add colors that matches your brand.
First – WordPress Admin Theme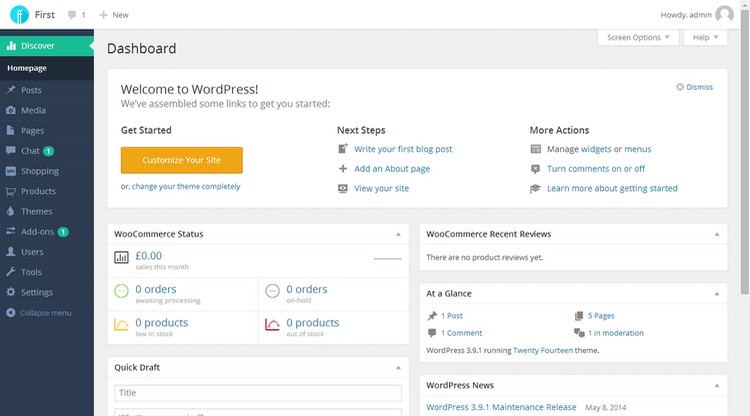 With First WordPress admin theme plugin, you can give your admin dashboard a new fresh look and feel. You can easily custom the admin bar, menu, icons, and colors. Login page: Change the login page logo. Style: Change the icons and colors. More features are: Disable open-sans font from google web font API, use local open-sans fonts and more.
Blue Press – WordPress Admin Theme
Blue Press is a WordPress admin theme plugin to customize your admin dashboard in WordPress. The plugin includes 6 color schemes: Blue, Turquoise, YellowGreen, DarkOrange, Violet, FireBrick. A lot of color schemes to match your brand. Responsive design, WPMU support, custom login page, custom text in the footer, icon menu on the admin page and more.
Easy Admin
Easy Admin is a premium WordPress plugin from AitThemes. Easy Admin offer you can your customers the ability to adapt and customize the WordPress admin panel. Add a more user-friendly look and feel. It is fully responsive, multilingual and easy to install and use. This is a great plugin to help non-technical clients a beautiful and simplified dashboard.
AdminPress – Custom Admin Theme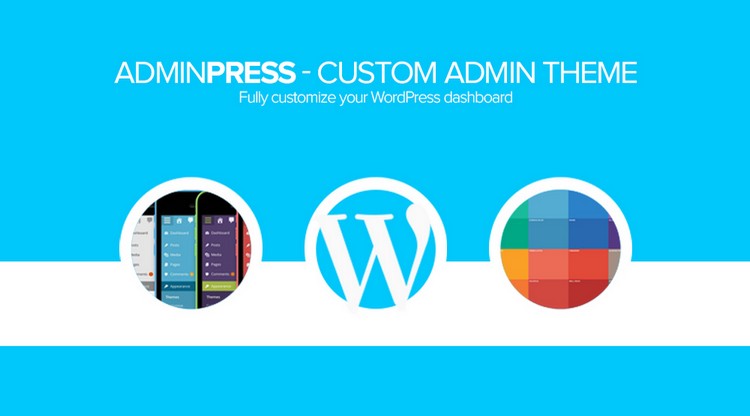 AdminPress is a custom Admin Theme plugin from DuoGeek. With AdminPress, you can redesign and customize almost everything of your dashboard. AdminPress comes loaded with great features and options such as customize colors, buttons, link color, background image, background Opacity, Google fonts. Select login logo, add message over the login box plus much more.
Helios Solutions Custom Admin Theme
Helios is an easy-to-use free WordPress admin theme plugin you can use to create your own WordPress admin color schemes. You can select from preset themes or create your own. Features included in the Helios admin theme plugin: Custom background color, font color, navigation menu color, post and page form color plus much more.
Slate Admin Theme
Slate is a minimalist, clean free WordPress admin theme plugin. The designers goal was to simplify the visual design with a primary focus on the content writing experience. I think they succeeded very well. Slate simply provides a clean, simplified design for your WordPress Admin area. Sometimes less is more!
AG Custom Admin

AG Custom Admin is a feature-rich free WorPress plugin to easily customize your WordPress admin panel. Brand your admin panel pages with custom content, colors, images, and text. AG Custom Admin comes packed with features such as free and responsive admin panel themes. Colorizer is a tool that can be used to change default WordPress admin panel colors, the admin bar, admin menu, login page, backgrounds, and fonts.
AdminRocket
AdminRocket is a free WordPress plugin that allows you to customize your WordPress backend with custom themes, dashboard widget, and your own settings. Features included in the plugin: Customize colors, background, buttons, menu, admin bar. Fonts, CSS animations, footer, the design of the admin login form, CircularNav plus much more.
Articles
If you want to read and learn more about Admin themes for WordPress, there are some good articles available I think you should take a look at.
Courses
Wrapping up
As you can see, there are quite a few ways to change the style and look in your WordPress dashboard with crisp admin themes. Most of the plugins are simple to install and customize. Some include more options than others, so try a few plugins to find something you like.
If you feel more adventurous, why not create an admin theme plugin of your own. It's not super difficult, but it might take a while before all the pieces fall into place. There are several free plugins in the list but if you want more features and purchase a plugin, good news, none of them are especially expensive.
Have I forgotten or overlooked something that fits in the article please leave a comment.
Latest posts by Artem Pavlov
(see all)