All of you who use WordPress for blogging or for your website has probably visited the WordPress Themes Directory at some point, perhaps in search of an attractive and useful WordPress theme. In the time of writing, there are 1.445 themes to choose from, and it could be difficult to find good and useful themes, but I have compiled a list of the 10 most popular and most downloaded WordPress themes of all time. All themes are updated fairly recently so just choose a theme, download, install and enjoy..
1. Delicate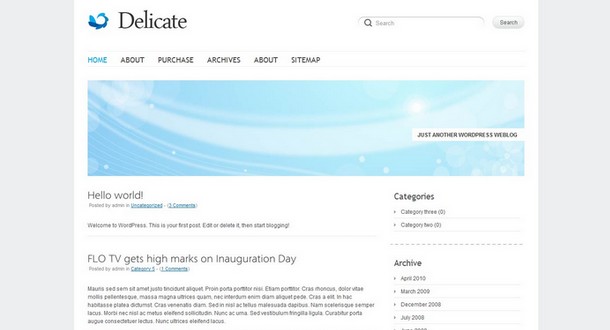 Delicate is a clean, minimalistic free WordPress theme with typography and structure from NattyWP. Delicate is built using advanced NattyWP framework so this wordpress theme is extremely customizable. Last Updated: 2011-09-05 – Downloaded 7,980 times.
NattyWP framework integrated
Widget-Ready
Additional Flickr and Twitter widgets
Ready for localizations – .po file included
Download
2. Suffusion
Suffusion is a free, elegant, versatile and browser-safe WordPress Theme with a power-packed set of options. It comes with 9 widget areas, 1-3 columns fixed-width and flexible-width formats, 10 pre-defined templates, 17 pre-defined color schemes and much, much more. Last Updated: 2011-10-03 – Downloaded 6,742 times.
19 widget areas
WP 3.0 Menus
17 pre-defined color schemes
Tabbed sidebars
License – GPL version 3
Download
3. Atahualpa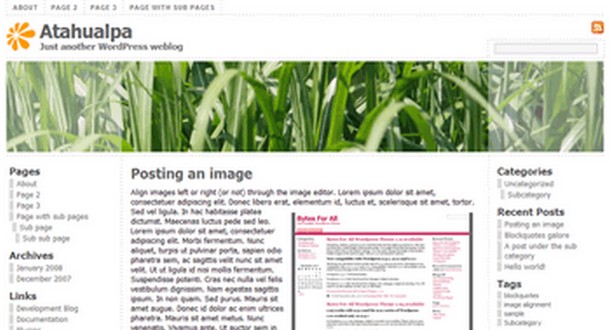 Atahualpa is a very flexible WordPress Theme and easy to customize in many ways. There are plenty of Custom options you can use to configure your custom theme. Some of the custom options are, fixed or flexible width layout, 0 – 4 sidebars, custom widget areas, color pickers and much more. Last Updated: 2011-10-06 – Downloaded 6,638 times.
Theme options page with Auto SEO options
Fixed or flexible width layout
0 – 4 sidebars
Widget ready
License – GPL 2
Download
4. Twenty Eleven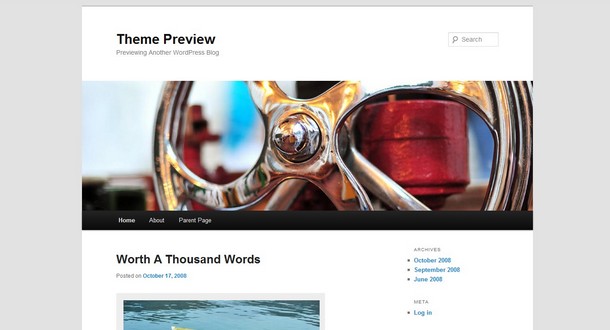 Twenty Eleven is the 2011 theme for WordPress and is sophisticated, lightweight, and adaptable. Make it yours with a custom menu, header image, and background, it comes with available theme options for light or dark color scheme, custom link colors, and three layout choices. Twenty Eleven comes equipped with a Showcase page template that transforms your front page into a showcase to show off your best content, widget support galore (sidebar, three footer areas and much, much more. Last Updated: 2011-07-12 – Downloaded 6,491 times.
Custom menu, header image, and background
Light or dark color scheme
Three footer areas
Six different post formats
Showcase page template
Download
5. Graphene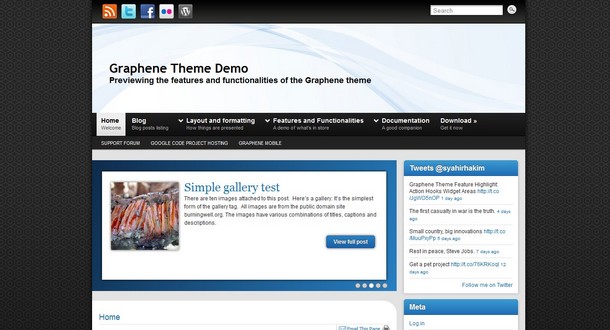 Graphene is a free stylish WordPress theme that comes with configurable columns layout options and 4 widget areas. It includes a buckload of action hooks for greater customisability through child theme, and a jQuery slider for your featured posts. It has built-in Twitter widget, allows for customizable colors, header and background through the WordPress admin, built-in AdSense placement and social sharing buttons and a lot more. Last Updated: 2011-10-01 – Downloaded 6,032 times.
Theme options page
Two-column layout, with widgetised sidebar
Built-in AdSense placement
Helpful 404 Error page
jQuery slider
Download
6. BlogoLife
BlogoLife is a simple and perfect HTML5&CSS3 WordPress Theme for personal blogging that supports post formats, and several customization options. The custom background, custom header, and multiple color schemes gives you the possibility to adapt your blog as you wish. Last Updated: 2011-10-05 – Downloaded 5,511 times.
Multiple Color Schemes
Custom Widgets
Post Format
SEO Options Section
Internationalized & localization
Download
7. Platform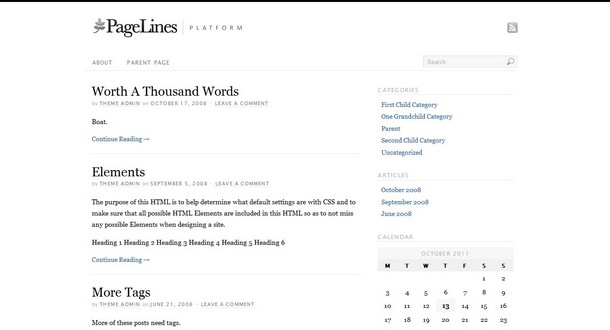 Platform is a clean drag-and-drop framework for WordPress. It will help you do amazing things with your site, faster & easier than ever before. Create your own WordPress Theme very easy. Last Updated: 2011-09-27 – Downloaded 5,367 times.
Theme options panel
Custom menu, header & colors
Translation ready
HTML5
Threaded comments
Download
8. Custom Community
Custom Community is a WordPress and BuddyPress theme framework that enables you to build your site with all the features you love. Easy to use jQuery slideshow. List posts under your pages in magazine layouts. Use powerful theme settings to customize every part of the theme and much more. Last Updated: 2011-10-06 – Downloaded 4,872 times times.
Powerful theme settings
jQuery slideshow
20 widget areas
2 custom WP 3.0 header menus
3 predefined colour schemes
Download
9. Toolbox
Toolbox is a semantic, HTML5, canvas by Automattic for CSS artists and an ultra-minimal set of super-clean templates for your own WordPress theme development. Last Updated: 2011-10-05 – Downloaded 4,833 times.
HTML5
Custom-menu
Post formats
Sticky post
Translation ready
Download
10. iFeature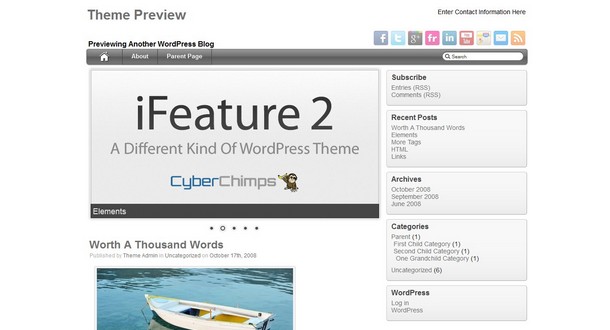 iFeature is a free WordPress Theme designed by CyberChimps.com. iFeature offers customizable theme options, an aesthetically pleasing design, the iFeature slider, dynamic header for custom logo, social icons, social sharing, contact section, widgetized sidebar and footer, typography including Google Fonts, and multiple template choices. Last Updated: 2011-10-11 – Downloaded 4,258 times.
Customizable theme options
iFeature slider
Social sharing
Widgetized sidebar and footer
License – GPL v2
Download
Latest posts by Artem Pavlov
(see all)