75 Best Free WordPress Themes from 2012

2012 was an amazing year and we saw an incredible number of WordPress theme releases during the year. We are very happy and excited to showcase our compiled list of top 75 best free WordPress themes from 2012, with what we from WP Daily Themes think are themes that stood out a bit out of the ordinary. We would love to hear your opinion about the themes!
There were so many great and awesome WordPress themes to choose from, but we hope you like and enjoy the list with all the popular free WordPress themes from excellent themes designers located all over the world. We've hope you can create an awesome online presence with these awesome 75 free GPL licensed WordPress themes from 2012. Cheers!
75 Best Free WordPress Themes from 2012
Twenty Twelve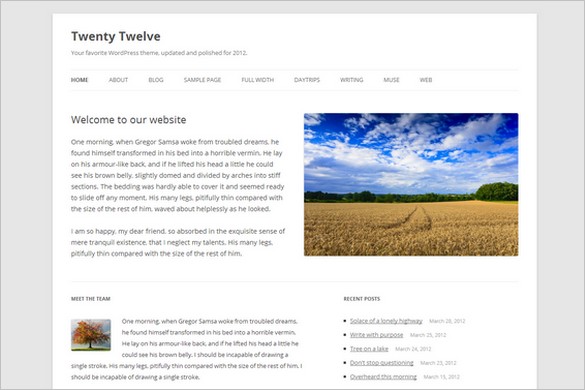 Twenty Twelve new default theme in WordPress.org and it is of course free. Twenty Twelve is an elegant theme with clean and light design. It comes with features such as theme options, responsive layout, post formats etc. Read more : Twenty Twelve Free WordPress Theme
» Download Page | Demo
Responsive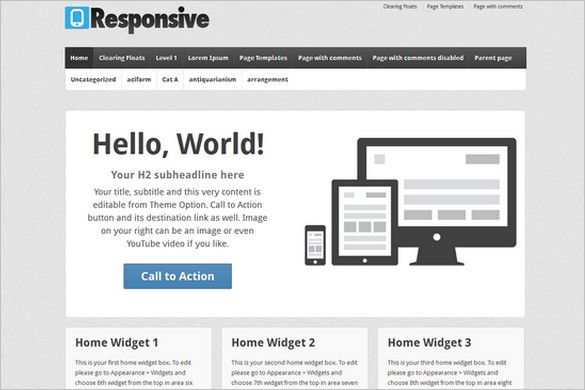 Responsive is a beautiful responsive free WordPress theme by ThemeID and is one of the most downloaded theme from WordPress Themes Directory. It comes loaded with a lot of great features and options. Read more : 2 Free WordPress Themes by ThemeID
» Download Page | Demo
Lensa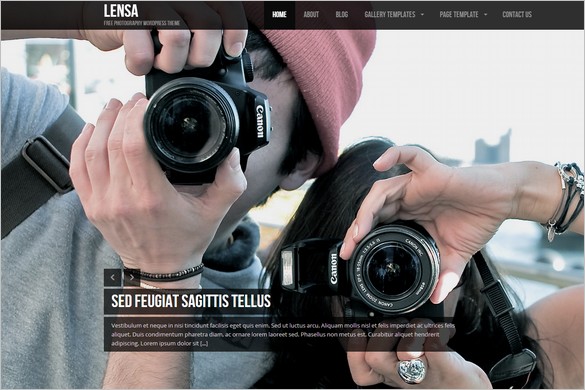 Lensa is a free WordPress theme release from ColorLabs and is designed with photographers and photo interested in mind. Lensa is a theme perfect to showcase and display photos and images in a attractive and stunning way. Read more : Lensa Free Full Screen WordPress Theme
» Download Page | Demo
Simple'n'Bright
Simple'n'Bright is an elegant WordPress theme release from Site5. This is a free GPL theme packed with great features and perfect for all kind of portfolio and blog websites, but will work great as a business site as well. Read more : Simple'n'Bright Free Portfolio WordPress Theme
» Download Page | Demo
Illustrious
Illustrious is a free WordPress theme from CPOThemes that is perfect to for all kind of business, corporate, portfolio websites to showcase their work, design, graphic, portfolio etc. This is a theme with elegant design. Read more: Illustrious WordPress Theme
» Download Page | Demo
Danko
Danko is a free feature-rich WordPress Theme from Themes Kingdom that is perfect for charity organizations. Danko comes with Integrated PayPal gateway and is focused on raising funds for all charity organizations. Read more: Danko WordPress Theme
» Download Page | Demo
Diary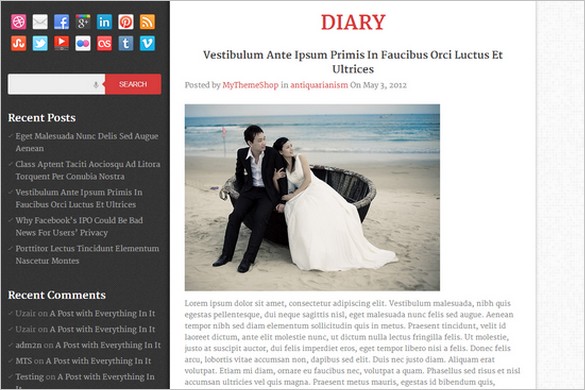 Diary is a free awesome WordPress theme release from MyThemeShop. This is a theme perfect for all kinds of niches from writing personal diary to showcase and display images in a very beautiful, elegant and stylish way. Read more : Diary Free WordPress Theme
» Download Page | Demo
JustBlue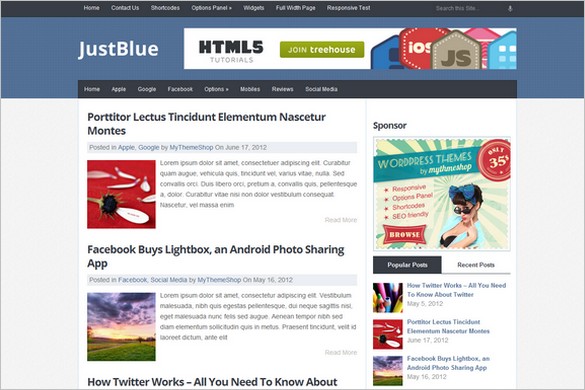 JustBlue is a free GPL WordPress theme for magazines and news portals. This is a theme designed by MyThemeShop and comes with responsive layout so the theme will appears perfect in all screen resolutions. Read more : JustBlue Free Magazine WordPress Theme
» Download Page | Demo
Snapshot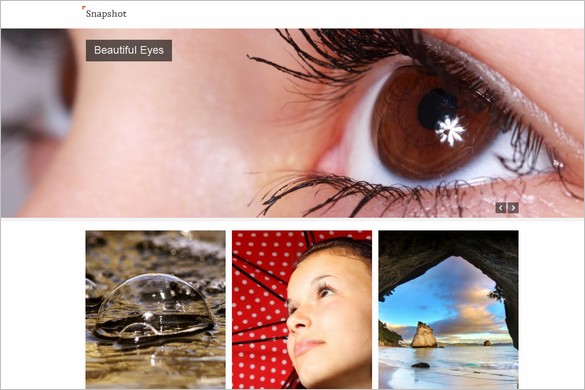 Snapshot is a free WordPress theme designed for photographers in mind. This is a great theme from SiteOrigin to showcase photographs on their blogs in a great way with the home page slider. Read more : Snapshot Free Photography WordPress Theme
» Download Page | Demo
Simple Catch
Simple Catch is a free WordPress theme based on  on the popular 978 Grid System CSS Framework by Catch Themes that is perfect for all kind of blogs and websites. Read more :  Simple Catch WordPress Theme (Free)
» Download Page | Demo
Launch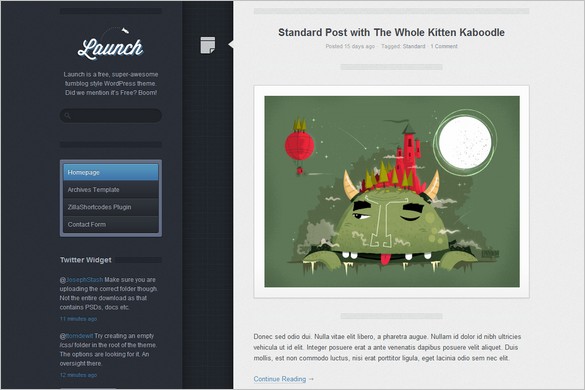 Launch is a free micro blogging WordPress theme from ThemeZilla. This is a perfect theme for the personal blogger who likes to blog in style. Read more : Launch WordPress Theme (Free)
» Download Page | Demo
Respo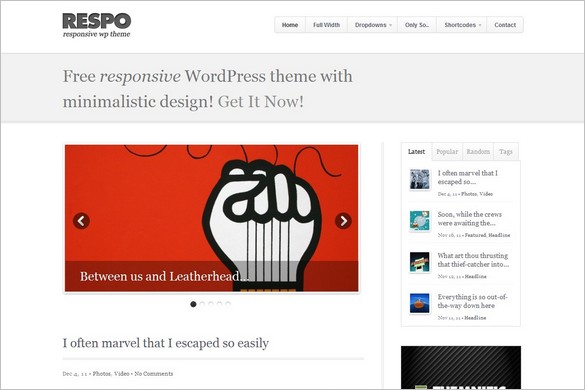 Respo is a free WordPress Theme by Themnific with a sleek and customizable design. The layout and even the slider is fully responsive so the theme will adapt to the screen size of your visitors. Read more : Respo WordPress Theme (Free)
» Download Page | Demo
Photum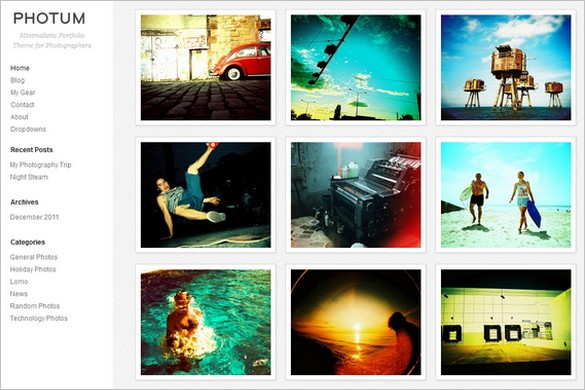 From PhotographicBlog.com comes the free portfolio WordPress theme Photum. The theme is built with HTML5 and comes with a responsive design so the theme will work with many different screen resolutions and mobile devices. Read more : Photum WordPress Theme (Free)
» Download Page | Demo
Workz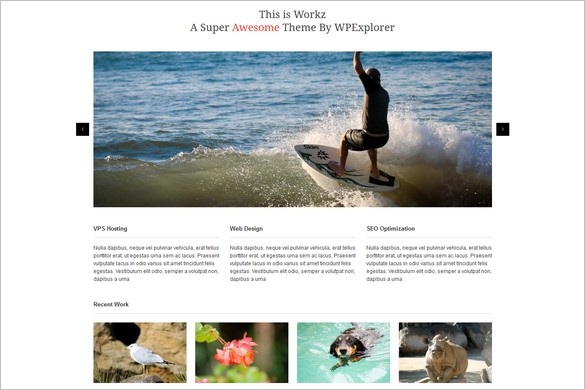 Workz is a WordPress theme release by WPExplorer that you can download for free. This theme is perfect and suitable for all kind of business, portfolio or design websites to display and showcase photos, products, graphics etc. Read more: Workz WordPress Theme
» Download Page | Demo
Murmur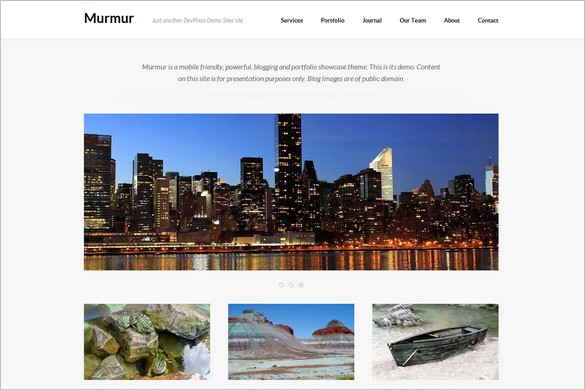 Murmur is a free and powerful free WordPress theme release from DevPress. This is a theme perfect for display and promote portfolios and galleries. The theme is released under the GNU General Public License (GPL). Read more : Murmur Free Portfolio WordPress Theme
» Download Page | Demo
Theron Lite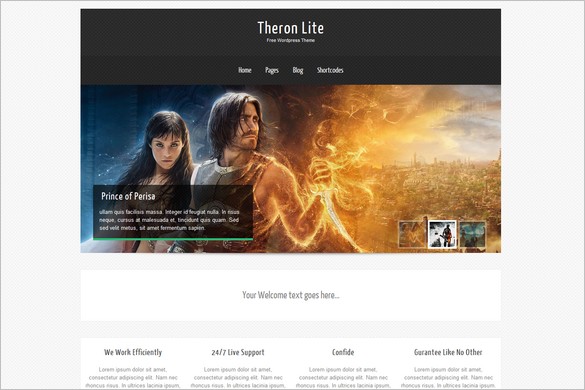 Theron Lite is a free WordPress theme release from Towfiq I that comes loaded with great features. This theme is suitable and perfect for all kind of business and personal websites and is optimized for iPhone, iPad and desktops. Read more : Theron Lite Free WordPress Theme
» Download Page | Demo
Pinboard
If you like online pinboards such as the new social network Pinterest and sharing content and images, then Pinboard from One Designs definitely is a theme for you. The content is showcased in a beautiful grid. Read more : Pinboard Free WordPress Theme
» Download Page | Demo
Photographer
Photographer is a great looking free WordPress theme from Dessign.net. This is an elegant theme that is perfect for all photographers and photobloggers to display and showcase photos, images, art, design etc. Read more: Photographer WordPress Theme
» Download Page | Demo
Magnifique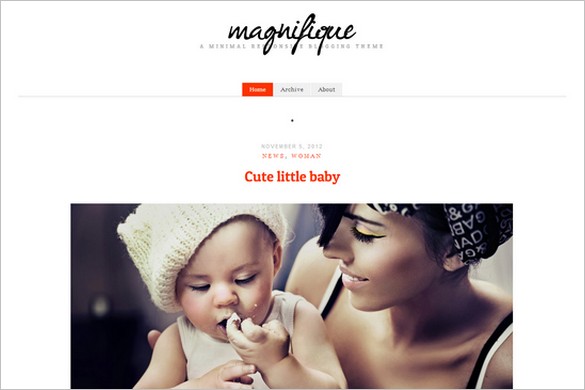 Magnifique is a free beautiful WordPress Theme release from cssigniter.com with an elegant and clean design. This is a theme that is perfect for bloggers who want to display photos or content in a simple but stylish way. Read more :  Magnifique Free WordPress Blog Theme
» Download Page | Demo
Clean Retina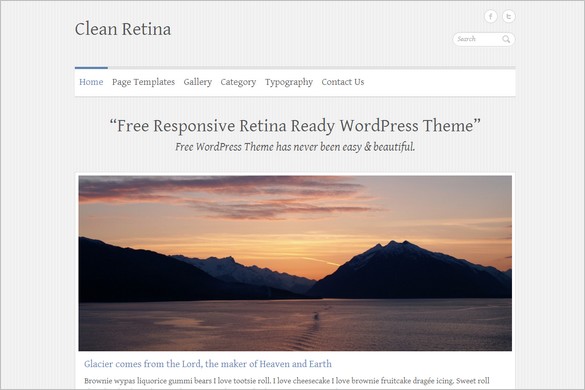 Clean Retina is a free retina ready WordPress theme from Theme Horse. The theme is designed with responsive layout and is retina ready so you can enjoy sharp text, vibrant colors and sharp images on your retina display devices like new MacBook Pro, iPhone and the new iPad. Read more : Clean Retina Free Retina Ready WordPress Theme
» Download Page | Demo
Interstellar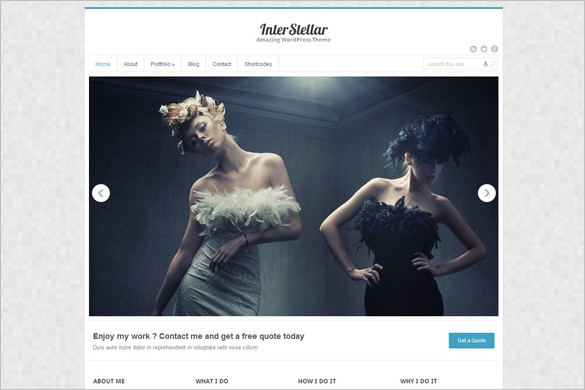 Interstellar is a free GPL WordPress theme from UFO Themes with a very nicely designand responsive layout. Interstellar is perfect and suitable for niches such as business and company sites but also to showcase portfolios. Read more : InterStellar Free WordPress Theme
» Download Page | Demo
Folly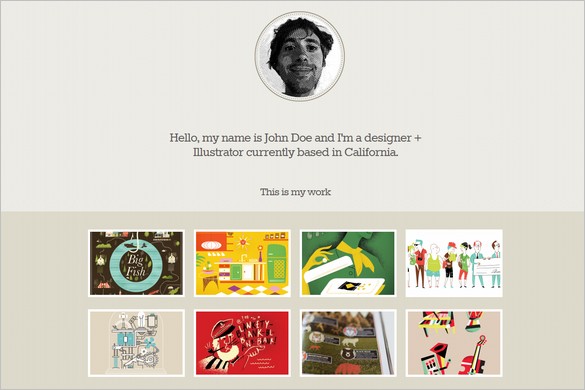 Folly is a free GPL WordPress Theme release from Nice Themes with an awesome design. This is a theme creative people to present their work, photo, design, art and other inspiring content in great looking style. Read more : Folly is a free WordPress Theme by Nice Themes
» Download Page | Demo
Leatherly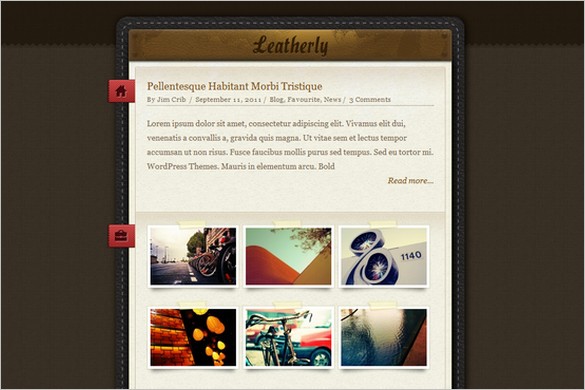 Leatherly is an awesome vCard WordPress theme release by ColorLabs. This is a free one-page GPL licensed theme perfect for presenting yourself, your company, website or whatever you want to show the world. Read more : Leatherly Free One Page WordPress Theme
» Download Page | Demo
Gadgetry
Gadgetry is a free WordPress theme from Themefuse and built with the Fuse framework. This is a theme in magazine style and is perfect for anyone who wants to display much content and articles at the same time. Read more : Gadgetry Free Magazine WordPress Theme
» Download Page | Demo
HUMIX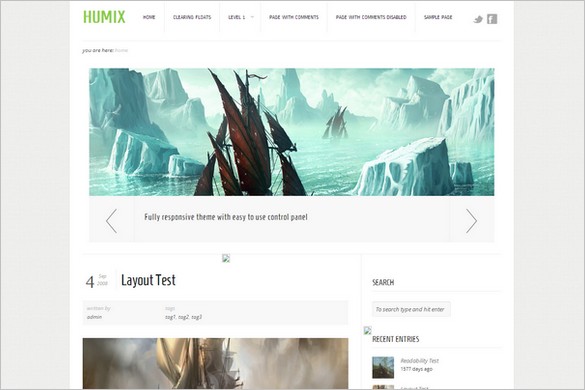 HUMIX is a free WordPress theme from Theme4Press loaded with great features. The design is responsive meaning the theme will look great in any devices such as iPhone, tablets and desktop screens. Read more : HUMIX – A Free WordPress Theme by Theme4Press
» Download Page | Demo
Sunspot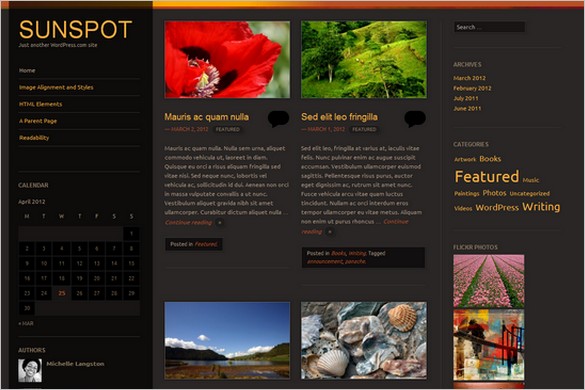 Sunspot is a free GPL WordPress theme by automattic. Sunspot is beautifully designed with responsive layout and comes with a dark color scheme. This theme is for all kinds of blogs and web sites. Read more : Sunspot WordPress Theme (Free)
» Download Page | Demo
ShutterLoop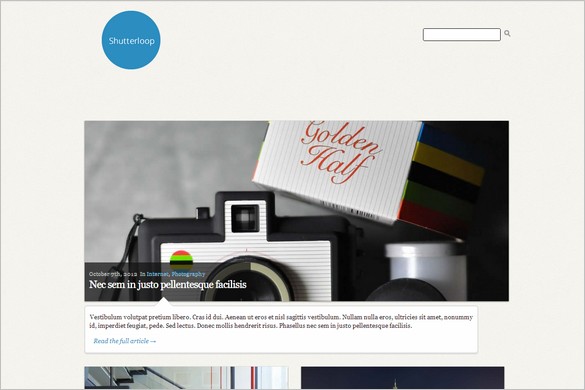 ShutterLoop is a stylish free WordPress theme by Responsive Deck with a very neat and clean design. The theme is perfect for photographers that want to promote and showcase photos in a creative way. Read more : ShutterLoop Free Photography WordPress Theme
» Download Page | Demo
Simple Photo
Simple Photo is a free WordPress theme by Dessign.net that is perfect for anyone who likes photography and images. The theme comes with responsive layout, which means the will look great in any screen resolutions. Read more : Simple Photo Free WordPress Theme
» Download Page | Demo
Workality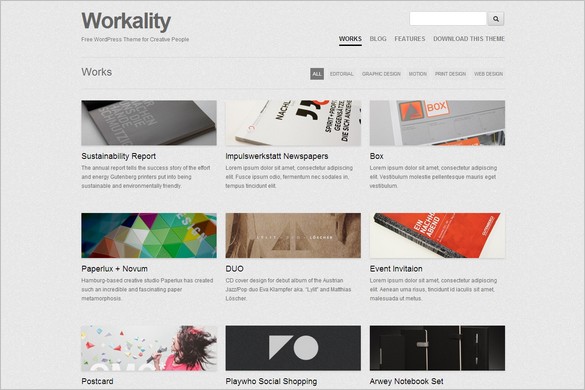 Workality is a free responsive WordPress theme loaded with great features and options. This is a theme prefect for all creative people to showcase portfolios, images, photos, art, design etc. This theme is perfect for most niches. Read more : Workality Free WordPress Theme
» Download Page | Demo
Panoramica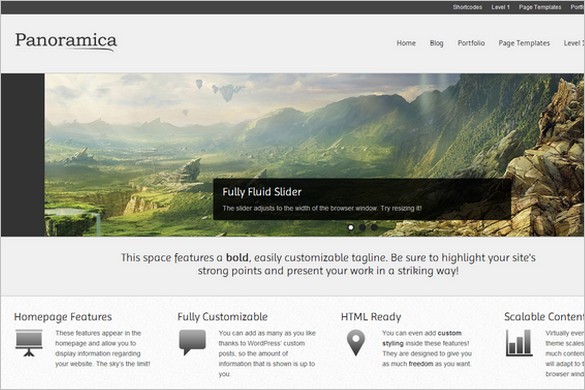 Panoramica is a great looking WordPress theme from CPOThemes and is designed with fully fluid layout so the theme will adapt the screen width of any device. This is an elegant and flexible free theme. Read more : Panoramica WordPress Theme (Free)
» Download Page | Demo
Photogram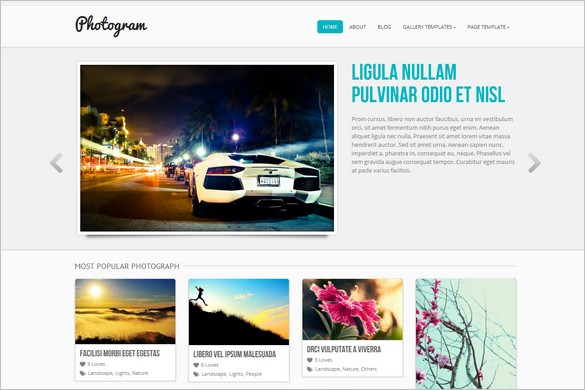 Photogram is an elegant free premium WordPress Theme from ColorLabs. With this theme you can easily connect your WordPress site with your Instagram and Pinterest accounts. This is a elegant free WordPress theme. Read more : Photogram Free WordPress Theme
» Download Page | Demo
Minimalistiq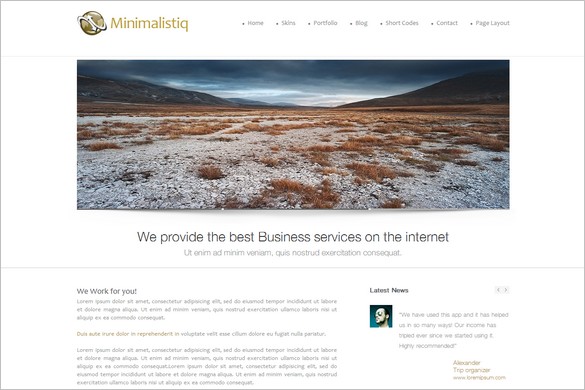 Minimalistiq is a free WordPress theme release from WPLegion. This is a beautiful theme with 2 color schemes, white and brown. This is a flexible and multi purpose WordPress theme with a lot of great features included. Read more : Minimalistiq Free WordPress Theme
» Download Page | Demo
Widely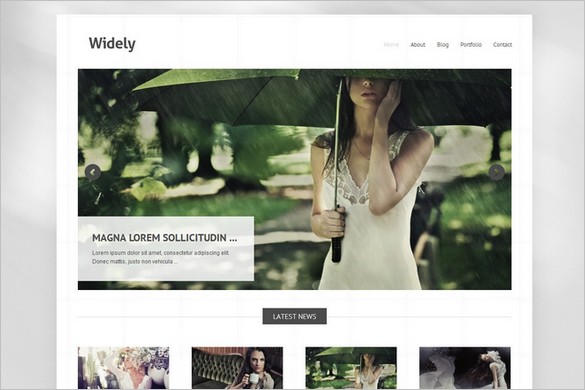 Widely is a free WordPress theme from Themes Kingdom and is suitable and perfect businesses, corporate, creatives and perhaps as a regular blog! This theme is suitable for most niches,  it's just up to you to choose! Read more : Widely WordPress Theme (Free)
» Download Page | Demo
Great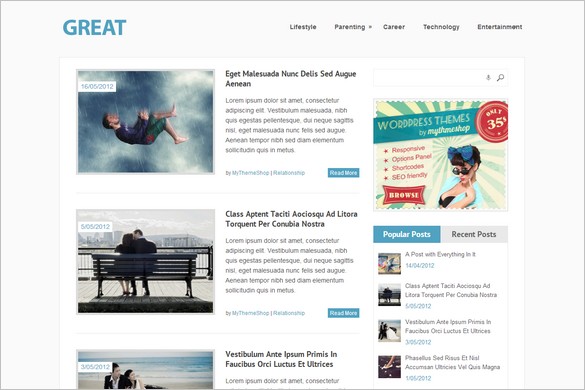 Great is a free WordPress theme from MyThemeShop that is designed in magazine style. The theme comes with features such as responsive layout, meaning the theme will adapt to any browser size automatically. Read more : Great is a free Magazine WordPress Theme by MyThemeShop
» Download Page | Demo
Spun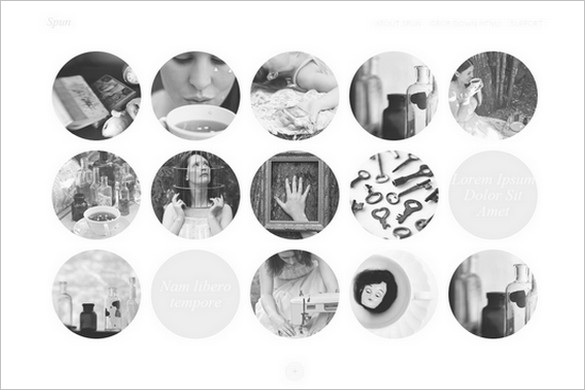 Spun is a great looking free WordPress theme by Caroline Moore. This is a theme with a little different layout and it is really cool. Spun comes with responsive layout, meaning the theme will adapt to any screen resolutions. Read more : Spun Free Responsive WordPress Theme
» Download Page | Demo
Classic Photography
Classic Photography is a free GPL WordPress Theme release from Vandelay Design. This is a theme with clean design perfect for all photographers to displaying photos on a website or blog. Read more : Classic Photography Free WordPress Theme
» Download Page | Demo
BeFree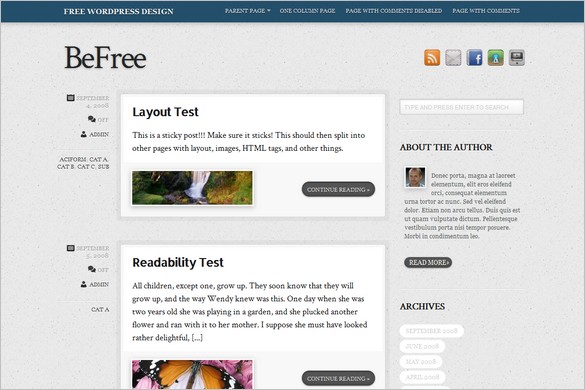 BeFree is a cool free beautiful WordPress Theme by Theme4Press. This is a theme loaded with great features such as Google Fonts, author bio widget, 2 custom menu areas, GPL licensed  and much more. Read more : BeFree WordPress Theme (Free)
» Download Page | Demo
Cascade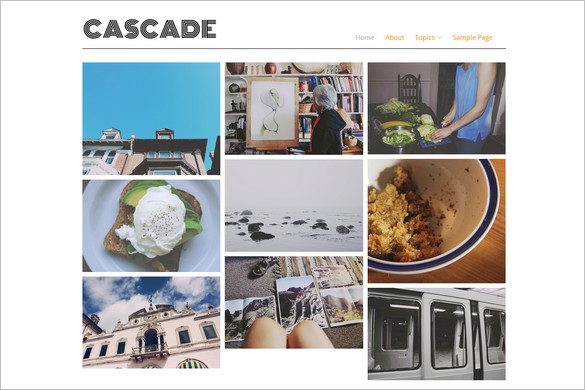 Cascade is an elegant free GPL WordPress theme from Alpine Press and it is perfect for anyone who likes to show and display pictures, photos and create professional galleries in a stylish minimalistic way. Read more : Cascade Free Portfolio WordPress Theme
» Download Page | Demo
SimpleCorp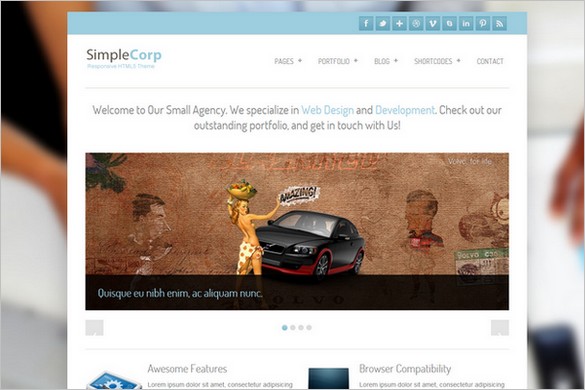 SimpleCorp is a great free WordPress Theme release from Site5. This is a theme perfect for all business, corporate and portfolio websites to showcase and display products, photos or other creative stuff in a elegant way. Read more : SimpleCorp Free Portfolio WordPress Theme
» Download Page | Demo
Perolia
Perolia is a WordPress theme with a clean and elegant design. This is a free responsive theme from ThemeElephant that is suitable and perfect for all kind of bloggers from personal blogs to business and portfolio websites. Read more : Perolia Free WordPress Theme
» Download Page | Demo
GoPress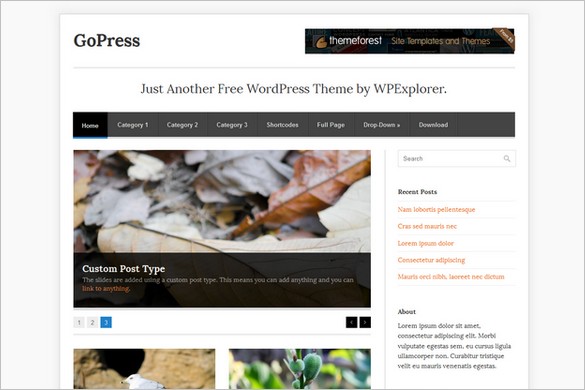 GoPress is a free WordPress theme in magazine style from WPExplorer.com. GoPress comes with features such as Homepage image slider, Grid style design, Widgetized footer with 3 sections, custom menu and more. Read more: GoPress Magazine WordPress Theme
» Download Page | Demo
Meeta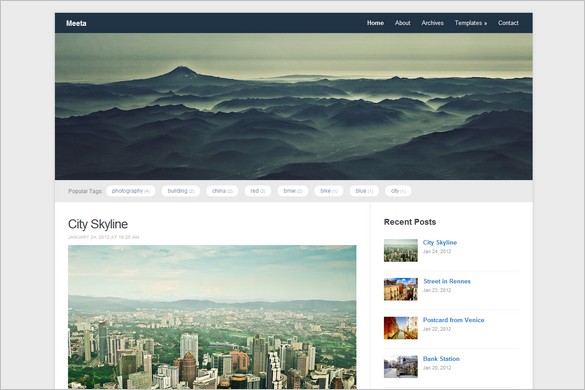 Meeta is a free WordPress theme release from WPZOOM. This theme comes loaded with features such as responsive layout, SEO options section etc, and with the WPZOOM Framework it is easy to customize every detail of the theme. Read more : Meeta WordPress Theme (Free)
» Download Page | Demo
Gridly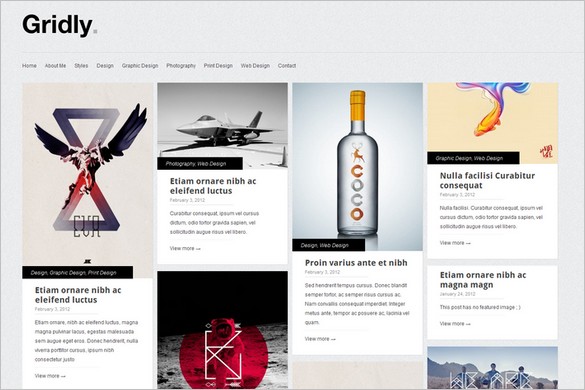 Gridly is an awesome looking free WordPress Theme with responsive design and with 2 color schemes. The theme is perfect as a portfolio and suitable for graphic designers or photographers. Read more : Gridly WordPress Theme (Free)
» Download Page | Demo
Adelle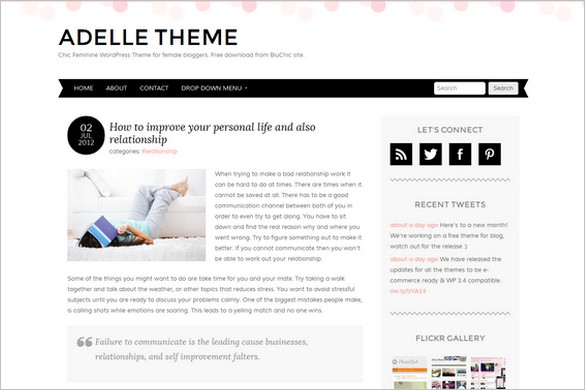 Adelle is a 2 columns free WordPress theme from BluChic. This is a theme with responsive minimalist design and is perfect for female bloggers. Read more : Adelle Free WordPress Theme
» Download Page | Demo
Tequilla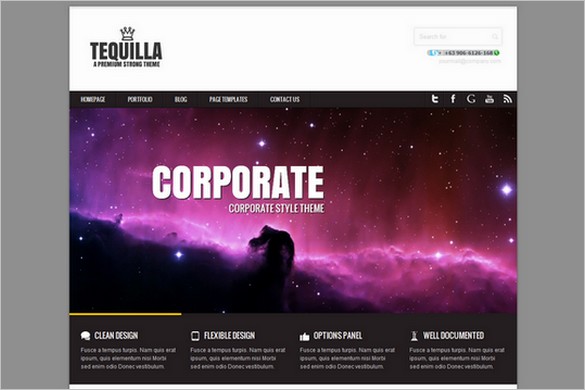 Tequilla is a free WordPress theme with a clean and elegant look. This is a theme release from Joolu that is perfect for all kind of portfolios from personal portfolio to company portfolio. Read more : Tequilla Free Portfolio WordPress Theme
» Download Page | Demo
CleanBusiness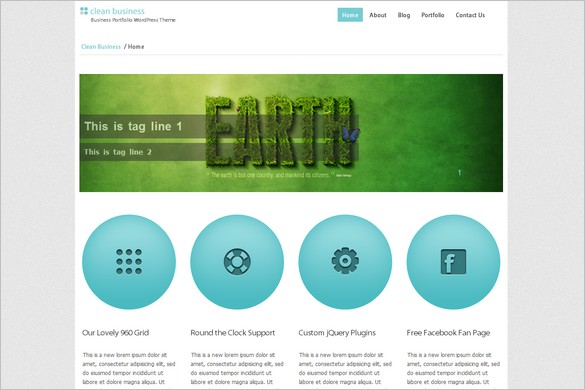 CleanBusiness is a WordPress theme with a stylish and professional look. It is a free WordPress theme release from EGrappler and is perfect and suitable to display and showcase creative portfolios and galleries. Read more : CleanBusiness Free Business WordPress Theme
» Download Page | Demo
Picturesque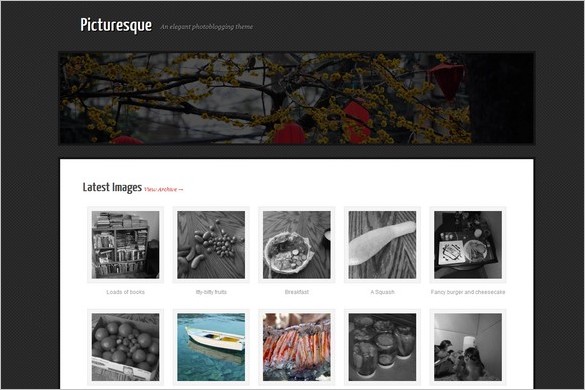 Picturesque is a free theme created by by Justin Tadlock and is a great theme perfect for all photographers and photobloggers. Picturesque is built with Hybrid Core framework and comes with a clean design. Read more : Picturesque Free WordPress Theme for Photobloggers
» Download Page | Demo
Groovy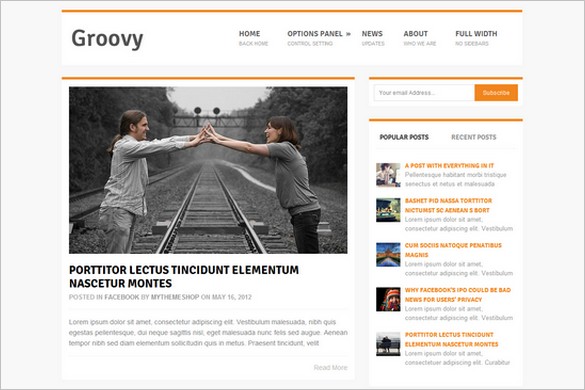 Groovy is a clean, minimalistic and beautiful free WordPress theme from MyThemeShop. This is a very fast loading and light weighted theme even on mobile devices or slow connections. Read more : Groovy Free Magazine Style WordPress theme
» Download Page | Demo
Leaf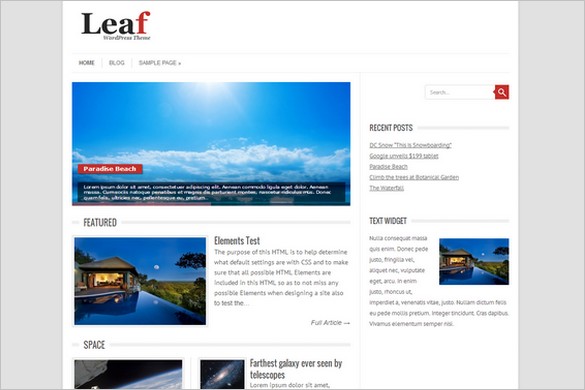 Leaf is a free WordPress theme release from Fatboy Themes with magazine style and loaded with great features. This is a free WordPress theme that's perfect for online news portals or magazine blogs. Read more : Leaf Free Responsive WordPress Theme
» Download Page | Demo
Grid Style
Grid Style is a free WordPress theme release from Dessign.net. This is an elegant and stylish theme with great features included and is perfect to showcase fashion, graphics, images, webdesign in a great looking portfolio style.Read more: Grid Style Portfolio WordPress Theme
» Download Page | Demo
Catch Box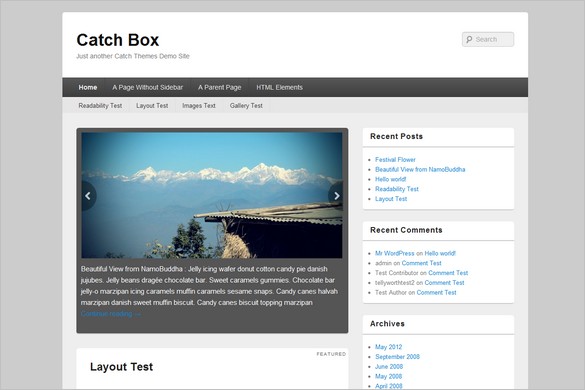 Catch Box is a CSS3 based free WordPress theme with a beautiful layout from Catch Themes. The design is responsive so the theme will look great in small mobile devices to large wide screens. Read more : Catch Box WordPress Theme (Free)
» Download Page | Demo
Divident
Divident is a WordPress theme from Dynamicwp.net that comes for free, licensed under the GPL license. This theme is perfect for all kinds of blogging. It comes with features such as theme options, 2 custom widgets, SEO settings etc. Read more: Divident WordPress Theme
» Download Page | Demo
Oxygen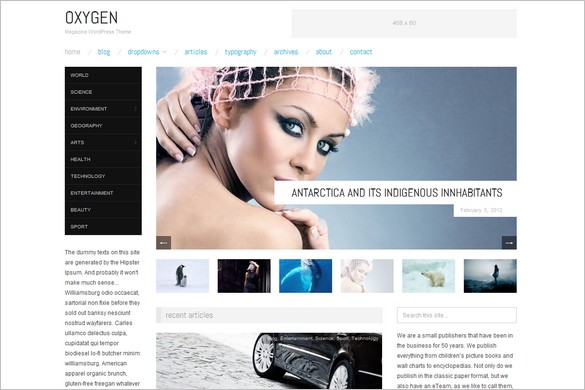 Oxygen is a free WordPress theme by Alien WP that comes with responsive and elegant design. Oxygen is a theme built on the Hybrid Core framework, Child- theme friendly and GPL licensed. Read more : 3 Free WordPress Themes from Alien WP
» Download Page | Demo
Gridiculous
Gridiculous is a great free HTML5 WordPress theme by bavotasan that is based on the grid layout boilerplate with the same name. This is a very lightweighted theme that comes with a responsive layout. Read more :  Gridiculous Free Responsive HTML5 WordPress Theme
» Download Page | Demo
Tint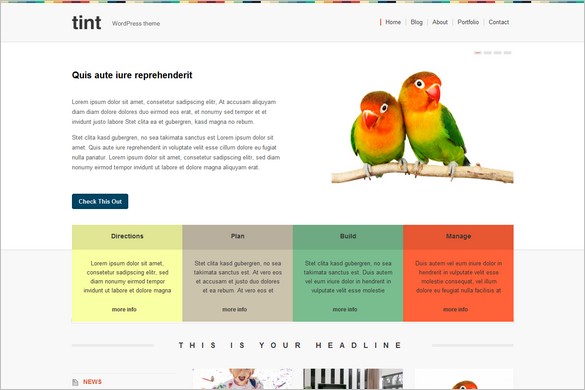 Tint is a free Portfolio WordPress theme perfect for all kinds of portfolios but can be used for business sites as well. This is an elegant free GPL theme from Themes Kingdom and a lot of great features included. Read more : Tint WordPress Theme (Free)
» Download Page | Demo
Yaminth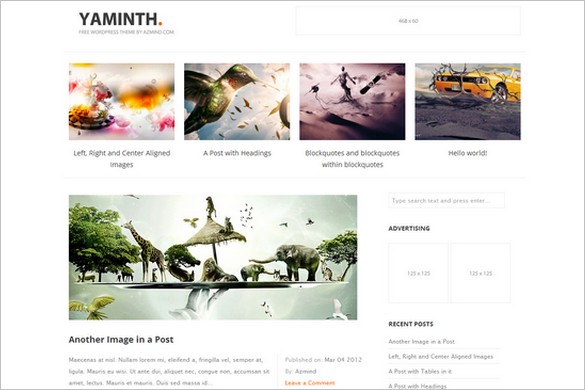 Yaminth (Yet Another Minimal Theme) is a great looking WordPress Theme from Azmind.com. It is released under the GPL – GNU General Public License version 3.0, and you can use the theme in personal and commercial projects. Read more : Yaminth WordPress Theme (Free)
» Download Page | Demo
Montezuma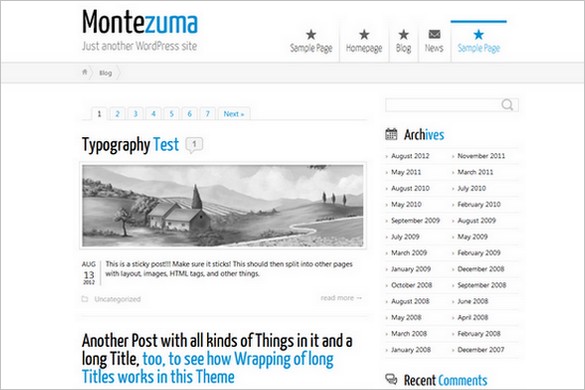 Montezuma is a free WordPress theme from BytesForAll that is perfect for online magazines and news portals. This is a very powerful, flexible and customizable WordPress theme. Read more : Montezuma Free Responsive WordPress Theme
» Download Page | Demo
Folder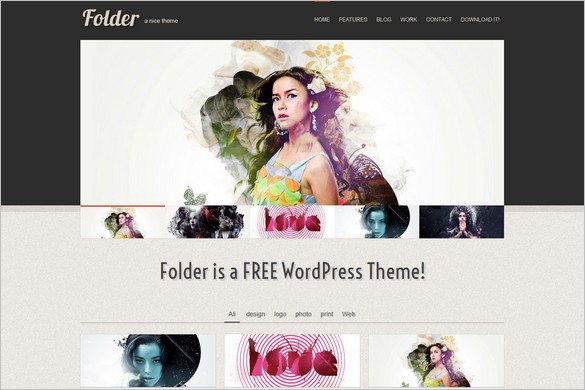 Folder is a free WordPress theme from LuisZuno. Folder is perfect to display images, photos, portfolios, art, design and can be used for many purposes and is suitable for business, corporate to a personal blog. Read more : Folder – A Free Responsive WordPress Theme
» Download Page | Demo
Auto Focus
Auto Focus is a free WordPress theme release from Vandelay Design. This is a theme that is perfect for photobloggers and for anyone who likes to showcase images online in a stylish way. Read more : Auto Focus Free Photography WordPress Theme
» Download Page | Demo
Bloggie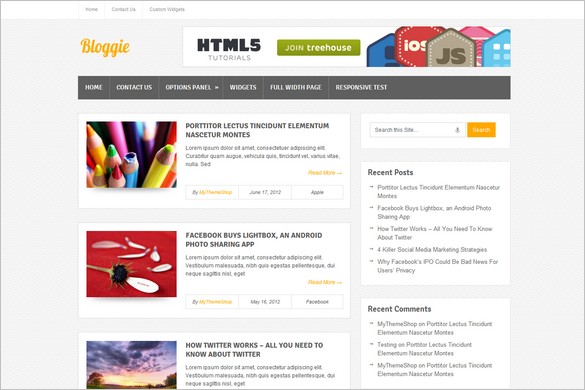 Bloggie is another free responsive WordPress theme release from MyThemeShop. This is a theme perfect for blogs with personal approach to online magazines and news portals. Read more : Bloggie Free Blog WordPress Theme
» Download Page | Demo
Best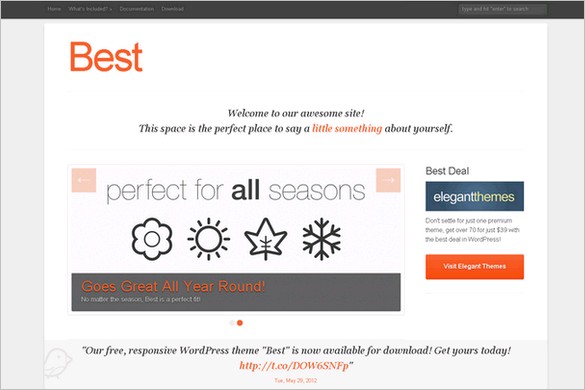 Best is a feature-rich and free WordPress theme. It comes with responsive layout so you can be sure it is accessible and displayed awesome in any mobile devices such iPhone and iPad, Blackberry and Android. Read more : Best WordPress Theme (Free)
» Download Page | Demo
Clean Response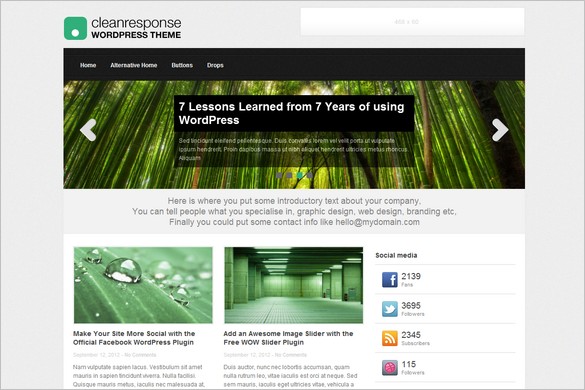 Clean Response is a free WordPress theme release from themefurnace. This is a WordPress theme that is perfect and suitable for all kind of business websites but can be used as a regular and personal blog theme. Read more : Clean Response Free WordPress Theme
» Download Page | Demo
OnePager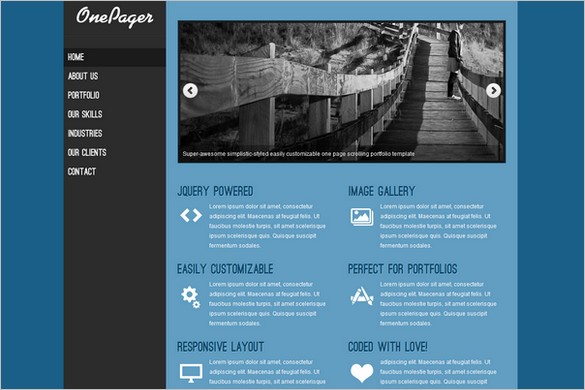 OnePager is a free WordPress theme from Umair Ashraf. This is a theme that will work perfect for all types of business websites and blogs. OnePager theme is perfect to promote products, portfolios, galleries etc. Read more : OnePager Free WordPress Theme
» Download Page | Demo
Path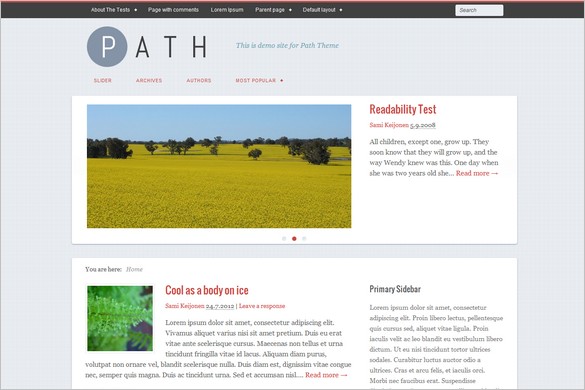 Path is a free GPL WordPress theme created by Sami Keijonen and built on Hybrid Core framework. Path comes with responsive design and is perfect for all kind of online magazines and news portals and blogs. Read more : Path Free WordPress Theme
» Download Page | Demo
Tiga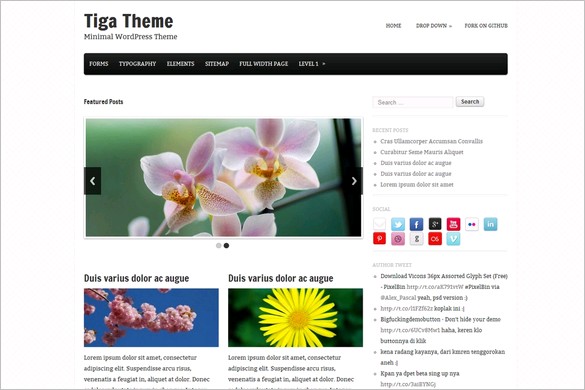 Tiga is a free responsive WordPress theme meaning the theme will look awesome in both small and big screens. Tiga is released under the GPLv3 license so you can modify it to suits your personal needs. Read more : Tiga WordPress Theme (Free)
» Download Page | Demo
Table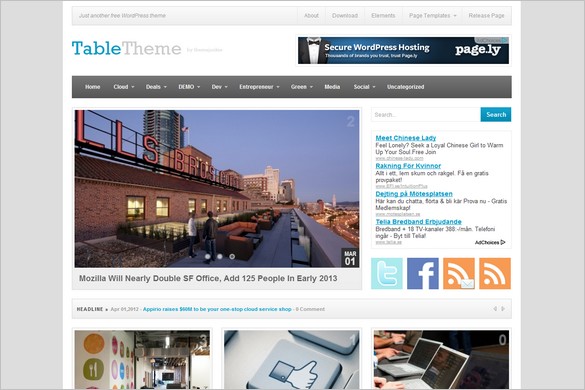 Table is a free WordPress theme with a clean and beautiful design. This theme from Theme Junkie is perfect to use for magazines or news websites to present great and interesting content. It is easy to manage and configure from the advanced theme control panel. Read more : Table Free Magazine WordPress Theme
» Download Page | Demo
BlogFolio
BlogFolio is another free WordPress theme for photographers and photobloggers from Vandelay Design. This is a theme perfect to showcase photos, art, design or other creative work in a stylish way. Read more : BlogFolio Free Photography WordPress Theme
» Download Page | Demo
Max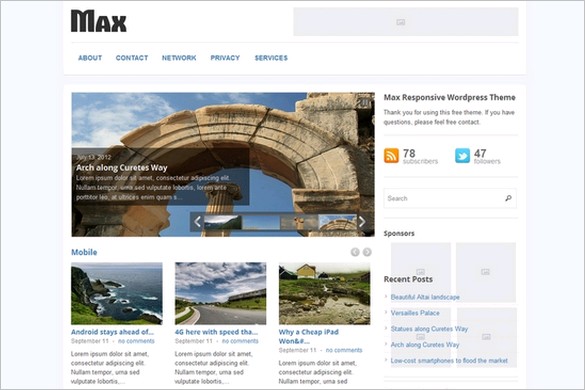 Max Responsive is a free responsive WordPress theme designed by gazpo.com. The theme comes with a very easy to use theme options panel so you can customize theme and layout so it suits your needs. Read more : Max Responsive Free Magazine WordPress Theme
» Download Page | Demo
Neptune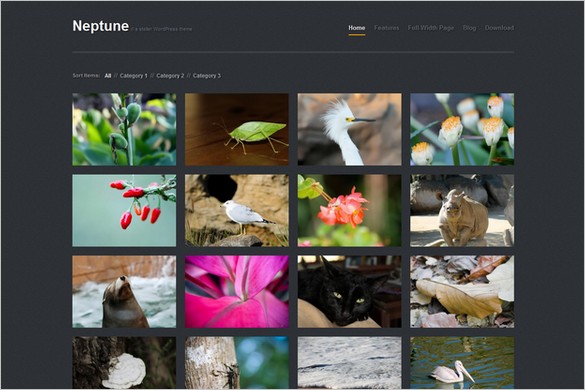 Neptune is a portfolio, gallery and photography WordPress theme. This is a great free GPL theme from WPExplorer.com with features such as portfolio custom post type, PrettyPhoto build-in, shortcodes, blog section etc. Read more : Neptune WordPress Theme (Free)
» Download Page | Demo
Oversized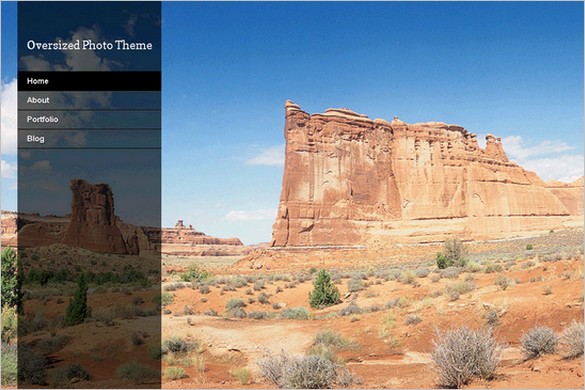 Oversized is a free WordPress theme for prmote images in a stylishway. This is a theme from Vandelay Design with free full-screen where you can showcase full-size background images. Read more : Oversized – Free Photography WordPress Theme
» Download Page | Demo
Hatch
Hatch is a great looking photography and portfolio WordPress theme from Alien WP. This is a responsive mobile friendly theme built on the Hybrid Core framework and support Child themes. Read more : 3 Free WordPress Themes from Alien WP
» Download Page | Demo
Prosume
Prosume is a free WordPress theme release from Site5 with a simple and clean design. This is a theme prefect for websites displaying photos, graphics, designs or other creative things, but can be used for all kinds of blogging. Read more : Prosume WordPress Theme (Free)
» Download Page | Demo
Silesia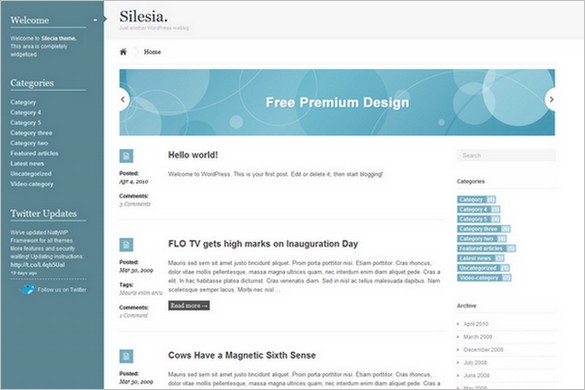 Silesia is a stylish free WordPress theme from NattyWP, powered by the NattyWP Framework and comes with a lot of great features such as theme options, 15 color options, slide navigation sidebar, GPL license and much more. Read more : Silesia WordPress Theme (Free)
» Download Page | Demo
Bridal Show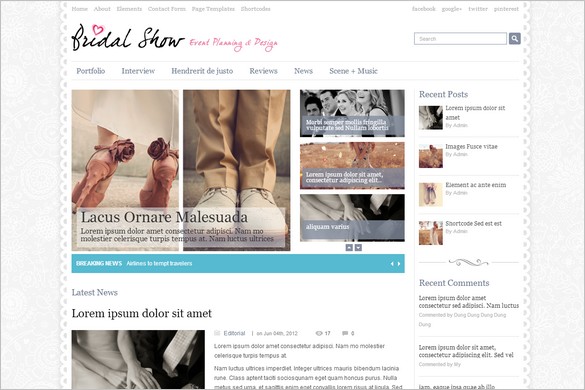 Bridal Show is an beautiful wedding WordPress theme that comes with responsive design and loaded with great features such as custom menus, widgets, featured thumbnails and more. Read more : 5 Free WordPress Themes from WPDance
» Download Page | Demo
Origin
Origin is a free responsive and Child-theme friendly WordPress theme from Alien WP. This is an elegant theme with simple and clean design. The theme is GPL licensed, comes with theme settings, translation-ready etc. Read more : 3 Free WordPress Themes from Alien WP
» Download Page | Demo
Latest posts by Artem Pavlov
(see all)