WordPress Themes have greatly grown in utility and features. There are themes in which you can place rotating frames, multiple columns, videos and animations. Though these features give visitors great experiences, the fact remains that they also cause confusion. In addition to causing confusion, navigating with the website too becomes difficult.
WordPress themes with minimalist designs still rule the roost when you focus on content rather than on visual appeal. Visual appeal is alright, but if your visitors are looking more for information, then cramped web pages can be very distracting. That is the reason why many professionals prefer to choose minimalist design for their business web pages.
The principal advantage of using minimalist design is they make your pages light weight. They load faster in your browser, and therefore are ideally suited for SEO.
Less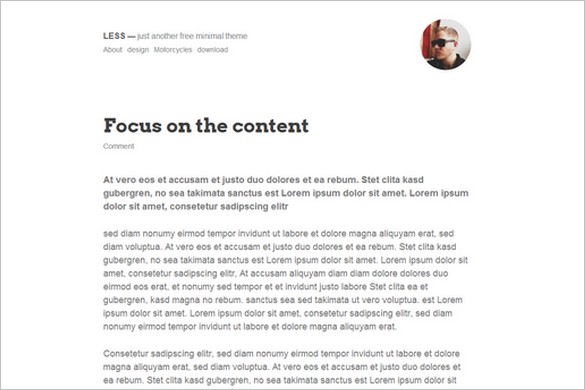 Less is what you need if you want your web pages to be kept light. It uses very little of CSS but it still meets the minimum requirements for great business web sites. You can download the theme as well as the code. If you understand scripting, you can make changes and adapt it to your liking. You can download the theme at Less – a free super minimal WordPress Theme. At the same web page you can also see some screen shots.
Truly Minimal
Truly Minimal is what it claims to be. It can minimum features, but is great for business web sites. You can set up the theme in a very short time. You will really like the advanced control panel, automatic resizing feature, cross browser compatibility, different page templates, different theme widgets and unlimited color schemes. You also get documentation support for "Truly Minimal. You can download the theme at TrulyMinimal minimalistic theme.
Nova Free Minimal WordPress Portfolio Theme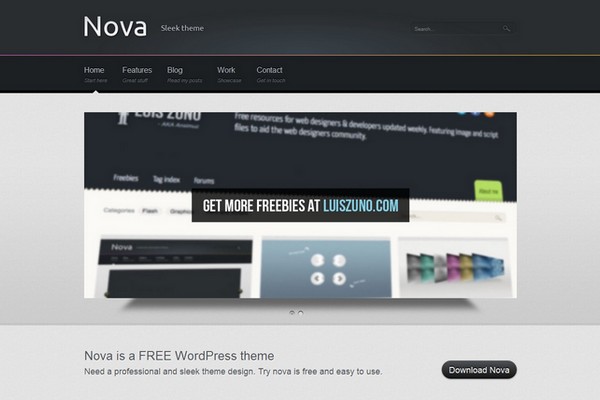 Nova's Features include: full control panel, different formats, localization enabled, ability to create your own forms, different templates for front page, gallery and contact, and different SEO options. Translation packs for French and Spanish are also available. A three 3 column snap shot of the theme is available for preview. The theme is free to use and can be downloaded from The Nova WordPress theme.
Reverie
You will particularly like this theme for the reason it is cross browser compatible. Since the theme is HTML5 and CSS compliant, you will find it extremely SEO friendly. Another advantage to this theme is it is responsive to different screen sizes. The advantage is your visitors can view your pages from mobile and tablets as well. It is one of the most recent releases for WordPress and can be downloaded from Reverie Responsive WordPress Framework.  At this page you can read the developers instructions on installation and other details.
Unique A Minimal Grid WordPress Theme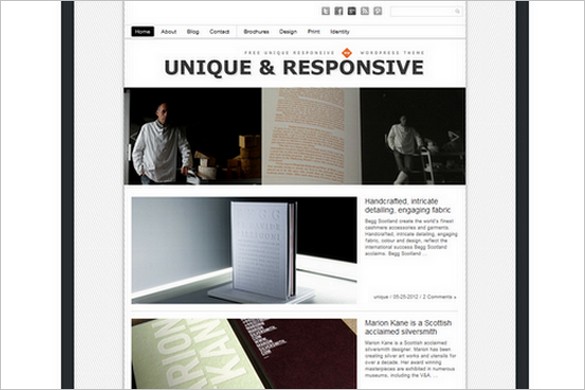 The greatest feature of Unique A Minimal Grid WordPress Theme is its responsiveness to different screen sizes and monitors. The other advantage is it uses XHTML and CSS, and is also optimized for SEO purposes. Without an exception it supports all major browsers like Mozilla Firefox, Safari, and Internet Explorer. You can view screen shots and download the theme at Unique Theme Responsive. At the same page you can get other details and screen shots as well.
Grid Portfolio
Grid Portfolio is cross device compatible, which means that this theme will automatically adjust to the screen size of the device on which your web pages are being displayed. Besides it is also cross browser compatible. So, it can be displayed on popular browsers like Mozilla Firefox, Safari and Internet Explorer. This theme is available in two different versions – non-responsive and responsive. The non-responsive is free to download. For downloading the theme, go to Portfolio Theme.
Origin A Minimal WordPress Blog Theme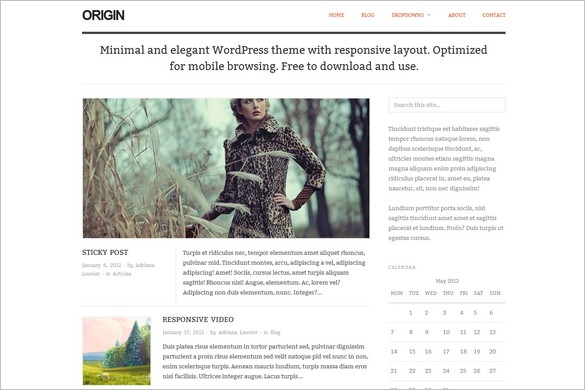 Origin A Minimal WordPress Blog Theme is considered to be one of the best in its class of minimalistic design. If you are a blogger and your chief focus is on the contents, then you should consider it first. There are many different ways in which you can customize it to your requirement. It also has responsive design features. The other features are: Advanced Widgets, Lightbox and translation compatiblity. You can learn more about this theme and download it from Origin A Minimal WordPress Blog Theme.
Oxygen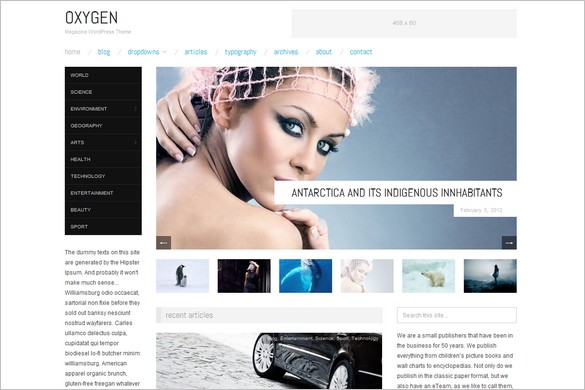 If you are planning a magazine like look for your business website, then Oxygen will fit into your plans. It has multi column features, contact forms and 3 different menus to give some extra flexibility. You can also consider using slider for your homepage for great looks. Theme settings are alterable, and are also language translation ready. Oxygen has extensive documentation, making it one of the easiest to install and run. For downloading the theme, visit Oxygen Magazine Theme.
Origami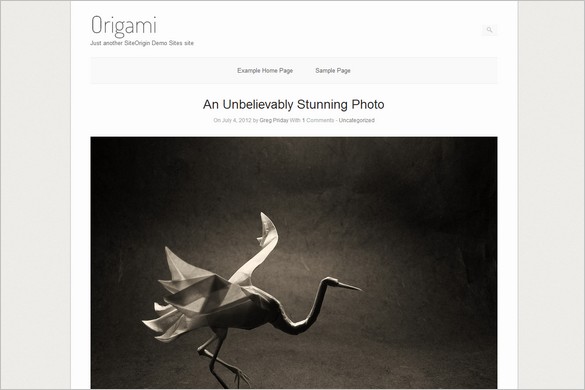 The chief advantage of this WordPress theme is it uses CSS to the barest minimum. The other advantage is they make things easy for the browser, and that in turn makes it more SEO friendly. However, if you are planning to customize the appearance of the theme to meet your particular requirements, then it is not for you. It is good for plain and simple pages, nothing more and nothing less. For documentation and downloading, go to Origami Free WordPress Theme.
Clean Retina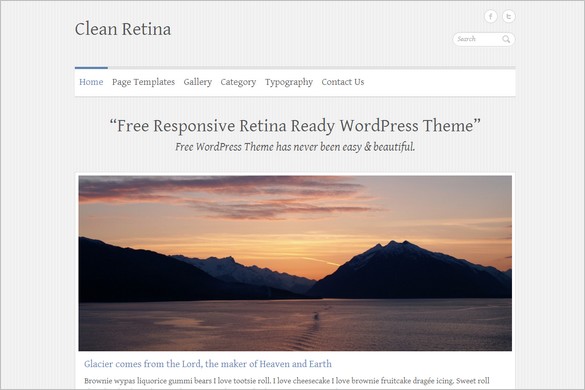 Yet another responsive theme for WordPress, so it should perfectly if your users are going to view your website on different devices ranging from PC to tablets and mobile phones. The theme has been very recently updated. Different customization options are available for this theme, and therefore flexible for use in different business applications. This theme is free to download and use. Extensive documentation is also available. To download, visit Clean Retina WordPress Theme.
About The Author: This is a guest post by Lance Goodman of dishtvoffer.com, a site that offers savings and current information on Dish TV. Click here for more info as well as dish.com services.
Latest posts by Guest Author
(see all)