When you are running a WooCommerce business, you should use various types of plugins in your store.
Because with the help of the plugins, you have to do multiple store-related tasks such as store customization, product information update, shipping, marketing, CRM, etc.
So that you can generate satisfactory revenue from your online store. But you have to know which plugins are mostly beneficial for you.
In this blog, we are going to tell you about the best plugins for WooCommerce that especially boost the growth of your online store.
Benefits of Using WooCommerce Plugins
Various WooCommerce plugins help you in multiple ways. In this part, we discuss some major advantages of the plugins.
So let's focus on that.
To operate WooCommerce plugins, you don't require advanced coding and programming knowledge to customize your shop. Also, you can easily find your desired plugin from the WordPress plugin store without facing any problems.
In fact, the majority of the plugins contain a drag & drop function. It will help you to operate them more effectively.
Cost is one of the significant factors in the development of your online business. You have to maintain the balance between the cost and revenue. Most of the WooCommerce plugins are free to use.
You don't have to pay an extra amount of money while using these plugins in your WooCommerce store.
There is no doubt that security is one of the major issues of your online store. If your website remains unsecured, you might get attacked by fraud and hackers.
Where WordPress is a fraud-protected and highly secured platform. But during using any plugin, you must check on the protection system of that plugin.
In terms of customization, WooCommerce is one step from the other eCommerce website builders. Through the plugins, you can easily edit your product page, shop page, sign-in/sign-out options, add-to-cart option, etc. You just have to select the plugins based on your requirements.
9 Best Plugins for WooCommerce to Optimize Store Growth
We know that you can find an extensive number of tools like Predis AI (it is a generative AI tool that helps E-Commerce store owners create stunning social media posts directly from their catalog) and WordPress plugins in the plugin store. But it's very difficult to choose the most suitable plugin for your store.
For this purpose, we have shortlisted some best WooCommerce plugins that will be favorable for your online store.
You must communicate with your customers to maximize the growth of your online business. Through communication, your customers will be able to know more about your products and services.
For this purpose, you should select the Mailchimp for WooCommerce plugin. It is one of the prominent email marketing automation tools available on the internet.
Mailchimp will especially help you to send automated emails to customers for various purposes, such as
Product Retargeting
First Purchase
Product Recommendation
Abandoned Cart
Re-engagement
Post Purchase emails
Besides that, Mailchimp has a powerful ads retargeting function for Facebook and Instagram. It will show your product ads to your website visitors on those social media platforms. So that you can grab the attention of your customers.
Also, it contains a Customer Relationship Management (CRM) function. It will provide you with strong data about your customer's characteristics. Also, it will help you to organize your marketing campaigns based on customers' demands.
In fact, Mailchimp will help you to build a strong presence on the social media platform. You can schedule and publish social media posts on Facebook, Twitter, and Instagram.
Key Features
Effective retargeting ads function.
Powerful email marketing automation.
Customer relationship management.
A/B Testing and Multivariate Testing opportunity.
If you want to sell your products internationally, you should use WooCommerce Multilingual & Multicurrency with the WPML plugin in your store.
With the help of this plugin, you can easily optimize your product prices in multiple currencies. It will create a huge opportunity to connect with customers from multiple places worldwide.
WPML contains powerful autogenerated translation functionality. It will provide you with a 90% accurate translation of your entire website. The translation process is operated by famous tools such as Google, Microsoft, and DeepL.
Even though WPML is highly compatible with multiple types of WordPress themes and plugins.
Besides automated translation, these plugins also focus on professional human translation. Also, WPML is one of the secured plugins available on the WordPress platform.
Key Features
Advanced auto-generated translation.
Supports more than 40+ languages.
Multilingual SEO Functionality.
Compatible with various WordPress themes and plugins.
Just building a WooCommerce store is not the end of your whole journey. To grow your store, you have to promote your products on multiple platforms.
As a result, your customers get to know about your products. As a WooCommerce store owner, you can choose CTX Feed for the promotion of your products. So you can reach the maximum number of target customers.
It's a WooCommerce product feed generator plugin that will help you to create product feeds for various famous platforms such as Google Shopping, Instagram, Facebook, Bing, TikTok, and 100+ more channels.
This plugin will give you the opportunity to generate unlimited numbers of feeds. Also, you don't require any advanced programming knowledge to create the feed.
You just have to provide some information about your desired channel, the plugin will automatically create a 100% error-free feed for that channel.
Besides that, CTX Feed contains multiple pre-configured product attributes to optimize your feed. Also, you can add attributes based on your own preference.
Key Features
Unlimited feed generation facility.
Supports various feed file types.
Generate feed for 100+ channels.
Advanced dynamic attribute function.
In an eCommerce business, sometimes you have to represent your products in different ways. Variation Swatches for WooCommerce plugin will help you to do that work more effectively.
In this plugin, you can show multiple varieties of the same product based on images, colors, and labels. It also changes the variation on the product quick view option. So that you don't have to change the product's attributes separately on the quick view page.
Variation swatches allow you to set up multi-color variations. It means you can set two different color varieties for a single product.
It has also options for image swatches. So that you can represent your product images in a more attractive way to your customers.
Key Features
Several color variation swatches.
Attribute swatches based on product.
Compatible with various WordPress plugins.
WooCommerce filter widget.
When your customers are purchasing any products, their purchasing should be satisfactory. Otherwise, customers will get annoyed with your service and never think about future purchases.
Challan is the necessary plugin for your WooCommerce store to provide your customers with a flawless buying experience.
It's a pdf invoice and packing slip generator plugin that will automatically create a pdf invoice and send it to customers as an attachment with an order confirmation email.
This plugin contains the most flexible and easiest interface to operate. In the packing slip, you can add multiple information such as vat, tax, refund notes, bank information, etc.
For the shippers, this plugin also generates packing slips. So that they can send the appropriate product to the right customers.
Key Features
Various pre-developed templates for invoices.
Support multiple languages.
Include billing and shipping address.
Bulk invoice download option.
Advanced Shipment Tracking for WooCommerce will help you to simplify and automate your order processing system for the customers.
With this plugin, you easily add your tracking information to the customer's order. So that your customers can easily track their desired orders before the delivery. As a result, it will improve overall customer satisfaction.
In fact, you can select tracking links from 550+ shipping service providers. The tracking links allow customers to check their packages from the shipping service provider's website.
AST has custom email templates to customize the shipping confirmation email notifications. It will help you to provide the most precise information about customer's shipments.
Besides that, AST integrates with multiple famous shipping services, such as WooCommerce Shipping, AliExpress, ShipStation, Ordoro, etc. Also, it's compatible with various WooCommerce plugins.
Key Features
Integrations with multiple shipping services.
Advanced shipment tracking API.
550+ shipping service providers with their tracking links.
Efficient tracking info widget.
ShopEngine is the most flexible and full-functional WooCommerce builder plugin.
To optimize your site, you don't require any advanced programming knowledge. Because this has a drag-to-drop option to organize your WooCommerce website.
In fact, ShopEngine also helps the WooCommerce product designer. It has options for uploading and sharing product images.
With the help of this builder, you can customize your account page, checkout page, order page, archive page, etc., without spending an extra amount of time.
As we already know that ShopEngine is integrated with Elementor. So that you can access 50+ Elementor widgets in this plugin.
With the combination of ShopEngine and your WordPress themes, you can easily create a storefront for your WooCommerce store.
ShopEnigne has a module called "Product Wishlist."This module will help you create a product wishlist option in your store with one click. If customers like your product, they can add their desired product to the wishlist for future purchases.
Key Features
50+ Elementor widgets.
Well-developed WooCommerce Builder.
Suitable with various WordPress themes.
Multiple languages support.

Discounts always encourage customers to purchase products from your digital store. Offering discounts effectively boost your sales for a limited amount of time.
Also, it influences your customer to purchase the future from your online store. With the help of Discount Rules for WooCommerce, you can easily set up the discount functionality in your online store.
In this plugin, you can set up the discount rules based on three factors, such as
Product quantity-based discount rules.
Product cart-based discounts.
Discount based on total order.
In fact, you can also add a buy-one-get-one discount option for specific products. Also, you can set up discounts based on product categories, attributes, and variations, on the premium versions of this plugin.
In fact, you can generate a coupon code and attach it to the product discount rules. You can apply multiple discounts for a single coupon code.
This plugin has an option for setting shipping-based discounts and a free shipping function.
Key Features
Bulk discounts functionality.
Buy one, get one offer.
Display discount table on product pages.
Set up discounts based on product variations.
Booster for WooCommerce is a full-fledged solution specially built for online store owners. This one single plugin contains multiple features of various plugins.
So that you can easily customize your online store with Booster rather than using numerous plugins. If you use too many plugins in your store, it might slow down the overall speed of your WooCommerce store.
Booster has the most efficient price and currency-changing functionality. You can sell your product easily to international customers. Also, you can set open prices for your online products.
In addition, you can optimize the cart and checkout functions for the customers. It will help you to add coupon codes, additional fees, buttons, etc.
To provide the most flexible purchasing experience, you should add a good payment gateway to your online store. The Booster plugin will help you to include and edit the payment gateway.
You can customize the payment gateway based on customers' locations, currency, shipping, order amount, etc.
Key Features
Fully complete WooCommerce customization.
Cost-effective functions.
Powerful customer service.
100+ WooCommerce add-ons.
10. Instant Checkout for WooCommerce
The most sophisticated and secure shopping cart system for WooCommerce is Instant Checkout. Its clean user interface and easy WordPress and WooCommerce integration enable consumers to swiftly complete their purchases without leaving the website.
With Instant Checkout for WooCommerce, selling your goods online has never been simpler. To get started, you must install the plugin and check your payment gateway settings. This premium plugin costs only $49 per year for a single site.
Instant Checkout for WooCommerce provides a 30-day money-back guarantee. You are entitled to a complete refund if you are unhappy with this plugin.
Key Features
Users are free to add any title for suggested products
A pop-up cart featuring a summary, cart, and checkout button appears
Enable images of the product to appear on the checkout page
A variety of widgets based on WooCommerce.
Quickly remove or add product quantities to the shopping cart.
11. PH WooCommerce Product Addon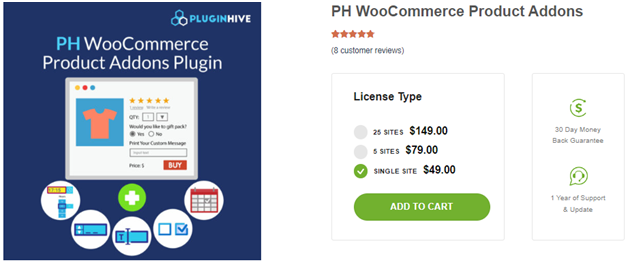 Introducing PH WooCommerce Product Addon by PluginHive – a revolutionary plugin for WooCommerce stores. Customize products with ease, using checkboxes, dropdown menus, and color pickers. Unleash the power of personalization for unmatched customer satisfaction.
PH WooCommerce Product Addon offers endless customization possibilities. Tailor products to individual preferences with text fields, numbers, and date pickers. Assign prices to customization options, opening up new revenue streams.
Elevate your WooCommerce store with PH WooCommerce Product Addon. Create unique, personalized products that stand out from the competition. Redefine the shopping experience, driving customer satisfaction and boosting sales.
Key Features
Flexible Pricing for Extra Product Options and Combined Product Addon Summary with Price
Display Extra Options based on User's Selection
The plugin is readily available in French and English language
Customers can easily design products like shoes, t-shirts, Gaming accessories, tour booking packages, pizza delivery services, coffee mugs, and many more
Final Words
Currently, the eCommerce business has become highly competitive. To become relevant in this competition, you must organize your store properly.
For the growth of your WooCommerce store, you should use various types of plugins. We know that plugins are helpful in managing your store-related tasks.
In this blog, we have discussed some best plugins for WooCommerce stores. We hope these plugins will skyrocket the growing speed of your online store.
Latest posts by Artem Pavlov
(see all)