Christmas is approaching and is around the corner! It is time to dress and decorate your WordPress website before the upcoming festive holiday Christmas.
If you want to decorate and dress your website a bit before the upcoming holiday, there are many WordPress plugin you can use. Both free and premium plugins. There are plugins with simple but beautiful effects like snow falling from the top of your website, to beautiful Christmas pop-up card.
You can add a count-down feature, counting days to Christmas, or a beautiful Christmas advent calendar. It is up to you if you want to bring some joy and Christmas spirit to your website. I have put together a list with 15 WordPress plugins that you can use to decorate and brighten up your website for Christmas.
WP Super Snow

WP Super Snow displays a beautiful falling snow effect. Perfect to add some Christmas spirit on your website. The plugin uses jQuery and CSS3 and is very lightweight. You can customize and make changes in the plugin options page.
Snow Flurry
Snow Flurry is a free plugin you can use to make it snow on your WordPress site. This is a fully customizable plugin with ability to set snow flake maximum size, how often new flakes are created, minimum and maximum flake speed etc.
Tribulant Snow Storm

Tribulant Snow Storm is an easy to use free WordPress plugin. With this plugin you can display falling snow flakes in a festive presentation. Configure and customize the plugin with features such as snow color, amount of snow, amount of falling snow etc.
WFS Let It Snow
WFS Let It Snow is a simple and easy-to-use free WordPress plugin that adds snowfall to your website. This plugin makes use of Jason Brown's great jQuery plugin Snowfall. Customize your options under the tab settings in your WordPress dashboard.
Snow My WP
With this free WordPress plugin Snow My WP you can display a snowfall with various snowflakes colors and sizes. Spread Christmas spirit and joy for the upcoming festive season.
Xmas Snow

With the Xmas Snow free WordPress plugin you can add a nice looking animated snow effect on top of your WordPress website. It is easy to use, just install, activate and your are done.
DW PopUp Card
With the DW PopUp Card WordPress plugin from DesignWall you can create fun and personal popup cards for any season and holidays. Features included this plugin are display a popup card, card thumbnail and snow effect is also supported.
Christmas Countdown Widget
With this free WordPress plugin you can display Santa Claus counting down to Christmas in your sidebar. The Christmas countdown will appear and look great in your sidebar on a transparent background making it look great in any theme.
Christmas Advent Calendar
With this free plugin you can display elegant and attractive advent calendars from advent-calendar.net! The plugin currently supports english, norwegian, swedish and danish.
My-Christmas-Calendar
With the My-Christmas-Calendar free WordPress plugin you can add and embed an awesome advent-calendar from advent-calendar.net. Available options are width, height, border, border color etc.
WP Christmas Class
With this WordPress plugin you can change the entire look and feel of your website during the holiday season. WP Christmas Class allows you add a custom CSS class to your body tag during a date range of your choice.
5sec Snow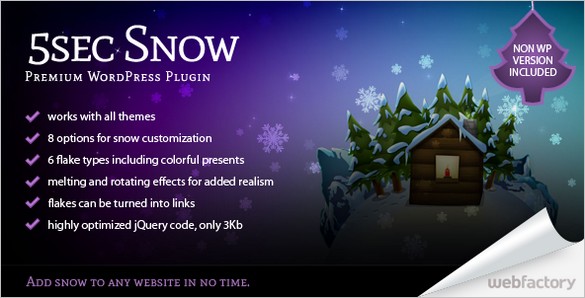 5sec Snow is a top selling WordPress plugin on CodeCanyon. The plugin works with all themes, CSS frameworks and site layouts. It features 8 options for snow customization, 7 flake types including colorful presents and Christmas ornaments plus much more.
Christmas Snow
With Christmas Snow you can add beautiful snow falls on your WordPress website. It comes with multiple types of snowflakes (25 different types) to choose from. It includes a lot of options.
Christmas
Christmas is a plugin packed with great features and options to create wonderful Christmas animation effect. It include 22 predefined themes for greeting card, 30 different types of christmas images, white snow and color (rainbow color) snow and much more.
Christmas Pop-Up Card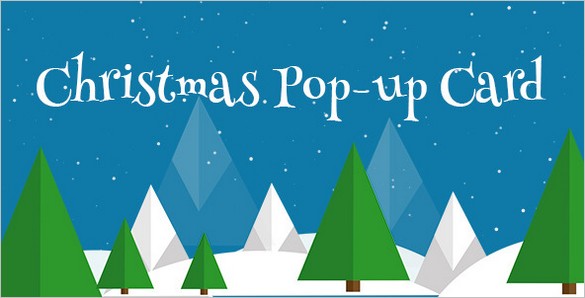 With the Christmas Pop-Up Card plugin you can deliver custom Christmas message to your users. Features included are snow, custom fonts, custom background image etc. Choose how often to display the pop-up.
Latest posts by Artem Pavlov
(see all)