Hosting a giveaway using your WordPress website is a great way to draw people into a new product or service that you now offer. Giveaways increase your website's traffic, reward loyal followers, build your brand, and strengthen your reputation. Plus, they are fun!
I will be honest.  Hosting a giveaway takes a lot of work. There is a certain level of planning and execution that must be invested into your giveaway if you want it to be successful.
However, that should not stop you from pursuing this popular way of connecting with your most important asset: your readers. Today we will look at several plugin options that make hosting a giveaway on your WordPress site a little less stressful and a whole lot more fun.
Why Host a Giveaway?
People love contests. There is something about that feeling of entering a contest and anticipating the announcement of a winner. I mean, look at the Powerball sweepstakes that just hit in the United States on January 13, 2016. It was the world's largest jackpot ever.  1.6 billion USD. Yes, billion as in BILLION. It was estimated that the odds of winning (and trust me, people entered in a big way, some even spending their life savings on "winning" tickets) were 1 in 292 million. Holy smokes!
Now, that may be an extreme example but you get my point. And if people are willing to spend every penny they have to buy a piece of paper with some random numbers on it to win a life-changing amount of money, I can guarantee your readers will enter your giveaway.
Here are some of the reasons you should consider hosting a giveaway on your website:
More new followers. Once your giveaway is promoted on social media people will continue to share and that will lead to lots of interest. This will increase your website's traffic, increase comments, and boost overall engagement.
Increased email conversions. If you require that people enter their email to enter your contest your list will grow significantly.
Brand awareness. As word of your giveaway spreads your company's brand will expand. This exposure will help in the long run because you will now be more visible to a wider audience.
Before You Start
As I mentioned before, in order for you to reap the benefits of hosting a giveaway on your website, you must have a plan.
There must be a goal or purpose for hosting your giveaway. It cannot be "just for fun". Think about what you would like to accomplish. Are you looking for more followers on social media, more website visitors, more customers making purchases, or maybe more email signups? The answer to this will clue you in to what tools you will need to utilize for setting up your giveaway.
Once you have your main goal in mind, you must have a plan to properly promote your giveaway.  Consider publishing a post reviewing the product or service that you will be giving away and mention the giveaway somewhere in the post. Add photos that can be easily shared via social media. Pictures are great eye candy and will encourage others to check out your site and enter the giveaway.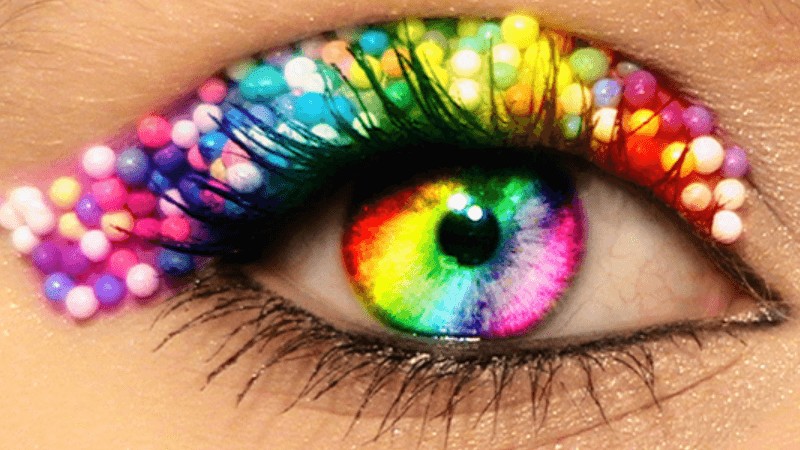 In your giveaway explanation keep it simple and clear. Outline for anyone interested exactly how they can sign up and what the entry requirements are (i.e. an email signup, comments, likes, shares, etc.). This will naturally fall in line with your overall giveaway goal. Also make sure you expressly dictate the terms and conditions to avoid trouble (giveaway deadlines, age limits, how and when the winner will be chosen, how prizes can be claimed, that sort of thing).
WordPress Giveaway Plugins
Now that you have your pre-planning done, it is time to look at some of the most popular WordPress plugins you can use to host your giveaway.
Pick Giveaway Winner

This straight shooter plugin randomly selects a winner from comments left by visitors on a designated post. You can also choose to disqualify those that try to enter multiple times or reduce their multiple entries to just one. This option is great for those looking for a simple way to host a giveaway. It also helps with website traffic and user engagement. If you are looking to increase commenting on your website, this plugin is the perfect solution.
» Full Details & Download | Price FREE
Golden Ticket
This unique plugin increases user interaction in a big way. The idea is that you hide one golden ticket (or more if you are feeling adventurous) via a shortcode somewhere in your website's content. The hidden ticket must be triggered by a specified action and will reveal itself, and the winner of your giveaway. Trigger actions include a timed delay, mouse hovering placement, or revealing the ticket once scrolled into view. Though not your typical giveaway, this idea is helpful in rewarding those who are truly interested in your content as opposed to a random selection from a pool of people that include those just interested in winning a prize.
» Full Details & Download | Price FREE
WP Raffle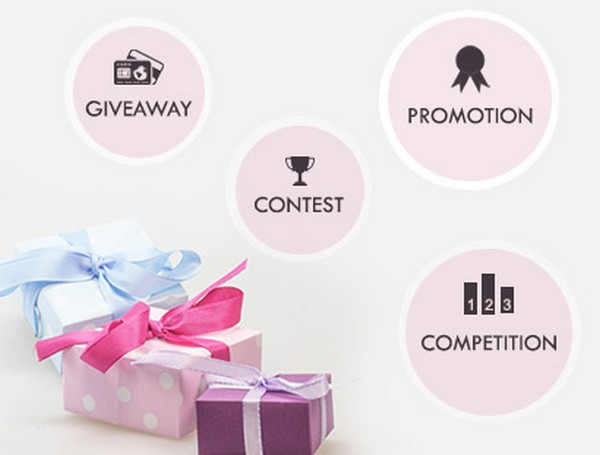 This premium WordPress plugin brought to you by WPeka Club redefines how giveaways are hosted on your website. If you choose this plugin for your giveaway needs you can expect an easy set up using a single shortcode, the easy addition of images for extra punch, multiple entry points for maximum audience reach, integration with MailChimp, AWeber, and Campaign Monitor, exportability of entrants once giveaway is over, and the random selection of a winner.
NOTE: This theme is not available or removed!

WordPress InviteBox Plugin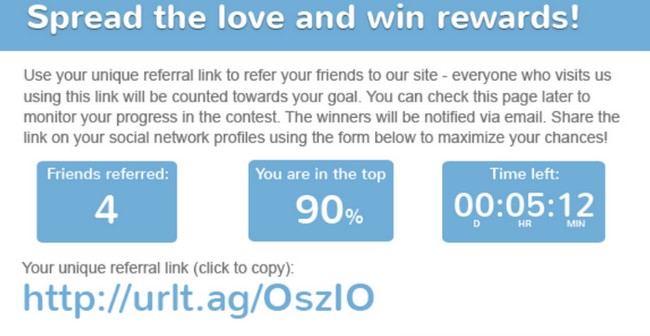 This plugin is based on the refer-a-friend model and gives you a variety of referral programs to choose from. You can offer instant rewards for referring a friend, make the referral an entry point for your giveaway, or set up a goal-based reward. Designed as a widget that you can add to any page on your website, WordPress InviteBox is great for exposing your website to new visitors. Reward your visitors for sharing information about your website with their friends and family.  It's a win-win for everyone.
» Full Details & Download | Price: FREE
Comment Contest

This plugin only allows comments as the entry requirement for your giveaway. All you have to do is configure the plugin and it will select the winner at random for you.  Decide which post to host the giveaway on and easily manage/delete/restore comments as you see fit from your WordPress dashboard. This option is very simple and works well for increasing interaction on your website.
» Full Details & Download | Price: FREE
Final Thoughts
Hosting a giveaway on your WordPress website can be a lot of fun and be beneficial to your company. It is an excellent way for you to promote your products or services, it creates a stronger connection with loyal and new readers, and it helps you build a reputable brand known.
It can definitely be a lot of work to host a giveaway. It should not be done just for the heck of it, especially if you want to get something productive out of giving something valuable away for free. However, with a little bit of planning and the help of some useful WordPress plugins you will be hosting your own giveaway in no time.
And trust me, you may not be offering a Powerball jackpot of $1.6 billion dollars, but your readers will without a doubt be excited about entering for the chance to win something of yours. But just in case you are giving away $1.6 billion dollars, make sure you let me know ok?!
Have you used any of the above giveaway plugins for hosting a giveaway on your WordPress website?  Have you tried a different plugin that was not mentioned?  I would love to hear all about your giveaway in the comments below!
Latest posts by Lindsay Liedke
(see all)