How do you keep your blog flowing with new ideas and engaging content? When you maintain a blog brainstorming for new and fresh content can sometimes be a challenge. Break through the blogger writer's block with these new and innovative tips and resources.
1. Use Quora to Ask Questions. Use the Q & A to fuel blog posts. Keep a steady flow of questions open on Quora and you will end up with a steady flow of interesting content. You should be able to make it a weekly or monthly Q & A series. Using ideas from others also is a great way to ensure diversity of information on your blog.
2. Use HubSpot.com's Blog Topic Generator. This can save you time and supply you with an endless supply of hot topics and excellent titles, too. You enter in 3 keywords about what you want to write about. I entered plants, flowers, gardens, and it returned: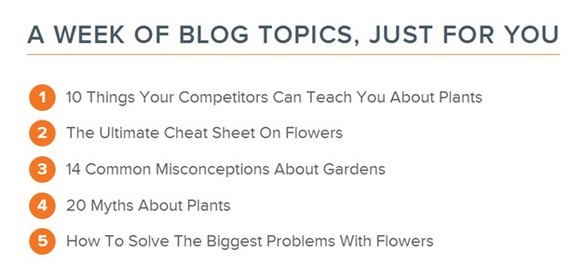 Next I entered ideas relevant to this blog, WP Daily Themes: WordPress, designs, colors. It returned these great blog post ideas: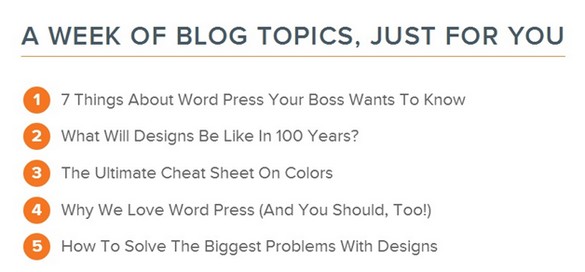 3. Source articles and news using Talkwalker. Talkwalker is a tool similar to Google Alerts. However, Talkwalker goes a step further and helps analyze the information and pinpoint experts in the field.
4. IFTTT.com. If you have not seen and used IFTTT.com, it stands for "If This, Then That" and hosts an endless supply of what they call recipes for automated actions it performs for you on connected applications. Here is a series of recipes that include WordPress. When you select a recipe in your account it will automatically perform that action for you. This can give you a huge head start on blog posts and can also help serve as a reminder for ideas you want to blog about. A few examples:
Post Instagram pictures to a WordPress category as a photo post.
YouTube favorite video to WordPress.
Tumblr to WordPress
Evernote to WordPress
Blogger to WordPress
The list goes on and on. There are quite a large number of other activities that you can automate across social platforms, and even the weather. You can be alerted by email or SMS text about weather conditions, for example.
5. Use PhotoPin.com to Post Images.  As bloggers, we are always looking for relevant royalty free images to help catch the eye of our readers. PhotoPin.com helps us do this easily and gives you the html coding to put under the image which links to the photo credit.

These five resources will no doubt help your blog posts continue to be engaging. Grabbing the interest of new readers while keeping the attention of current subscribers is a goal for all bloggers; these resources and tips help you easily create the best content and it makes it so easy for you to stay fresh. Please share other tips or resources you use to stay relevant and engaging on your blog.
Author Bio:
Richard Larson is blogger and Brand Manager for GoPromtional.com. He enjoys sharing marketing and online business tips. You can find him on Google+, Twitter, and Facebook.
Latest posts by Richard Larson
(see all)