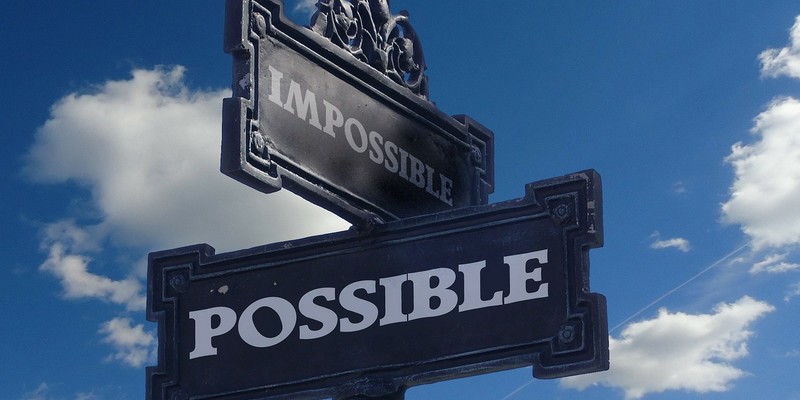 If you are new to WordPress you have probably noticed that starting a new blog or website requires making many fun decisions. One of the most exciting decisions to make is selecting your website's theme.
If you are just starting out in the world of WordPress, choosing a theme can be quite overwhelming. With thousands of themes to choose from (both free and premium), in an array of designs and layouts, it is difficult to pick the right one.
I am here today to give you some tips for picking the right theme for your new WordPress website and give you some theme options that are geared towards those just starting out.
Free WordPress Themes
The great thing about WordPress is that there are many free themes to choosing from. Unfortunately, many independent websites offer these themes which can be very dangerous.  Downloading a free theme from a third-party source may expose your site to things such as spyware causing your site to become vulnerable to others collecting your personal information.
It is best to download a theme from a trusted source such as the WordPress theme directory.  All the themes in this repository are verified to have clean code and are approved before release onto the site for your use.  The only problem is there are so many to choose from that wading through the lists makes it hard to find the right one.
Free themes do offer a lot of benefits such as:
They are free! Just download to your site and use.  If you don't like it, get rid of it and try again.
They are easy to find even on your website itself (look to your WordPress Admin Page under Appearance > Themes).
There is an element of support through the WordPress support forums should you run into any issues.
There are lots of compatible plugins and configurations since the sheer volume of free themes is so large.
Premium WordPress Themes
Another option you have is to purchase a premium theme.  Premium themes are professionally designed and developed with a lot of advanced features and increased functionality.  While you are paying out of pocket for premium themes, the price ranges do vary and can be very affordable.  There are some great premium theme sources that offer a wide variety of designs: Elegant Themes, Themify, and ThemeForest.
Should you choosing to go the premium theme route you can expect lots of features:
Unique designs and layouts with many advanced features.
Guaranteed support to address any problems you encounter.
Regular updates so the theme never gets outdated or becomes inoperable.
Advanced functionality including plugin suites or admin panels for easy customization.
Increased security protection.
And much more!
How to Choose a WordPress Theme
When you are starting out it is recommended that you try a free theme first to get a feel for what you may or may not want in your overall website design.  After all, free is free, and it is easy to experiment with the thousands of choices available to you without putting a hole in your pocket.
Here are some key tips to choosing the best free WordPress Theme:
Only download from a trusted source so as not to infect your website with malicious themes.
Check the last time the theme was updated. Aim for as recent as the last 3-6 months.
See if there is any support (even if just through a forum).
Ensure the theme you choose fits your websites niche. For example don't use a business theme for a photography blog.
Check the themes features and make sure they match your needs. Do you need a slider?  A portfolio?  A header image?
Make sure the customization options are manageable at first so you do not become overwhelmed.
Let's take a look at some of the best "starter" WordPress themes (and you guessed it, they are all free!):
Twenty Fifteen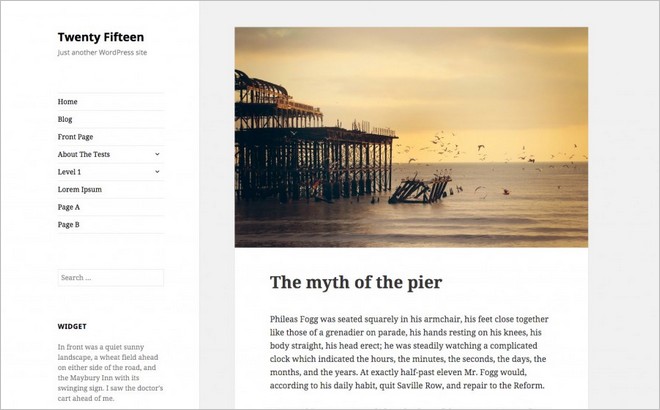 Every year WordPress pre-installs a default theme onto new WordPress websites.  The name of the theme always corresponds to the year making it easy to retrieve older themes if you choose.  This year's theme is super simple and straightforward making it a great choice for beginner bloggers.  It provides a clean look, with content as the main focus, and has only two columns.  It is compatible with all other devices (smartphone, tablet, laptop, or desktop computers).
Responsive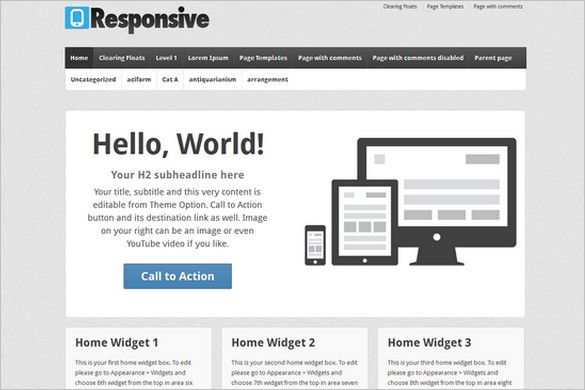 Although this theme has a lot of feature rich components, the key is its simplicity.  There are 9 page templates, 11 widget areas, and it allows for an easy logo upload.  Being retina ready for great images, search engine friendly so readers can find your new website, and being cross-browser compatible are just some of the elements that add to the ease of using this theme.  The developers even offer an official support forum for all of your questions which is especially helpful if you are new to WordPress.
Fruitful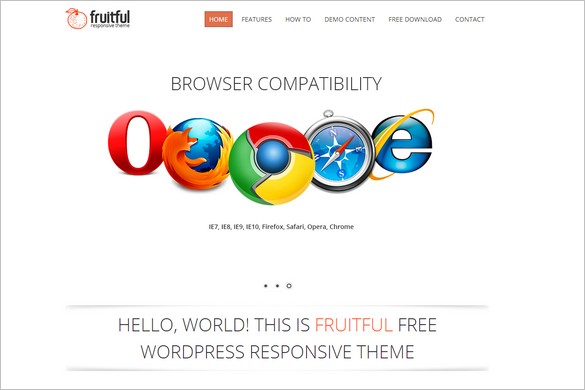 Fruitful is a clean and smooth looking theme offering both a fixed and responsive layout depending on your needs.  This theme has easy access to logo uploads, background changes, color editing, and much more.  But, if you don't want to get into all of the customization options, Fruitful also looks great right out of the box.  It works well with WooCommerce if your website sells products, making this theme compatible for your online business.  This theme is super for someone who wants to test the waters of theme customization without drowning in too many options.
First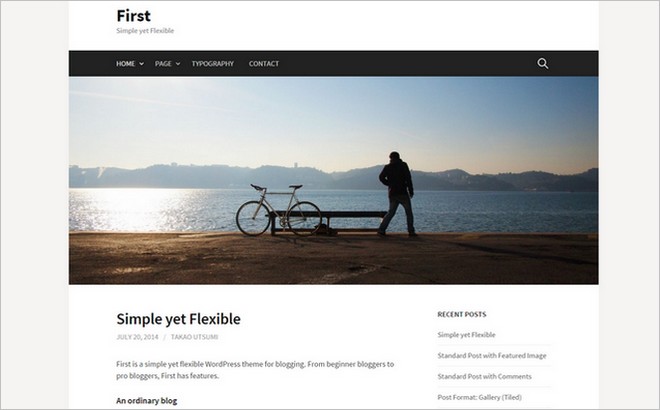 This theme is great for both beginners and pros because it has features anyone can use.  It is responsive which makes viewing it on other devices easy.  It has 4 widgets and 3 menus and allows for customization based on your needs.  First is "simple yet flexible" and another great choice for setting up your new website.
Graphene
Another theme packed with features but touted as not being too overwhelming is Graphene.  Easy to use for beginners and customizable enough to make it unique, this theme is backed by active community support, and even offers a mobile-optimized option.
There are tons of really simple themes available for those just starting out.  Here is a list of others that you may want to consider giving a try:
Avenue has a simple set up for beginners with features to highlight your business or blog.  It has easy linking to social media, over 600 animated icons, a responsive slider, and three different color skins and those are just some of the cool features.
This theme has a dual purpose allowing you to use it as an online store setup or simply keep it as your blog.  TopShop works well with the WooCommerce plugin, has 2 header layouts, unlimited color selections and a lot more.
Portfolio Press is great for just that, you portfolio (think photography, art, web sites, or other projects).  It has a clean layout that also comes with set up instructions.
It doesn't get much simpler than this.  There are two columns for a light look and feel.  With a custom header, background, and colors, this theme allows for a quick and painless install.
With a cool area for your gravatar, easy social media linking, and a custom header image, Fictive allows your personality to shine without all the hassle of extensive customizing.
Conclusion
There are many themes to choose from when creating your blog depending on what design needs are.  The key is to not get hung up on finding the "perfect" one because the vision you have for your site will evolve with time.  As you become familiar with WordPress themes and what they can do for your site, you will seek out other great themes to replace your older ones.
If you are new to WordPress the best advice is to find a free theme you like and try it out.  If you don't like how it looks, you can always change it.  Just remember, your website is yours to design and  it should be fun!
What easy to use themes did you use when you first created your new WordPress website?  We would love to hear from you in the comments below!
Disclosure: Some of the links in this post are "affiliate links." This means if you click on the link and purchase the item, we will receive an affiliate commission.
Latest posts by Lindsay Liedke
(see all)