Ultimately when it comes to designing and creating infographics there are two main factors that affect what the best tools to use are going to be. These two factors are personal preference and the type of infographic that is being created.
The reason that personal preference is so important is because one person might find tool A better than tool B to produce an infographic whilst another person may find that for them tool B is far easier to use. Therefore when asking the question "what tools do you you need to create an infographic?" there are bound to be many different responses on which tools are best.
The type of infographic being produced is also important when it comes to choosing which tools should be used. This is due to the exact same reason you wouldn't choose a hammer if you needed to saw something. For example if you are creating an animated infographic you are not going to use the exact same tools that you would use to create a static infographic, although you would use a few of the same tools.
This article contains the most popular tools for creating infographics. It includes tools that are used to find data, tools used to clear the data up and tools that are used to make the infographic look visually appealing.
Google Public Data
Google Public Data is a fantastic tool that allows you to search through public data and uncover interesting facts for use in infographics. Once you have found enough facts for your infographic you can then use Google Public Data to transform the data into stunning, colorful graphics in order to display it simply and effectively.
StatSilk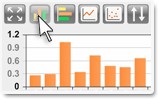 StatSilk is another website that is great to use for finding statistics and visualizing them in a way that is superb for infographics. It is best suited towards making interactive maps and visualizations but can also be used for making graphs and charts.
Google Spreadsheets
Google Spreadsheets are great to use during the data crunching stage when producing infographics. It allows you to easily process data, backs your data up every few seconds and makes collaboration extremely easy.
Google Refine
Google Refine is a tool that was specifically designed for clearing up and working with messy data. It's perfect to use when using data gathered from other sources that may be full of mistakes. Using Google Refine when creating infographics will ensure that the facts you present are accurate, which is fundamental for a good infographic.
Numbers
If you're an Apple fan boy/girl Numbers is the tool for you. It's perfect for crunching and analyzing data and allows it to be presented brilliantly. Numbers really does allow for creativity as you are in full control over what to do with your visuals and text elements.
IBM Many Eyes
Many Eyes is a data visualization tool from IBM. With Many Eyes you can upload your own data and produce the graphic representations that you require. The only downside to Many Eyes is that the data you upload will be available publicly. However, Many Eyes is a favourite of many as it contains far more options when it comes to visualizations than most other tools available.
Adobe Illustrator or Photoshop
The reason that both of these tools are under the same heading is because when making infographics very rarely are both tools used, instead it's either one or the other. This is, as was mentioned previously, is down to personal preference. Some individuals find photoshop easier to work with whilst others find Illustrator more suitable. Regardless, both tools allow you to edit and put together all the information and visuals for your infographic making them perfect for infographic design.
GIMP
GIMP is a free image retouching and editing tool. Just like Adobe Photoshop and Illustrator it allows you to combine and edit your infographic in order to produce the final product. It's available across all OS making it a great tool for all.
Inkscape
Inkscape is a free vector graphics editor that a lot of people that create and design infographics love to use. This is because it's simple and straightforward to use meaning that people of all skill levels can create an awesome infographic with this software.
Author Bio: 
This is a guest post by Sam, a freelance writer, avid blogger and a technology fan.
Latest posts by Guest Author
(see all)