If you are ready to take the next major step in speeding up your website, now is the time to consider signing up for a content delivery network, otherwise known as a CDN.
Dramatically reducing server lag by storing your website's static resources on a network of heavy-duty servers strategically located across the globe, a CDN can ensure a faster service response to your readers and reduce the download time of your site's content.
Today we will look at why you might want to employ a CDN provider to your growing website, as well as evaluate some of the major players in CDN services.
What is a Content Delivery Network (CDN)?
A CDN is a network of servers scattered around the world that cache your website's static content such as images, CSS, and JavaScript files and deliver them to your readers when they access your site.
After a visitor clicks on your website, the majority of page load time spent is waiting for the server to retrieve your content and deliver it to their computer in a readable format. If you simply have a hosting service, whether shared or managed, no matter where in the world geographically your visitor is stationed, your content must be retrieved from a single server located either near or very far away.
If located far away, say continents away, your website's content will take much longer to be retrieved and delivered to your user's computer.
b1
This poses a large problem.
However, as you can see in the picture above, using a CDN significantly decreases the distance your cached content must travel to reach your visitor. And the great thing is, CDNs have multiple servers placed all over the world so whichever is closest to your user is the one that retrieves and delivers the content. That means super-fast loading time.
Using a CDN not only increases the speed of your website, it also provides crash resistance due to large spikes in site traffic, improves user experience, and helps rank you well in SERPs due to the optimization of your website.
Now that you have a basic understanding of how a CDN works and why it might be beneficial to use one, let's take a look at some of the most popular CDN providers.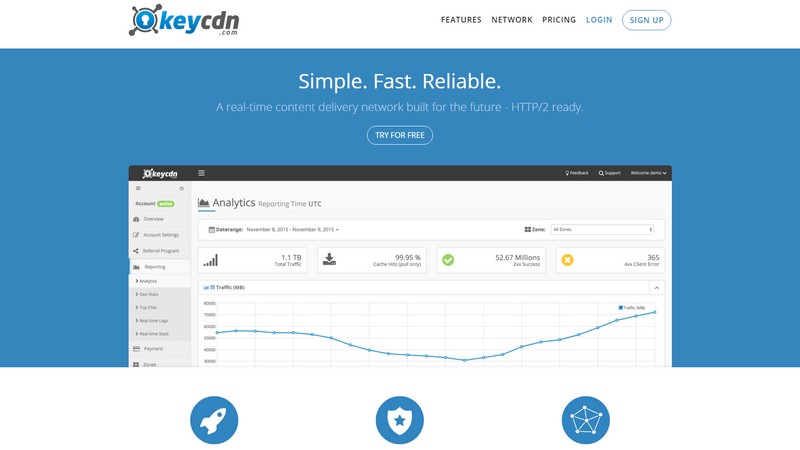 KeyCDN is a highly optimized CDN provider offer 100% SSD coverage and a TCP stack guaranteeing performance, scalability, security, and reliability. Built on IP Anycast and their specialized latency based routing technology, KeyCDN has 22 data centers, a 94% HIT ration, and a superior push and pull functionality that delivers a variety of content including podcasts, software distribution, videos, game packages, and more. Here are some more of the many features this CDN has to offer:
HTTP Streaming – No need to convert MP4 files to HLS, simply upload videos to the Push Zone and start streaming instantly
Security – Valid URLs are required to download any secure content and free shared SSL certificates as well as custom SSLs are available
Easily integrate KeyCDN's service onto your infrastructure and manage all zones from your Dashboard
Access real-time statistics
Monetize videos by publishing them via the Ads Enabled Video Player
Said to offer the lowest price globally, KeyCDN charges only for traffic and storage in one combined pricing model. Plus, there are no additional charges for specific global regions such as Europe or Asia; it is the same flat price for access to the entire CDN.
KeyCDN offers a free trial and after that pay-as-you-go pricing rather than package deals that many other low cost CDNs offer. There are no minimum usage amounts, shared and custom SSL certificates are free of charge, your first 5 zones are free, and there are no overage costs associated with traffic related usage including HTTP requests.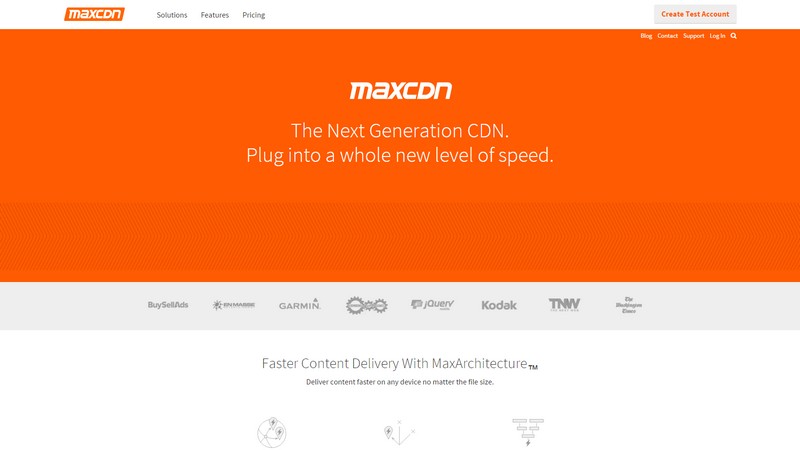 As one of the most popular and largest CDN services, MaxCDN is known for strategically placing servers in areas of high demand across the globe with Anycast routing and 100% SSD servers increasing content delivery. Take a look at what using MaxCDN will get you:
W3 Total Cache integration – Setting up MaxCDN through this popular caching plugin is a cinch. Simply enable the CDN function through the plugin's settings, enter your credentials and start specifying what you want to be served
Instant content purging and real-time usage reports
Enable two-step authentication and create secure tokens to protect your account
Custom caching rules
24/7 access to support
The pricing model for MaxCDN is a flexible one based on bandwidth usage though price does vary by location. There is also a free test account you can sign up for giving you access to their CDN services for 30 days up to 100GB.
Custom plans are available for both very small and very large websites. They claim to be completely transparent so you are never overcharged and additional HTTP requests come with your original pricing plan. One of the best features MaxCDN offers is the rollover of bandwidth not used each month; save what you don't use this month and use it next month. This is great for the natural ebb and flow of traffic websites experience.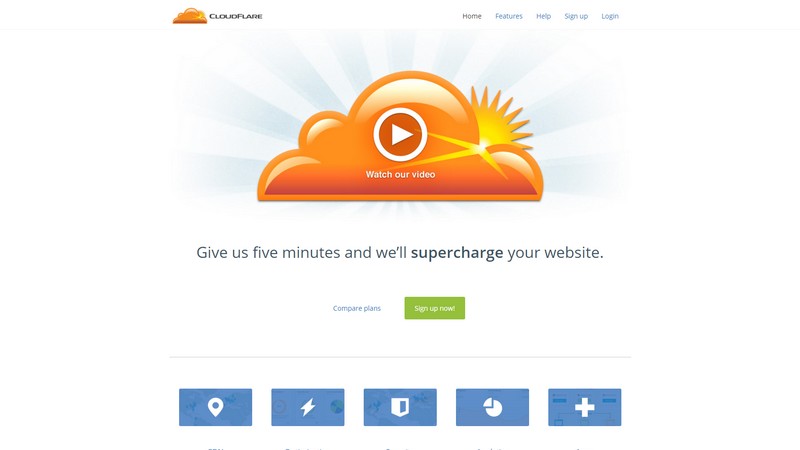 Using CloudFlare you can expect your website to load twice as fast, use 60% less bandwidth, and have 65% fewer requests. Claiming they need only 5 minutes to "supercharge" you website, CloudFlare's system is designed to grow with the increasing web community using it.
Adding your website to CloudFlare is as simple as changing your domain's DN settings. There is no hardware or software to install and none of your website's code requires change.
CloudFlare's core CDN service is free of charge though they do have other paid plan available for those seeking more features including mobile optimization, real-time statistics, a 100% uptime agreement, and more. They do not charge for bandwidth usage regardless of website traffic surges, allow for a mix and match of plans should you have multiple websites requiring a CDN, and make it easy to upgrade or downgrade at any time.
This free service is fairly basic but is a good choice for smaller website's with low budgets who want to increase their website's speed of content delivery.
Rackspace is one of the most trusted Cloud file storage CDNs you can use. Great for high-performance workloads, this CDN offers online object storage for files and media and delivers them lighting fast to all of your users.
One of the best features is that you can store as many files as you want, despite the file size. Take a look at what else Rackspace has for you:
Network is comprised of 9 backbone providers with over 200 edge servers around the world
3 stored file copies are kept on 3 separate servers so delivery of content is never stalled.
Storage, backup, and performance management is available
Easily manage your files using our online control panel, desktop software, or programmatically via the Cloud Files API
100% Network Uptime Guarantee
There is no free trial available to try Rackspace. Pricing for CDN services is based on total combined storage and bandwidth use. Believing that there is no one size fits all, you can also customize based on your needs. They also state that there are no upfront costs, no long-term contracts, and no per-request charges. You always know what you will be charged, simple as that.
As one of the oldest CDN providers around, CacheFly has held a long track record for high-performing and reliable content delivery. Large corporations such as Microsoft, Adobe, and Bank of America are known to be CacheFly clients. Let's see why:
TCP-anycast routing is optimized for reduced latency and is the most stable method for content delivery
40+ POPs (points of presence) scattered globally with a focus on throughput
Real-time reporting
24/7 support, even on the holidays
Security/origin shielding
Instant purging
You can try CacheFly for 14 days up to 2TB of bandwidth. From there pricing starts at .10/GB (for US/EU). For a limited time, pay-as-you-go pricing is available with discounts on 3 mo., 6 mo., and 12 mo. contracts. There are no minimum monthly usage requirements, no upfront costs, and no termination fees to cancel services.
In 2009, WPCDN was launched and has laid claim to being the original CDN for WordPress ever since. Now called WPPronto, this CDN service provider features integrated CloudFlare CDN for its global presence and Railgun accelerator for caching "the uncacheable".
Here are some other things WPPronto offers as it brings you the most advanced WordPress CDN services ever:
Advanced caching with high end servers
SSL protection on all plans with multiple layers of protection
Automatic off-site backups
Built-in WordPress manager
Specialized experts to support you with all your CDN needs.
Although there is no free trial available, pricing starts as low as $20 per month for WPPronto. All plans come with free WordPress101 Tutorials, the Coming Soon Pro plugin, and the Ultimate Branding plugin. You can also purchase domain names, SSL certificates, and have custom work done on your website by experts who specialize in WordPress.
WPPronto is so convinced you will be happy with their services that they offer a 30-day money back guarantee, guaranteed 99.9 percent uptime, unlimited CloudFlare CDN bandwidth, and Railgun network optimizer. Storage overages are $3/ GB, per month and bandwidth overages are .20/GB.
SoftLayer has partnered with EdgeCast to provide one of the world's fastest and most reliable CDNs using cloud infrastructures. In addition to Softlayer's 13 data centers and 17 networks of presence, Edgecast CDN contributes 24 geographically diverse nodes. With smart scaling based on your individual regional demands, you can be sure your website's visitors will not experience slow content retrieval.
With SoftLayer, you only pay for bandwidth used. Once your content is pulled for the first time it is secured in the network for all future users to access it. This makes for efficient content delivery and prevents extra storage fees. Currently there is no free trial available.
Amazon Web Services (AWS) offers multiple cloud-based solutions to help you meet your website's needs. Owning and maintaining the network-connected hardware necessary for their services, AWS creates a simple way for you to have access to servers, storage, databases, and internet application services.
Using the AWS Free Tier Service (available with all CDN plans) you have the chance to try AWS Cloud Services for one year for free, though depending on the plan you associate the free tier with there are certain usage limits.
Here is a look at two of the most popular CDN services available:
Amazon S3 – Easy to use and with a simple web service interface to store and retrieve any amount of data from anywhere on the web, Amazon S3 is designed with developers in mind as a storage solution. As part of the AWS Free Tier Service, receive 5 GB of standard storage, 20,000 get requests, 2,000 put requests and 15GB of data transfer out each month free for one year. There are also 3 levels of storage classes based on the frequency your objects are accessed and length of time your storage objects need archiving.
Amazon CloudFront – Integrating with other AWS products, Amazon CloudFront give developers an easy way to distribute content with low latency, high data transfer speeds, and no minimum usage commitments. Deliver all dynamic, static, streaming, and interactive content using a global network of edge locations. As part of the AWS Free Tier Service receive 50 GB data transfer out and 2,000,000 HTTP and HTTPS Requests each month for one year for free.
All AWS products allow you to pay only what you consume, access only what you want to, and scale up and down however you see fit. It is however, a very large company offering complex products and is mostly geared toward experienced developers. Those with smaller websites and no developer background will quickly find the services provided overwhelming and confusing.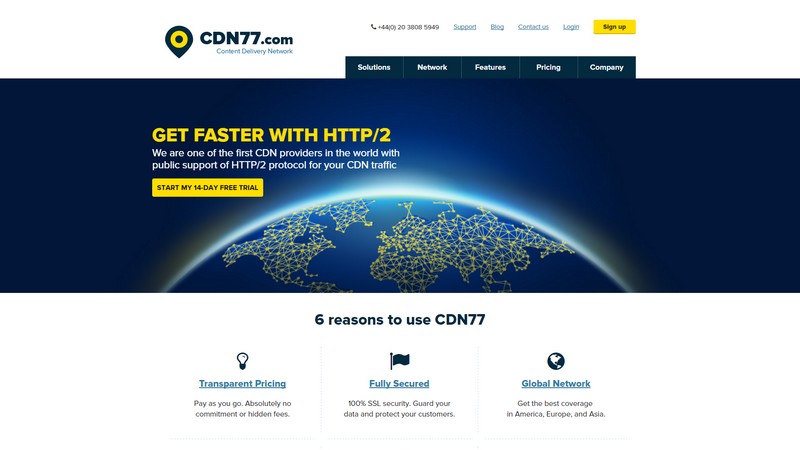 Powering over 8,000 websites to date, this relatively new CDN provider is making waves nonetheless. Offering 28 data centers, a 56% increase in website speed, and access to your control panel from any device, CDN77 is worth taking a look at. Here are some of the reasons why:
Monitor both traffic and bandwidth use with powerful reports
Install your own SSL Certificate or have one custom designed for you
App and software updates are delivered to your users worldwide quickly, consistently, and only via authorized delivery
Fast video streaming
Expand you gaming website and player base with formidable networks scaling based on traffic surges
Add additional caching layers to protect from spikes in traffic
You can start your service with CDN77 with a 14-day free trial and move to a pricing model only charging you for what you use. Based on traffic location you will pay per byte to varying degrees. No commitments, minimum monthly usage requirements, and if your traffic grows you may be eligible for lower pricing options.  Do you deliver software, vide, or games?  Inquire about a 15% discount if that's the case.
Dynamic caching technology such as extensive caching control options, rapid cache purging, and custom caching rules allow your content to be delivered 50% faster and with 70% less bandwidth use by employing Incapsula on your website. Boasting complete website performance and security, Incapsula also optimizes your website to lessen page rendering:
File minification
Automatic compression
Session reuse
TCP connection pre-pooling
Frequently accessed content prioritized and fetched directly from RAM
Although there is no free trial available initially, Incapsula does offer a basic free plan for you to use that includes bot mitigation, basic CDN and Optimizer services, access control, and a two-factor authentication process.
jsDelivr is a free and open source CDN designed for webmasters and developers alike. Anyone can submit a project to be hosted and delivered by jsDelivr's network. There are no file restrictions, JavaScript libraries, jQuery plugins, CSS frameworks, font, and more are allowed. The popularity of a project is never an issue, GitHub is used to allow the community to fully interact and add/update any files they wish.
Despite being a "non-profit" project, the jsDelivr project is aimed at bettering web experiences for everyone involved. All files are accessible via HTTPS, there are no traffic limits thanks in large part to sponsors, you can load multiple files at once using one HTTP request, and web performance is monitored at all times.
Previously known as SwarmCDN, Swarmify is aimed mainly at those looking to manage large video streaming operations. With the ability to integrate with any other CDN service, Swarmify lowers costs by offloading your bandwidth intensive media from your current host/CDN service, has unlimited points of presence (yes, there are POPs in all 196 countries!), and helps those wanting hyper-local connectivity. Take advantage of instant cache expiration only on files that need caching, add an HTML5 video player in a matter of minutes, and rest assured that all peer-to-peer communication between users is encrypted and secure.
Try a 30-day unlimited free trial today or sign up for their free image plan. Note that there are overage charges for all plans, including the free plan and that video streaming is only accessible on the next level, paid plan.
Final Thoughts
Depending on your business needs, budget, bandwidth usages, and overall site traffic will determine which CDN service provider is best for you. Take a look at the list I have compiled, do a little bit of research on your own, and consider choosing a CDN that will be cost effective in making your website's performance that much better for the users that check you out on a regular basis.
Have you used any of the above mentioned CDNs?  Have I left one off of the list that you really enjoy?  I would love to hear all about it in the comments below!
Latest posts by Lindsay Liedke
(see all)