The world of online marketing is one based on competition, creativity and technique. The important thing to remember in this industry is to be unique and original so that people will trust your brand above others. The key facet of online marketing is definitely the style and content of your webpage.
If you do not have an e-commerce function for your company on the website then you are missing out on new customers and revenue. Having a well-made digital storefront can ensure that customers from anywhere can see and purchase your products easily.
If you need some assistance in creating your digital store, look to Woocommerce. A branch of WordPress, Woocommerce provides useful templates for companies to launch their online stores for low prices and easy maintenance.
1. For the Cause
For the Cause is a great Woocommerce template for the non-profit organization. It has a simple and easy to use layout to help pledgers and members navigate through the site and make donations easily. For the Cause features a customizable homepage to make your non-profit stand out and look professional.
It also contains a formattable progress bar to show how far a particular cause or campaign has come in donations or support. This template also has an area that displays your promotional message clearly so that people can see what your cause or campaign is aiming to do. For $99, you can have an affordable and professional design to help achieve your goals.
2. The One Pager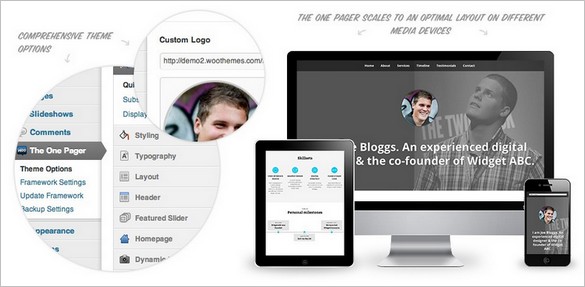 The One Pager format is great for those companies that are just beginning or ones that have a relatively small product line. Customers do not want to click through 10 pages to find one product, so the One Pager saves them time and helps to eliminate the possibility that they'll leave the site. Your storefront will consist of one page that customers will scroll through until the end.
The template comes with alternative styling options so even if you do have a small product line, customers will still be entertained while visiting your site. The One Pager operates with ScrollSpy, meaning that your navigation features will follow your visitor now matter how far they scroll through.
3. Superstore
Superstore is a great Woocommerce template for those companies that have a large product base. Instead of customers having to click through and wait for multiple pages to load, Superstore employs an infinite scroll so that your customers can continuously scroll through the page and see all your products at once.
The template has a minimalist air to it but it is still filled with attention-grabbing features and image placement so you add your personality to your company's page. Superstore also contains the informative footer function so that customers can find contact information, social media links and copyright information at the bottom of the page.
Whatever theme you decide to employ for your digital storefront, find one that can meet your product means, that reflects your personality and one that your customers will respond to. Taking the time to perfect your digital storefront is essential to being considered a legitimate company and you will see your hard work reflected in your revenue and popularity.
Author bio:
This article was written by M.G. Bachemin in association with Townlaw Licensing. To learn more, visit townlaw-licensing.com.
Latest posts by Artem Pavlov
(see all)