An exciting year lies ahead for all WordPress enthusiasts and WordPress for Android starts the year with a new version, 3.5. Which is now available in the Google Play store.
In these times each and every person has a mobile device and the use of mobile phones and tablets increasing all the time. Young as old people have embraced to always have Internet available wherever they are. Always connected to Facebook, Twitter, Instagram or other social networks. Which has also enabled easier access to WordPress.
If you are using devices with Android, make sure you update to the latest version. The new version 3.5 includes major changes and improvements. This version following Google's materials design principles as explained on Wikipedia as:
" It is a design with increased use of grid-based layouts, responsive animations and transitions, padding, and depth effects such as lighting and shadows."
Google's goals with materials design principles are:
Create a visual language that synthesizes classic principles of good design with the innovation and possibility of technology and science.
WordPress for Android is following materials design principles using the Lollipop components and styling. The majority of these enhancements are available for pre-Lollipop devices. But a few details only work on Android Lollipop or later (ripple animations, for example). Here are a few images from 3.5.
In this version comes the feature : Mentions auto completion in comments. Meaning when you start typing "@" and letters a matching blog member usernames and names will be shown in a popover view. This is a great and useful feature. Check out the image below.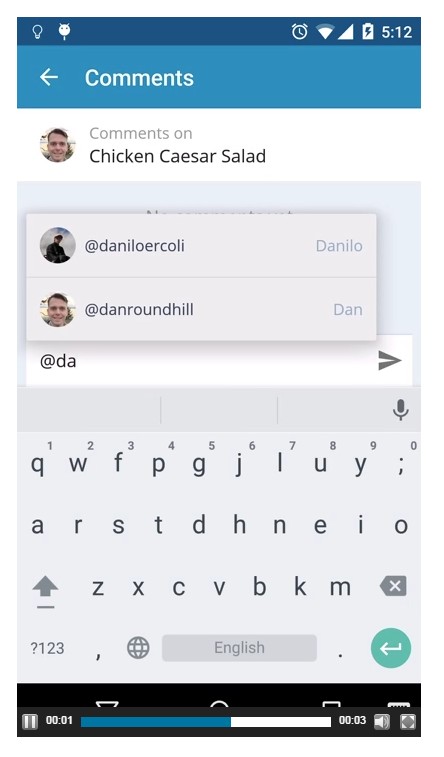 More changes in this version: When you first login to the app, you see your blog lists and visibility status.
The media grid on tablets is redesigned with a new simple grid view for all devices and orientations.
Sharing links from YouTube auto-embeds instead of just creating a link.
Contributors who worked on this release: @maxme, @nbradbury, @oguzkocer, @roundhill.
If you find an error or a bug in the new version, you can contact the support or or report the bug on the bug tracking page on GitHub. You can keep track with the development progress for the next version by visiting 3.6 their milestone on GitHub. As usual, Beta testers have access to beta versions with beta updates shipped directly through Google Play.
It will be interesting to follow the development of future versions of WordPress for Android.
What do you think of WordPress for Android version 3.5? Thumbs up or down?
Latest posts by Artem Pavlov
(see all)