I love to write about new WordPress themes, both free and premium. There are so many great, beautiful and creative themes out there just waiting to be downloaded and used on your own WordPress website. Today I want to highlight some of last month's free theme releases. There was so many themes released that I really would need to have a part two of this article to show them all. I hope you will like and appreciate these 20 brand new free WordPress themes.
All themes are GPL licensed so you can pretty much do what you want with these themes. Customize, tweak or use the theme as theyis. It is entirely up to you! Awesome, right!
20 Brand New and Free WordPress Themes for your Blog
Hermoso
Hermoso is a free theme release from CSSIgniter. It is a colorful theme with flat and elegant design. This WordPress theme comes jam-packed with a lot of great features and options.
DualShock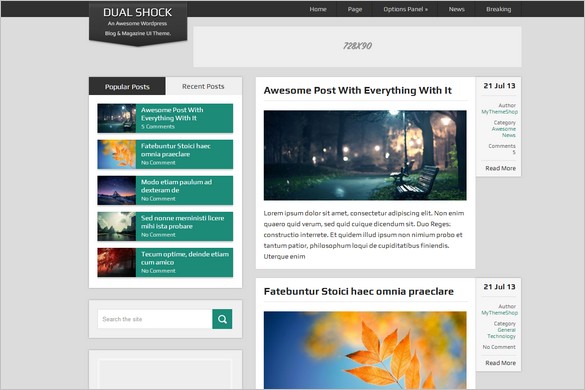 DualShock is a free WordPress magazine theme from MyThemeShop. The theme feature an elegant design and look plus it comes loaded with all of MyThemeShop great features.
Intuition
Intuition is the latest free WordPress theme from CPOThemes. This elegant theme can be used for all kind of blog and websites and includes a great number of features and options.
Scribble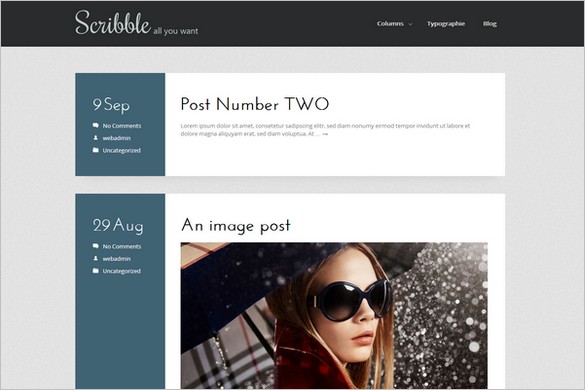 Scribble is a free WordPress theme with clean and beautiful look designed and released by 7Theme. You can use this theme for many different purposes and website types etc.
Fancier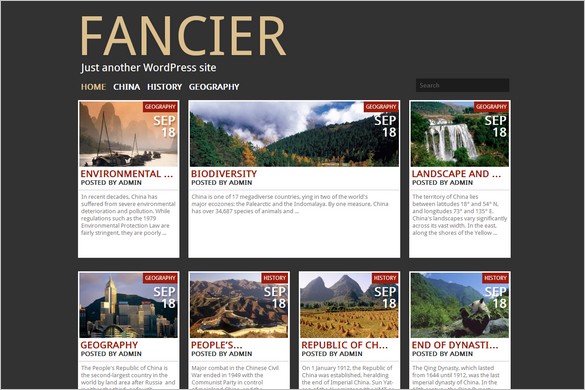 Fancier is a great looking free portfolio WordPress themes with 4 columns design from WPMole. This is theme that is perfect to display creative work and content in a beautiful way.
Landline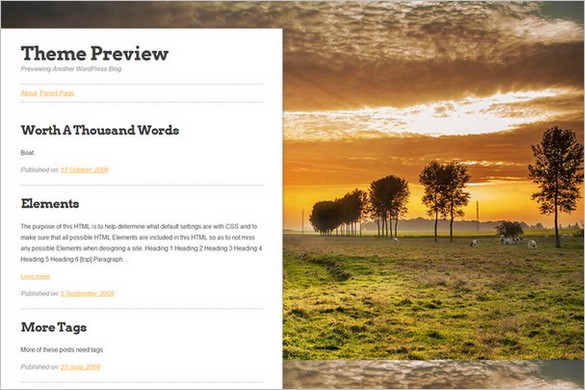 Landline is a WordPress theme with a beautiful look and design. It comes with features such as fullscreen background image function that give each page its own background image.
Catch Evolution
Catch Evolution is a free and stylish WordPress theme release from Catch Themes. The theme includes a lot of great features and options such as responsive adaptable design.
MultiPurpose
MultiPurpose is a 100% free WordPress theme from WP Eden built with the Twitter Bootstrap framework and includes features such as drag and drop page layout builder and much more.
Adamos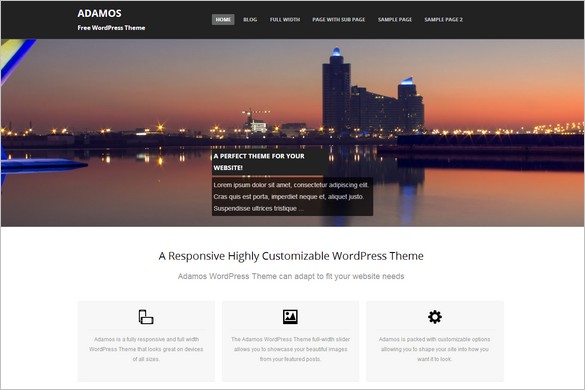 Adamos is a great free theme release from Template Express. This is a perfect WordPress theme to promote and showcase photos, work, projects or other creative content.
Sunrise
Sunrise is a free WordPress theme released by Site5. This is a great WordPress theme perfect for restaurants, pubs, cafes and other eateries create an stylish online presence.
Innovative
From CyberSpecLab comes a free elegant WordPress theme named Innovative. This theme is perfect for all kind of business and corporate website types promoting their products.
Boot Store
Boot Store is a free eCommerce WordPress theme from TheCartPress. This is a theme that comes loaded and packed with great features and options with eCommerce support etc.
Black Paper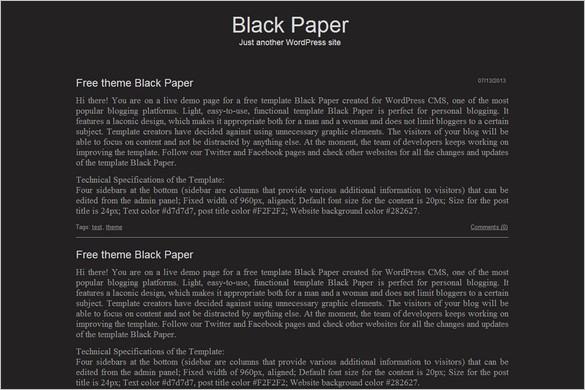 Black Paper is a free blogging WordPress theme with a dark and elegant look. With this theme you can focus on presenting your articles and posts in a clean and beautiful way.
My World with Grass and Dew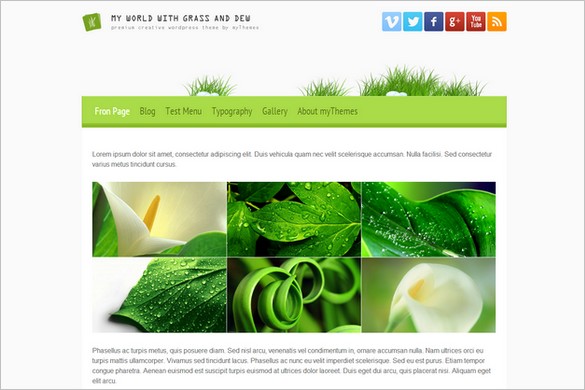 My World with Grass and Dew is a stunning and beautiful free WordPress theme from myThem.es. This is a theme with a modern and trendy look built with HTML5 and CSS3.
Doke Doke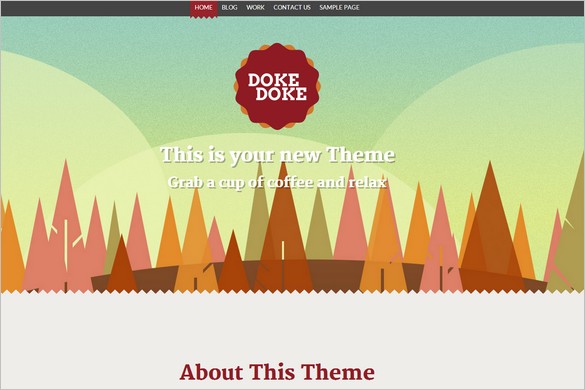 Doke Doke is a creative free WordPress theme from LuisZuno. The design is elegant and inspiring. This is a theme that is perfect to showcase and promote your work and content with.
Eviro
Eviro is a beautiful free blogging WordPress theme from 7Theme. This is a theme with a responsive design and comes with a slideshow on homepage and social media integration.
Looming
From WPMole we have another free theme release named Looming. This is a theme with a clean and spacious design. It is perfect to showcase creative and inspiring content.
Portafolio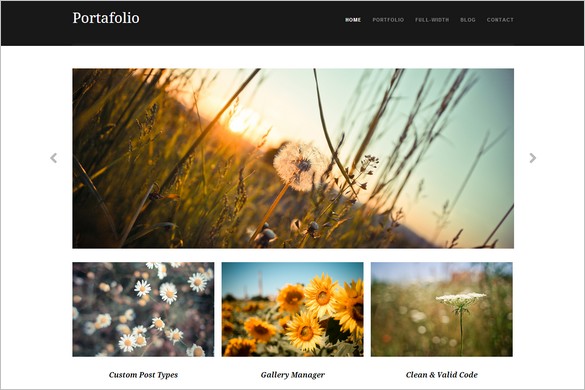 Portafolio is a perfect and great free portfolio WordPress theme from WPExplorer. The Portafolio theme is designed and developed with portfolio and galleries in mind.
Premium
Premium is a free business WordPress theme from ThemeSmarts. The theme comes with SmartPanel theme options panel by vafour, 5 different color schemes, 2 portfolio layouts etc.
Rewrite
From Okay Themes we have a free WordPress theme named Rewrite. The theme comes with a responsive and adaptable layout so your website will look perfect in any devices.
Latest posts by Artem Pavlov
(see all)