As a writer and author I'm sure you want your readers to focus on your articles, texts or even images you publish on your blog or website. The content should be in focus in a natural and clean way without any distractions that interfere or are annoying. In today's blog post we have selected five free content focused WordPress themes that fit perfectly for writers, authors and other users who want to present creative content in an attractive and elegant way.
A text or image to be read and displayed without distractions is pretty great, right?
These WordPress themes come with minimalist design making your content presentable in the best way possible. Often, simplicity and minimalism beat the crap out of themes with overwhelming and fully charged design with tons of features and options included.
Sometimes to much is to much and back to basics will do the job in a perfect way. If you are looking for content focused WordPress themes, then these themes are just perfect for you.
Tonal
Tonal is a free WordPress theme with minimal style that will put your content in focus. It comes with great features such as the background adaptation feature. The theme adapts to any background color you pick and will modify your typography and other elements to work with your new background color. It includes features like responsive resign, post formats etc.
Padhang
Padhang is a free elegant content focused WordPress theme with great minimalist design. The layout is clean and responsive meaning the theme adapt and scale to look great in any devices and browsers. It comes with bright white color with dark background and is easily customized from the theme customizer.
Independent Publisher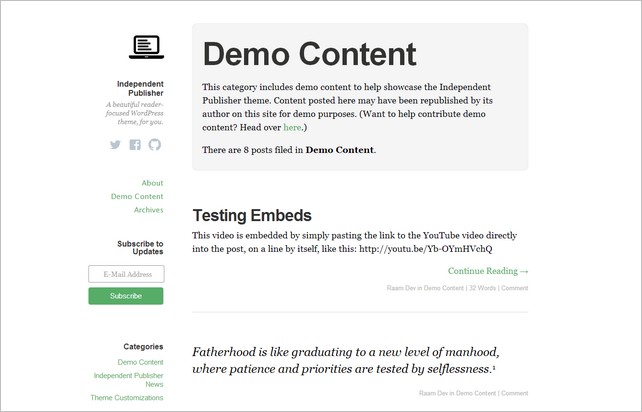 Independent Publisher is a minimalist and great looking free WordPress theme. This is a reader-focused theme that will put your content in focus. The design is clean and responsive meaning the theme will look just perfect in any mobile devices. It comes with support for all post formats and is perfect for both single-author and multi-author blogs.
Gravit
Gravit is a perfect free WordPress theme that is perfect for all kind of writers presenting articles and images in  a great way. Gravit will put your content in focus for best results. It is a one columns theme with responsive design, custom menu, post formats, featured images etc.
Ex Astris
Ex Astris is a free child theme for the WordPress theme Stargazer from Theme Hybrid. You must have the Stargazer parent theme installed to use this theme. Sarah Gooding has created an excellent content focused theme perfect for writers. Ex Astris features support for all the custom layouts found in the Stargazer. This is a clean and great looking free WordPress theme.
Latest posts by Artem Pavlov
(see all)