WordPress is, without a doubt the most commonly used CMS platform till date. Owning to its increased popularity and development, most web developers are designing themes for WordPress powered websites. The main advantage of these themes is that, most of them are fully functional out of the box, and do not require much technical knowledge to setup. That means, any newbie can get hold of a Free WordPress theme and setup a furnished website in a matter of minutes by just following a few simple steps. However, due to the likeness of free themes being, "Free," not all the themes you will find in the WordPress.org library are high quality. This is why we decided to shuffle through the massive list and find out the top Free "Premium" Quality themes that are available in the market, which you can use for your next website. Check them out below.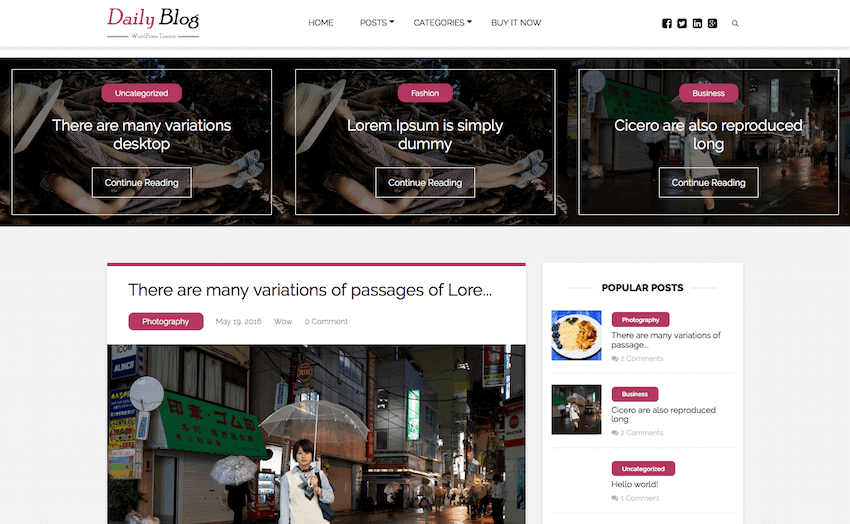 The foundation of any good theme is one that offers a simple and elegant feel yet comes with a lot of functionalities. Such is the case with the DailyBlog WordPress Blog theme by YayThemes. The superior quality of this theme can be leveraged to turn any run of the mill website into a throbbing success. This theme can be used by Food Bloggers, Photography Bloggers, News Bloggers, Fashion Bloggers, Personal Bloggers and more. There is no specific audience for this theme. The developers provide amazing support even for the free theme in their forum and it integrates seamlessly with most of the important Plugins in the market. If you have never used a WordPress website before or installed a theme, this should be your best bet. The DailyBlog theme is fully functional right out of the box, which means that you will have to make minimal changes to your website before sending it live.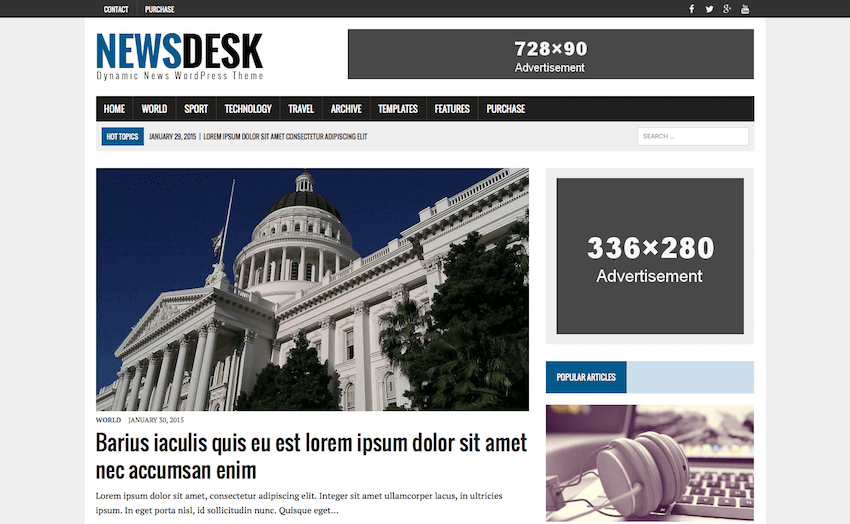 MH Newsdesk is a simple and clean WordPress theme, perfect for magazines, news portals and other content intensive websites. There are plenty of customization options in this theme that you can use to create a powerful, unique and dynamic website. We tested this theme on various platforms for Responsiveness, and it passed all our mobile friendly tests. There are plenty of widget areas in the theme, which can be used to augment the theme functionality with the help of scripts and plugins.
If you are looking for a premium quality magazine theme for your next Adsense (or any sense) website, these theme features quite a few banner areas that can be used for contextual and In-site advertisements. All in all, this theme is the best bet for Adsense webmaster's looking to monetize their websites through advertisements.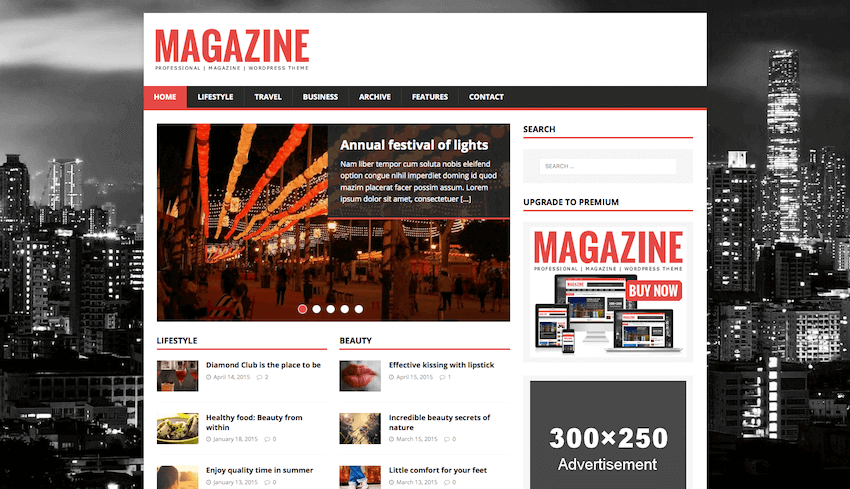 MH Magazine Lite is by far one of the best SEO Friendly free WordPress magazine themes that we have tested. For all those who do not know, the lite version is the nerfed version of the Premium MH Magazine Theme. However, it retains quite a few powerful features from its parent theme. There is slider functionality, 12 widget areas, custom menus, featured images support, 404 page, built-in author box and other powerful theme functions, right out of the box. The theme is also compatible with most other free and premium WordPress plugins like Contact Form 7, Yoast SEO, WP-Rocket and more. If you are looking to buy the MH Magazine theme, then we would suggest you to check out the Lite-version first. It might be so that you end up using the free version itself.
Blogspace is yet another Free theme from YayThemes. This is a sample, 3 column theme ideal for fashion blogger or any other general blogging requirement. It has option to show latest twitter and instagram feeds using API. The theme supports various kind of post formats such as regular, images, gallery, video or quote posts. The backend settings allow various customizations from changing logo to much more.
This is a blog and mini magazine WordPress theme, which allows creating beautiful looking blog with various options to customize. The free theme is ideal for various purposes including regular blog, food blog, news blog and much more. It has slider as well as featured post section, which you can manage from backend. The theme also has option to integrate with newsletter plugin so you can collect emails from your users in no time. You can create blog post with or without featured images and it looks beautiful either way! If you're looking a new fresh looking design for your blog then Blogcafe is ideal choice to get started.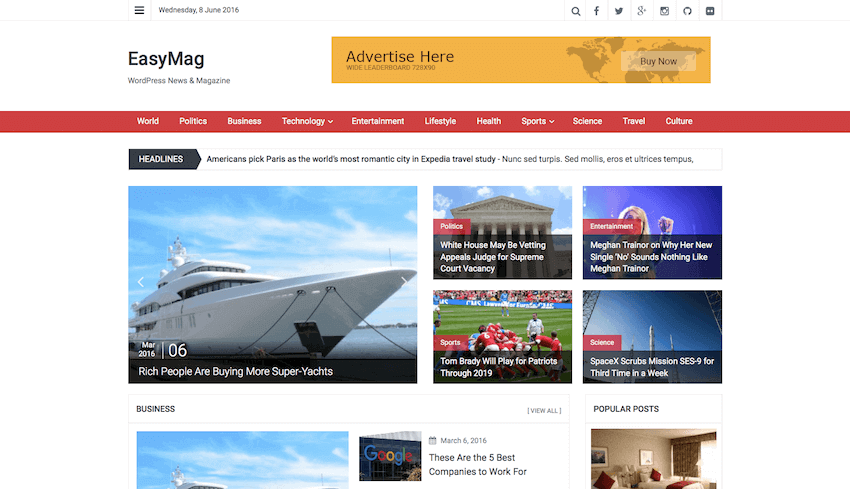 No matter how much we praise this theme it will be less. EasyMag is a beautifully aesthetic, dynamic and interactive WordPress News or Magazine theme for news aggregators and content rich websites.  The free WordPress theme will ensure that your content is delivered to your audience in an effective and elegant way. Not to mention that it is completely SEO friendly and comes with a Customizer panel with lots of options to tweak the colors and layouts of the theme. The theme layout is so creatively designed that it will keep your audience clicking through from one page to the other for hours and make them return for more. If you are in the mood to change your taste for Magazine or News themes, then EasyMag is the way to go.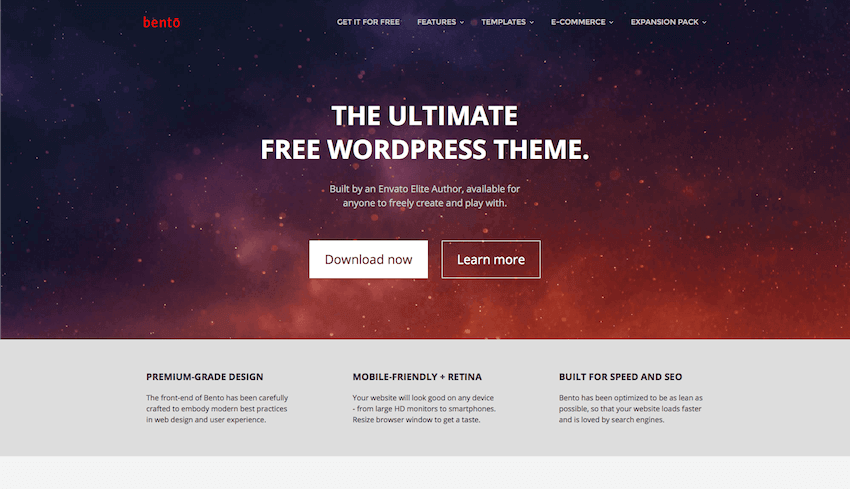 The Bento theme by Satori Studio is a free multipurpose WordPress theme that comes bundled with lots of awesome features, some of which are only found in paid themes. To get right to the cheese, the theme has a bundled Visual Content Builder, Diverse Layout Options, Templates System, WooCommerce compatibility along with unlimited color combinations. All these features and more will ensure that you are able to setup the most elegant looking website with a free theme. This theme can be used for all purposes meaning, you can use it for Personal Blogs or Freelance Portfolios or Agency or Services Websites. The sky is the limit with Bento. You can individually customize dozens of details with this theme, from customizing menus to layouts and adding custom fonts and more. The theme is fully translation ready, responsive and suitable for High-pixel images. You can never go wrong with Bento.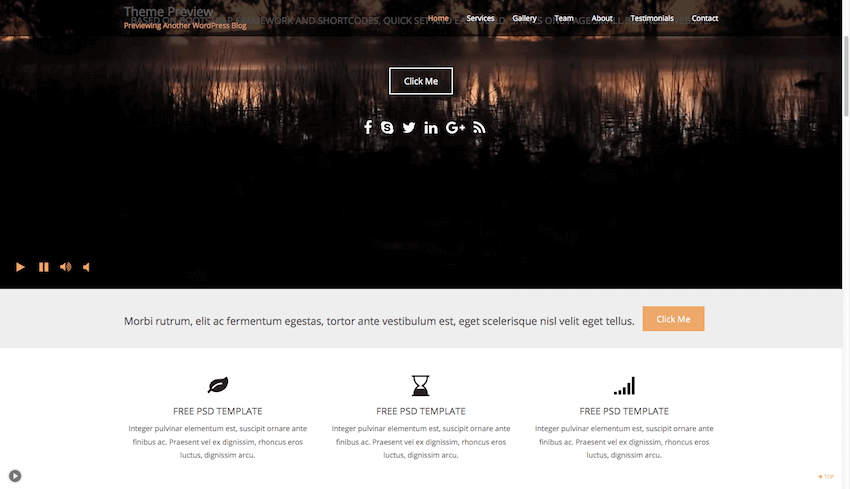 Are you looking to build a strikingly eye-catchy website? Then Onetone can be your best choice. The theme has streamlined coding based on HTML 5 and CSS 3. The layout is so powerful that one single page of the theme is able to hold all of your information without any heavy lifting. The design is flexible and simple. Every nook and corner of the theme is customizable, making it ideal for high CTR websites. Just out of the box, the theme is extremely simple to customize. The developers have ensured that the theme handles all the boring parts of page creation, helping you focus on the things that best need your attention. The theme comes bundled with some preset business pages like, Services, Gallery, Clients and About Us, which is a great add-on for people who love to work with demo contents.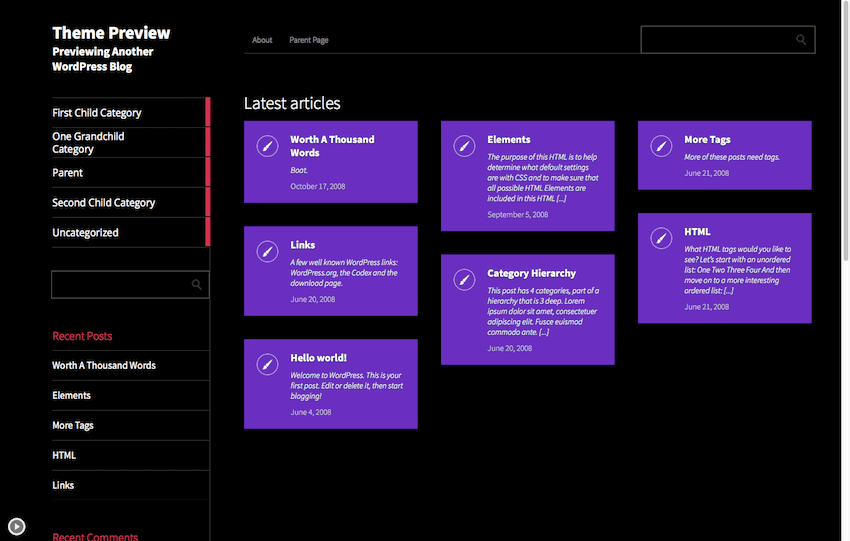 The one and only masonry style blog theme in our list. The Metro Creative X is a stunning, vibrant and eye catchy responsive WordPress blog theme. Due to the Masonry layout of the theme, it has no issues shape-shifting into the device it is opened in. Along with the unique masonry layout of this theme, the developers have focused on a very minimalistic approach with not too many features and a clean CSS 3 and HTML 5 base code. Though this does pose a few disadvantages, but this also makes this theme one of the fastest loading designs in our list of best free WordPress themes. If you are looking for a simple and SEO friendly blog theme with a Masonry layout, the Metro Creative X is a good theme to try.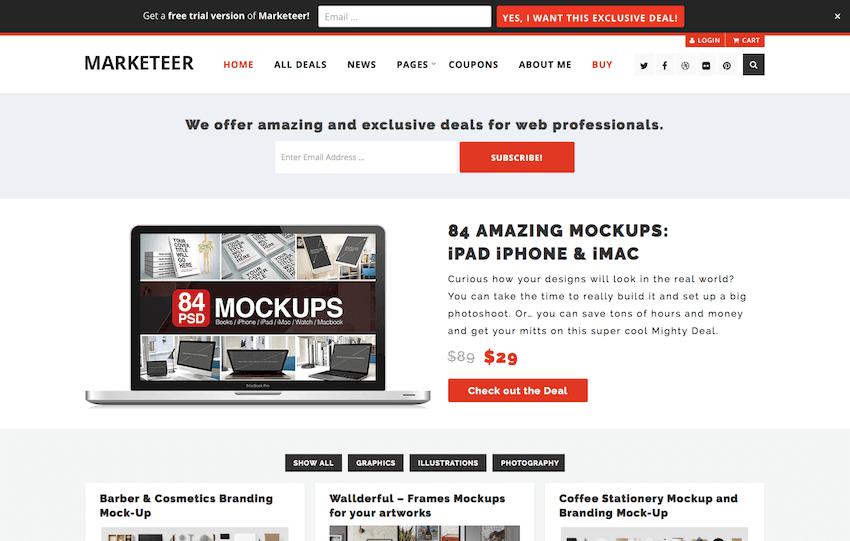 This theme barely managed to get past the Artificer theme and reach our list of Best Top 12 WordPress Free Responsive Themes. Why we chose this theme is because this theme significantly boosts the performance of any website it hosts due to its flawless code. It is extremely newbie friendly and the interface is easy to navigate as well. The theme is very quick to load, and offers a sleek visitor experience. Being fully responsive, the theme has no problems opening in any types of device, be it a Computer, Tablet, Phablet or Mobile. One interesting feature that Quidus packs is the search functionality in the website, which allows visitors to easily find what they are looking for in your website, without having to scroll through page after page. Other key features of this theme include the ability to change image alignment, use markup and change layouts with a single click of a button.
Wrapping Up!
So here is our list of Top 12 Best WordPress Free Responsive Themes that pack a punch and even put some of the premium themes in the marketplace to shame. Are you already using a theme that we have reviewed? Do you agree with our views on the themes that we have presented? What is the next theme that we should review? Answer these questions and raise a discussion with us through the comments section below. Have a good day!
Latest posts by Artem Pavlov
(see all)