According to marketing principles, it is far easier to attain a new customer than acquire an existing one. As a result, it is essential to maintain consumer credibility and increase loyalty to your organization. The WooCommerce based loyalty plugins enable you to reward your regular customers base with points for purchases and shopping behaviors like leaving reviews, sharing social media, or anything else that falls under the scope of your loyalty-based program. You should be able to continually deliver a positive user experience and maintain client interest in your products.
Do you need a reliable WooCommerce Rewards points plugin to boost your eCommerce sales? There is no need to find these plugins elsewhere. We've compiled a list of the best WooCommerce rewards points plugins for rewarding customers for signups, referrals, product purchases, writing reviews, and social promotion on your website.
Consider the following best user plugin for WordPress and select your preferred reward points from the list below.
This is one of the most premium WooCommerce loyalty plugins since it allows you to offer sophisticated point-based discounts to your clients. It features a gritty dashboard that enables you to give points purely based on product and category. Limiting the allocation of points and discounts with this plugin will have complete control over the reward program. You can allocate points worldwide or for specific products or categories.
It allows you a lot of flexibility when it comes to setting up conversion rates for reward points. For instance, you can create a rate that specifies the number of reward points turned into discounts during a purchase. More significantly, you can establish limits on the number of points used on a single buyer.
Features
It enables you complete freedom over points distribution and product discounts.
You can easily configure the reward system and convert points to currencies.
Plugin gives access to restrict the maximum discount value on each product.
Easy-to-use interface for users to manage their point table.
This is one of the most favorite loyalty plugins for WooCommerce since it has a plethora of features that enable you to establish a profitable reward program. The nicest thing is that you can completely automate the reward program. They can accumulate a set amount of points and use them for coupons or discounts on future purchases at your store.
This is an excellent strategy to encourage clients to make repeat purchases from your store. Additionally, this plugin enables you to deduct points for canceled or refunded orders. Additionally, it assists you in setting up instant rewards when a customer makes their first purchase. Additionally, the plugin features an intuitive interface that assists customers and store owners to manage the points system.
Features
It enables you to create a custom point system for individual products or categories.
Award points for specific actions such as registration, first orders, review posting, and more.
Create a different point system for individual products or categories.
Administrators will have the ability to change a customer's point balance.
Compatible with all WooCommerce based products.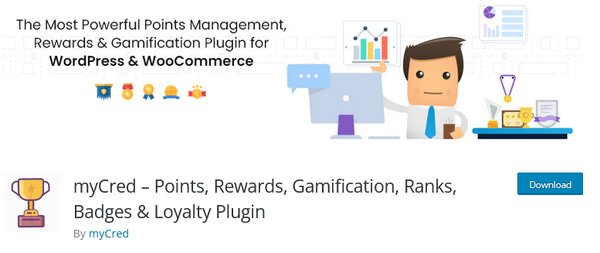 myCred is a reliable rewards and points plugin that can assist you in creating a comprehensive customer loyalty experience. There are options for creating coupons, subscriptions, membership plans, and setting up recurring payments plans.
With this full gamification plugin for WooCommerce stores, you can now effortlessly handle point systems and recommendations. Through the WordPress dashboard, the administrator has complete control over the points earned by users.
The myCred Rewards Points plugin includes an admin dashboard for managing customer points and configuration options for referral links, managing reward points and expiration dates. This is a very popular plugin with a good cause.
Features
Routinely manage coupons and points for users.
Create and send a discount to users when they earn a specified number of points.
Reward your WooCommerce customers with badges based on their point history.
Your WooCommerce customers' reward ranks are determined by the performance of their points balance.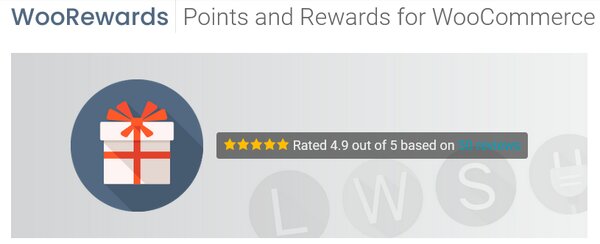 Plenty of online merchants offer a points and rewards program, which customers have grown accustomed to. WooRewards is a flexible and powerful WooCommerce reward plugin. It's easy UI enables you to quickly and easily set up an efficient reward system. You must engage your audience with a relevant loyalty program to enhance sales, conversion rates, and customer reviews. Additionally, WooRewards gives a variety of shortcodes and widgets for customizing your awarding program.
It enables you to mix several reward systems cooperatively or separately. A loyalty program that reflects your beliefs is attractive and rewarding to your customers. WooRewards automatically generates WooCommerce vouchers and sends them to consumers through email.
Features
Award points for signups, recommendations, and purchases, to keep your clients happy.
Establish a loyalty program to reward loyal consumers with special deals.
Keep track of each customer's point transactions via log report.
Using the points table feature and updating your customers' points.
Points and Rewards for WooCommerce by WP Swings is a points management plugin that helps merchants create a Point-based loyalty program to reward their customers. This reward system involves earning and redeeming store credits as points and discount coupons on activities performed by customers. WooCommerce Rewards program helps you create customer-oriented solutions for your website that aims to engage customers by offering them points for activities they perform like signup, purchase, referrals, etc.
With the WooCommerce Points and Rewards plugin you can improve sales, Return On Investment(ROI), conversion rate, Customer Lifetime Value(CLV), and referral marketing scope at your WooCommerce Store. These reward points make the customers eligible for on-purchase discounts and participation in Membership programs.
Features of Points and Rewards:
Allows your customers to earn points on activities
Helps loyalize customers to purchase from the same store
Reward your customers in exchange for loyalty
Redeem discounts, coupons, etc. motivates your customers' loyalty
Other Amazing Pugins that Just Missed our List:
Bravo is a simple-to-use, adaptable, and robust WooCommerce Points and rewards plugin that includes a slew of rewarding features. It grants you complete control over the management of reward points and a loyalty scheme with the Bravo – WooCommerce Points & Rewards plugin.
Additionally, you can specify the value of each point. For example, you can set one point equal to one dollar or any other value you like. The plugin enables you to reward consumers for a variety of actions they take on your WooCommerce business. To be more precise, your consumers earn points when they make a transaction.
This plugin lets you specify the number of reward points to award for specific products or a specified number of purchases. You can configure this reward point threshold for each purchase, including product and category.
Features
Reward customers with discount points!
systematic points earned on purchases
Points management like activation, expiry, and renewal.
Ability to import/export user points.
Based on the conversion rate, customers can redeem points for discounts.
Gamification for WooCommerce enables you to scale up your loyalty marketing automation. An ideal plugin for increasing your consumer base by rewarding referrers and growing customers with loyalty points for each successful transaction made through the referral link. Your loyalty marketing programs must optimize activities to be successful, particularly encouraging your sales team with better leads and a higher ROI.
Gamification for WooCommerce is a premium WooCommerce extension that makes it simple to add gaming elements to your WooCommerce store. Reward users with points, ranks, badges, and discount coupons to increase brand loyalty and engage new customers. Encourage loyal consumers and advocates to recommend your business directly to their network. Gamification of WooCommerce's referral system is the ideal marketing method for rewarding existing consumers for recommending your brand to family, friends, and coworkers.
Features
Create and manage digital incentives, such as ranks, badges, and WooCommerce points.
Restrict product access to those with a specific level or badge.
Display awards that users can get for reaching specific milestones.
Reward points for referring WooCommerce shopping.
Wrapping Up!
A loyalty program is compulsory if you want to enhance client engagement and establish a business that genuinely cares about consumers and understands the demands of its clients. To ensure the success of your loyalty program, you must select the appropriate points and rewards plugin that enables you to create an engaging loyalty program that pushes customers to purchase more to receive incredible prizes. myCred rewards plugin may assist you in implementing such a program that includes extensive features to help your business grow smoothly.
Author Bio:
Aijazz is a Digital Content Producer at Mycred. On a mission to publish technology and digital marketing blogs, articles, and whitepapers for the world's leading publisher. Outside of work, he loves hiking with friends.
Latest posts by Artem Pavlov
(see all)