The usual WooCommerce email templates work just fine. However, the usual tends to get quite boring sometimes, and with what modern templates have to offer, there is always a space to crave for more. This holds true for WooCommerce email templates as well. While most of the emails sent via WooCommerce are transactional in nature and work best to stay informative for the customers, they can sure use some transformation of design and ease of drafting and sending.
Won't it be great if you had the option to easily add columns and element blocks, customize font, color, background, padding, and other stuff? Moreover, it would have been so easy if you were offered the ease to edit content and media in a single window. And with live preview, you could swiftly save and send your test email. Well, YayMail offers all that and much more.
Why use YayMail for customized WooCommerce emails?
Customized emails add a unique tone to your store's existence on the internet and help businesses create an identity of their own. Such emails can be used to appear at par with the store's styling and visual appeal. Also, customized emails are personalized emails. Hence, businesses have the scope to add whatever information they tend to share and not just be limited with the contemporary templates.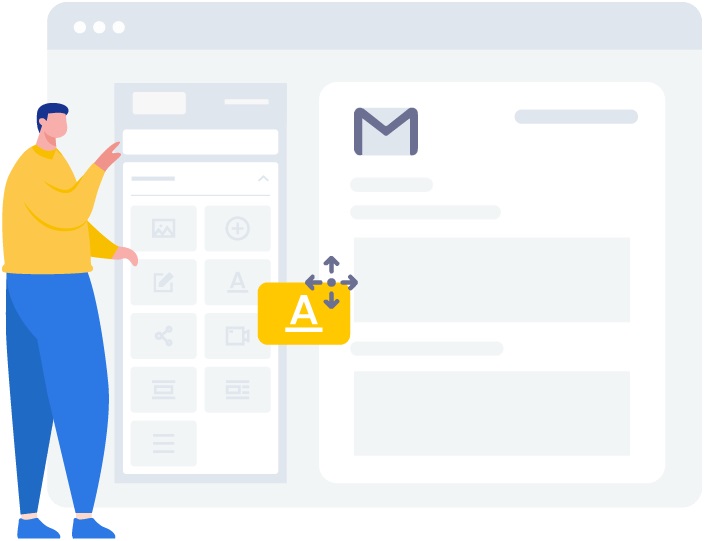 Offering 20+ elements, YayMail lets its users customize all email templates using a WooCommerce email builder. With a drag and drop interface, the customizer lets store owners easily navigate between the element bar and the preview section for every email type.The builder elements are categorized with a clear thought process that follows the user's intentions.
Its WYSIWYG visual editor is the best tool that can help you preview your email while tweaking it. A handful of shortcodes have been made available for access, for order details, customer info, billing, shipping, payment, etc.And that can save a lot of time and efforts. YayMail helps users customize and work with ease, where users can:
Easily add columns and element blocks
Edit content and media in a single window
Customize font, color, background, padding, and so on
Live preview, save and send test email
And all the above is as easy as a pie to be accomplished. Users need to choose an email sample from the drop-down and clone the element of their choice to other templates. Images are easy to inserted and adjusted for their size. They need to copy the design of a full template before their start sending out test emails. They can also easily restore a template to its default status. YayMail users can fully customize their WooCommerce email notifications for almost all kinds of emails:
New Order Email
Order Cancelled Email
Order Failed Email
Order On-Hold Email
Order Processing Email
Order Completed Email
Order Refunded Email
Customer Invoice Email
Customer Note Email
Customer New Account Email
Customer Reset Password Email
All popular browsers such as Edge, Firefox, Chrome, Safari, etc., support the seamless functioning of YayMail. However, YayMail Pro has even more to offer when it comes to the kind of emails that can be customized:
Shipment Tracking
Checkout Field Editor
WooCommerce Show Attributes
WooCommerce Order Status Manager
Admin Custom Order Fields
Flexible Checkout Fields
Here's how you can make YayMail work for your brand
If you choose to work with the free plugin from YayMail, the process begins with simply installing the plugin from the WordPress plugin dashboard.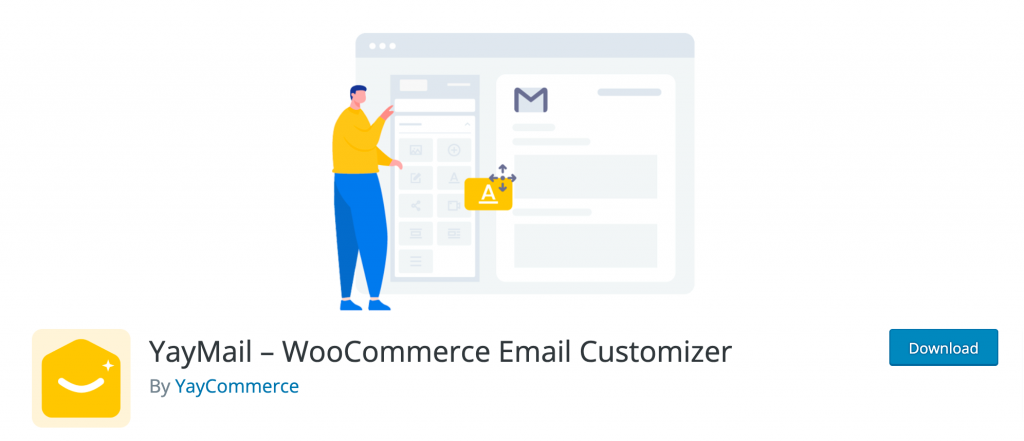 Once the plugin has been downloaded and installed, it is time to enter your site's WordPress dashboard and head to its WooCommerce section. Here, you will find an option for Email Customizerwhere all your WooCommerce emails are put up for display.
WordPress plugin repository >WooCommerce > Email Customizer
Here, you will find various predesigned elements for your use. These elements can be easily dragged and dropped for your ease of use, thanks to the customizer's interface. Here are a few examples of customizations that users can make:
Users can easily and obviously choose a base color for their headings, links, and backgrounds for their email title to make it visually appealing. Similarly, they can choose a color to be sued for the background of their emails.
Again, they can customize the text color they prefer for their email.
They can make a choice of a header image that they would like to be used in all their emails. This image can either be their brand's identity or some other image that resonates with their store's design and styling.
YayMail users can also add footer text to their customized emails where they have been offered the ease to include a link to their website and other contact information that they might like to share with their customers.
It is best we demonstrate the customizations with a few examples and screenshots. Here's how the email customizer would help you change the logo in your email.
WordPress plugin repository > WooCommerce > Email Customizer> Elements > Logo
By following the path above, users will find themselves in a window like the one in the snapshot. All they need to do is click on the 'Element' tab and drag-and-drop the logo element at the top of their design.
In a very similar, they can change and set the heading color of their emails, add desirable heading text, change the title text, and even further personalize their transactional emails.
One of our favourite features is the use of shortcodes. There are so many available for users to help them customize WooCommerce email content at ease. Here is an example for users to help them add the first name of the customer in transactional emails. In the snapshot below, you can see how easy it is to add the first name of the customer in the customized emails. Here is the path:
WooCommerce > Email Customizer > Elements >Text > Shortcodes (select available name shortcodes)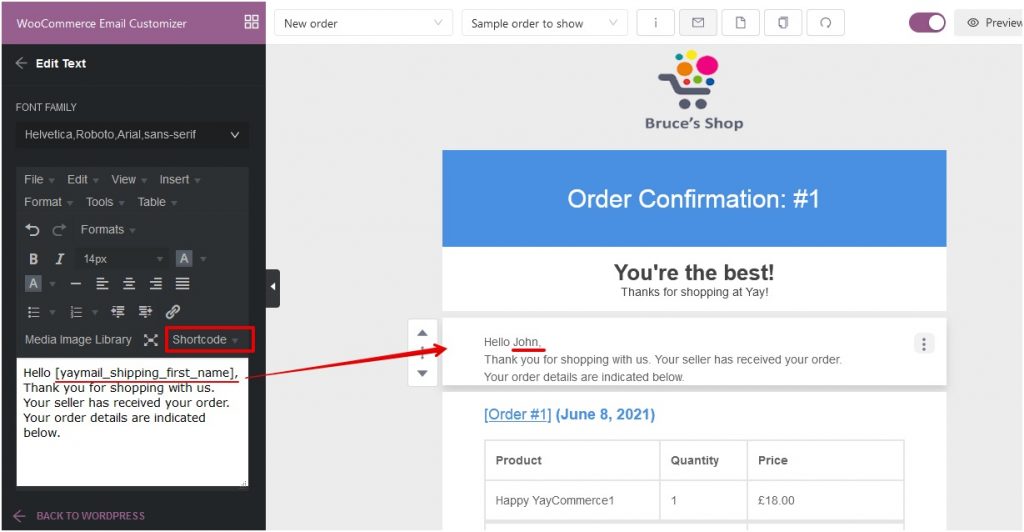 YayMail email customizer is a win-win!
Apart from being amazingly powerful and helping users with fully customizable options for all 11 default Woo email templates, the YayMail WordPress plugin is completely free to use. As we have seen, its drag-and-drop interface is a breeze and seamless to use.
By adding a powerful sidebar that offers amazing options for adding additional buttons, image lists, social media icon boxes, dividers, multiple columns, etc., YayMail is all about making your emails the most visually appealing. The live editor at the user's disposal helps them preview their template on a desktop as well as a mobile device. With just a few clicks, users can create an effective email template such as the one below.
For the paid variant of the plugin, the YEARLY pricing that makes YayMail 's power available to its users is marked as following:
Single Site – $59.00, 3 Sites – $139.00, and unlimited Sites – $399.00
However, with a one-time payment, users get: Single Site – $199.00, 3 Sites – $339.00, and unlimited Sites for $999.00
So, if your WooCommerce is just starting out, it is a great time to go ahead and install the free version of the YayMail email customizer plugin. And if you think you want a beastly email customizer that offers even more powerful features, the premium variant and its addon sshould just be the right fit for you.
Latest posts by Artem Pavlov
(see all)