With plenty of social platforms, it is a time-consuming activity for both businesses and individual marketers to push content manually on social networks such as Facebook, Twitter, Instagram, etc., especially when you publish content regularly.
Also, being a pro-marketer you should pay heed to the time when your targeted users are most active. Pushing the content at the right time to rise above the noise, and knowing the peak time of the target audience or patrons to get more engagement with your post will keep you one step ahead of the competitors, but this is not easygoing to retrieve posts and share them over and over again on multiple platforms.
This is why you have to keep abreast of tools and plugins that can auto-post or schedule your articles on social media regularly at a particular time while you are away or working on another project.
This article will highlight some popular tools you could use on a WordPress website to schedule posts of your blog or website on social media.
What are Social Media Scheduling tools?
Social media scheduling tools are an efficient way to publish your posts across various social platforms at once click when you are away from your computer and your target customers are online.
With the right tool to distribute content on popular channels such as Facebook, Twitter, Instagram, etc., you can save a lot of time, so you have more time to develop constructive marketing strategies. In this article, we have compiled some amazing plugins for the automation of old and new WordPress posts and will guide you on how to use them on your website.
How to Schedule Posts on Social Platforms with Plugins?
WordPress has a lot of free and premium plugins which allow you to post across various networks at once. Manually pushing content on popular platforms can be both time-consuming and exhausting.
Setting up auto-posting on WordPress is as easy as pie. By installing plugins, you can publish posts on your website and share that straightforward to Facebook, Twitter, Instagram, and other popular networks simultaneously.
These plugins will work for you by digging into the fresh content published on your Website and automatically share, even multiple posts, to different platforms with ease. Also, you can schedule your old posts too.
Step 1: Download the Plugin according to your needs.
Step 2: Go to the admin panel and click on "Plugin"
Step 3: Enter the plugin name into the search bar or download it from the website and upload it on WordPress
Step 4: Install the plugin and activate it
Once it is successfully installed, it will appear on the side menu to use for automation and scheduling of posts. Take a look at basic settings and connect social networks in order to start auto-posting.
Top Social Media Scheduling Tools to Save Time
Social Auto Poster – WordPress Plugin
Blog2Social
FS Poster
Revive Old Posts
Nelio Content
Social Media Auto Poster
Let's discuss them in details: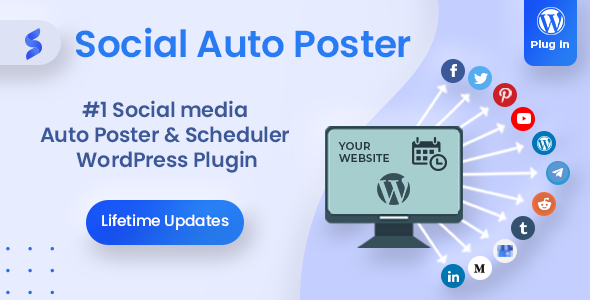 Features:
Scheduling the intervals between publication
Quickly repost existing posts
Google Analytics Campaign Tracking
Exclude posting days, taxonomy, and specific posts
Bulk scheduling
URL Shorteners as well as Unique URL
Category and tag wise posting
Customize Message Format and more
Multilingual Support
With the help of Social Auto Poster you can post on well renowned social media platforms like Facebook, Twitter, LinkedIn, Tumblr, WordPress, Telegram, Reddit, Medium, YouTube, Pinterest and Google my business with just one click.
Social Auto Poster generally offers all the benefits you need for posting on social media at lesser costs compared to other plugins. Active support is the finest feature of this product. Support of this plugin is hyperresponsive and according to your time zone. This increases the tool's performance and efficiency. It works well with personal profiles, company pages, groups, etc.
It gives full flexibility to customize all details to suit your unique marketing requirements. KPIs like traffic may be readily tracked through Google Analytics. If you are looking for great features at lower cost, the Social Auto Poster plugin is ideal for you.
Features:
Auto-post
Cross-promote
Schedule blog posts to post to profiles, pages, and groups
Customizing posts
Blog2Social lets you re-schedule or auto post content on various networks including Facebook, Twitter, Google My Business, LinkedIn, VK, Instagram, Pinterest, Reddit, Tumblr, Medium, Flickr, Diigo, and Bloglovin.
With plenty of incredible tools, it is a great solution to schedule your posts, repost old posts, automatically generate hashtags, and a variety of amazing options to take your social media marketing next level.

Features
Works with a wide range of Social networks
Schedule posts
Auto Publish
Re-Publish Previously Created Posts
FS Poster is one of the popular plugins used to schedule and auto-posts that supports 14 social networks, meaning you will be able to push your content to 14 social media platforms at the same time, helping you publish posts at the right time with advanced customization features.
Features
Automatic sharing of old and new posts
Publish posts on WordPress and simultaneously publish on social media
Integrate Google analytics
Add hashtags
Revive old posts is a great tool to share old and new posts or schedule them in order to gain more traffic on the website through social platforms by sharing content on various platforms at once.
With the pro version of this plugin, you can unlock some amazing features like "time interval between automatic sharing, the number of posts to share daily, etc.". It has plenty of cool features to offer for small blogs or websites and large web pages with thousands of posts like e-commerce pages.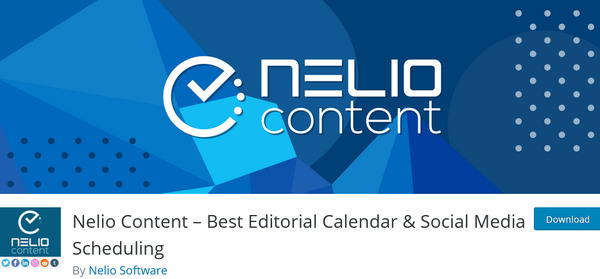 Features
Editorial calendar
Content promotion
Content creation assistance
Scheduling feature
Nelio Content is an awesome plugin that comes up with marketing and content creation features along with post automation and scheduling. It's more than a scheduling plugin that helps users to attain marketing goals by efficiently pushing content on social networks.
Features
Supports Auto-posting
Enable/disable scheduling
Multiple accounts support
Social Media Auto Poster is a powerful tool that allows you to post on popular social networks like Facebook, Twitter, and Linkedin. You can also disable particular posts/categories/pages to get shared on social platforms.
It is compatible with popular networks such as Facebook, Twitter & Linkedin.
Leverage the tools to reach your goals
Social platforms have different peak hours, in other words, A report by Social Sprout shows it.
It is not easy to share content regularly manually at a particular time when your target customers or audience is most active, this is where you need auto-sharing plugins and tools for your WordPress site, which will eventually help you push content without going online, helping you make a thriving presence on social platforms.
We have discussed a few popular tools made for auto posting and post scheduling for marketers running websites on WordPress. If you any suggestions further, please let us in the comment section
Latest posts by Artem Pavlov
(see all)