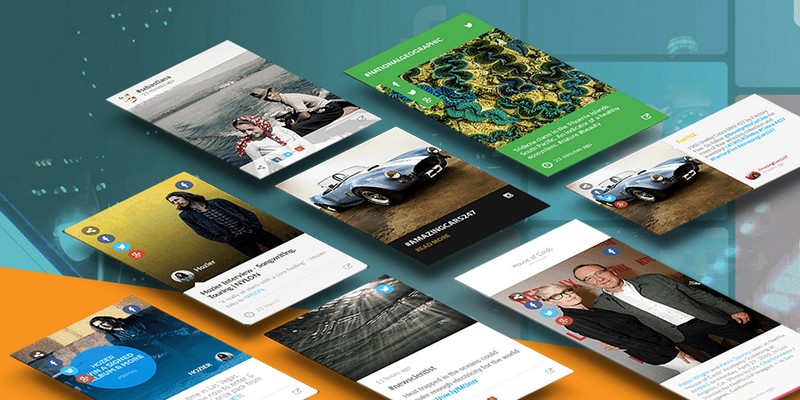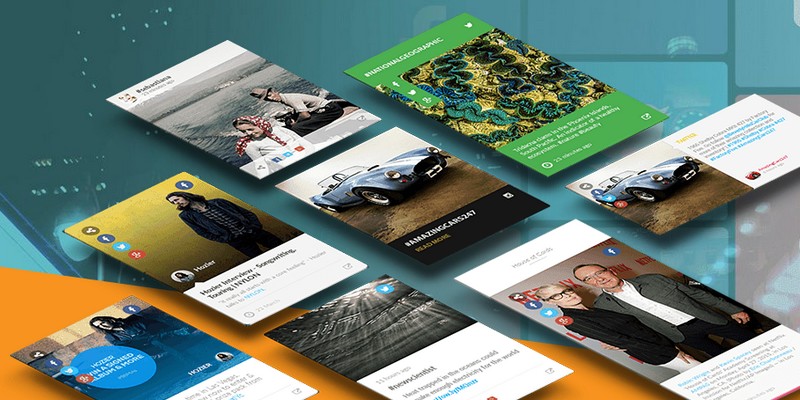 CardZ Social Stream is a sleek and sophisticated way to share your social media accounts with your visitors. Unite your social media activity into one clean, sleek, space that will add an attractive element of interactivity to your site!
One of the key reasons to share your social media accounts on your website is that it helps to build interest and interactivity.
Demonstrating to your visitors that you are active in numerous platforms is a powerful tool to build your brand, your online presence, and the likelihood that visitors will follow and interact with you.
However, many tools fail to promote improved engagement; buttons and tiny feeds lack the aesthetically pleasing element and interactive nature that CardZ delivers.
Fully Customizable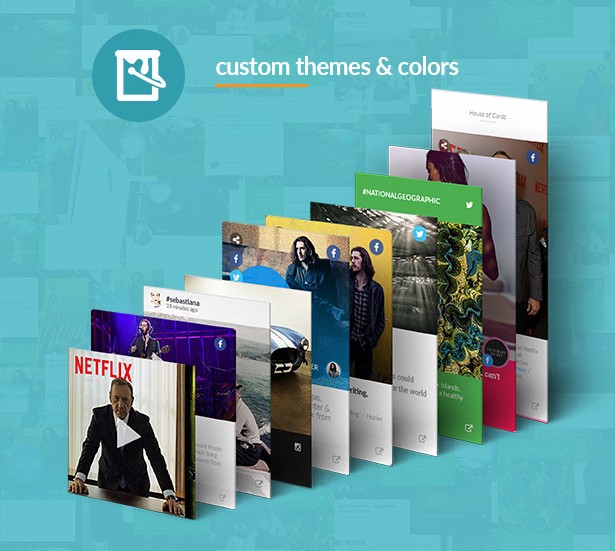 CardZ Social Stream is fully customizable so that you can tailor the look, size, color, and overall feel of the plugin to best fit your website. Using the 15 themes and colors that are offered, you can make your social stream just as unique as the content you promote on your social media outlets. Take charge of your social stream design, integrating it seamlessly into any website. Check out the demo.
You can even add your own custom banner to be added to the stream with the custom post tool. Engage with your audience and invite them to interact with your social stream!
If you're looking for a departure from traditional icons used for each social network, CardZ allows you to customize social network icons with icon fonts, allowing you to blend your social stream with your own site design and font choices.
Supports Numerous Social Networks
Got a big social media presence? CardZ Social Stream has you covered so that you can display all of your social network posts on your site, including Twitter, Facebook, Google+, Youtube, Instagram, SoundCloud, Pinterest, Vimeo, RSS, Foursquare. Vine, Dribbble, Flickr, and Tumblr.
Detailed Analytics
With a powerful analytics module that uses Google Analytics, you can easily see which of your social networks are most popular with your visitors. You can see what platforms people are interacting with and when. Need to figure out which social networks need more of your attention? This is a great way to gauge the response of your audience. The tracking module allows you to see each social network over a specified span of time so you can see the changes in your social media engagement.
Attractive and Responsive Design

With 20+ animated effects, CardZ Social Stream keeps things visually appealing. You can make it flip, bounce, pulse, or use many other optimised CSS3 loading animations to make it unique and eye-catching.
The fully responsive design allows your social stream to be accessible from any device or screen size from tablets and mobile devices to full-size screens.
CardZ is retina ready, so your social stream will truly shine in high-resolution displays. No matter what kind of screen your visitors are using, CardZ will make your social stream look great.
Fantastic Functionality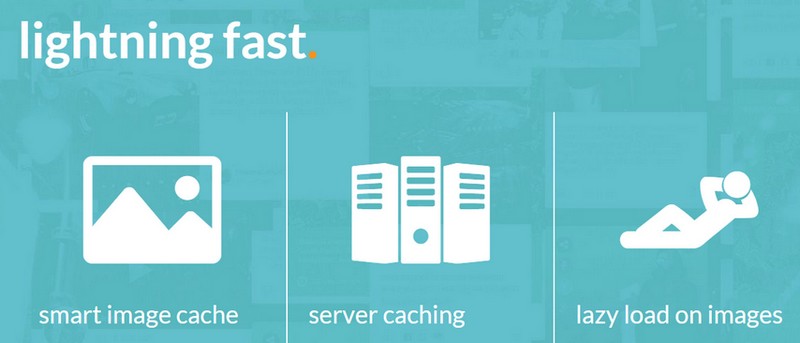 With CardZ, you're guaranteed to have a flawless function on all of the major web browsers. It has been tested for performance on Firefox, Safari, Internet Explorer, and Chrome, so all of your visitors will see your social stream the way you want them to.
Server Caching allows users to see a cached stream almost instantly, regardless of connection or current site traffic. CardZ was developed to rapidly cache your social stream from the first time it loads until you make your next update, improving ease of use for repeat visitors.
Lazy Load is used so that images will not load until the visitor begins to scroll towards them. This image loading algorithm ensures optimal performance.
Lightbox friendly CardZ allows site visitors to view your social content without ever having to leave your website. CardZ offers a fully skinnable Lightbox, so you can keep everything consistent with your chosen aesthetic.
Multiple Streams and Users allows you to use multiple accounts, users, hashtags, and more. You can add a virtually unlimited number of streams and users for an experience that is uniquely yours.
Conclusion
Do you use social media like Facebook, Twitter, Pinterest or other networks, have a blog or website? Why not integrate all your social media activity into one place? Making your business, brand or event more interactive!
It's here CardZ enter the stage.
With this WordPress plugin you can create elegant and beautiful social streams to aggregate, curate and integrate all your social media activity into one place on your website.
I am convinced that this plugin can help you share your content to social networks and drive more social traffic to your website. CardZ is a plugin with an affordable price with lots of features and options. Keep track of everything that happens on your social media and stay connected. CardZ is easy to install and set up. That's why you need social streams on your website. Best of all, you're up and running within minutes.