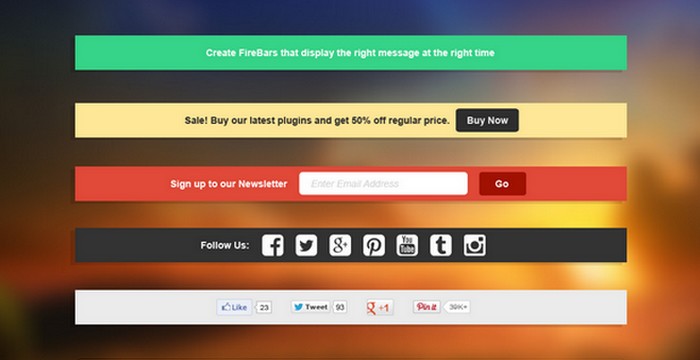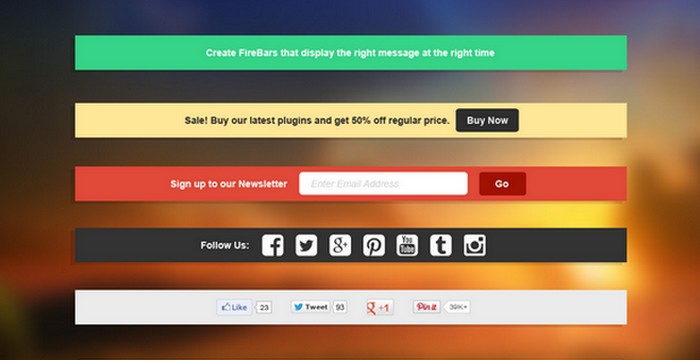 You have probably seen this on many web pages, a top bar, or a notification bar that displays deals, social media links, text announcement, sign up for our newsletter, and more, right?
You have probably also thought which plugin or web service is used? Well, there are many different WordPress plugins to choose from, both free and premium. So it can be hard to find and choose the right plugin. But the use of a notification bar plugin can Increase your sales, signups and social engagement by 50% or more. Occasionally i also use a notification bar to push for specific articles, giveaways, deals and it always gives great results.
Today I want to recommend a really cool and useful plugin called FireBar – Notification Bar for WordPress sold at CodeCanyon by WPsite.net. This is a great flexible WordPress plugin that includes tons of great features and options to create a really cool notification bar.
With this plugin you can easily add a customizable bar to the top or bottom of your blog or website. Display different types of notifications. You can create text, links, social follow, newsletter sign ups, and custom html in the FireBar options. The plugin comes with multiple content types and you can choose to add text, links, social icons, recent post, Twitter feed and custom html or shortcode. Check out the demos right here.
FireBar comes with an intuitive interface with 24 different options to choose from. This a flexible plugin with a lot of configuration options so you can create the notification bar that works best for your website with your favorite colors and fonts. This is truly a great affordable premium plugin guaranteed to achieve your goals. It will increase your sales and sign ups.
Features included in the FireBar Notification Bar for WordPress plugin are:
Where to display the FireBar (whole site, Post ID, All Categories, etc.)
Display location – top or bottom
Set FireBar content type – Text, Text and Link, Social Icons, Newsletter, Custom HTML
Choose from 18 different social media outlets
Change FireBar icon – Choose from up to 200
Run plugin scripts on mobile devices
Set MailChimp or Feedburner account
Set text, link color. Set font size, font weight and font family
Start and end date of the FireBar
Animation upon page load
Link Target – New Tab/Window or Same Tab/Window
Name capture options – First and Last
And much more ..
Another great feature is stats. You can easily see which of your Fire Bars (if you run multiple) performing best. See your stats on all FireBars or go see the specific stats for a particular FireBar. There is also an export button If you want to export your stats as CSV file.
This is one of the best notification bar WordPress plugin that you can use. Feel free to try the free ones, but if you want to have more opportunities to customize and configure according to your specific needs, you choose a plugin like this one – FireBar – Notification Bars for WordPress. This is an affordable plug that make you quickly earn back your spent money time and time again.
Latest posts by Artem Pavlov
(see all)