If you have been thinking of creating an auction site like eBay but the whole prospect of setting it up makes you panic, don't. Here is a great solution – WPAuctionSoftware.
You can use it to:
Sell your own products (so you avoid giving hefty commissions to other marketplaces)
Allow other people to sell their own products (and charge a fee)
If you've ever fancied owning and running an eBay style auction website effortlessly, here's how you can make this a reality.
First things first : Picking the right plugin & theme for your auction site
Once you have your site setup (or own an already live site) you need to choose an auction plugin & and suitable theme for it. WPAuctionSoftware is an easy to setup, install & use auction plugin for WordPress. Some of its features included are – SEO friendly URLs, Standard / Penny / Fixed Listings, integrated with PayPal & Authorize.net, Internal Invoicing, Penny Auctions among others.
WP Auction Software plugin works flawlessly with any WordPress theme & it also includes a theme so you are up & running in no time. All you need to do is add a simple shortcode. Lets start setting up your auction website using WPAuctionSoftware
Once you have activated WPAuctionSoftware plugin on your site follow the steps below :
Step 1 : Creating the "Auctions" page
Create a new page named "Auctions" where all your items & auctions will be displayed. Add the shortcode shown below to your it.
[mam-auction]
Click Publish when done. Your Auctions page should look as shown below :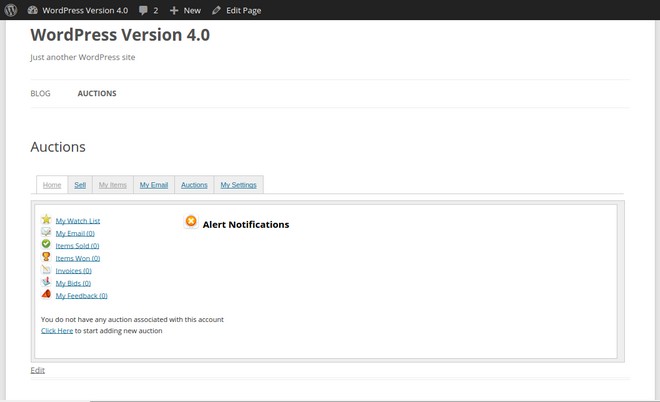 Step 2 : Setting up payment gateway settings
Go to WordPress Dashboard -> MAM Auction -> Settings -> Gateways tab.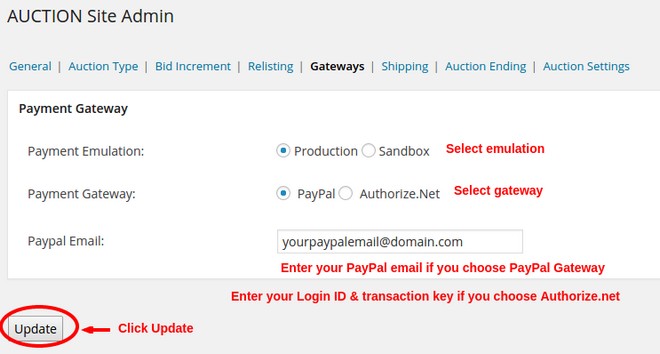 Select emulation, select gateway to use & enter the details for the gateway option. Click Update to save the settings.
Click on the My Settings tab on the Auctions page.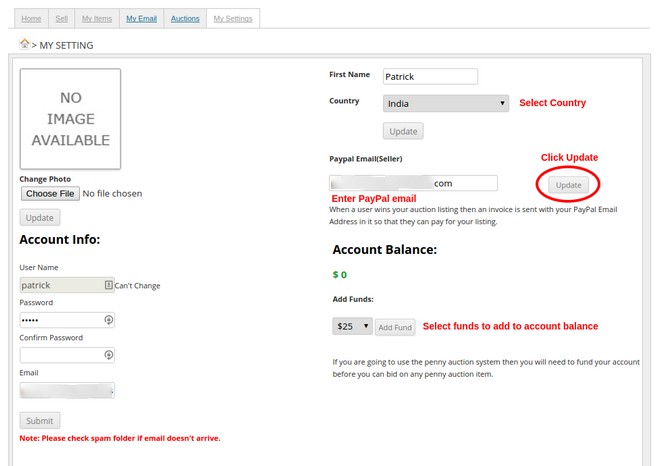 Step 3 : Adding your first auction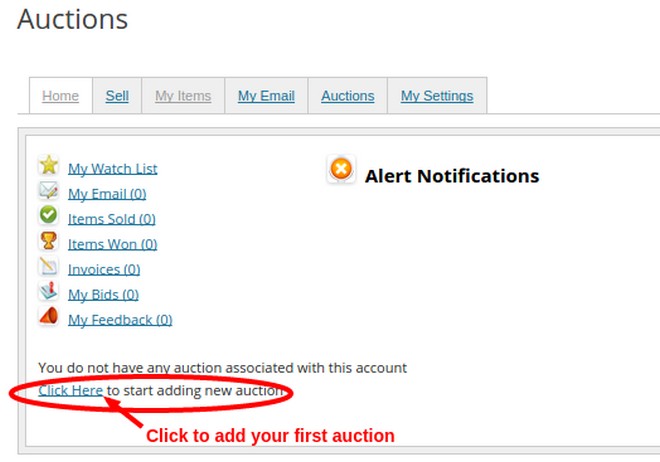 Click on the link as shown in the above screenshot to add your first auction.
Specify all the details for the item auction. Choose the shipping conditions for the items. You can also add Digital goods as your products. You can set the item as a Featured listing with lots of different options. Finally click Submit Auction button when you are happy with the details specified.
Here's what it should look like :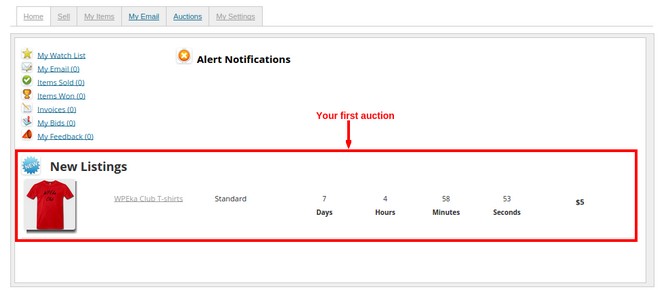 Here's a detailed view of the item auction :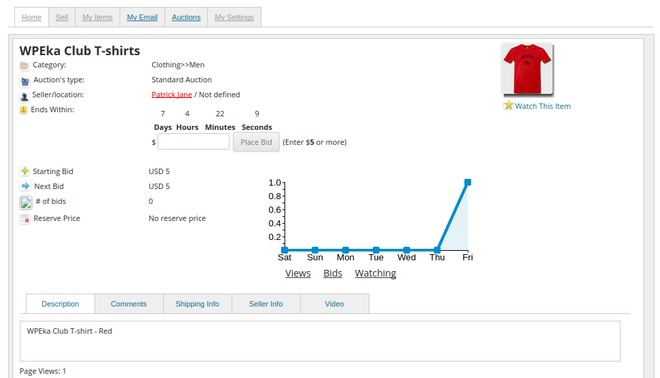 Congratulations!!! You have now an active auction running successfully on your site. Add more items & auctions in a similar way & explore the various settings of WPAuctionSoftware.
Some exciting features of WPAuctionSoftware :
Sell & Buy Items
WPAuctionSoftware is PayPal ready so your users can register, login & sell their items within minutes. It works straight out of the box.. Buying & selling; both are possible with this plugin.
Digital downloads through the dashboard
Ability to make didgital products available with a download link through dashboard directly & easily.
Multisite Compatible
WPAuctionSoftware is multisite compatible. You can use it on network sites & subdomains as well.
Standard/Penny/Fixed Listings
There are 3 auction styles to choose from – Standard, Penny and Fixed Price. Enable users to sell products as an Standard or Fixed Price auction. Or setup an Penny Auction Site.
Authorize.net
Besides being PayPal ready, the plugin is integrated with Authorize.net. You can use either PayPal or Authorize.net.
SEO Friendly URL's
The item listing title is SEO Friendly since version 2.7
Penny Auctions
Penny Auctions are very profitable and WPAuctionSoftware lets you run one. Charge your users for bids on auction listings. Users need to add funds into their accounts to bid on listings in Penny Auctions – that is, bidding is not possible with zero balance.
Seller Paypal Integration
A user has to enter his PayPal email address before submitting a listing. This guarantees an invoice delivery every time a buyer purchases an item.
Category, Advanced & Tag Search
WPAuctionSofware makes it possible to search based on the Category & Tag.
Featured Listings
Charge your users for Featured Listings on the main page of the auction site.
Sidebar Featured
Showcase your auction listings on the sidebar of your site. Easily turn this on/off via the Admin Area.
Some of the features that are coming up soon – increasing end time for bidding to avoid sniping, the ability to hide reserve price.
Here's a link to the Demo.
So that's it pretty much it for now. You can check out this plugin – WPAuctionSoftware by WPEka Club. WPEka Club has 75 premium WordPress products – including 47 plugins and 28 themes. They have 3 all-inclusive plans that start from $27 onwards. New products are released every week. Sign Up Now.
Latest posts by Artem Pavlov
(see all)