Push Notifications are the small messages, which are capable dragging the attention towards them, due to the way, they pop-up on your mobile or desktop screen.
Push notifications are not new. Anyone, who uses smartphones, is familiar with it. The Facebook, Twitter, and many other famous websites have implemented APIs to show push notifications. Why are you lacking here?
The Push notifications can help you get your blog posts out to mobile devices or desktops of your users, as soon as they are published. You can send anything to users, from new posts and feature releases to special offers and newsletter links.
WordPress plugin repository has many useful plugins to make sure website ready to send Push notifications in no time.. If you want to try, here is the list of top 10 push notification plugins for WordPress which can help you in keeping your subscribers, viewers engaged and active on your posts.
With more than 3000 active installs, OneSignal stands out of the crowd. It has easy 15-minute installation process which is made easy by their installation guide. The service is free for the non-corporations.
It sends the notifications whenever there is a new post. All the people who have subscribed to your blog or website will get this notification.
OneSignal has some awesome features like real time tracking of your notifications, segmented targeting and A/B test messages.
It supports most of the devices, browsers and all major SDKs.
Well. It was free for the users in the beginning, but now it is charging monthly fees, which makes it suitable only for the professional websites.
The 1-minute installation is quite easy to do. It allows the websites to send push notifications to the visitors.
The Roost plugin is compatible with Chrome (Android and desktop) and Safari (desktop).
It also incorporates a "bell" which can collect the notifications for the users until they look at them which makes it more eye-grabbing.
If you have subscriber under the range of 500, PushCrew offers free services for sending unlimited notifications to your visitors. But as the list grew, you need to pay for their services.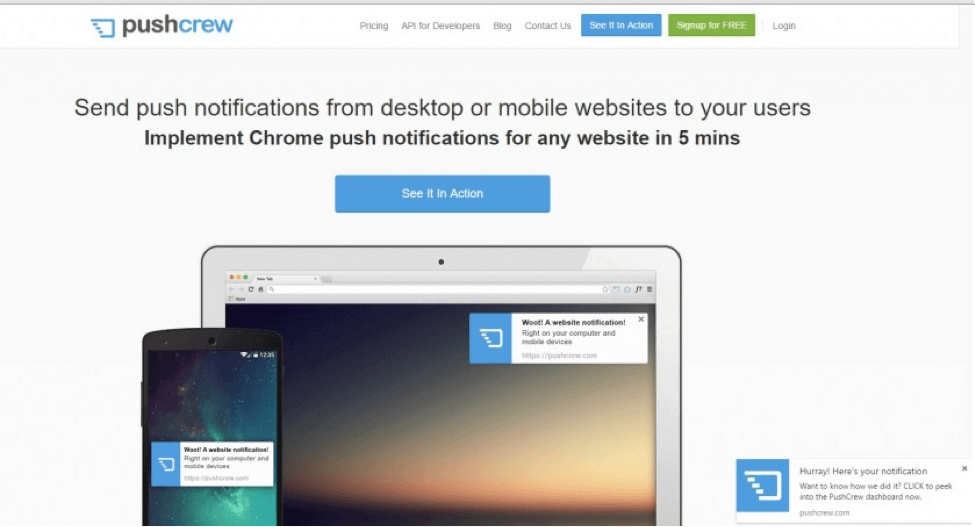 When you install PushCrew on your WordPress website, it will automatically insert the PushCrew smart code in the <head> section of your website.
PushCrew has three plans, namely the PushCrew Premium (for $25), PushCrew Business (for $75) and PushCrew Enterprise (variable pricing, Can be asked by sending quote).
It supports Chrome, Safari and Firefox browsers along with the android phones. The features for free subscription includes segmentation, complete access to the JS API, e-mail support, 500 REST API calls, welcome push notification, one-click unsubscribe button.
These features make it a preferable plugin for sending push notifications.
HookPress is a simple and easy to use for the non-PHP users. It turns the WordPress internal hooks into the webHooks. It can generate the push notifications for your website to make it notable when the users are not on your site. Along with this, it can extend the WordPress too, by making it easy to use for non-coders.
It lacks in adding custom actions, but if you are talking about the push-notification plugins, it can perform this job for you.

With an extremely beautiful notification layout, Pushover Notifications for WordPress is a good choice. It currently has more than 1000 active installs. The plugin is able to show PushOver notifications on your iOS and android devices.
The functionality of this plugin can be further expanded by adding capabilities through its available extensions. At this moment, it supports the notifications for the new users, comments, Pingbacks, plugin and theme upgrades, user specific password reset notifications, notifying authors of comments on their posts, core upgrades, and post publishing notifications for registered users.
A powerful, Flexible and well-documented plugin along with no fees to pay!
Whenever you publish a new post, your users will get an instant notification on their iOS, Android and Fire OS devices in the real time.
Push notification for WordPress (Lite) allows you to build unique and beautiful apps, which can collect data directly from your WordPress site. So, you need not maintain the App separately.
Pushed Plugin allows you to send push notifications from your existing WordPress site to the devices running iOS, the desktop or the android. It will send the notification each time, whenever you post something new for your users.
To keep your users engaged and generate a good traffic, you should definitely use this plugin. It is not required to have separate apps for your website and blog. With the plugin "Pushed" manages both of these with a single app. It has effortless integration with WordPress.
Smart IO Labs provides a complete wordpress plugin for sending desktop and mobile push notification with lightning fast speed.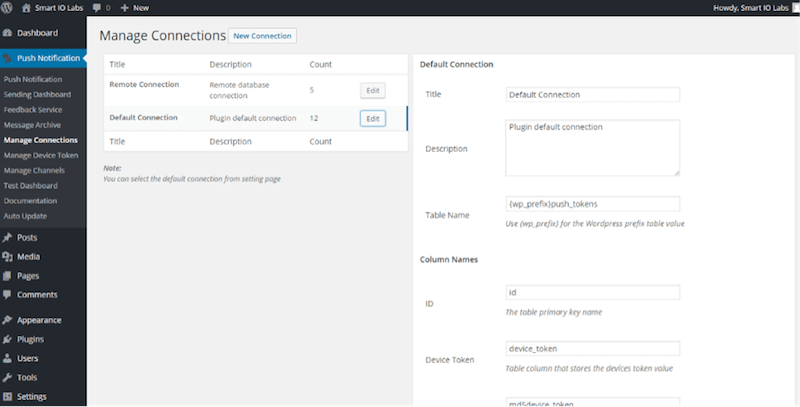 It has the capability to send one million messages in 20 minutes. It is a licensed plugin, which you need to purchase from CodeCanyon if you want to use it. They provide the queuing facility which means no overload on the server and no misses.
It can connect to multiple databases at the same time. Also, you can pause or resume the process, see instant logs if you want.
With PushUp Notifications Plugin, you can deliver on-demand notifications to your readers selectively. It allows you to see the notification insights by providing the analytics details. It is also a paid plugin, requiring premium membership to get all the benefits
This plugin is intended for the WordPress site owners, who do not want a complicated server-side back-end.
It works for both the HTTP and HTTPS sites. You can also create campaigns with Push Notifications for WordPress. It is also a great plugin for sending push notifications for WordPress, WooCommerce whenever a post is published or updated.
Wrapping Up
Push notifications is a fantastic way to connect with your loyal users or readers without so many efforts. You may however need to use this very carefully and without annoying your users as it is also as easy to unsubscribe to these notifications if your site keep sending them notifications every few hours.
Hope you have got the best Push notification plugin for your website after reading this post. Good Luck with the next posts and your readers!
Latest posts by Artem Pavlov
(see all)