Many modern themes have embraced the WordPress theme customizer tool that makes it easy to change some of the visual properties of a website.
However, if your current theme doesn't fall into this category, or you'd like more control over how your website looks, what are you to do?
In the past there would only be two options available to you: learn CSS and WordPress theme design or hire a developer.
Now though, there are a handful of high-quality plugins available that give you access to a visual editor, through which you can make changes to almost every aspect of your website.
WordPress Theme Customization Plugins
If you'd like to customize the appearance of your WordPress website, without having to edit any code directly, then read on to find out which is the best tool for your needs.
CSS Hero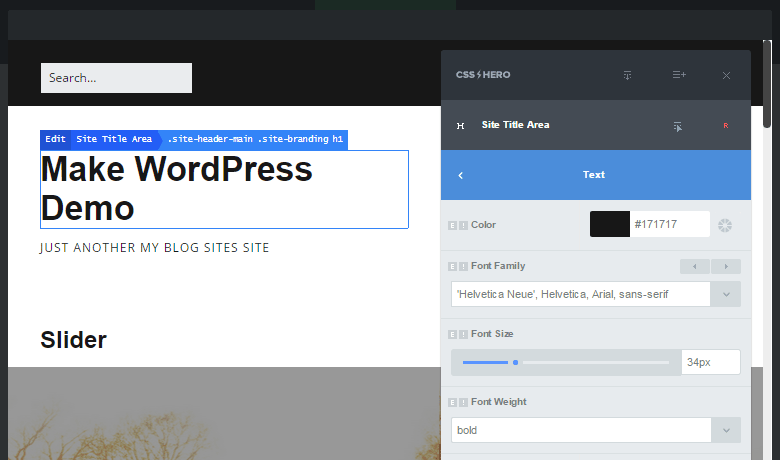 CSS Hero is a plugin that should be able to run alongside any WordPress theme. However, if you are using one of the many themes on the list of compatible templates, then you are likely to get better results.
With CSS Hero activated on your site, you can simply click on the different elements of your website and then edit their appearance. The customization takes place through a set of context-sensitive menus and controls.
For example, clicking on the header area of your website opens up a set of controls that cover the font, size, background, and other properties of that element. Through the visual controls, you can then make changes to these properties.  As you work, you get a live preview of your changes. Once you are happy with how your site looks, simply click the save button to update your website.
Another nice feature of CSS Hero is its support for mobile-responsive designs. This plugin makes it easy to not only preview your website to see how it will look on a range of screen sizes, but it also gives you the ability to make customizations that are only displayed to visitors accessing your website on certain screen sizes.
CSS Hero is a great example of a point and click editor that makes it very easy to change the appearance of your WordPress website.
Genesis Extender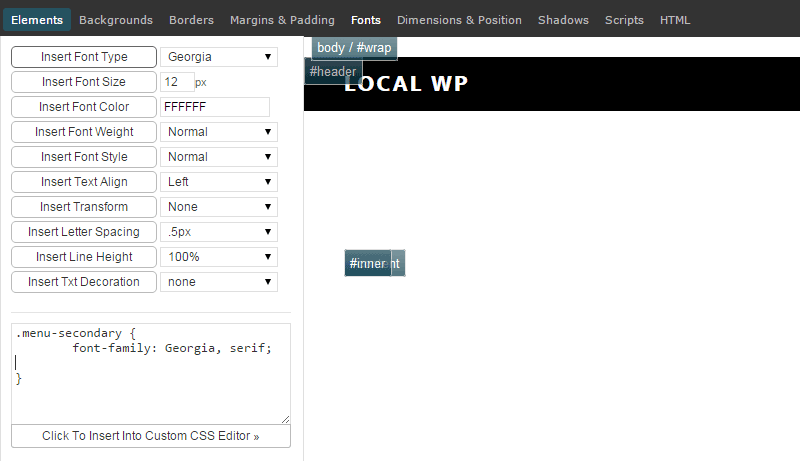 If you are using the Genesis Framework from StudioPress and one of its many child themes – or a custom design – then the Genesis Extender plugin from Cobalt Apps could be a good choice for you.
Once Extender has been activated on your site, you are then able to not only change many of the appearance and styling properties of your theme, but also create custom home page layouts too.
When it comes to editing the appearance of your website, Extender makes use of a front end CSS editor. When using this editor, your changes are displayed in real time. Extender also includes a CSS generator. This is great for those who want to make more advanced changes to the appearance of their chosen theme, but aren't experienced enough with CSS to do so.
While Genesis Extender is suitable for non-coders who want to change the appearance of their website, those with a little knowledge of CSS and PHP will be able to really make the most of this tool and change how their website looks and functions considerably.
There is a bit of a learning curve with Extender, but if you are serious about customizing your website, it's a powerful tool. There is also a scaled back version called Essentials, which is better suited to less demanding users.
Genesis Design Palette Pro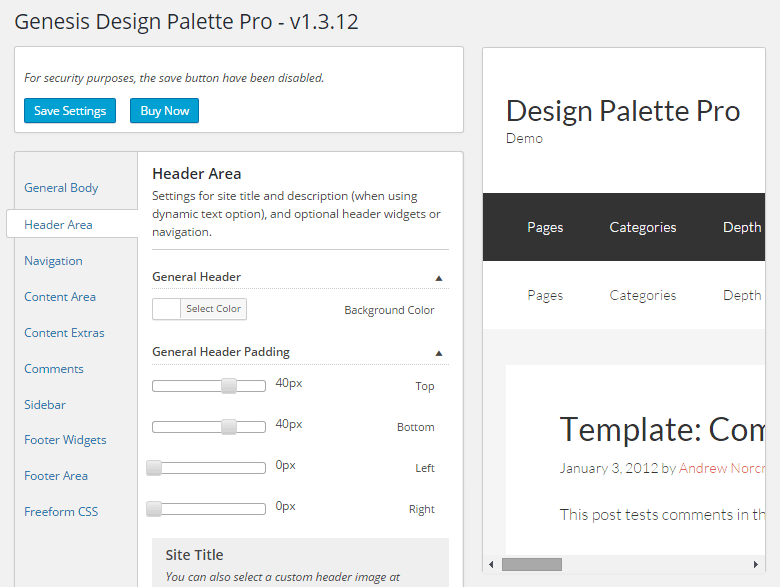 Another tool that will be of interest to Genesis users is Design Palette Pro. This plugin gives you a visual editor to make changes to many aspects of your theme, including fonts, colors, border, padding, and more.
Genesis Design Palette Pro also makes it easy to export your custom configurations and reuse them on other WordPress sites that have the plugin installed.
Stylechanger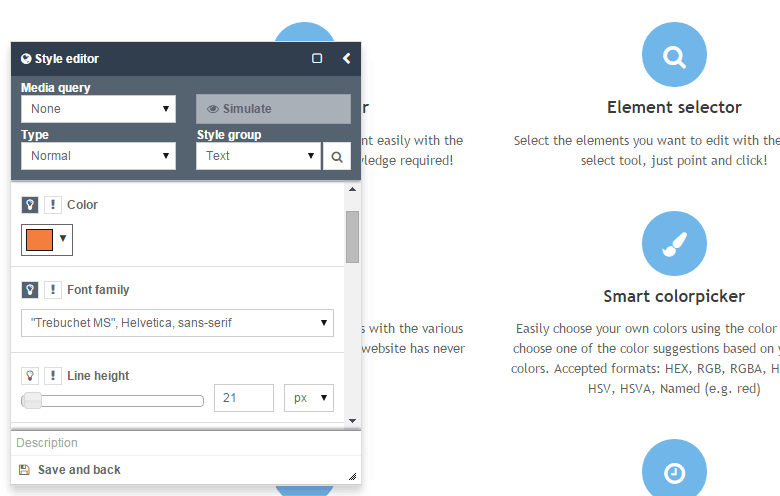 The premium Stylechanger plugin works in a similar way to CSS Hero. Once live on your site, you can click on any element of your page, and then make changes to it through a visual editor.
After selecting an element, such as the post content area, you can then open the style editor to customize its various properties. As well as using the visual editor, you can also instantly open the CSS of a page element in the advanced editor. This then allows you to edit the CSS by hand, giving more experienced coders a quicker way of working.
Stylechanger makes it very easy to quickly see all the changes you've made to your site through the tool. The visibility of each change can then be toggled on or off, or removed entirely. This makes it very easy to keep track of your modifications, as well as giving you the ability to roll back any of them as needed.
One particularly nice feature of this visual editor tool is that when making changes, you can either apply them to just the page you are working on, or your entire site. This is great for keeping the appearance of your site consistent across all pages while still giving you the option of styling a single page in a certain way.
Conclusion
More and more of the best WordPress themes now include controls that allow you to customize some aspects of their appearance. However, by using one of the above plugins, you can open up a whole world of possibilities when it comes to creating a personalized design for your website.
Making far-reaching changes to almost every element of your WordPress website is no longer the preserve of programmers, coders, and web designers. By choosing a WordPress customization plugin, you can simply point and click to start modifying the way your website looks.
If you have any questions about these plugins or any other aspects of WordPress, please leave a comment below. Also, if you have any suggestions of similar tools, please share those below too.
Latest posts by Joe Fylan
(see all)