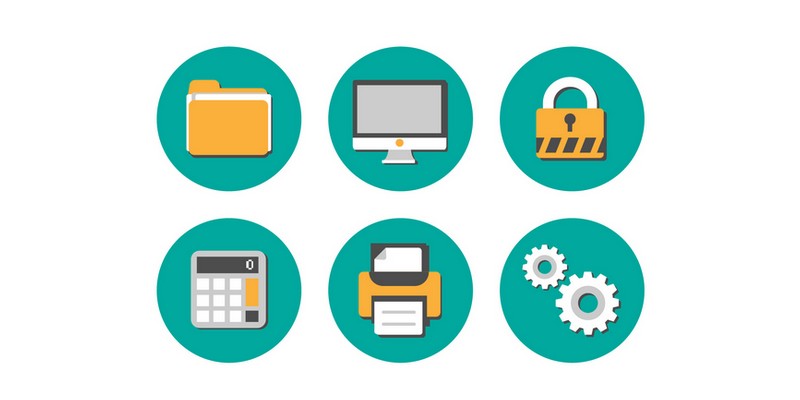 Directory themes have become a need of the day. In today's world, we are bestowed with so many options, that remembering or keeping track of each thing is quite difficult.
Directory or listing themes help us sorting things out. As the name suggests, these themes are used for listing various products and services. Thus, the user gets all the information he wants in just a few clicks.
The themes are specially chosen to keep in mind the requirements of the directory users. All these directory themes are highly responsive and can easily be customized to a great extent. So they will help you not only in making your site eye catchy but also user-friendly. Please have a look and let us know if we have missed any.
Business Directory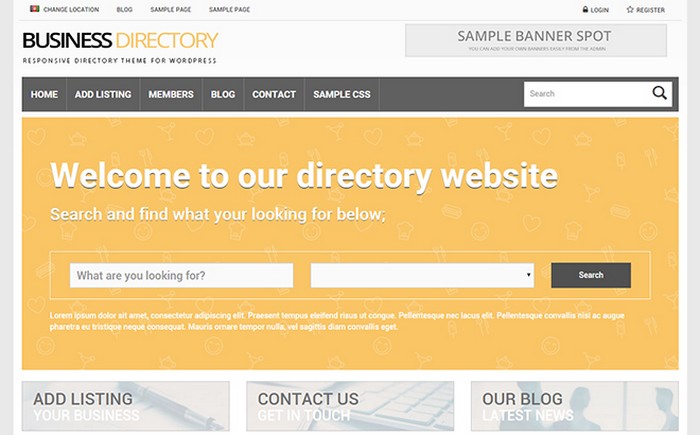 Business Directory has been developed keeping in mind the needs of the business and the comfort of the end user. It provides users with the option of creating and editing their profile. It also has various useful features like Google Map integration, GEO location, Backend user controls, filtering and sorting results, powerful frontend, and backend, etc. It also has a paid and free listing section.
Careers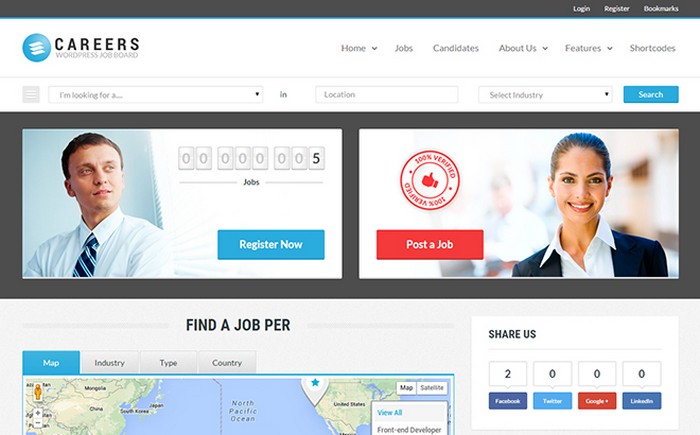 This HR Portal WordPress Theme is a good choice for anyone looking for a Job/Careers Directory theme. Both recruiters and the candidates can choose and use from an array of options to create their profiles. Whether it is a freshman candidate or and an expert recruiter, this theme, because of its simple functionality, is ideal for all.
Real Residency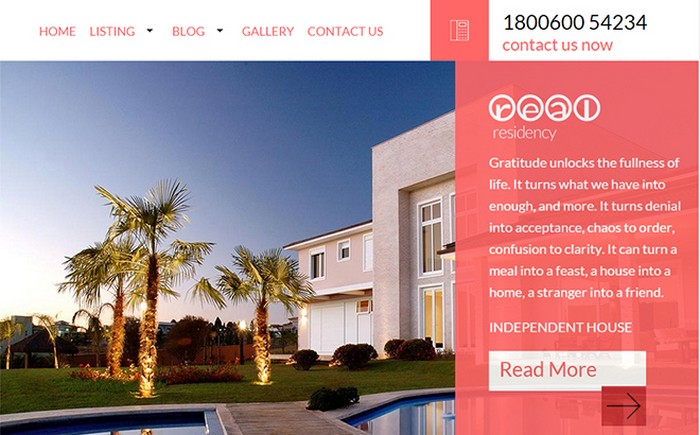 Owning a house is one of the biggest dreams for most of us. Everyone wants to do the extensive search before finalizing one. So here is Real Residency, a premium real estate directory theme, which has all the things at right place. So whether you are a small agent or a big agency, this theme can be tweaked to suit your needs. It gives you the complete control of your website.
Checkout
When it comes to creating a beautiful yet functional digital store, "Checkout" stand tall amongst the rest. If you are selling any digital product, like Ebooks, Stock Photography, Audio files or any other similar item. This theme is your best bet. It is e-commerce ready, and its typography stand out. You can add product sliders, galleries and price tables to make thing simple for the users. It also has scope for Portfolio and Testimonial pages.
CouponXL
Who doesn't love discounts and hence most of us visit coupons websites to get some fantastic deals and offers? CouponXL is one of the best themes when it comes to sales, discounts and coupons WordPress theme. Selling coupons and deals have never been so easy. Affiliates websites can also use it. It's based on Bootstrap framework, it has a clean code and has a fast loading time.
Expedition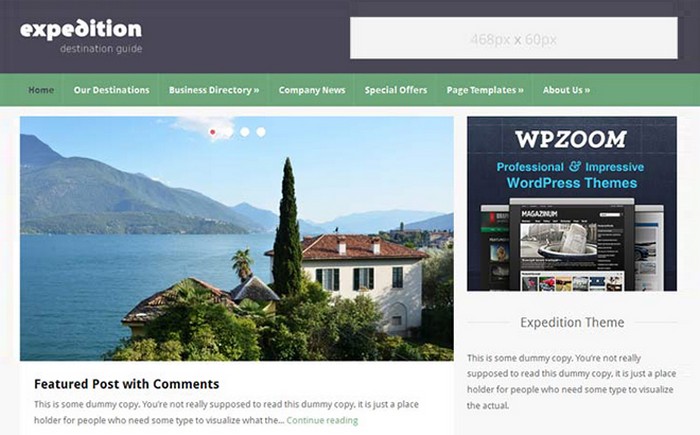 Few people enjoy taking unplanned trips, but for those who need meticulously planned and envisioned trips and wants nothing to be left on assumptions, checking a travel site becomes a must. Expedition is one such directory theme that has been designed especially for travel agencies. It has a Dynamic homepage builder and it comes in eye-pleasing color schemes. The easy customization options make sure that your website leaves a mark.
The Kitchen Table
The Kitchen Table is an amazing recipes theme for WordPress. Its beauty lies in its simple yet elegant design, which makes it users favorite too. People can submit their recipes with email notifications. It has an array of options that makes this theme highly customizable. It has numerous color and font options, user Bookmarking and layout control, responsive layout, and many other built-in features.
GLOBO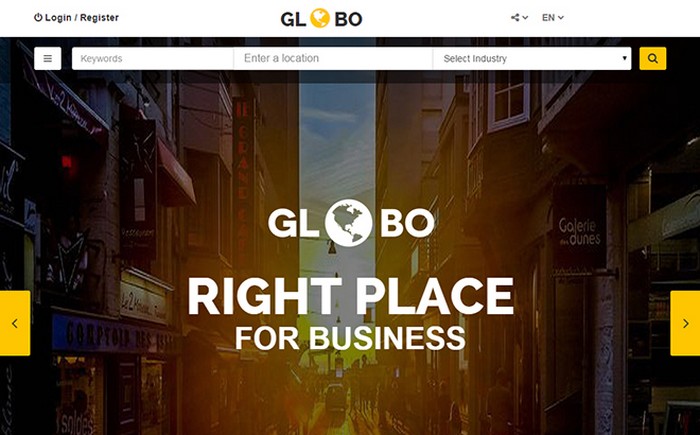 The internet is a very vast source of information, and if used in the right manner, it can reach unlimited customers. Choosing a right website thus becomes very important. GLOBO is a wonderful and useful Directory & Listings WordPress Theme that comes with various features and quick data filtering options. You can tweak your profile and use the intelligent backend. Check this professional theme at once.
Buzzler
Initial days are very crucial for any business unit. And it becomes even more important when you are stepping into the online business. Buzzler gives you an edge over others with its professionally developed directory theme. When you are a newbie or a budding entrepreneur, this theme suits all your needs. It has a predefined listing packages, geo-tagging capability, free, paid and featured listings, multiple monetization tools and much more.
Explore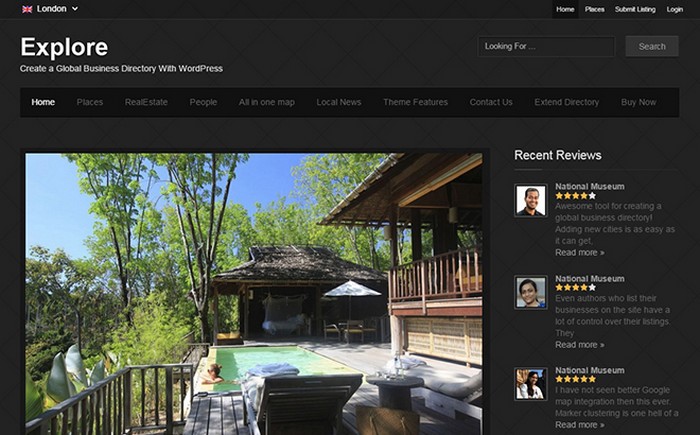 Explore is a directory child theme that can help you in giving a complete makeover to your directory website. You are provided with multiple options to make your site a stunner. Whether it is the homepage, profile page or the category page, the easy and powerful customization options empower you to change the look of your site completely.
Javo House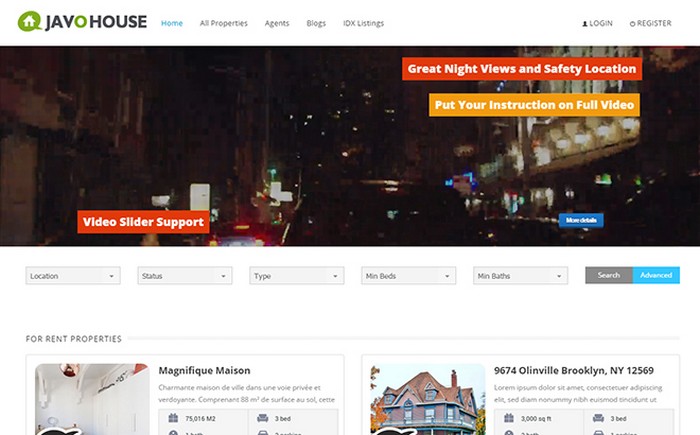 Check out this interesting directory theme perfect for any real estate firm. It has been integrated with Paypal, and it is super responsive. It is also bootstrapped compatible and has advanced property search options. Agents can make their profiles for more credibility and smooth selling of property.
Jobifier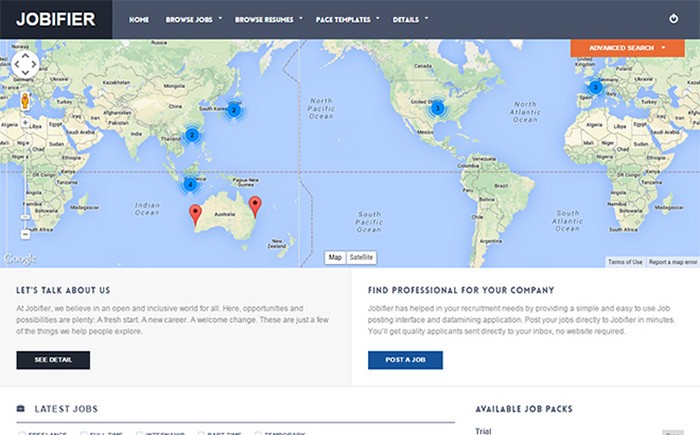 Jobifier provides a great platform for the agencies related to recruitment. It has been designed to fit the needs of both the small agencies and the big recruitment firms. The design is clean and it's easy to use thus making it a top choice of both recruiters and candidates.
Micro Jobs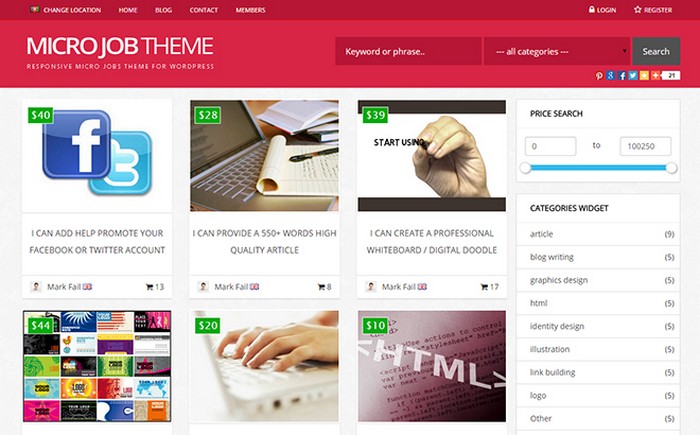 Micro Jobs is also a fantastic job board theme that has an array of features to make your site both user-friendly as well as a good source of income. You can add multiple payment gateways, advertising areas, workflow and fund release tools. You can choose from various child themes and also add User feedback and profile rating system.
MetroDir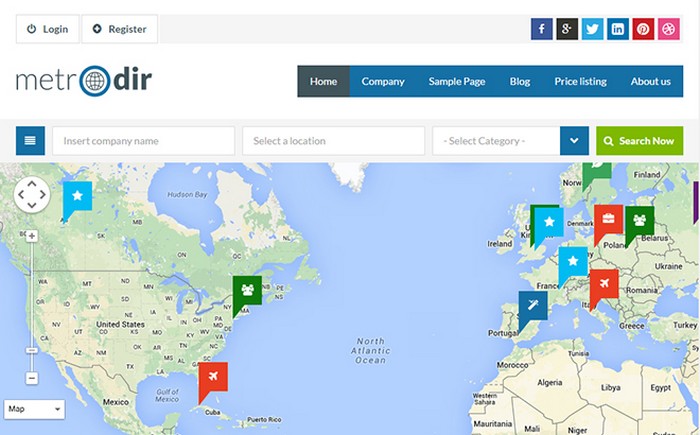 MetroDir is a Directory Listings Theme that comes with front end user page, custom search options, google maps, geo-location, recurring payment system and much more. It is super easy to install and run and the backend options make sure that you never face any problems in running a website even with a minimal technical background.
AUTOMAX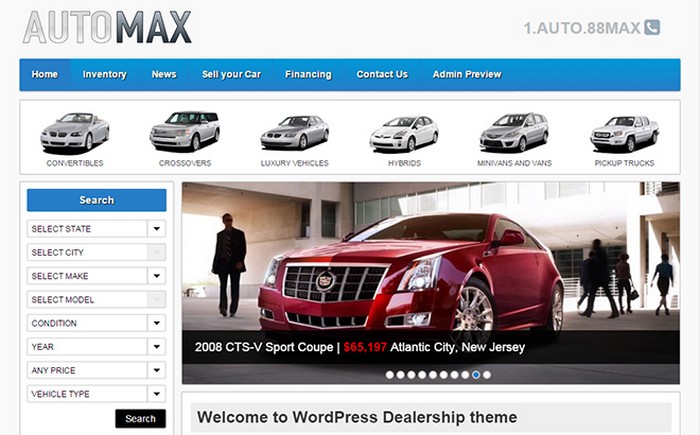 Check out this Auto Dealership theme for all automobile dealerships. Designed to perfection, this theme is the right choice for vehicle dealerships. It has Craigslist integration, Advertisement section, pay per listing module, VIN Decoder and much more. It also offers Used Car Uploader Module and a single listing layout.
WP Pro Real Estate
WP Pro Real Estate theme, as the name suggests, is a property listing theme that has been designed beautifully to showcase your property listings. It has a responsive layout and a wonderful homepage to engage your site visitors and turn them into potential customers. To get a more customized look, you can choose from various backgrounds and skins, and play around with other options and fonts too.
Recipes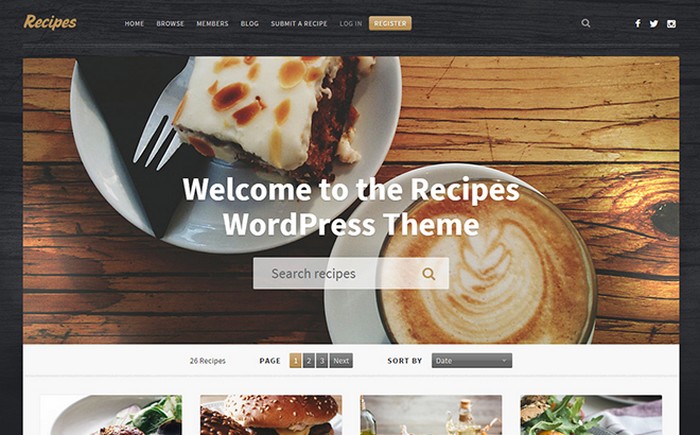 Recipes WordPress theme is a mobile friendly theme that indulges the food lovers into checking your site and come back for more. The theme has many customizable options and easy setup. Showcase your delectable recipes in one of the best food and recipes theme out there. Even visitors can submit their recipes.
Automotive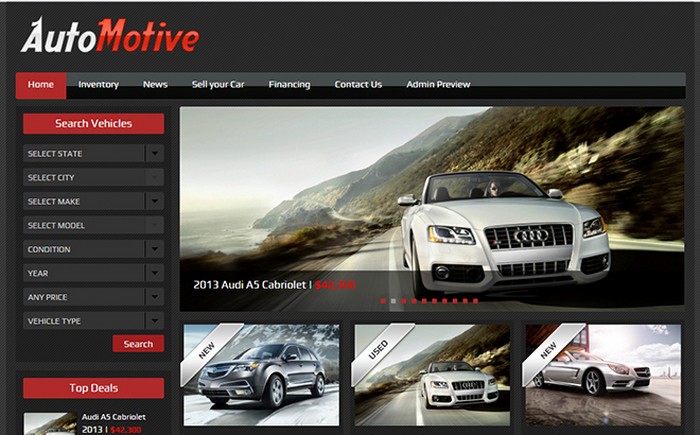 Automotive WordPress theme is again a vehicle dealership theme that has been designed to give you an edge over your competitors. The theme has been designed to fit all screens and it has batch XML and CSV importing of vehicle listings, Craigslist integration, VIN Decoder and more.
SpotFinder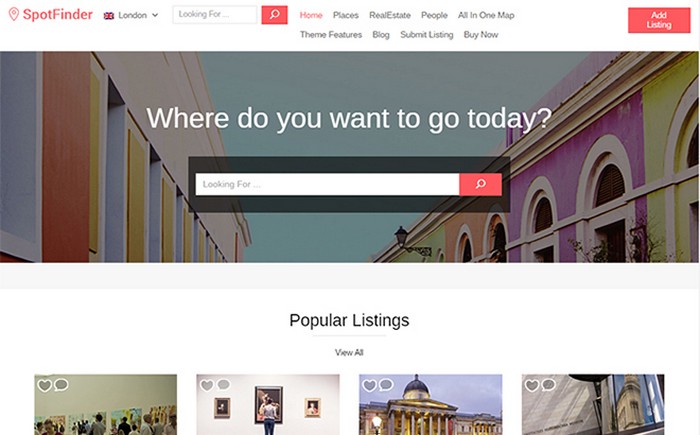 SpotFinder is a child theme for the Directory theme and can be used to make an impact on your site visitors. This theme is inspired by new AirBnB and it helps people decide where there they want to stay during trips, whether official or personal. You can add a full-width map to make searching easy. You can create a global directory and make money out of it.
ClassifiedEngine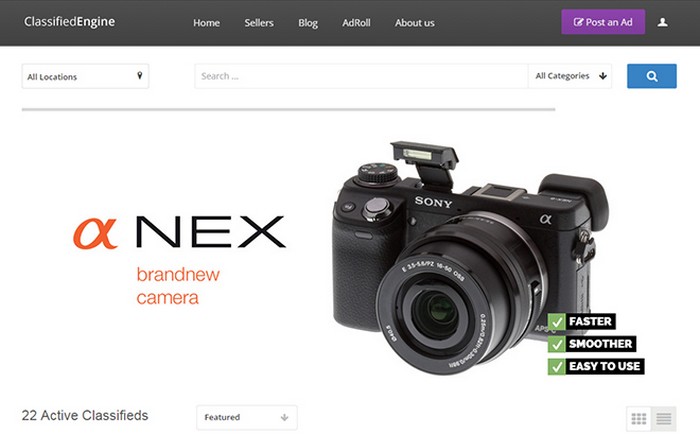 Classified Engine has been designed to make a strong impact on readers. A classified ads theme can be both useful and elegant. It can be a great source of income for you and information for others. This theme is easy to install and use.
Digital Downloads
Digital Downloads theme can be used to create a digital download website which can be used to create software download websites, music sharing, docs, videos and much more. Easy installation and customization options help you to make your position in digital download industry with ease.
Jobera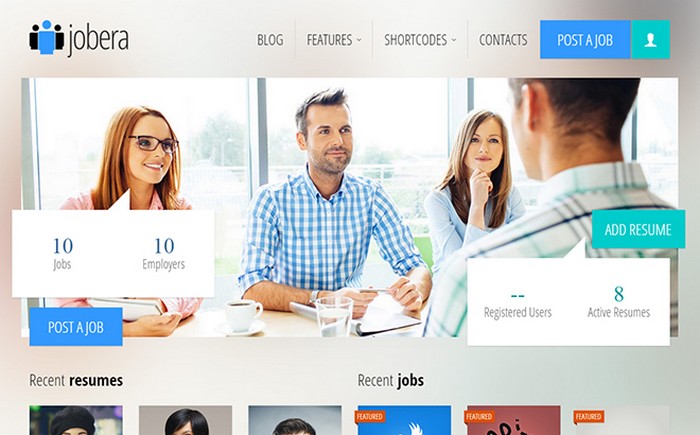 Jobera is one of the most useful way to list the job vacancies. You can create a great platform to introduce prospective employees with the recruiters. The theme has been designed in such a way that the applicants can instantly send their cover letter and resume. It is WPML compatible and comes in various homepage options.
Listings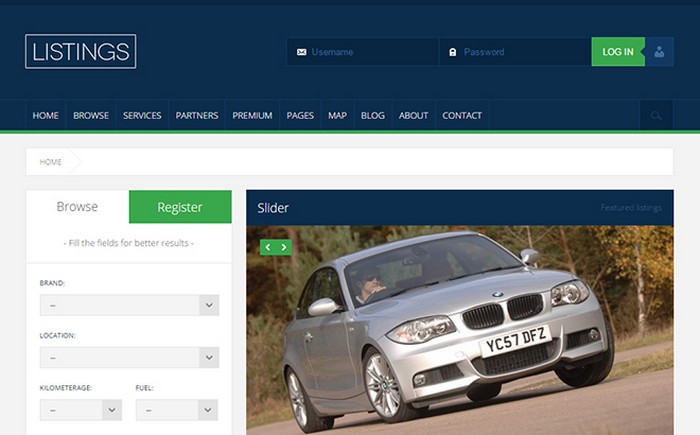 You can list endless products and services. You can use this listing theme for rent services, automobiles and many other things. It has a clean design, google map integration, premium price integration, various page templates and sidebars.
HomeQuest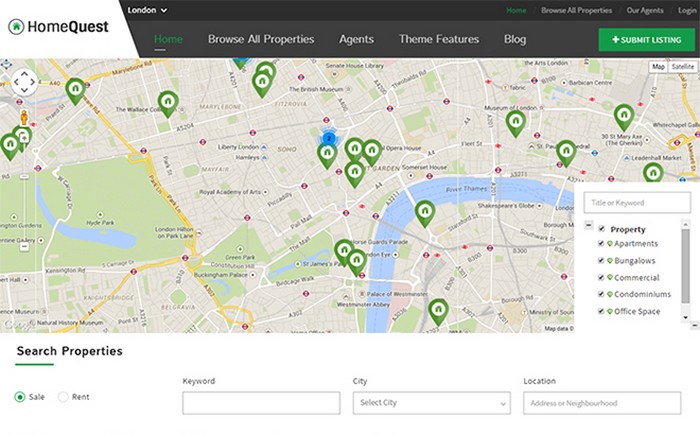 HomeQuest is a WordPress theme package designed to transform our popular Directory theme into an advanced real estate directory theme. Everything from the homepage to the property detail page has been thoroughly polished to make your site and properties stand out from the crowd.
Coupon Theme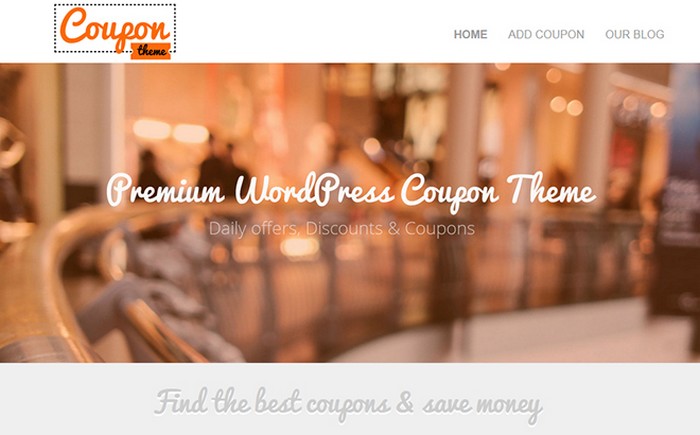 Coupon is a premium theme and it's name can state you it's purposes. It lets the users add their own coupons and add their own coupon shops, coupon tags and coupon categories. As an administrator, you have all the rights of moderation. The theme is super responsive and it gives you multiple features in your kitty.
Realsite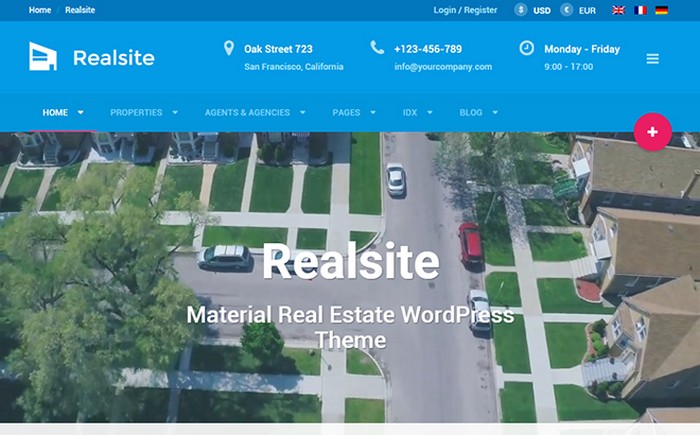 Get hold of this feature rich real estate WordPress theme. It is compatible with AngularJS & Bootstrap 3.x. It has a responsive layout, Google map support and more than 10 different search option. Apart from the regular features, it also has new features like property and search statistics.
GeoCraft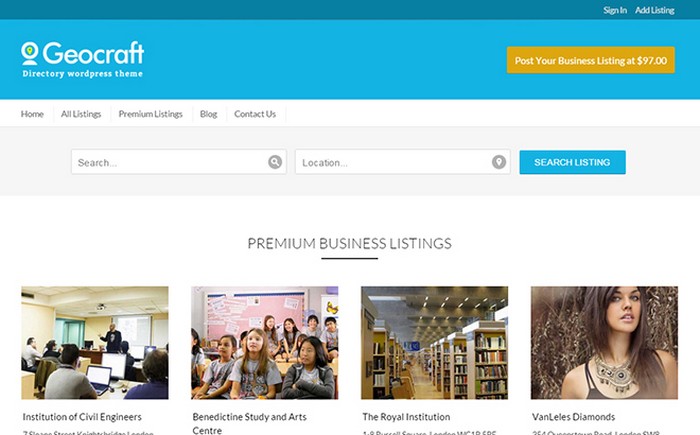 Geocraft is a city business directory theme where you can create a city business listings and mint money. The use of this theme is not only restricted to business directory theme but can be used for multiple niches. You can charge from customers to get their business listed and also earn from the advertisement area. Get a complete business listing at one shot.
FreelanceEngine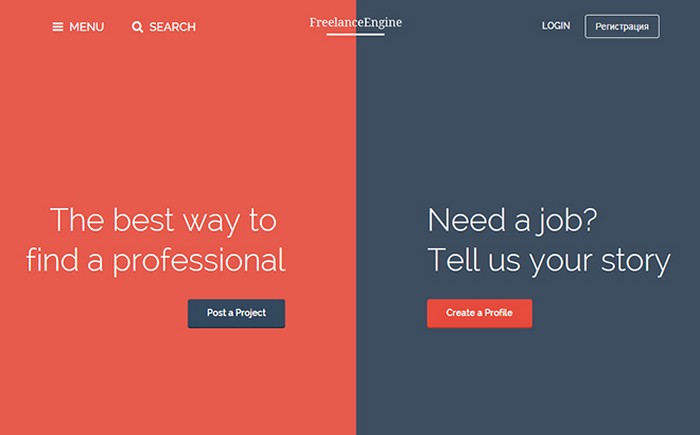 Get introduced to Freelance work engine WordPress theme. With its elegant design and simple layout, it is easy not only to set up the theme but also to upload information at the front-end. It helps you to monetize your site in no time.
Pro Direct
Pro Direct is a fully loaded business portal theme. With its responsive layout and clean design, it lets the focus on your listings. It has various useful features like Ratings show listings sites, Advanced Search, Google Map with property location markers.
Diamond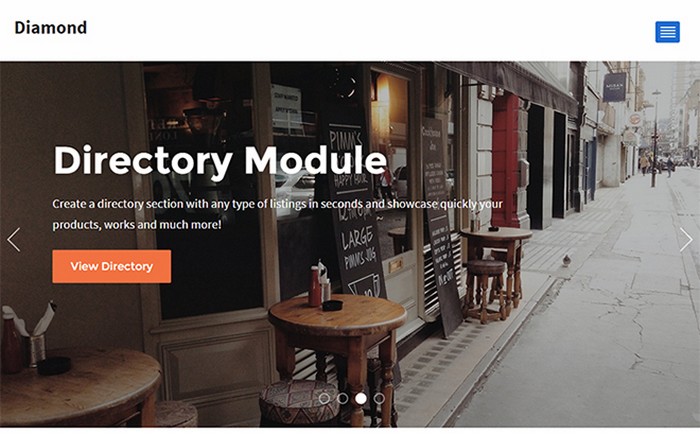 Diamond is a multi-purpose Directory theme, that makes a perfect choice for small business owners, who want more focus on business. For a more personalized look, you can choose from various homepage layouts. It is WooCommerce ready and comes with a parallax slider and Directory module.
Directory Theme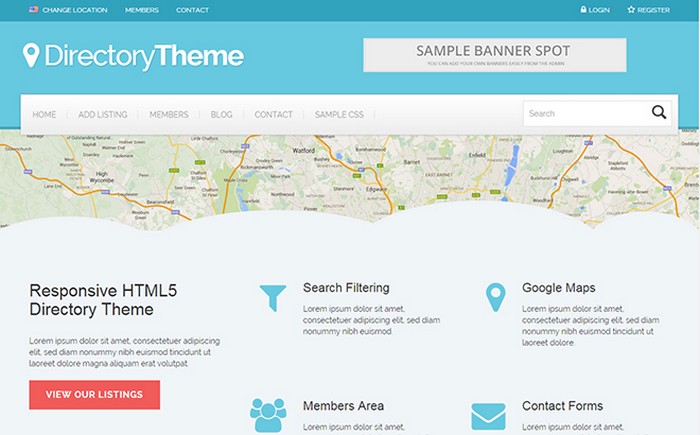 Get started with this feature rich Directory theme and make a strong impact in the online world. It has an easy installation process and comes with features like advanced searches, listing packages, GEO location, Google Maps, members area, star ratings, etc. The responsive layout and easy customization options add cream to the cake.
Jobmonster
Jobmonster is a job portal WordPress theme that has been created with elegance and business requirements in mind. It can be easily be used both by recruiters and the candidates. It has an employer and candidate dashboard, WooCommerce integration, job posting price plans and much more.
FoxEstate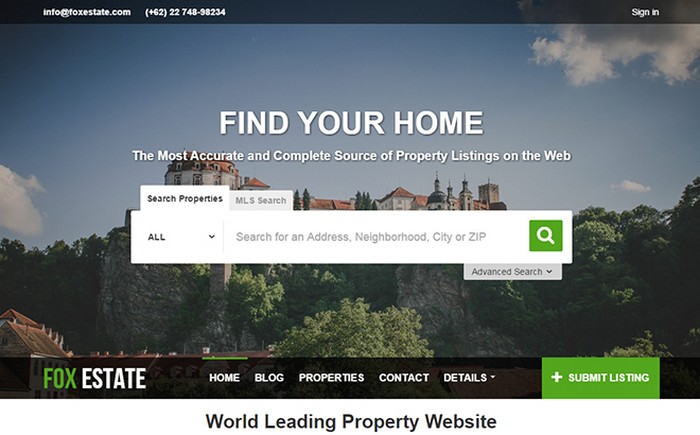 FoxEstate gives you an advanced functionality Property Listings website. With its feature-rich options, you can always be sure of creating a fully functional website without any hitches and glitches. its advanced search features make the search easy and it can also be integrated with MLS-IDX search.
Eventum
Eventum is an event directory theme where people can search for upcoming events and promotions. You can integrate it with facebook, people can add if they are attending any particular future event, and it can be connected with listings. You can monetize it in various manners and give new dimensions to your business.
Sky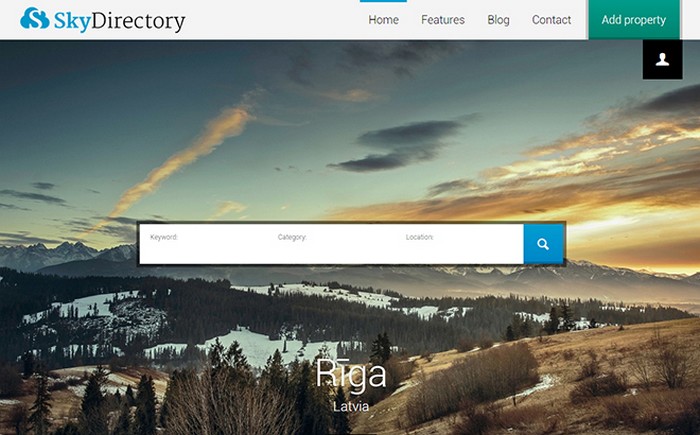 Introducing here is the three step setup theme that can be used to create a Directory, Estate, and Vacation theme. And its use is not limited just to these areas, it is a multi-purpose theme. Sky supports multiple payment gateways, has a drag and drop page builder, an easy map search and much more.
GeoTheme
GeoTheme is an impressive and useful all purpose directory theme. You can create country-wise data and even divide it into states or regions. So it serves as a global directory where all information is under one roof. It has social media integration, it is mega menu compatible, comes with google analytics, review management etc.
Dolce Escort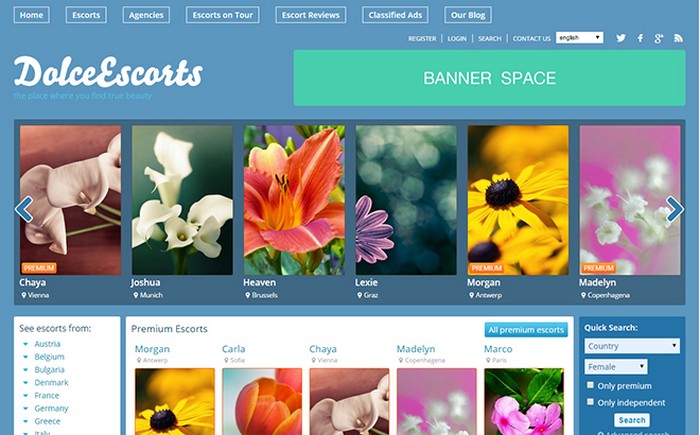 Dolce Escort lets you create an escort, model or massage directory site in just a few clicks. It comes with responsive design, monetizing options, widget ready and editable user types. Agencies, individual escorts, and members can create profiles here.
WP Directory Theme
WP Directory Theme is very useful Directory Theme that helps you in making an online business portal. It has a Widgetized Directory Page, 3 Level Menu, Full Width Slider, Customizable Header, Sidebar and Widgetized Footer. It is integrated with Social Icons and Extra Section.
DirectoryEngine
With DirectoryEngine, you can create your own site from multiple content modules. It has a responsive layout, powerful backend, and easy frontend. You can monetize easily and customize it to suit your individual needs.
Chow
Chow is a great culinary WordPress Theme. As culinary is an art so is the development of the theme that can showcase it in the right manner. Reach wider audience with your specialized recipes. It is WooCommerce and schema.org integrated. It also has advanced search options and it can be customized to a great extent to reflect your personal style.
Latest posts by Sunalini Rana
(see all)