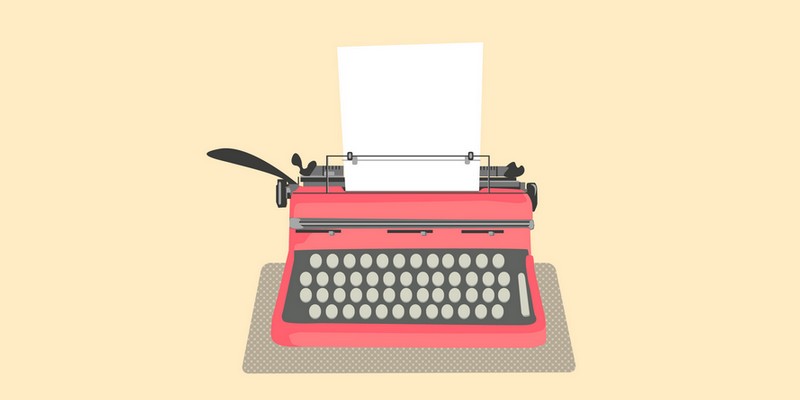 When you and I use our blogs to convey our creations and articles to the world, I think, and I'm quite convinced we do it because we like to write and telling stories.
I am sure that by blogging, we can in a simple way reach out our thoughts and ideas through stories, our articles to like-minded, our pictures to the people who are looking for visual creativity. Writing is among the best things I like to do, whether I write on various blogs, web pages or short stories.
When we are at it and talking about writing, it makes me think of a memorable quote:
I don't know what I think until I write it down. ― Joan Didion
This quote is so great, striking and is really true. As I write, and surely you too, sometimes I have no idea (or too many) what to write until I begin typing on my keyboard. Ideas and mind start working together and now we're talking.
The end result can certainly be of various kinds, sometimes good, sometimes not that good. But it's the actual creation and building something up that's so much fun.
If you like to write while you at the same time use WordPress, which is, by the way, a great solution, there are, as you probably know a lot of WordPress themes that's just perfect for this purpose. I have selected five free themes I think stand out from the crowd and are ideal for writers and authors to share their work brilliantly and in a reader-friendly way.
Let have a closer look at the themes, shall we?
Keep Writing
Keep Writing is a free minimalist and basic theme designed by Jai from Blog Oh! Blog. With this theme, Jai has stripped away all the non-essential features and gone back to the roots to see if users still like to use bare bone themes. I can say we still do! Keep Writing is a theme which focuses increasingly on text, content and that the readers should have a good reading experience.
The theme is suitable especially for authors, writers or just for anybody who appreciates minimalism and aesthetics. Keep Writing is built with Bootstrap and comes with a clean typography, lightweight, fast loading and mobile-compatible with a responsive and adaptable design.
So Simple
So Simple is as you might guess from the name a minimalist theme and is minimalism at its best. The theme is created by Press75 and in a flooded marketplace of overly complex WordPress themes, Press75 wanted do something completely different. The result, So Simple. A lot of elements found in typical WordPress themes have been eliminated to simply make you focus on word and writing.
Some of the features and options included in So Simple is theme options, responsive and adaptable design. Theme customizer, SEO friendly, translation ready, custom menus, browser friendly and an informative documentation. This is minimalism at its best.
Scrawl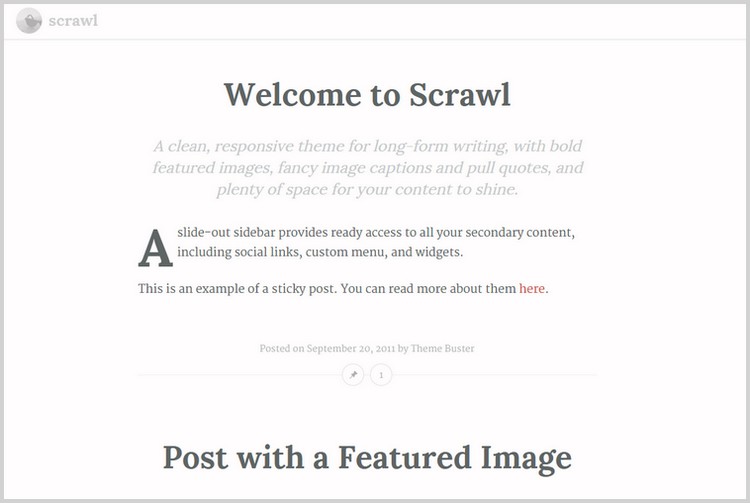 Scrawl is the perfect theme for writers and authors to have their content shine. The theme is designed with a clean look and feel. With the spacious layout, you can get your texts focused in the best possible way. Readers can focus entirely on your content. Scrawl is simply a clean, responsive theme for long-form writing. It includes bold featured images, fancy image captions and pull quotes.
Scrawl comes with great features and options: Slide-out Sidebar. When activated, your custom menu or widgets will appear in a slide-out sidebar. Custom logo, styles for introductory text, Social networks support and much more. Scrawl is an elegant free WordPress theme, perfect for all writers and authors.
Hoffman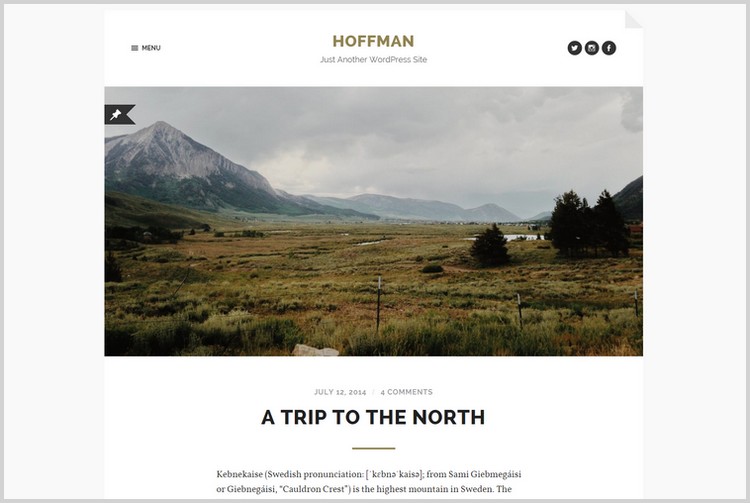 Hoffman is a beautiful minimalist free WordPress theme designed by Anders Noren. This one-column theme is perfect for writers and authors to present their work and creations in an elegant and exclusive way. Add a large featured image in your articles to bring more life into your stories. This is a theme to your visitors and readers will appreciate.
Let's take a look at the features that are included in Hoffman. This is a theme with responsive design. Is Retina ready, comes with 3 custom widgets, translation ready, custom colors and backgrounds. Built-in support for Jetpacks infinite scroll-function and tiled gallery. Gallery post format, social links and more.
Zweig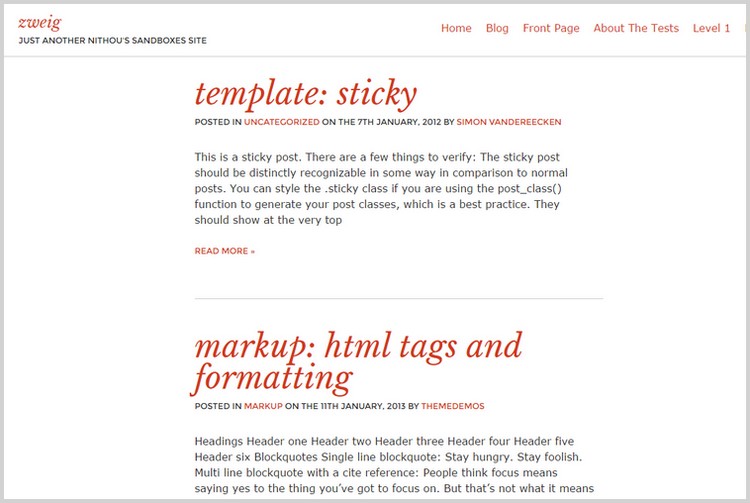 Zweig is a free WordPress theme with a minimalist design and look. It is a one-column theme created to support a comfortable reading and writing experience. Meaning it's just perfect for writers and authors displaying their work in an ideal way.
As a writer, you can focus on your writing and publishing your article without bothering about everything around a blog as you usually should do. Just write and publish. Features included in Zweig: Build on HTML5 and CSS3, responsive layout, 3 widget areas in the footer, single-level menu header, and ligatures support.
Latest posts by Artem Pavlov
(see all)