If you have a business website selling products or services in the am sure your customers have a lot of common question that you or your customer service have to answer every day.
But what if there is a way you don't have to answer those repeatedly asked questions over an over again! But instead use a Frequently Asked Questions section.
Most websites that sell items usually have a FAQ page or section with the most asked questions and answers so customers or visitors don't have to send questions that you must answer repeatedly. This is a win win situation for both companies and customers.
I show how you easily can add a frequently asked questions section (FAQ) on your WordPress website with a free WordPress plugin. There is a lot of free plugins to choose from in the WordPress plugin directory to create a FAQ section / page with as you can check out here.
Today I try a new free plugin named Duo FAQs and I am really happy how the result turned out. This is a very easy-to-use plugin. I show you how to install and set up the plugin in this post if you want to create a frequently asked questions section for your own WordPress website.
Install the Duo FAQs plugin
From Dashboard > Plugins > Add New > Search for Duo FAQs an choose to install.
Activate the plugin
If you look in your WordPress dashboard now, you have a new tab FAQ. Here you find configuration options which you can use to customize your FAQ section.
– DuoFAQ Settings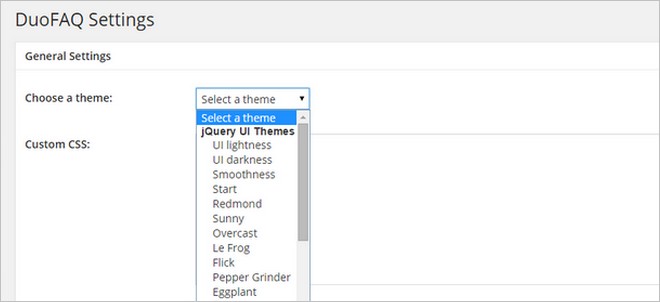 Here you can choose a suitable theme from the 18 pre-installed themes. You can also add custom CSS if you want to create a custom theme.
– Categories
Here you create the categories that is suitable and working for your website. I added 3 categories about WordPress, themes and plugins.
– Add New Question
Here you can create your own frequently asked questions and write the answers for the convenience of your customers and visitors.
– All Questions
Here you see all of your FAQs, and you can edit or add new FAQs depending if your customers placing new questions over and over again.
How to Insert the Frequently Asked Questions Section
When I installed the Duo FAQs WordPress plugin and configured all the settings I need a page to introduce my new frequently asked questions section. Add a new page and name it eg FAQ. In the page you add one of the following shortcode:
Use shortcode: [duo_faq]
Use shortcode: [duo_faq category="CATEGORY_ID"]
Other ways to insert a Frequently Asked Questions Section With the Duo FAQs are:
Use in template or php file: <?php echo do_shortcode('[duo_faq]'); ?>
Use as widget from Appearances > Widgets
I use the shortcode Use shortcode: [duo_faq] in my page and the result turned out like this: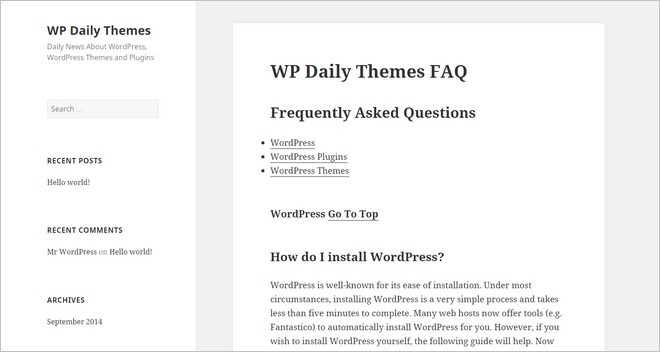 Conclusion
Duo FAQs is a very easy to to use plugin and you can without any knowledge setup and create a great looking frequently asked questions section on your WordPress website within minutes. Most business and corporate website absolutely need a FAQ page to not spend time and money to answer the same questions over and over again.
A FAQ page will make it easier in many ways and as a customer service you can use your time to other customer-related problems. Overall I think this is a simple-to-use plugin that anyone can use. This is a free plugin so give it a try before you buy a premium plugin.
Latest posts by Artem Pavlov
(see all)