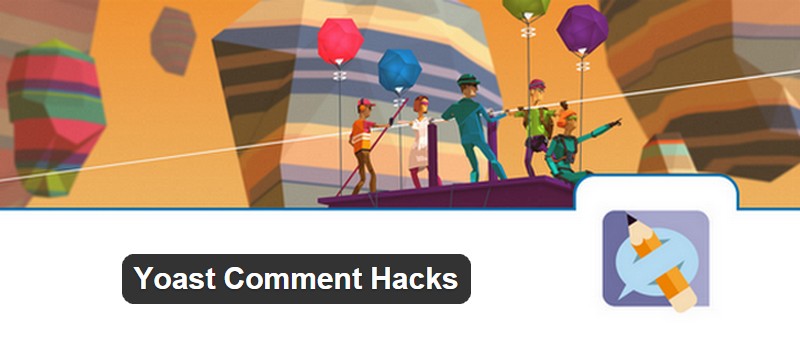 If you have ever used the default WordPress commenting system, you are sure to know that it lacks in functionality.  In fact, it has become such a problem that many website owners have stopped monitoring comments altogether and have disabled this valuable feature.  There is a general feeling that comments these days are all spam or are simply lacking in value.  There seems to be a lot of "Nice post!" type comments and no real discussions.
Unfortunately, disabling the commenting function on your website sets you up to miss what valuable discussion potential there is among your readership. That is why managing your comments is a better solution, but only if it is done in an efficient manner.
In the past you would have to download separate plugins for each kind of comment "hack" to increase the functionality of your commenting feeds.
That is, until now.
Yoast, known for being SEO savvy, has recently announced their all-in-one comment hack WordPress plugin called Yoast Comment Hacks.
Exposing their once private tips and tricks to the public, Yoast has developed a plugin with a combined 5 modules that once existed as separate plugins. There is no longer the need to use outdated, non-supported, and separate plugins to manage your WordPress site's comments.
Let's check out each module:
Minimum Comment Length
Gone are the days when people leave two word comments that add no real value to your post content. As a way to encourage quality commenting and even healthy debate about a certain topic, you can effectively set a minimum word count requirement for each comment that is left on your website. If a reader does not reach the required minimum word count, they will be given a friendly error message informing them that they must add to their comment in order for it to be approved.

This module also helps stop the common one or two word spam comments looking for backlinks, which is a major reason comment managing can be so difficult and frustrating.
Comment Redirect
One great way to increase your loyal readership is to automatically redirect first time commenters to another page. This could be a page where you highlight some of your best content, direct readers to purchase your number one selling products and services, have an email subscription list, or even include social media connections. Better yet, you could just thank them for visiting. The page you direct these new commenters to have endless possibilities and gives you the opportunity to really shine.
Comment Parent Edit
Oftentimes people will mistakenly reply to the wrong comment on your website. In the WordPress default commenting system there is no way to edit the wrongly placed replies underneath the "parent comment". This creates confusion in the direction of the discussion and legitimate replies are lost in the shuffle of random replies. Yoast has created the perfect solution to this. By simply filling in the correct parent comment ID you can redirect misplaced replies to where they belong. This keeps the discussion flowing smoothly and nests the right replies with the right comments.
Email Commenters
Sometimes a reader will leave a comment that you would like to reply to personally and in private. Using the email commenters feature, you can do just this. By hovering over the comment of the reader you would like to email directly you have access to a number of links. Just click the relevant link and start your email.

You also have the ability to email all commenters on a specific post. Looking at the WordPress toolbar in the Dashboard section, just click on the Email All Commenters envelope to email the entire group of commenters at once.

Clean Comment Notifications
As mentioned earlier, the WordPress default commenting system is far from perfect. One of the biggest gripes website owners have is the email notifications they receive. They are just plain messy, unorganized, and often confusing.
The idea to "clean up" email notifications is not a new one. In fact, in 2008 Mike Davidson, now the head of Design at Twitter, developed a plugin called Clean Notifications.  Although his plugin made great strides as far as making email notifications more bearable, Yoast sought to make it even better. Having received Mike Davidson's okay personally to revamp his Clean Notifications plugin, this final module in Yoast Comment Hacks was born.
Conclusion
Comment management on your WordPress site can definitely test your patience. With the amount of spam comments that circulate the web, paired with people who mean well but do not really comment anything worth of value, anyone might throw in the towel and disable their website's commenting ability. However, if we take advantage of Yoast's new WordPress commenting plugin, Yoast Comment Hacks, we can get a solid handle on our commenting.
There is a lot of value we gain from the community of readers that visit your website daily. Using the features in this new plugin that are a combination of older commenting plugins, those readers with something truly valuable to say can do so, and your website will benefit from it in the long run.
Latest posts by Lindsay Liedke
(see all)