If you want to build a professional image for your business, the first thing that you should do is to ensure that your website stands out from the crowd. Do you want to build the same kind of business website as your competitors do? It is better for you to have a different style in your website design.
Many business WordPress themes will offer you the same type of design that can be quite repetitive, even though they are made by different theme providers. In a quest to find the kind of business theme design that really look and feel different, you have to search more diligently. You have to find the theme that offers a different layout, along with many features that you will need later. The built-in customization options that are offered in the theme should give you enough flexibility to tweak your website as you need it.
The theme needs to give your business a good image and reputation for your potential clients. Additionally, you need to be able to add as many web elements as necessary to show important information about your business. For instance, the pricing section is important, but some business themes might not have included this section. This is also true with call to action, testimonials, features, and other sections. You have to ensure that the necessary web elements are there.
What is Zeal Pro?
Zeal Pro is a premium, magazine-inspired business theme created by Smartcat, which has a built-in customization options for you to tweak your website as you need it. Please note that while this theme is magazine-inspired, it doesn't mean that it should be used for magazine-type website. In fact, it is more suitable for building a business website, as it has all the necessary elements that you need to build a professional and appealing website for your business. With various features offered by default, you don't need to create a custom shortcode just to add a new feature that you want, which will cost an additional web designer's fee.
There are various feature highlights that are available in this theme, which you shouldn't miss out. The first feature highlight is, of course, the layout design. Since the layout design is called magazine-inspired, you will find that it has a different layout from the layout of regular business websites. The main content area is designed to be attractive, with an image on the right and content on the left at one line, and an image on the left and content on the right at another line, which gives instant appeal to your audience. With the testimonial slider, you can show various testimonials from your customers.
List of features available in Zeal Pro WordPress theme:
Wide featured section
Elegant header with drop-down navigation menu
Product pricing section
Contact info widget
Team member section
Upcoming events section
Call to action widget
Product feature section
Three-column footer
These features are necessary for you to boost your business promotion and attract more new customers to your business.
Main Features
There is a lot of features that are offered in this theme, so I will explain some of the most important features that are available in this theme.
Product Pricing Section: The product pricing section can be used to give your website visitors a good look at your product pricing, as well as to compare the features that they will get for each price point.
Upcoming Events Section: The upcoming events section can be seen as similar to the latest posts section, which allows you to display the latest posts from your website. In this case, the latest events of your business.
Wide Featured Section: The wide featured section is located under the main header area, which allows you to showcase the most important pages of your website to your new website visitors.
Widgets
Contact Info Widget: This widget helps you to display the contact information of your company, as well as let your website visitors to contact you directly with the integrated contact form provided in this theme.
Call to Action Widget: The call to action widget is very helpful to encourage your website visitors to do a certain action, such as subscribing your newsletter, downloading a document, purchasing your product, and so on. It is necessary for any business theme.
Premium Theme Version
Zeal is available as a free theme, and you can download and install this theme on your WordPress platform without paying for the license. The free theme version is already full of useful features that you can use to build a good website for your business. However, this theme also offers a premium theme version that allows you to tap the full potential of the theme, with various advanced features ready for you to use.
The advanced features that are offered only on the premium version of the theme include gallery, news, pro widgets, FAQs, services, and more. These features are good for businesses that want to give the best impression to their potential customers, and increase the chance for them to attract more customers to their business.
Final Thoughts
It is important for any business that wants to establish a reputable online presence to use a good business WordPress theme for their website. Unfortunately, there are many business WordPress themes that have very similar design, despite the theme being created by different theme providers. Thus, if you use one of those similar themes, your business website will look no different from many business websites out there. This is why you have to take a different route.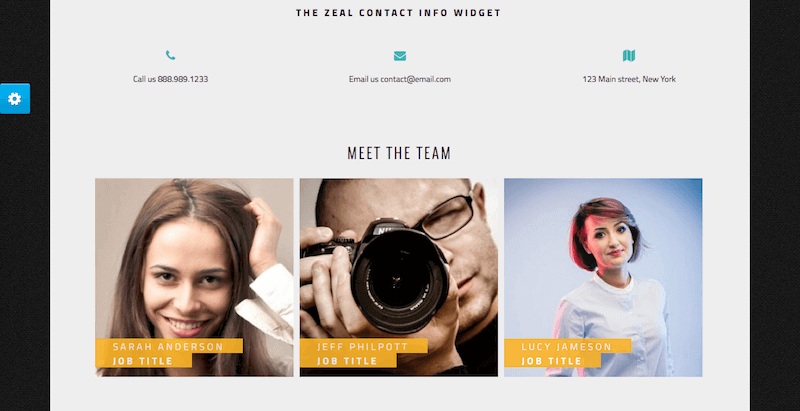 With Zeal, it provides your business website with a different design layout. The magazine-inspired theme design allows you to establish the best layout for your business website, which looks elegant and professional. The dominant dark color provided in this theme gives your website the premium look and feel that is good for your business. The various features provided in this theme allow you to give your website visitors more information about your business.
In conclusion, this theme is very good to be used by any business that wants to look different and unique, and thus helps them to establish a strong presence online. Instead of using the same business WordPress theme, this theme is a good alternative for you to use. There is a detailed manual to customize and use the theme is also available here.
Latest posts by Artem Pavlov
(see all)